Your Coliseum Needs You
Please support us as we face the biggest crisis in our 135 year history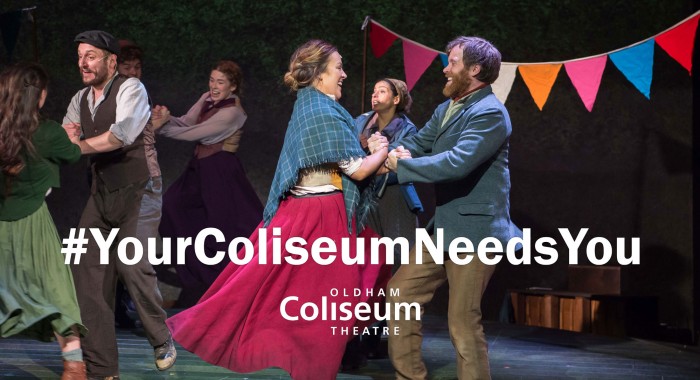 Since 1885, the Coliseum has brought joy, entertainment and enrichment to Oldham through our work on stage and in the community. On Monday 16 March 2020 we closed our doors to help slow the spread of Coronavirus. Over a year later the Coliseum has still not reopened to the public.
Oldham Coliseum Theatre is a Registered Charity (no. 508829) and we rely on income from tickets and bar sales. Closing the theatre makes maintaining our business extremely difficult.
We need your help to protect the Coliseum's great history and ensure that, once this crisis is over, the Coliseum can continue to serve Oldham and its communities for generations to come.
Our stage may be dark, but we're working with brilliant artists, touring companies, our communities, participation teams and the rest of the theatre industry to continue to create and share great theatre and projects during this unprecedented time.
Alongside our work on stage the Coliseum works with people across our communities including: over 15 local schools from Oldham, Rochdale and Tameside, including SEND (special educational needs and disabilities) schools for children with additional needs; disadvantaged young people who are not currently in full time work, education or employment; theatre-lovers aged over 50 who come together for creative activities; and a community of artists and theatre makers across the North West.
In its 135-year history the Coliseum has only closed once before. Following 46 years as a popular theatre and music hall, in 1931 the theatre was converted into a cinema, closing nine months later. In 1939 the Coliseum was reopened by passionate theatre lovers the Oldham Repertory Theatre Club, and during World War II our theatre hosted celebrated London companies Saddler's Wells Opera and the Old Vic.
Your Coliseum needs you to help keep theatre alive in Oldham. We urge you, if you can at this difficult time for everyone, to make a donation to support the theatre. Every donation makes a difference; and please don't forget to add GiftAid which will add an extra 25p for every £1 you donate, at absolutely no cost to you.
You can donate below. Please give generously.
If you are unable to donate right now, please help us by sharing our message.
Thank you,
Your Coliseum
Donate