Write Here, Write Now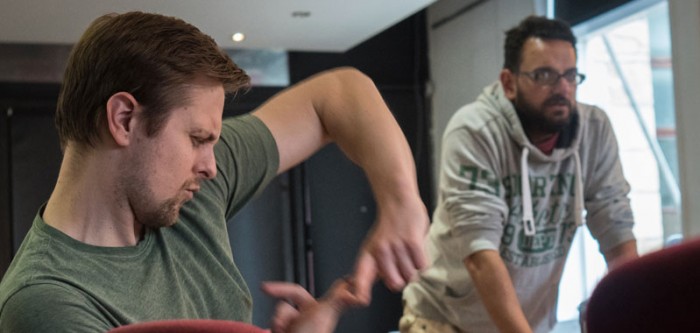 On Thursday 24 January, we're kicking off the New Year at the Coliseum with a brand new writing night presented by Rogue Bones, one of our Associate Companies.
Amie George, Co-Artistic Director of Rogue Bones gave us an insight into what to expect: 
"The idea for Write Here, Write Now came about because Rogue Bones wanted to host a new writing night in Manchester that wasn't about 'work in progress' sharings. Being able to get audience feedback through such a sharing is invaluable for a writer, but can also be quite an intense and overwhelming experience – we're aiming to create a night where writers can put their skills to the test in a fun and liberating way.
…So for this event we've invited ten writers to take part and set them a challenge to respond to!
The deadline is short, writers get a little over a week, and then the directors and actors will only have one day to rehearse. The audience won't know who has written what, and will be encouraged to actively respond to the work in unique ways – the responses to this first night will be determined by a lot of party blowers and post-it notes! We're hoping to create an exciting and friendly space for writers to flex their creative muscles – sort of like a 'writer's gym', but with more biscuits and hilarity than you'd find in a regular gym.
Ideally this will be the first of many Write Here, Write Now events. We'd like to invite a lot more writers to take part, setting them and the audience a new challenge each time, with the hope that we'll all learn something about what makes good theatre and have a proper laugh along the way".
Write Here, Write Now will be in the Studio on Thursday 24 January at 7.30pm and tickets are £3. Book yours now here or by ringing the Box Office on 0161 624 2829.