Open from 10am Monday - Saturday
Micro Commissions 2021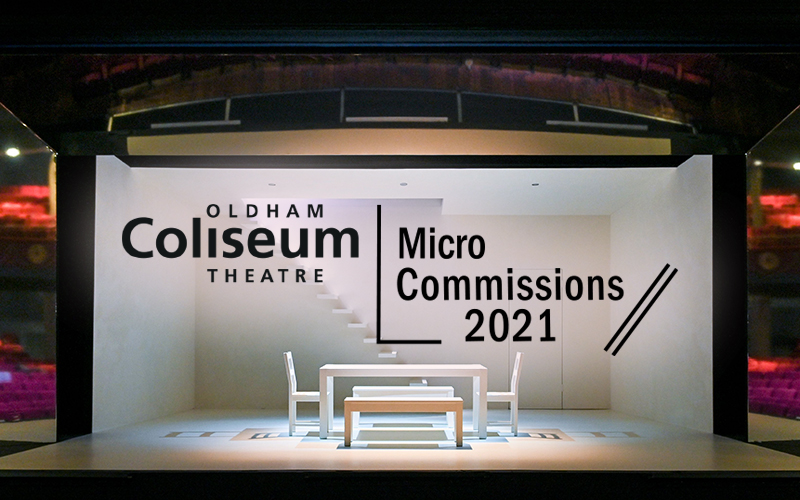 Oldham Coliseum Theatre's Micro Commissions 2021 offer investment, support, and a virtual platform for artists and companies to create work for and about the world as we live in it today.
A year ago few would have predicted that we would spend 10 months of 2020 under restrictions designed to keep us safe from a global pandemic, or that as we entered a new year we would also enter a new national lockdown.  Although the Coliseum's doors remain closed to help prevent the spread of Covid-19 our commitment to our local artists, audiences and communities is unwavering.
Exploring themes of health and wellbeing, local stories or work for and with young people from Oldham, the Micro Commissions are designed for audiences/participants to experience online.
 

---

Grant Archer – Angel of History

(released 16 April 2021)

Angel of History is a collaboration with ballerina Nicky Henshall, actress Shobna Gulati and composer Akshay Gulati, exploring what it has meant to be a performer during the Covid-19 pandemic of 2020 when all regular creative outputs had been restricted.

Grant is a digital artist and co-founder of Take Back Theatre with actor Julie Hesmondhalgh and writer Rebekah Harrison, responding to social and political issues.

---

 

Joyce Branagh – The Newcomer

The Newcomer explores the joyous true story of a survivor of a WWII Nazi German concentration camp who came to Oldham aged 12. Presented as an audio piece, the tale is a crucial link to talking about immigration historically and in the present day with both older and younger members of the community.

Joyce is a local writer, director and actor, who has directed several productions at the Coliseum, and who's most recent play Ladies That Bus toured to the Coliseum Studio last year.

---

 

Tori Burgess – A Tale of Two Giants

A Tale of Two Giants is an audio drama for families based on the Saddleworth folk tale of Alphin and Alder, framed as a precursor or accompaniment to a walk around the natural beauty on Oldham's doorstep.

Tori is an actor and theatre- maker from Tameside, she likes to create work that is playful, fast- paced and engaging.

---

 

Dare to Know Theatre – A Broken Family, Together

A Broken Family, Together follows the story of nurses working in ICU wards at Oldham Royal Hospital, celebrating and documenting the dedication and heroism that nurses have shown throughout the pandemic.

Based in Oldham, Dare to Know Theatre are dedicated to bringing new and thought provoking work to northern stages, working work with and for the local community.

---

 

Caitlin Gleeson – One Foot In Front Of The Other

One Foot In Front Of The Other is a collection of six short thematic audio pieces that will explore health and wellbeing through the lens of walking, based on Caitlin's own recovery journey from Long Covid.

Caitlin is a theatre maker, facilitator and writer whose work includes solo performance, interactive theatre and community arts, and often explores autobiography, gender and place.

---

 

Bog Standard Creatives – A Brew, A Terrace and the 184

A Brew, A Terrace and the 184 is a filmed 25-minute play filled with authentic stories, injecting comedy and laughter whilst tackling the harsh realities of growing up in a town where deprivation is prevalent.

Chloe Heywood is a theatre maker and director who focuses on using theatre as a way of challenging stereotypes and provoking the audience to have sensitive conversations. Rowan Prescott is an emerging actor and producer whose work blends lived experiences and theatrical devices to create theatre representative of real life.

---

 

Jade Williams – Pablo Fanque's Fantastic Fair

Pablo Fanque's Fantastic Fair is a culmination of workshops for young people using movement, writing, drama and media to boost wellbeing and confidence with the overarching theme of Black British history, exploring Black British figures, such as the first Black British circus owner Pablo Fanque, with a view to honouring them in a creative way.

Jade is a multidisciplinary artist, creative facilitator, poet, dancer and performer.

---
---
All Oldham Coliseum Micro Commissions 2021 are free to access. If you would like to help the Coliseum to support more great artists to create work please consider making a donation to the theatre.
---
Micro-Commissions include:
£1,000 cash investment.

Support in kind from the Coliseum's producing, marketing and production departments.

Space to film or record (within Government guidelines).

A platform to share new work online.
If you have any questions about the commissions, please contact Jamie Walsh, Programme Coordinator on jamiewalsh@coliseum.org.uk
Last updated 13 April 2021