Open from 10am Monday - Saturday
Micro Commissions 2021
Deadline Sunday 31 January, 11.59pm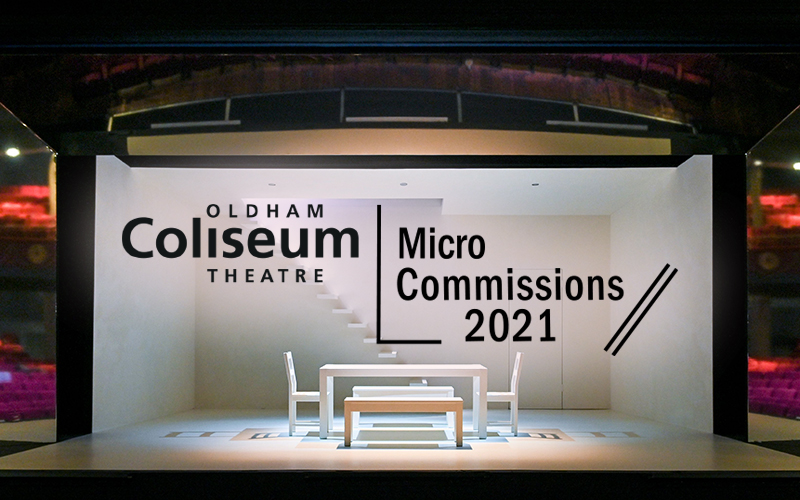 Oldham Coliseum Theatre's Micro Commissions 2021 offers investment, support, and a virtual platform for three artists/companies to create work for and about the world as we live in it today.
A year ago few would have predicted that we would spend 10 months of 2020 under restrictions designed to keep us safe from a global pandemic, or that as we entered a new year we would also enter a new national lockdown.  Although the Coliseum's doors remain closed to help prevent the spread of Covid-19 our commitment to our local artists, audiences and communities is unwavering.
Exploring themes of health and wellbeing, local stories or work for and with young people from Oldham, the Micro Commissions will be designed for audiences/participants to experience at home.
What we are offering
There are three Micro-Commissions available, which include:
£1,000 cash investment.

Support in kind from the Coliseum's producing, marketing and production departments.

Space to film or record (within Government guidelines).

A platform to share new work online.
What we're looking for
Proposals for new work to be made exploring any of the following topics: health and wellbeing, local stories, or work for or with young people in Oldham.

The final piece will be available online between March and May 2021. It can be any length and any form you like – video, audio, visual, text, a live performance over Zoom for example – but must be made for an audience at home.

This fund is for artists (individuals or collectives) based in Greater Manchester over the age of 18.

The £1,000 cash investment is to cover artists' time and resources for the project.
How It Works
You can apply by either filling in the short application form or recording a 2-minute video or voice note telling us about you and proposed project. Email your application to programming@coliseum.org.uk by Sunday 31 January, 11.59pm.

We want you to tell us about you and your experience, the work you want to make under this commission and which topic you would focus on (health and wellbeing, local stories, work with or for young people in Oldham.) We're interested in why you would like to make this work and why it is particularly relevant now. Please outline the support you would need from the Coliseum.

If you are submitting a video or voice recording please include your name and postcode at the start of the video.

Applicants will be informed on the outcome of their submission by Friday 5 February 2021, 6pm.

Successful applicants will receive payment of the full commission on signature of contract and we will arrange support meetings for the artists and Coliseum team throughout the project.
Download the Micro Commissions 2021 application form
Download this call-out as a Word document
If you have any questions about the commissions, please contact Jamie Walsh, Programme Coordinator on jamiewalsh@coliseum.org.uk