Whisky Galore's Paddy finds his forever home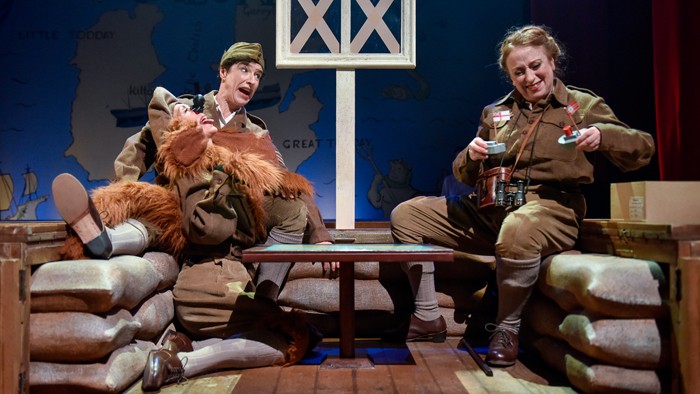 If you came along to see Whisky Galore at the Coliseum earlier this year you'll remember Paddy the dog – a marvellous costume worn by several members of the production's all-female cast throughout the show.
Whisky Galore is currently working its way around the country on a national tour in co-production with the Coliseum, Hull Truck Theatre and New Vic Theatre, Newcastle-under-Lyme. Whilst the production was running in Hull, John Beverley, a former Coliseum Season Ticket holder who has since moved to Lincoln, went along to see the show and fell in love with Paddy.
John said: "We had season tickets for the Coliseum for years. We loved it from the smile of David Rustidge as we walked into the foyer to the last drop of the curtain. When I saw that Whisky Galore was coming to Hull I immediately booked because it was the very first adult book I read as a teenager and it was a Coliseum production. We both loved it. The tale was true to the book and the all women cast was a great way of telling the tale. Additionally we loved the dog. We used to have an Irish Setter."
John uses a dog puppet called Gloopy, that looks just like Whisky Galore's Paddy for assemblies at local primary schools in Lincoln.  After seeing the show he contacted the Coliseum to enquire about Paddy.
"The children love the puppet and if a life sized Gloopy could appear they would be amazed".
After a nice scratch behind the ear Paddy told us that he would very much like to go and live with John, and that despite his poor behaviour on stage, he is really very good with children and will happily respond to the name Gloopy in his new home.
Paddy will be moving in with John in early July after the Whisky Galore tour has finished. Whisky Galore is currently running at New Vic Theatre, Newcastle-under-Lyme (until 2 June), and will visit Theatre Royal Bury St Edmunds (5-9 June); Cast, Doncaster (13-16 June); Belgrade Theatre, Coventry (20-23 June) and Salisbury Playhouse (26-30 June).
"The Pallas Players are a joy to watch and the nature of Goulding's production means that all of the actors get their chance to shine" – The Reviews Hub
"Enjoyably bright and breezy" – The Stage