The Newcomer
An audio play by Joyce Branagh. Supported by Oldham Coliseum Micro Commissions 2021
Available from Friday 30 April
The Newcomer is the story of 12 year old Sophie Wild coming to England for the first time in the 1950s and finding herself in Oldham…
Sophie is a local resident and during a visit to the Coliseum for a workshop, Joyce Branagh asked the assembled group what stories we should be hearing, and several people called out – 'You need to hear Sophie's story!'  And so here it is, read by the talented Sarah Groarke and written and produced by Joyce Branagh, with invaluable input from the pupils of Kingsway Park High School, who can very much relate to what Sophie went through as The Newcomer…
We'd like to thank Sophie and her family for being so candid about their story;  Kingsway Park's Martha Mead and Elizabeth Philips who were so accommodating to the project; and finally thank you to the young men and women at Kingsway Park High School who were generous enough to listen to Sophie's story and share their experiences of being The Newcomer.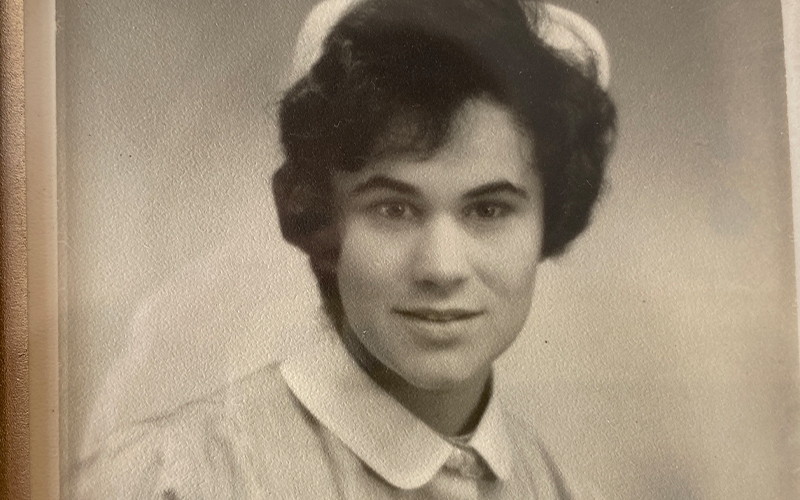 Joyce Branagh is a Theatre Director, Writer and Actor based in Todmorden.  She has directed several plays at the Coliseum, and been involved in a number of our new writing projects. 
As a writer Joyce has written plays for the Manchester 24:7 Theatre festival: Sheepish and Peggy & the Spaceman. She has written six professional pantomime scripts, for Watford Palace Theatre, South Hill Park Arts Centre and Cast, Donacaster.  
Her play For the Record was commissioned by Forest Forge Theatre Company and was developed from interviews with various community groups around the theme of Music and Memory.  It toured for two months to rural touring venues in and around Hampshire.
Boomtown Gals was developed together with Oldham Coliseum and Oldham Library – based on a research project into Oldham Women in WW1.  Joyce worked with members of the Coliseum's Full Circle Group, Oldham Youth Council and local Hodgeclough Primary School, and from this research wrote the play, which won a Manchester Theatre Award.
Her most recent play Ladies That Bus toured small and mid-scale venues across the north in 2020, (including the Coliseum Studio).  The script, based on true stories, was developed from a series of interviews and workshops with members of the general public in Lancashire and Cumbria. 
---
All Oldham Coliseum Micro Commissions 2021 are free to access. If you would like to help the Coliseum to support more great artists to create work please consider making a donation to the theatre.
---
Supported by Oldham Coliseum Theatre Micro Commissions 2021