Open from 10am Monday - Saturday
Season Ticket Autumn-Winter 2018/2019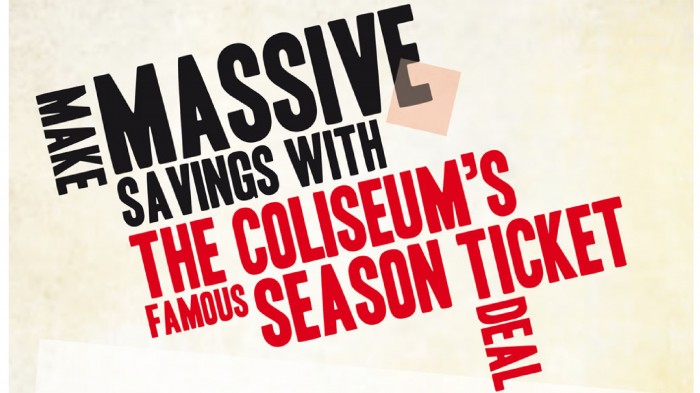 Looking for the easiest, most straightforward, best value way to see Coliseum shows? Make sure you book your Spring – Summer 2018 Season Ticket by Saturday 7 April 2018 for this exclusive offer. It's the best value, greatest quality theatre offer in the region.
Our Season Ticket includes:

PLUS either
Or
Full Price Evening Season Ticket: £73
Concession Evening Season Ticket: £69
Matinee Season Ticket: £55
Take your seats for some of the best theatre around – and enjoy extra benefits, exclusive to Season Ticket holders:
• Priority booking
• See the show on any day
• Free ticket transfers
• Free town centre parking for evening shows – you get a special car park pass to display in your car.   Oldham Council car parking rules apply at all times.
• Massive savings
Pay for your Season Ticket by Direct Debit and spread the cost over three monthly payments (Please contact Box Office for more information).
If you require a car park pass, please contact Box Office on 0161 624 2829.
Book Your Season Ticket: