Open from 10am Monday - Saturday
Angel of History
A film by Grant Archer based on the work of Walter Benjamin and Paul Klee. Supported by Oldham Coliseum Micro Commissions 2021
Available from Friday 16 April
In 1940 the philosopher Walter Benjamin described a Paul Klee painting, Angelus Novus, as showing an angel of history transfixed by a past he perceives as catastrophe but which is propelling him forward into the future.
This project from digital artist Grant Archer is a collaboration with ballerina Nicky Henshall, actress Shobna Gulati and composer Akshay Gulati, exploring what it has meant to be a performer during the Covid-19 pandemic of 2020 when all regular creative outputs had been restricted. The piece is intended to be a reflection on the struggles of the creative industry as well as on the impact the pandemic has had on the health and well-being of society as a whole.
Grant Archer is a digital artist creating theatrical installation work that explores the relationship between live and recorded media and storytelling. In 2015 he co-founded Take Back Theatre with actor Julie Hesmondhalgh and writer Rebekah Harrison, responding to social and political issues. Grant is also the Coliseum's Digital Associate Artist and is developing further digital installation work.
His other recent works have included Connect – a series of phone conversations at HOME, Manchester; Patient – an audio/visual installation at Oldham Coliseum and Virtual Reality films at The Lowry, the Coliseum and various site-specific locations.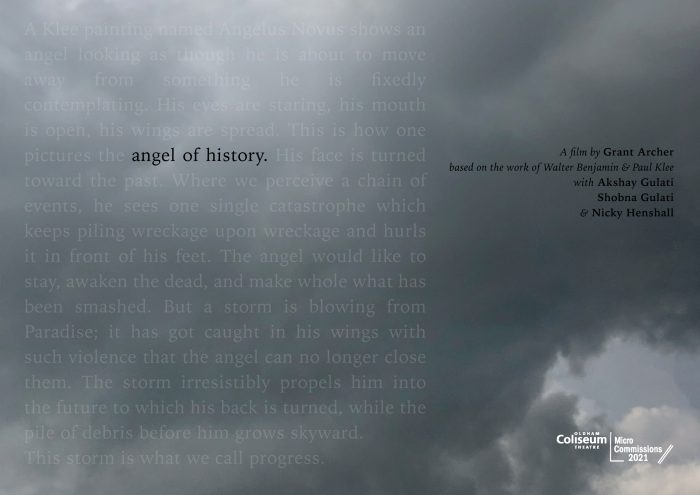 Creative Team
A film by Grant Archer based on the work of Walter Benjamin & Paul Klee
With music by Akshay Gulati
Performance by Shobna Gulati
Dance and Choreography by Nicky Henshall
Lighting by Aaron Barton-Wells
Technical Assistance from Matt Williams, Kevin Leach & Adam Gent
Produced by Rebekah Harrison
---
All Oldham Coliseum Micro Commissions 2021 are free to access. If you would like to help the Coliseum to support more great artists to create work please consider making a donation to the theatre.
---
Supported by Oldham Coliseum Theatre Micro Commissions 2021