A Tale of Two Giants
A series of four short audio dramas suitable for children, families and seasoned giant spotters. Supported by Oldham Coliseum Micro Commissions 2021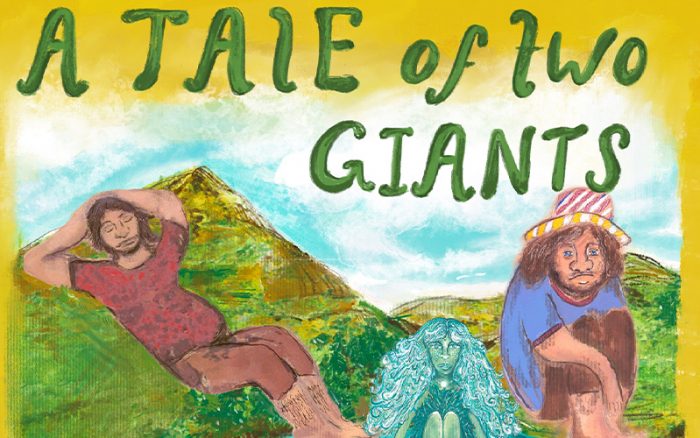 A Tale of Two Giants is the story of Alphin and Alderman: a pair of big-hearted best friends whose peaceful life in the Saddleworth countryside is disturbed by the arrival of a very unusual fish.
Over the course of four short audio dramas, we follow a year of gigantic upheaval in the Chew Valley – from the promise of a new Spring to the coldest Winter these old giants can remember.
Suitable for children, families and seasoned giant spotters, A Tale of Two Giants is a celebration of friendship and the natural beauty on Oldham's doorstep. Each episode is accompanied by a suggested walking route, which brings the story to life by retracing Alphin and Alderman's ginormous footsteps.
A Tale of Two Giants is inspired by and offers a fun, contemporary reimagining of the Saddleworth folktale of Alphin and Alderman, and the poem Greenfield (1780) by Samuel Bottomley.
Click here to download the A Tale of Two Giants Resource Pack
Episode 1 – Spring

Meet Alphin and Alderman: a pair of big-hearted best friends and Saddleworth's resident giants.
Episode 2 – Summer

Alphin and Alderman's peaceful life is turned upside down by the arrival of a very unusual fish.
Episode 3 – Autumn

Everything becomes a giant competition between the old friends as they compete for Rimmon's attention.
Episode 4 – Winter

Alderman is left to navigate a cruel winter alone after a devastating confrontation with Alphin.
---
Tori Burgess is an actor, theatre maker and writer from Tameside, Greater Manchester.
Tori trained at the Royal Conservatoire of Scotland, and since then has worked across theatre, television, radio and film. Recently, she was acting on the UK Tour of Pride & Prejudice* (*Sort Of) with Bristol Old Vic and the Royal Lyceum Theatre. In lockdown, she collaborated with Shakespeare In Isolation to create R&J – a short film reimagining Romeo and Juliet's courtship in the time of Zoom. R&J was featured by the BBC as part of Culture in Quarantine.
Tori also works creatively alongside communities and young people in Greater Manchester. She is currently working on projects with: The Lowry, Royal Exchange Theatre, Octagon Theatre Bolton and Contact.
Creative Team
Written and performed by Tori Burgess
With music and original songs by Jake Fletcher
Artwork by Lizzie Rigby
Directed by Sushil Chudasama
Recorded and edited by Matt Williams
With thanks to: Phil Kennedy, Elizabeth Southall, Isobel McArthur, Antony Szmierek and the Saddleworth landscape for its endless inspiration
First released on Friday 7 May 2021
---
All Oldham Coliseum Micro Commissions 2021 are free to access. If you would like to help the Coliseum to support more great artists to create work please consider making a donation to the theatre.
---
Supported by Oldham Coliseum Theatre Micro Commissions 2021