What goes on behind closed doors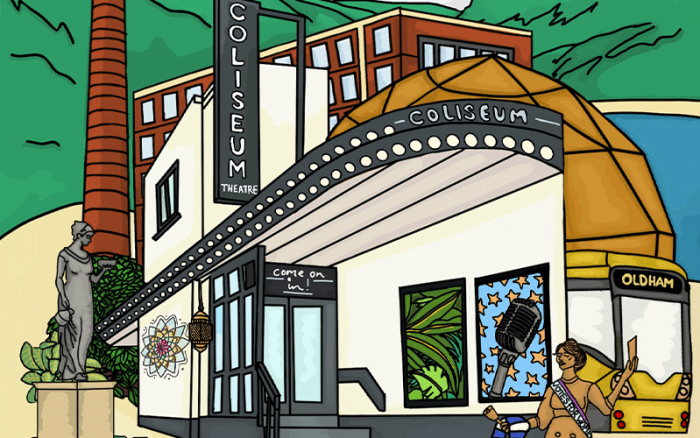 On Monday 16 March we closed our doors to help slow the spread of the virus. Although our building may be closed, our work has never stopped. Here's a look at what we've been up to and what we've achieved behind closed doors.
Produced a package of digital offers for the Festive season
The Coliseum's annual pantomime is a huge part of Christmas in Oldham, with 35,000 people coming to see us each year. As this year's pantomime had to be postponed to 2021 due to the coronavirus crisis we created three digital offers for our audiences:
Panto Digital Storytelling is a virtual one-person panto giving you the opportunity to invite Cinderella or Dame Dotty Trott into your homes for a unique telling of their famous tales.
Advent Plays are 24 short plays based on a Christmas theme, one released each day on the Coliseum's Social Media Channels in the lead up to Christmas.
Messages from the Dame is a chance to celebrate the achievements of people in our communities with a special message from Dame Dotty Trott.
Launched our Mini-Podcast Series sharing over 20 new audio-plays so far, ranging from 100 words to 20 minutes
Launched on World Theatre Day 2020 (27 March), our Mini-Podcast Series shares original works by people of all ages and backgrounds from our communities, recorded remotely by professional actors, with an introduction from the theatre's Artistic Director Chris Lawson and edited by the theatre's Digital Associate Grant Archer.
With four episodes now available we have already recorded and aired new works by well-known names, disabled artists, professional playwrights, emerging writers and young people from the local area. The Coliseum's Mini-Podcast Series is on Spotify and Apple Podcasts. You can also access it via our website. 
Co-commissioned a local artist to create the Poetry Health Service
From Coliseum Associate Artist Hafsah Aneela Bashir, the Poetry Health Service (PHS) is a brand new, free online service which champions the importance of art to support mental and emotional wellbeing. Available by a dedicated website and phoneline the PHS gifts users a poem from a collection of exciting, inspiring, heart-warming and healing poetry by writers from across the world tailored by their responses to a colour-based flowchart. Click here to visit the Poetry Health Service
Run a creative community project with partner groups from across Oldham
In partnership with Women's Chai Project, Housing 21, Jigsaw Homes and Pakistani Community Centre, Stitch invited individuals and groups to create patches of positivity responding to the theme of 'togetherness'. The patches were sewn together into a patchwork quilt by our professional Wardrobe team, to be displayed in Spindles Town Square Shopping Centre. Learn more here
Supported over 300 freelance artists through the GM Artist Hub advisory sessions
Arts organisations across Greater Manchester have come together to offer our support to independent practitioners, artists and companies in our region. The GM Artist Hub offers free 30 minute advisory sessions on Mondays and Wednesdays plus select group workshops. Learn more here
Shared our 2019 musical The Hired Man with over 12,500 people online
Alongside our co-producers Queen's Theatre Hornchurch and Hull Truck Theatre we streamed summer 2019's hit The Hired Man online for a week, allowing audiences across the country (and indeed the world) to relive all the emotion of Melvin Bragg and Howard Goodall's epic musical in our multi-award nominated production.
Made over 80 phone calls to participants who are at risk of experiencing loneliness and isolation due to the lockdown
In more normal times the Coliseum hosts multiple groups, giving people from our communities the opportunity to meet socially in a welcoming, creative and safe space. We've made sure to keep in touch with members of those groups who may be experiencing loneliness and isolation at home throughout the lockdown. A friendly voice over the phone can go a long way.
Engaged over 250 Young People in two creative writing challenges
From the creative engine of our Learning and Engagement Department The 'Off Out' Monologue Challenge and the 'Take Two' Duologue Challenge helped young people to keep their creative spirits alive in lockdown.
Inspired by the UK lockdown the 'Off Out' Monologue Challenge invited young people to write about a character's once-daily trip out of the house. Three of the submitted monologues were chosen to be recorded by professional actors for Episode 2 of our Mini-Podcast Series.
The 'Take Two' Duologue Challenge invited young people to imagine a scene in which characters from different Coliseum productions met, asking what they would think of each other and what they would say.
Live streamed a gig featuring songs from previous Coliseum shows to over 400 people (almost a full auditorium)
On Thursday 30 April actor and musician Lauryn Redding performed a free gig on the Coliseum's Instagram Live. Lauryn is well-known to Coliseum audiences from her performances in The Hired Man (2019), Bread & Roses (2018), Up 'N' Under (2017), Oh What A Lovely War (2017) and Dreamers (2015). Her gig on the Coliseum Instagram featured a mix of original songs, covers and songs from previous Coliseum productions.
Distributed over 100 creative craft packs for people in our communities
Our Learning and Engagement department have created two craft packs for people from across Oldham and its surrounding communities so that they have the resources to take part in creative activities at home. We have been distributing the packs from a safe social distance since May.
Held 16 workshops online
Our script writing group, Scribbles, moved online, led by Amie George, plus our Youth Steering Group (TSG) had a special session and theatre practitioner Rachel McMurray led a two-part Zoom session on Applied Theatre.
Updated 26 November 2020