Theatre-lovers wanted for volunteer opportunities at the Coliseum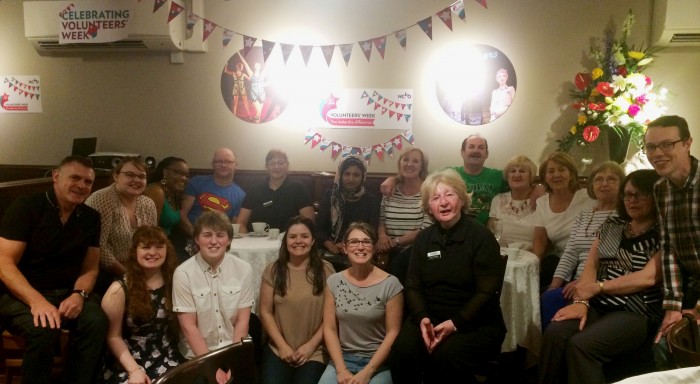 We're looking for fellow theatre-lovers to join our dedicated team of Customer Experience Volunteers working in the Front-of-House areas of the Coliseum.
The Coliseum is the last surviving professional theatre in Oldham and the cultural heart of the community, providing a diverse and exciting programme for everyone from Oldham and the surrounding areas through the Main Theatre, Studio Theatre and opportunities to get involved with our Learning and Engagement programme. The Coliseum produces a rich mix of dramas, comedies, musicals, adaptations and modern classics, as well as our hugely popular traditional pantomime.
Customer Experience Volunteers are a vital part of the smooth running of the theatre. Last year 44 volunteers donated 4,300 hours of their time to the Coliseum. The theatre's longest serving Volunteer, Leslin Simmons joined the team almost 25 years ago.
Leslin commented: "I've always loved the theatre, I've been coming to the Coliseum since I was in my forties. I had early retirement and my daughter suggested I get in touch – and that was 1995! When I started volunteering I fell in love with the theatre all over again. I've built really good friendships with the team and some of the regular customers. I look forward to going in and having a chat with particular people."
Volunteering with the Coliseum offers the opportunity to uncover hidden talents in an exciting and creative environment, meet new people, have fun and experience our diverse programme of plays and entertainment. Joining the team also offers a great opportunity to gain work experience working in a customer-facing role. All Coliseum volunteers are supported every step of the way by our Customer Services team and receive full training.
Kyle Wilcock, another of the theatre's Customer Experience Volunteer Team, fits his volunteering sessions around studying History at Manchester Metropolitan University and working part-time.
Kyle added: "I think this theatre is so special. When you walk into other theatres they can feel big and impersonal, whereas the Coliseum has always felt homely and friendly to me. I think being a Customer Service Volunteer gives you a broad range of skills that can be used elsewhere. I'm definitely more confident because of it and can mix with different groups of people much better. You get to volunteer in a way that suits your lifestyle and learn new skills; it's just a really great way to spend your free time."
The Coliseum's volunteers enjoy a busy and varied role: meeting and greeting customers, directing audiences around the theatre and taking them to their seats, checking tickets, selling refreshments and programmes, answering customer queries, keeping audiences safe in case of emergencies and working alongside Box Office and Front of House staff.
We're looking for people aged 18+ who are reliable, open and friendly and enjoy meeting new people and working on a variety of tasks to join the team. Those interested must be available for one session each week for a minimum of three months and have a flexible approach to the schedule. 
If you're interested in finding out more about becoming a Customer Experience Volunteer at the Coliseum please contact House Manager Heather Shaw at heathershaw@coliseum.org.uk.