The Frisson of Respectability: Designing 'Boeing Boeing' with Michael Holt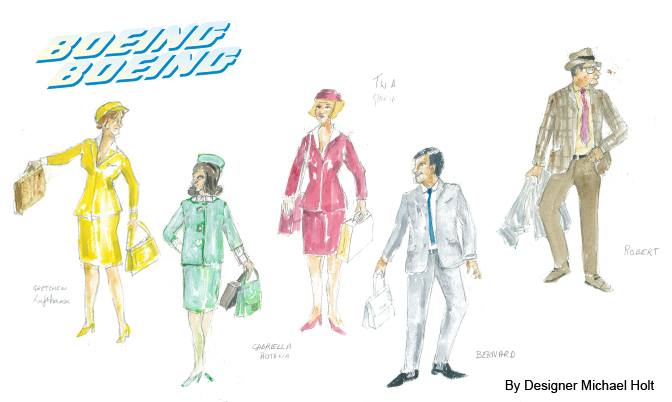 The next Oldham Coliseum Theatre production is an adaptation of 1960s farce Boeing Boeing – a whimsical flight of fancy in which a playboy bachelor balances three different fiancées from three competing airlines, and when he chooses to show off to an old friend, it all starts to fall apart around him, with hilarious results.
As with most of the Coliseum's productions, the show's visual aesthetics are being brought to life via the in-house stage and wardrobe departments, working to concepts from a guest designer. In this instance, the task of dreaming up Boeing Boeing's world is in the hands of Michael Holt – a veteran of stage design with eight previous Coliseum productions* among over 300 productions under his belt.
Michael has kindly taken time out to discuss his inspirations with us, and share some of the costume designs you'll see brought to life on stage.
Back in the early nineteen-seventies I designed my first Farce: Ray Cooney's Not Now Darling.   Nowadays, the mainspring of the plot – that girls will do anything for a fur coat – seems to be a very dubious assumption . However, the play had audiences literally rocking with laughter. I would sneak up into the lighting box to watch them slapping their knees and throwing their heads back in uncontrollable hilarity. I got the greatest of pleasure in thinking that I had designed a play which could affect people in such a dynamic way and give such joy. How embarrassed I thought they would be if they could see themselves. Since then, Farce has been one of my favourite dramatic forms.
Of course, with its secret sexual liaisons and its debunking of authority, farce nearly always flouts political correctness.  After all, at its heart is the characters' fear of being discovered doing something socially unacceptable. And less we get too pious, our mirth is triggered at least in some part by the hope that they get away with it.  Farce's saving grace is the knowledge that the plot is too preposterous to really be a danger to moral order whilst at the same time just about being utterly believable.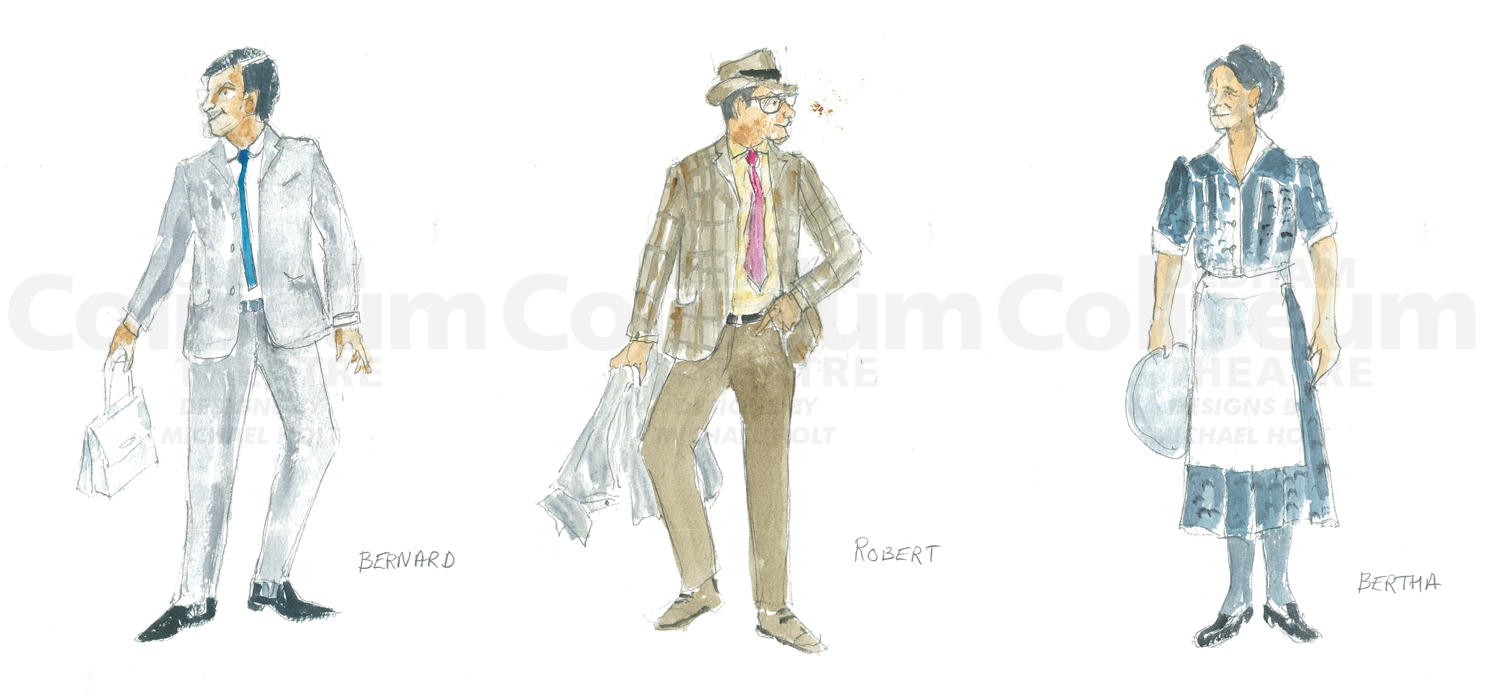 These thoughts are in my head when I design any farce. I have to create a world which is very recognisably a version of our respectable social order.  There is no fun in being naughty without the frisson of respectability around you. But at the same time it must be a world that always reminds us we are in the artificial environment of the stage.
The theatre has always been a place associated with subversion. I think of Oscar Wilde's The Importance of Being Earnest, which takes place in a stylised version of Edwardian respectability. It has one foot in the British Establishment and the other in the Music Hall. It takes place in the same sort of world as P.G. Wodehoue's Jeeves stories – one which is believable if not altogether recognisable. It is a very English convention and it is also one that the French farceurs have taken advantage of.  I am told that Paris is a very naughty place but it always seems to me to be dominated by impressive boulevards and stern monuments. It is perfect, therefore, as a setting for  farce and in Boeing Boeing we are watching the antics in the Paris apartment of a respectable architect.  His home should be suitably conventional and stylish.

But the play was written in the nineteen-sixties, which nowadays, we casually associate with free love and the discarding of convention. But at the time , society was largely governed by post war stuffiness. Nowhere is this more obvious than in the way people decorated their houses. I recently had to research the period when designing another play and turned lazily to that icon of 1960 pop culture, The Avengers. Forget those spare opening title sequences with our heroes silhouetted against a plastic empty space. When you get into the action, these pillars of society live with wrought iron staircases and fake Louis XIV soft furnishings in moss green velvet. Their flirtations and innuendo seem all the more suggestive in this environment.
It is this tightrope walk between convention and theatricality that I hope we have caught in the set and costumes we have provided for Boeing Boeing. I hope it triggers fun and makes you laugh. Uncontrollably.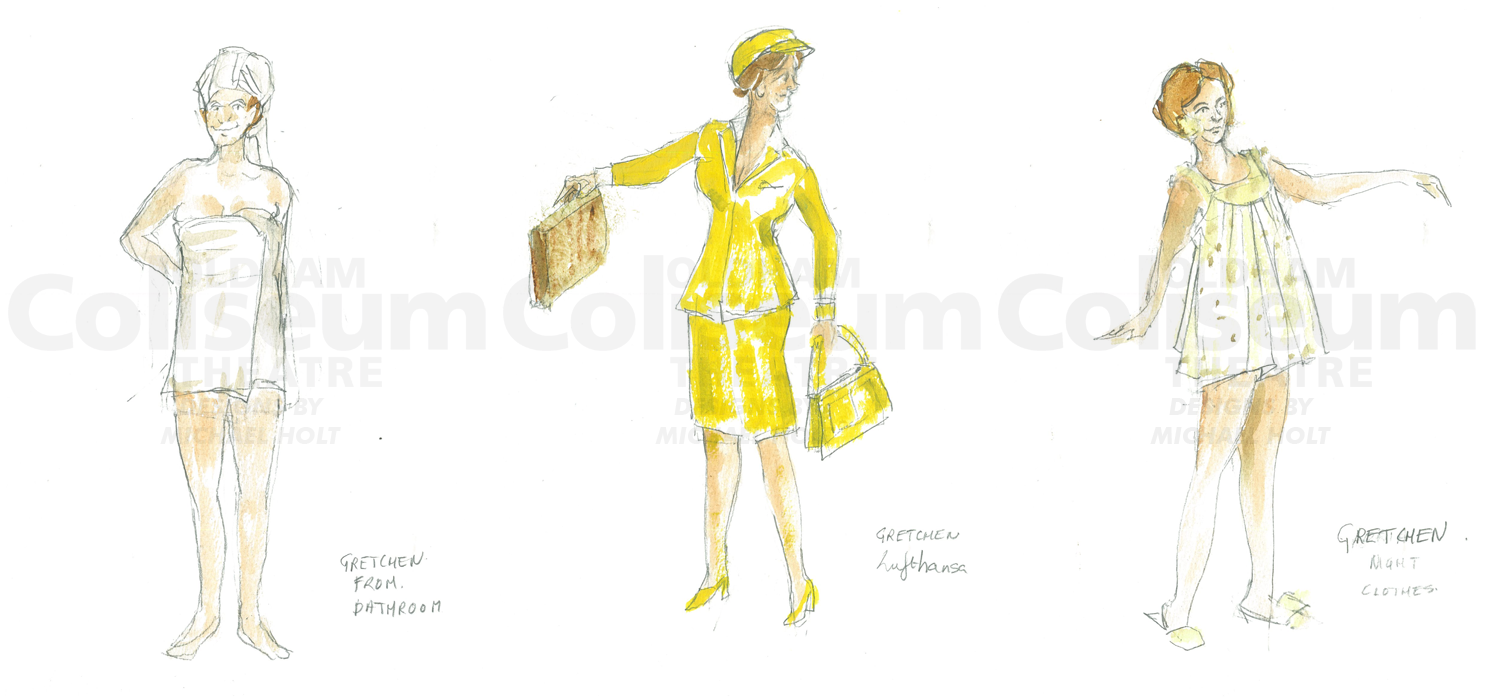 Boeing Boeing

 runs Friday 15 May – Saturday 6 June.
* Michael's previous shows here are: Bedroom Farce, Sugar Daddies, Taking Steps, Private Lives, Blithe Spirit, An Inspector Calls, The Turn of the Screw and Driving Miss Daisy.