The Dreamers Phenomenon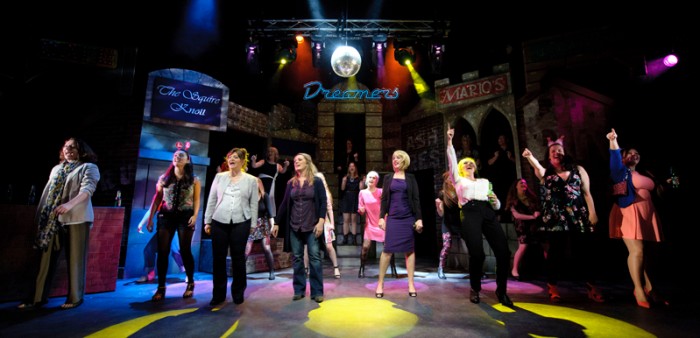 It's the LAST week (final performance Saturday 4 July) of Dreamers, the musical that everyone's talking about.  Oldham's infamous nightclub Dreamers might not feature in the music history books like the Wigan Casino or the Hacienda, but so what?  It's certainly got a place in a lot of hearts if audience reaction is anything to go by.
Tickets are virtually flying out of Box Office so book now to avoid missing out.  Everyone's telling us how much they love it!
"Fab night watching Dreamers. You were all ace." 
"Great cast and so good to see a stage full of women! Congrats to all involved." 
"Really enjoyed the wonderful Dreamers."
"Dreamers last night had me laughing like a loon.  And the all-female cast smashed it" 
"I have seen Dreamers twice and both times have blown me away…just WOW.  Deserves to go far." 
"Fab soundtrack, great performances.  For the first half, I was 20 again." 
We caught up with co-writers Cathy Crabb and Lindsay Williams to find out on what they make of the Dreamers phenomenon.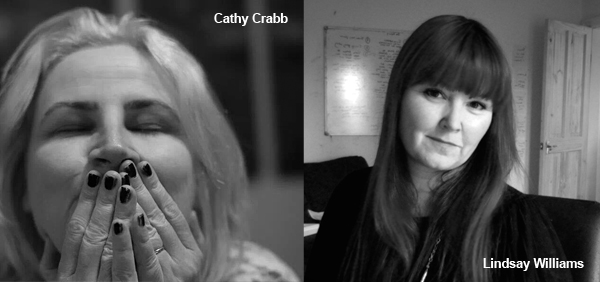 Audiences absolutely love Dreamers, with people coming to see it several times over. Why do you think it has captured people's imaginations so much?
Cathy: I suppose there isn't a club like that anymore; maybe, there isn't a club that's so 'for women'. At the time we didn't realise it was a community but it really was.  And I think that's why so many of the people who used to go to the club want to come back together, hear the songs, reminiscence about the characters and have a good night out.  Yes, it's about Oldham but it's very universal too.  You would recognise any of those women up on stage from people you know.
Lindsay: People can relate to the stories of youthful dreams and how they change over time. And what becomes important in the end is not always what you think will be.  The show is very much about friendship and we are delighted to see big groups of friends coming along together – and telling their friends to come back.
Now Dreamers is open, how does it feel to see your project of three years in the making up on stage? Is it in any way different to how you imagined? 
Lindsay: It feels fantastic, it's exciting but also very nerve wracking to share something so very personal to us with an audience.  It has been a joy to see that it has become so personal to them too.
Cathy: We're really proud of it.  We were all really moved by the rehearsal process and inevitably, having been through that, we're more conscious of how the actors respond to the story and what happens.
The music by Carol Donaldson is brilliant, have you dusted off any '90s albums? What are you listening to? 
Lindsay: I'm listening to lots of The Smiths.  I'm starting to think Rachel Leskovac's, who plays the character Toni, version of Please Please Please, Let me Get what I Want is every bit as good as the Smiths' original.  I also can't stop listening to Carol's brilliant songs. I could listen to Someone Else's Shoes'all day.
Cathy:  Talking Heads!  Carl, my husband, has been playing Slippery People loads. I always used to request that from the DJ in Dreamers. The Dreamers' DJ Graham Anderson, who played at the opening night party – which was great, remembers lots of requests for that back in the day, probably from me!
Has the success of Dreamers given you inspiration for the next project? 
Lindsay: I have a new play about Manchester United I'm writing at the moment as part of  Monkeywood Theatre's By Far The Greatest Team.  But after that…well…Cathy, Carol and I are definitely talking about our next musical project.  Maybe it should be an all male musical next time?
Cathy: We've been so inspired by the cast, they've been brilliant.  We're starting to talk about another musical but that's all I want to say right now.  Watch this space!
What have your friends and family's reactions been to it?
Lindsay: They've loved it – way more than we even hoped.
Cathy: Loving it.
Are you coming back to see Dreamers before it closes on Saturday 4 July?
Lindsay: Try and keep us away!
Cathy: I'll be back as much as I can – as much as my liver can take.  We're always bumping into people we knew so it's a very social night out every night.
Book now.  Tickets start at £11 (£6 for under 26s) until Saturday 4 July.
Must close Saturday 4 July.
Box Office: 0161 624 2829 Open 10am – Monday – Saturday
www.coliseum.org.uk
Follow the Dreamers story on social media : Twitter and Facebook
#DreamersMusical