The Coliseum's first Scratch Night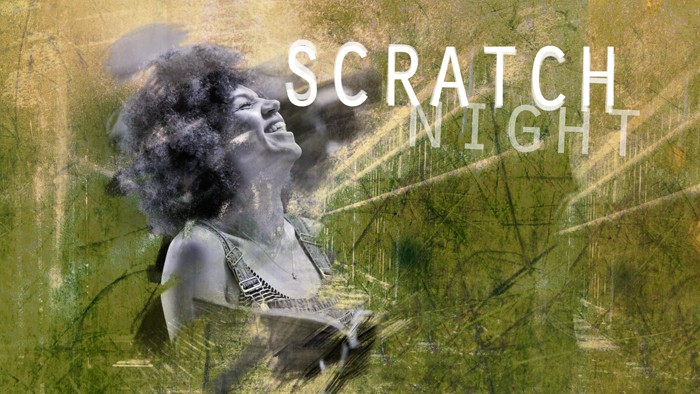 Last week we held our first Scratch Night, a night of new work in progress from local companies co-ordinated and hosted by our Associate Company, Fine Comb Theatre.
"Hosting the Coliseum's first scratch night was an absolute pleasure. It was a fantastic night, where four unique artists were given the opportunity to showcase work in development and receive valuable feedback. The audience were really supportive and gave in-depth and thoughtful responses.  – Cat and Rachel, Fine Comb Theatre
In the lead up to fringe festivals, such as Greater Manchester, Edinburgh and Brighton, scratch performances are opportunities for companies and artists to try out their ideas with a supportive audience. The companies can ask specific questions of the audience such as 'What do you think of the characters?' 'Was the theme clearly portrayed?' and the feedback can shape the development of the piece.
"We've been looking at the written feedback collected on the night and it's already thrown up a lot of very useful questions about how we might develop the next draft of the script". – James Harker, Public Burning Theatre
At the first Scratch Night, four companies shared their work:
Buglight Theatre focus on exploring untold stories, often localised stories or well-known stories told from a unique perspective. Currently touring their latest show Me, Mum and the Patriarchy, they make work that aims to entertain and provoke conversation.
Buglight performed scenes from their upcoming show Fight which explores a decent into poverty for one couple. The piece focuses on a very relatable relationship and how poverty is presented as something tangible and very possible.
For more information on Buglight Theatre's work, visit: www.buglight-theatre.com  Twitter:@buglighttheatre
Pegeen Murphy is a writer, actor and theatre producer. Her writing work has been produced for the Manchester Monologue competition in association with the Royal Exchange Theatre and BBC Radio Manchester. Pegeen has also produced work with Writers Reign Theatre Company, working with them on the hugely successful Trollope which was performed at Greater Manchester Fringe 2018, winning Best Comedy Play and went on to win Fringe Production of the Year at the Northern Soul Awards.
For Scratch Night, Pegeen shared her latest work, Dreams for Our Daughters, which explored how women are often defined according to their decisions around motherhood. The piece focuses on snapshots of different points in time, going back to the '90s and reliving the experiences of a young mother who gives her baby up for adoption then turning to the present where Sarah, the child who was adopted, has just given birth to her own child.
For more information on Pegeen's work, visit: Twitter@PegeenMurphy 
Ellie Silver is a freelance Theatre Practitioner and Writer. Her recent credits include performing for Scratch #10 with Only Skin Theatre, presenting a work-in-progress for the Scottish Mental Health Arts Festival, and working with Rachel Mars on Joke Translation Service at the Royal Exchange Theatre.
It Offends me as a Comedian is a solo comedy performance exploring the conflict between humour and culture. In this show, Eliza Silverman, is hosting an all-female, all-Jewish comedy event. However her guests fail to make an appearance… The piece provokes questions about identity, our characteristics and standing up for our own belief systems.
For more information on Ellie's work, visit: https://elliesilver.wixsite.com/ellie-silver
Public Burning Theatre is a North West based theatre company founded by director Danielle McIlven and playwright James Harker. They create work which explores politically important subject matter through humanistic and theatrical storytelling. Their previous work includes: Gary: A Love Story which tackled inequality in the prison system and received a five-star review in The Skinny, and Borderland which debuted in the Coliseum Studio and went on to tour the North West with Art's Council funding. Their most recent show, Voices from the Moon explored the politics of the 1969 moon landings and was a collaboration with Sound Designer Karen Lauke. 
Transabled is a verbatim theatre piece exploring Body Image Integrity Disorder (BIID), a condition in which abled-bodied people feel they should be disabled. Compiled from interviews with patients and doctors, it explores the experience of BIID: the stories of those who have it, and the complicated ethical problems the condition brings up.
For more information on Public Burning Theatre's work visit: Twitter@public_burning
We'd like to thank everyone who came to our first Scratch Night, the companies and artists who shared their work and the wonderful Fine Comb Theatre for arranging and hosting the evening.
Providing opportunities to share in front of an audience can be formative experience for new pieces of work. In addition to another Scratch Night (date TBC) we'll be hosting our second Write Here Write Now evening with Associate Company Rogue Bones during this year's Cultivate Festival for theatre makers (full line-up to be announced). Write Here Write Now gives writers the opportunity to take part in a unique experience, writing from the same provocation and creating completely different pieces of work.
Keep an eye on our Twitter and Facebook and website for upcoming opportunities.