Teaching Theatre Pathways: Experiencing Set and Costume Design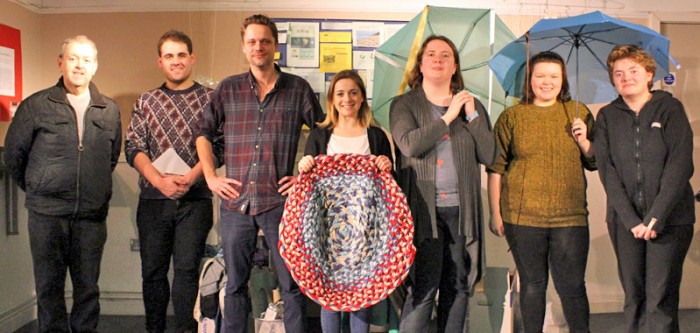 Sophie Taylor-Hall and Jennie Holdsworth, two of our Teaching Theatre Pathways participants, recently held an exhibition of their work from this year's projects in our Education Suite.
Teaching Theatre Pathways is a hands-on work experience programme for young people who are not currently in education,  employment or training, providing practical experience and knowledge in all aspects of theatre making and production.
After exploring the different disciplines of theatre making though a series of workshops in Costume Design, Set Design, Lighting Design, Stage Management, Marketing and Playwriting, this year's Teaching Theatre Pathways group used a script from our previous pantomime of Aladdin as a stimulus to follow a project brief in their chosen field, in Sophie and Jennie's case – Costume and Set Design.
Sophie commented: "I chose to focus on the Costume brief because I have enjoyed design and crafts in the past and wanted to challenge myself by creating a full-sized costume. I chose to make a prototype out of paper, having done a similar activity during one of the previous workshops on the course. In the end my dress turned out to be slightly different than planned but I am extremely happy with that I have managed to create with the material available (and my lack of sewing skills!)"
Jennie commented: "I love to write and draw my own stories and I had taken Drama at both GCSE and A Levels. This course has further inspired me to write plays and stories. Maybe, one day they will be on the big stage."
The group's final project was to design and make a set for Play in 3 Days. Following the (very brief) brief of 'Rubbish' Sophie and Jennie create a set made entirely from recycled materials
Catherine Morefield, Producer of Fine Comb Theatre and practitioner of the Teaching Theatre Pathways programme said: "The participants have worked incredibly hard, and its brilliant to see how dedicated and passionate they are about theatre production. It's amazing how much they have achieved in just 12 four hour sessions".
Play in 3 Days was an opportunity for young theatre makers to create a completely new theatrical performance in three days over half term, working with one of the Coliseum's professional theatre practitioners. Their performance on the final day took place on the set made by the Teaching Theatre Pathways participants.