'Take Two' Duologue Challenge
We may have temporarily closed our doors, but over the next few weeks we'll be keeping our creative spirit alive with a number of online activities and competitions.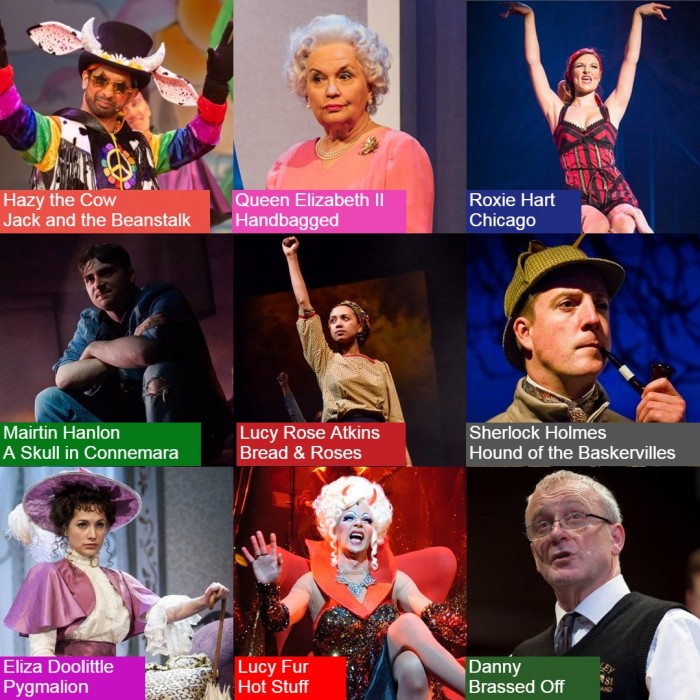 'Take Two' Duologue Challenge
For ages 21 and under
Thursday 6 – Friday 15 May
Over the past 135 years we've seen some colourful characters light up the Coliseum stage.
Take a look at the selection of characters from our previous productions. In their own shows these characters made a huge impact within the story, but what if two of these characters were to meet one another? What would they think of each other? What would they say to each other?
Can you write a scene that brings two of the above characters together? Think about the setting in which these two characters may encounter one another.
We'll share a selection of the entries here on our website and our favourite duologue will win four tickets to see The Jungle Book in 2021. The winner will be announced w/b 18 May. 
Have a look at our top tips below…
---
Top Tips:
A Duologue is a dramatic or comical scene featuring only two people.

Where are you setting the scene? Where in the world could you place these two characters to enhance the drama?

Make sure we see some form of character development within the scene. Let the audience learn something about each of them.

You do not need to have seen the production that the characters are from. Use the pictures to influence what you think the characters might be like. We've also added brief descriptions of the character's below.

Have fun writing your scenes!
---
Meet the characters:
Hazy the Cow from Jack and the Beanstalk
Hazy is a vegan cow who doesn't produce milk because it is against his morals. He loves yoga, his best friend Jack and motivational messages – "Give peas a chance!"
Queen Elizabeth II from Handbagged
Her Majesty Queen Elizabeth II looks back at her weekly meetings with former Prime Minister Margaret Thatcher in Handbagged. She is quick-witted and sharp as a nail, and obviously always very well spoken.
Roxie Hart from Chicago
All Roxie cares about is getting into Vaudeville. She is desperate, selfish, sexy and innocent, never thinking about the consequences of her actions. She winds up in prison after shooting a man for ending their affair.
Mairtin Hanlon from A Skull in Connemara
Mairtin is a ne'er-do-well from a rural village in West Ireland. He (mostly) means good but is often misunderstood and judged by past misdemeanours. He forms an unlikely friendship with the local grave digger, who is rumoured to have killed his wife.
Lucy Rose Atkins from Bread & Roses
Lucy Rose Atkins is a single mother who works tirelessly in a local mill. She discovers natural leadership qualities and undertakes a journey from unskilled worker to impassioned leader
Sherlock Holmes from Hound of the Baskervilles
The famous detective Sherlock Holmes is a master of observation and deductive reasoning. He is usually quite reserved but on occasion he can be surprisingly impulsive.
Eliza Doolittle from Pygmalion
Eliza is a fast learner and a very strong character. In the beginning of Pygmalion she is a Cockney flower seller, but with the help of two gentlemen she transforms into a woman as poised and well-spoken as a Duchess.
Lucy Fur from Hot Stuff
The quick-witted, glittered covered temptress Lucy Fur is the devil's disciple. Through the fabulous art of Drag, Lucy appears as Margaret Thatcher, a Nun and a nurse as well as her demonic self.
Danny from Brassed Off
Danny is the leader of a colliery brass band in Grimley, Yorkshire and it is his lifelong ambition to lead the band to the National Brass Band Competition at the Royal Albert Hall. A miner all his life, he is a proud man who loves music and respects hard work.
Click here to download the photogrid and character descriptions as a PDF
---
Applications closed on Wednesday 15 May