Supporting new work at Edinburgh Fringe Festival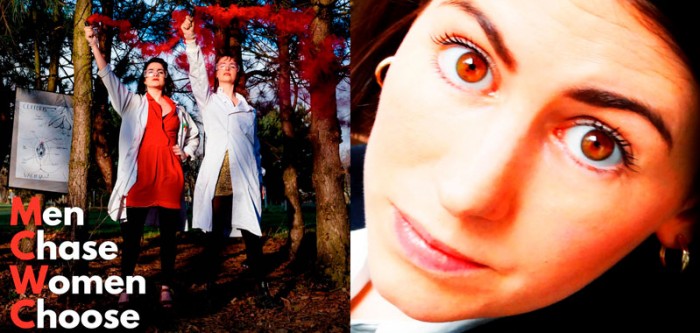 We're supporting two shows made in the North of England at this year's Edinburgh Fringe Festival: Best Girl by Christine and Lois Mackie and Men Chase Women Choose by People Zoo Productions.
The Coliseum is part of Venues North, a network of over 40 venues based in the North of England who share a commitment to supporting artists making new work.  Over the course of the year member venues support many artists and companies to create new work; and working collectively, we've created a Venues North Guide for the Edinburgh Fringe Festival to highlight and showcase the shows on offer at this year's Festival that are supported by Venues North members.
Best Girl by Best Girl Productions
Written by actor Christine Mackie (the Coliseum's production of Whisky Galore and Coronation Street's Dr Gaddas) Best Girl is semi-autobiographical play inspired by the loss of her father.
Meet Annie, a veteran's child on her way to change her life. Performed with humour and honesty by her daughter, actor Lois Mackie (Leeds Playhouse, Elysium Theatre Company and Hope Mill Theatre), this is a tour-de-force one-woman show about the power of the past and the search for a hopeful future.
Best Girl runs at The Cellar, Pleasance Courtyard from 31 July – 26 August. Learn more here.
Men Chase Women Choose by People Zoo Productions
With its title derived from one of many gender myths that pervade our society, this show is intent on skewering some widely held beliefs and unearthing the bad science behind them.
Men: Are you tired of chasing women down the street? Women: Are you deafened by the hoarse mating cries of your prospective suitors? Darwin says it's our biology. But is it?
Taking the form of a sketch show, with co-creators Sophie Giddens and Eve Shotton at the helm, Men Chase Women Choose is an informative and uproarious feminist romp that features fruit flies, film, physical theatre and a flute solo, putting women, sex and science under the microscope.
Men Chase Women Choose runs at Summerhall from 13-18 August. Learn more here.
Venues North's aim is to work together as venues to get work made in the North seen more widely regionally, nationally and internationally.
Click here to view the full Venues North Edinburgh Fringe Festival Guide
Click here to learn more about Venues North