Spring – Summer 2014 Season Announced
We are pleased to announce our upcoming Spring-Summer 2014 Season, which is now on sale.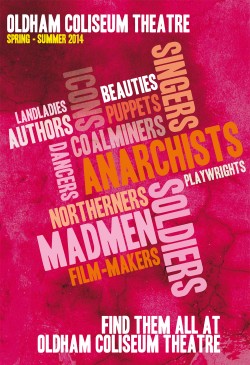 The season is a cracking one, filled with northern grit and comedy and a wide range of variety for all tastes. We have included four inhouse productions, two of which have been co-produced with some of our favorite neighbouring theatres. We are also thrilled to welcome back London Classic Theatre and Northern Broadsides to the Coliseum stage.
Season tickets are on sale now – to book your season ticket ring our box office on 0161 624 2829.
For full details on all the plays, please visit our What's On page,  or download our Season Brochure
Highlights of the Season include: 
Friday 7 – Saturday 22 March
Accidental Death of an Anarchist
By Dario Fo
An Oldham Coliseum Theatre Production
Tuesday 1 – Saturday 5 April
Entertaining Mr Sloane
By Joe Orton
A London Classic Theatre Production
Thursday 17 April – Saturday 10 May
Hobson's Choice
By Harold Brighouse
An Oldham Coliseum Theatre, Octagon Theatre, Bolton and New Vic Theatre, Newcastle-under-Lyme Production
Thursday 15 – Saturday 31 May
The Life and Times of Mitchell and Kenyon
A new play with songs by Daragh Carville
An Oldham Coliseum Theatre and The Dukes, Lancaster Production
Tuesday 10 Saturday 14 June
An August Bank Holiday Lark
A new play by Deborah McAndrew
A Northern Broadsides in partnership with New Vic Theatre, Newcastle-under-Lyme Production
Friday 20 June – Saturday 12 July
Close the Coalhouse Door
By Alan Plater
An Oldham Coliseum Theatre Production
One night events:
Wednesday 26 February
An Evening of Burlesque
Thursday 27 February
Elkie Brooks
Wednesday 9 April
Bernard Wrigley and the Oldham Tinkers
Friday 11 April
Stuart Maconie: The People's Songs
Saturday 12 April
Kate Rusby
Learning and Engagement Department:
Monday 17 March
G.O.O.S.E.
Wednesday 7 – Saturday 10 May
The return of First Break – showcasing the very best in new writing and emerging talent