Spotlight on: Carly Henderson, Head of Learning and Engagement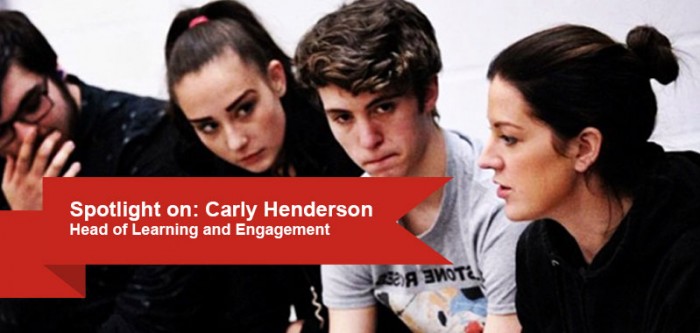 Introducing Carly, who heads the Coliseum's busy Learning and Engagement Department
How long have you worked at the Coliseum?
I've been here for nine years.
What is your favourite production that you've seen at the Coliseum?
I loved Mother Tongues From Farther Lands that formed part of the Alchemy Project. It involved working with our Women's Group, delivered with Jigsaw Homes and the Chai Project. It put the voices of South Asian women centre stage. I also really enjoyed Bread & Roses and A Skull in Connemara.
What is your favourite aspect of working at the Coliseum?
It has to be the culture of collaboration across Oldham. Colleagues from across sectors, such as housing, health and education, are working together to make Oldham a great place to live and work. Everyone is really committed and supportive of the role of the arts in the town. It makes my job a joy because I'm working with passionate people.
What are you currently working on?
I'm working on five projects at the minute so it's a really busy time for us. I'm working on the North West Drama Children's Shakespeare Festival, currently out delivering directorial visits in primary schools across Oldham and Rochdale and thinking ahead to the festival, which is on 11-12 July; I'm delivering sessions and collating work for our older people's festival, which we're delivering in partnership with Housing 21, that's on 18 July; and planning for the Local Lives project event with Regenda Group, which culminates in a performance here, also on 18 July; and co-ordinating our Hands and Hearts Dementia Friendly sharing, which is on 13 August. Please come and support this work!
What are you currently looking forward to?
I'm looking forward to Trojan Horse by LUNG Theatre and Black Men Walking by Eclipse. I think it'll be really interesting to have some new stories and companies on the stage at the Coliseum.
Can you tell us an interesting fact about yourself?
I will never turn down the opportunity to do karaoke – I can't sing, but that doesn't stop me!