September 2020 Newsletter
On Monday we're launching our first ever Crowdfunder, asking audiences to Get Behind Us and support the Coliseum to help us to survive the ongoing crisis. The Coliseum is facing a very difficult Christmas and an uncertain future following our building's closure, and the inevitable postponement of our annual pantomime. We hope that, if you are able, you can support us and keep the magic of theatre alive in Oldham.
Having now been closed for six months, our building is slowly starting to come back to life. Yesterday morning we put our first two socially distanced events on sale for November, all this week our Associates Fine Comb Theatre have been in the Studio working on a new play, The Way Things Are and we're recruiting for next term's UK Theatre Award nominated Teaching Theatre Pathways.
The Coliseum will look a little different when we welcome you back this Autumn and Winter. We've put in place new plans to ensure your safety and entertainment. You can read all about them here.
---
Get Behind Us: support the Coliseum's future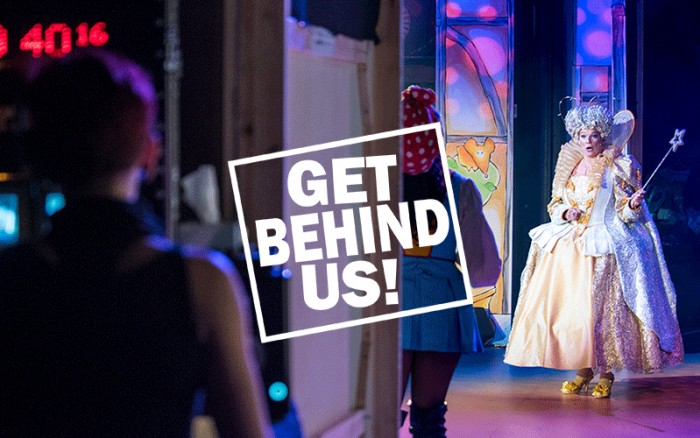 On Monday 28 September we're launching The Coliseum's first ever Crowdfunder, asking our audiences to Get Behind Us, support the Coliseum's future and help keep the magic of theatre alive in Oldham for generations to come. Donations matched thanks to the generous support of local businesses and trusts.
For over 100 years generations of people from Oldham, Greater Manchester and across the North West have come to the Coliseum to experience the magic of our nationally renowned pantomime and enjoy our year round programme, ranging from award-winning drama to music and comedy.
Theatres are at the heart of their community, they're places to come together, to be inspired and be entertained. They're where our best-loved actors learn their craft and thousands of others learn valuable skills.
The Coliseum contributes millions to Oldham's economy and has helped to launch the career of many famous faces. Income from our work on stage helps to fund our vital work in the communities of Oldham.
The Coliseum is a charity and having been closed with no ticket income since mid-March – and having had to cancel or reschedule all of our events since then, we're facing a very tough Christmas and an uncertain future.
We have been working closely with the Government and our industry body, and we are incredibly grateful for all the support the Coliseum has received. Now, an urgent fundraising campaign to raise £40,000 is our only available option to help secure the Coliseum's future. Thanks to the generous support of local businesses and Trusts donations can be matched.
Usually at this time of year we'd be in rehearsals for our renowned annual pantomime. This year to keep all our wonderful audiences safe and adhere to social distancing guidelines, we can't present the festive spectacular. For many years you have come to the Coliseum at Christmas to shout 'it's behind you!', now we're asking you to Get Behind Us and help to save Christmas in Oldham for generations to come.
We believe the Coliseum, its history and its future, are worth fighting for.
Donations will open on Crowdfunder here on Monday.
Please donate, share this page widely and do what you can to help us to make sure our theatre survives this crisis.
(Pictured: Backstage during a performance of Dick Whittington, 2017)
---
Welcome back: socially distanced events now on sale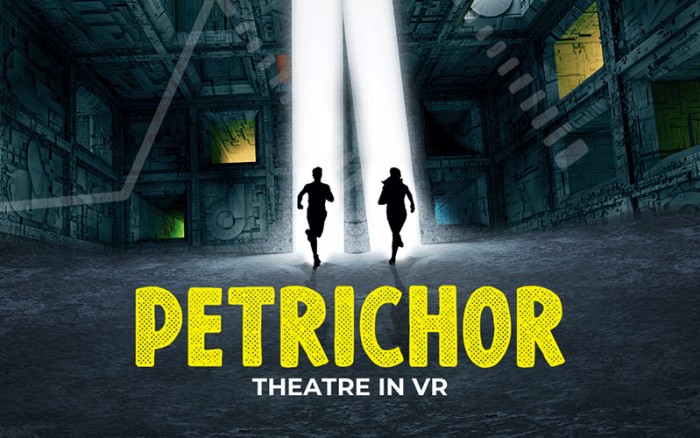 Yesterday morning we put our first two covid-safe, socially distanced events on sale. Drowning, the debut play by Dare to Know Theatre moves into the Auditorium on Thursday 12 November from its original schedule in the Studio in May, and PETRICHOR is a brand new, 360° live action animated virtuality show by award winning ThickSkin, which will be viewed on medical-grade safe VR headsets on Friday 20 and Saturday 21 November.
Drowning follows Josh, An intelligent yet naïve sixteen-year-old, with extreme views on mental health, claims that suicide is selfish. However, as his world crumbles around him, he begins to spiral out of control…
Writer and actor Jake Talbot said: "I suppose at its core, Drowning is me trying to better understand my own experiences with grief, and better understand mental health and suicide as a whole, that's what I hope audiences take away from the show."
Oldham-based Dare to Know Theatre are writer and actor Jake Talbot and Director and Producer Miranda Parker. Their debit play was originally scheduled to play in the Coliseum's Studio in May 2020 and will now show in the Main Auditorium on 12 November with a capacity of 60 people. Learn more and book tickets.
PETRICHOR is a 30 minute virtual reality theatre show which will be presented in the Auditorium with a capacity of 20 people per performance, with 9 performances across Friday 20 and Saturday 21 November. The show combines movement, sound, pace and tension to create a truly immersive, edge-of-your-seat experience. It is a story set in a parallel universe, exploring escape and connection; featuring two performers, an original soundtrack and projected animation, mixing the language of theatre, gaming, cinema and virtual reality.
Coliseum Artistic Director Chris Lawson said: "In the past six months we've been simultaneously working to plan how and when we can welcome audiences back into the Coliseum safely and producing and sharing work in new ways online. These in-theatre performances of PETRICHOR bridge the two perfectly, welcoming our audiences back safely for a new digital experience. We held our first Virtual Reality experience at the Coliseum in 2019 as part of our annual Cultivate Festival (with just one audience member per performance) and it proved very popular. Our intimate auditorium always gives audiences the feeling of being close to the action but with a VR headset every seat is a front row seat."
ThickSkin is an award-winning touring theatre company of international acclaim. The company creates bold and ambitious theatre; reaching and inspiring young, new and representative audiences across the world through a distinctive physicality and cinematic style. Learn more and book tickets.
This Autumn-Winter the Coliseum will look a little different. We've put in place new plans to ensure your safety and entertainment; you can read more about them here.
(Pictured: PETRICHOR promotional image)
---
Fine Comb Theatre on The Way Things Are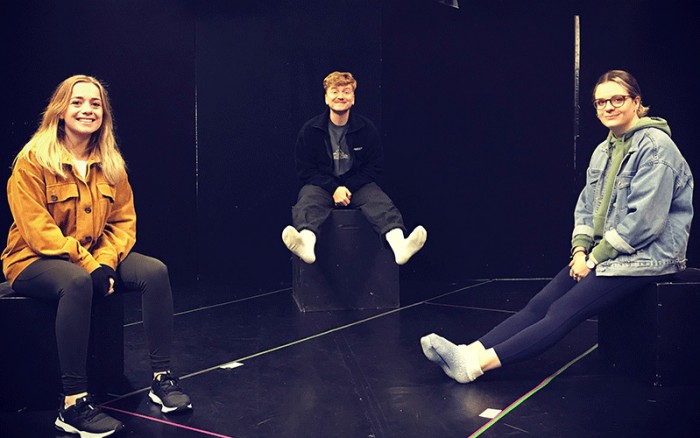 Coliseum Associate Company Fine Comb Theatre have been back at the Coliseum, working in the Studio this week on research and development for their newest piece, The Way Things Are.
The Way Things Are explores the complexities and issues facing those recently released from the prison system. Writer and director Rachel McMurray has worked with prisoners in various prisons across the UK for the last seven years, and it is here that the idea for this piece was born.
Rachel said: "Statistically about 75% of ex-prisoners reoffend within nine years of release, and 40% within the first twelve months. We want to explore why this is. What does institutionalisation look like? What support is available? What is the potential impact of feeling that you're living in a society that wasn't necessarily designed for you?"
Fine Comb are really excited to be back at the Coliseum, getting creative and working on their new piece. Cat Morefield, Company Producer, said: "It's so great to be back at the Coliseum doing what we love. The project was originally meant to go ahead in April, but due to the pandemic we've had to postpone it and we're so grateful we're able to do it now. Instead of seeing the restrictions and social distancing guidance as a hindrance for the project, we're getting creative with how we can incorporate those measures into the piece in an organic way, as safety comes first."
(Pictured: Fine Comb Theatre Company in the Coliseum Studio)
---
We're extending your customer credit and gift vouchers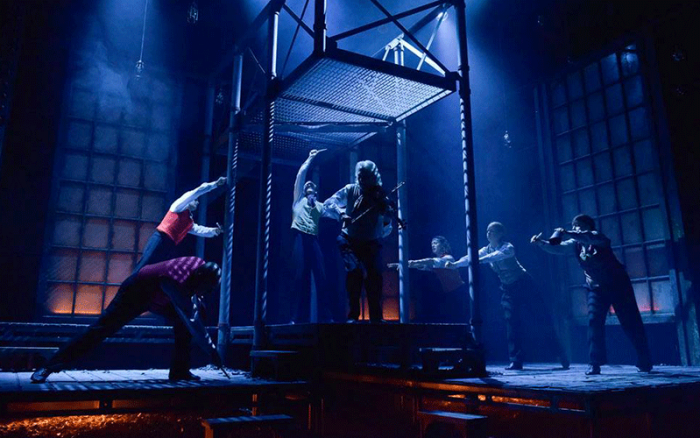 Thank you from the bottom of our hearts to all our audiences, partners and friends for your continued support of our beloved theatre. We're working on how and when we can welcome you back to the Coliseum and putting together more socially distanced events for this Autumn and Winter, details of which will be announced soon.
It was six months ago that we closed the Coliseum to the public to help slow the spread of coronavirus. In that time all of our planned events have been cancelled or rescheduled, and we are continuing to reschedule performances that had previously been planned to take place without social distancing this Autumn.
Credits and gift vouchers are usually valid for one year. If you have a credit of gift voucher it may have been purchased before our closure or may exist because you have chosen to refund your booking to a credit on your account for events that have been cancelled because of the pandemic.
As we have not hosted any events for six months, and to show our appreciation for your support with positive action, we've made the decision to extend all customer credit and gift vouchers for a further six months.
This means that if you had tickets refunded to a credit on your account, or have a gift voucher, these are now valid for 18 months from the date of your transaction and can be used on any forthcoming show at the Coliseum.
There is nothing you need to do as additional six months has been applied to all valid credit or gift vouchers automatically. Forthcoming refunds to credit for cancelled or postponed shows at the Coliseum will also benefit from 18 months validity.
Account credit and gift vouchers can be redeemed online, meaning you can still book tickets for future events whilst our building is closed. We already have two socially distanced events on sale in November, plus a range of events on sale for 2021. We'll also be announcing further socially distanced events for this Winter very soon.
Thank you, once again, for your support of the Coliseum.
If you would like to speak to a member of our Box Office team you can do so by emailing boxoffice@coliseum.org.uk. Please note that the Coliseum building is currently closed and so the Box Office phone line is not in use
(Pictured: Hard Times, 2017)
---
Recruiting now: Teaching Theatre Pathways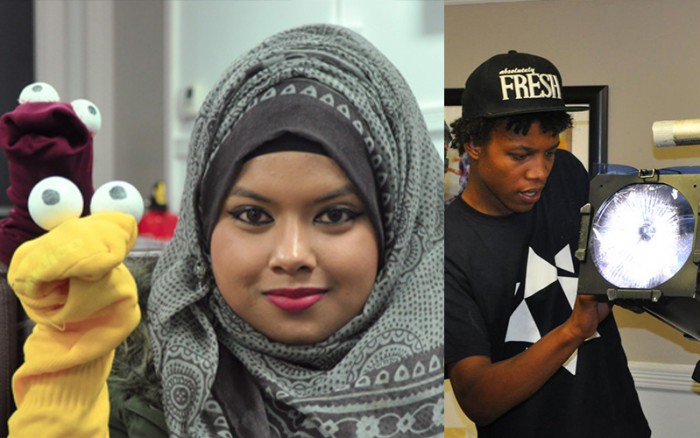 Last year our Teaching Theatre Pathways programme was nominated for the UK Theatre Award for Excellence in Arts Education. If you're aged between 16-25, not in education or employment, and interested in learning new skills in a creative and dynamic environment, this could be exactly what you're looking for.
Over two terms participants work alongside the Coliseum's friendly and professional teams to develop employability skills through practical, hands on activities.
During the intensive period participate in a series of masterclasses covering the key aspects of theatre-making including: Sound, Lighting, Stage Management, Set Design, Wardrobe, Marketing and much more. Then respond to a brief, be given a budget and apply what you have learnt to creating a Main Stage production at the Coliseum.
Participants also have the opportunity to focus on their own career goals, develop social and personal skills and achieve a Bronze Arts Award. For more information on Arts Award click here.
Teaching Theatre will adhere to all current social distancing guidelines and will run between 10am – 4:30pm on:
Tuesday 12 November

Monday 16 November

Tuesday 17 November

Monday 23 November

Tuesday 24 November
After the intensive period participants have the opportunity to receive mentoring and support in finding Further Education and employment opportunities in varied industries in line with their individual interests and abilities. They also have access to online masterclasses and our monthly Teaching Theatre Pathways group.
For more information or to sign up email Chelsea Morgan on chelseamorgan@coliseum.org.uk
"It's a particularly unique course, you had to put in the effort but the results have been amazing."
"I never thought I would be designing lights and sound for theatre shows, let alone for one I helped create.  I can't wait to learn more and start developing my skills."
"…very eye opening, it made me realise there is a lot of opportunities in the theatre workplace.  I got to meet some truly exceptional people.  I experienced work I had never done before and while a little scary at times it was thoroughly enjoyable.  It has inspired me to work even harder on the course and in my apprenticeship."
Teaching Theatre Pathways (Groups)
Interested in running Teaching Theatre Pathways with your school or community group? To discuss ways in which the programme could work for your group please contact our Teaching Theatre Practitioner Ben Cain on 0161 785 7000 or email bencain@coliseum.org.uk.
(Pictured: Past Teaching Theatre Pathways participants)
---
GM Artist Hub awarded £60,000 by the Esmée Fairbairn Foundation to support independent artists in Greater Manchester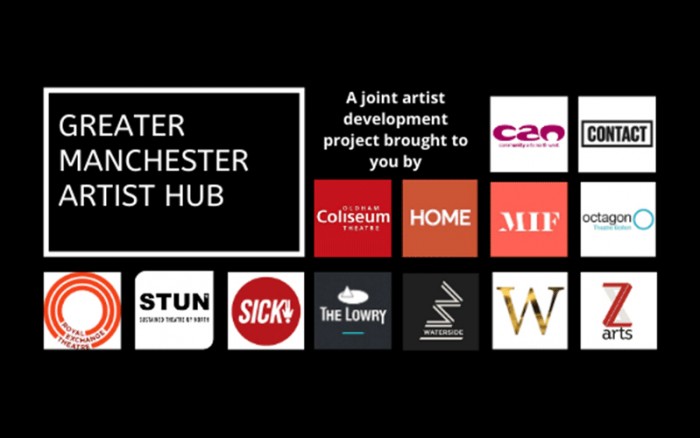 The GM Artist Hub – a project spearheaded by thirteen leading performing arts organisations across Greater Manchester – has been awarded £60,000 by the Esmée Fairbairn Foundation to support independent artists and creative freelancers in the area.
GM Artist Hub was formed in April 2020 to help independent artists access support, advice and opportunities during the COVID-19 crisis. The project has now offered nearly 300 private advice sessions to local artists and a number of larger opportunities for artists to learn about specific funding streams and connect with chief executives and artistic directors across the city region.
Participating venues and arts organisations are: Community Arts North West, Contact, HOME, The Lowry, Manchester International Festival, Octagon Theatre Bolton, Oldham Coliseum Theatre, Royal Exchange Theatre, SICK! Festival, STUN (Sustained Theatre Up North), Waterside Arts and Creative Industries Trafford, hÅb/Word of Warning and Z-arts.
This funding from the Esmée Fairbairn Foundation will allow the Hub to offer a range of new opportunities to local artists including creative care and wellbeing support, opportunities to develop new skills and co-commissions offered across a range of local partners.
Claire Symonds, Senior Producer: Artist Development at The Lowry, said: "Through GM Artist Hub, we wanted to demonstrate our collective support for the passionate and vibrant freelance community that sits at the heart of Greater Manchester's creative scene. Artists are the lifeblood of our industry. What's more, their creativity and ability to adapt will be absolutely critical as we all look for new ways of reaching out to audiences while social distancing is in place.
"Over the last six months we have been listening to artists as they make sense of things and begin to work out what their new needs and priorities are. This award from the Esmée Fairbairn Foundation means we can start offering opportunities that are relevant to our local community right now."
Details about the new programmes on offer will be announced soon. For more information about GM Artist Hub, visit gm-artisthub.co.uk
(Pictured: GM Artist Hub venues)
---
Oldham Coliseum Theatre gratefully acknowledges funding from:

Oldham Coliseum Theatre is a Registered Charity, No: 508829.
Oldham Coliseum Theatre Ltd Reg No: 1415547