September 2019 Newsletter
This month we're holding our second Main House Takeover, handing over our historic stage to independent companies usually seen in Fringe and Studio venues for one week.
We've also released our Annual Report for 2018-19 which celebrates all of the Coliseum's achievements in the past year, we're displaying a collection of fantastic 100 Word Plays about Oldham throughout the theatre for our audiences and friends to read and we're getting ready to start rehearsals for this year's pantomime, Jack and the Beanstalk.
Read all about it – plus even more updates on what's going on behind the scenes here at the Coliseum – below.
---
Opening this week: 53two and MAP Productions present Tinned Up in the Main House Takeover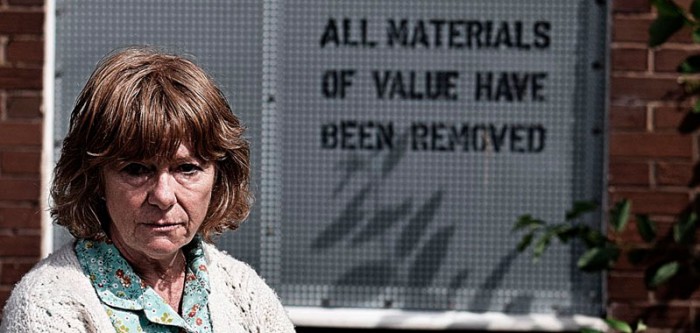 Inspired by true stories of Salford streets affected by demolitions, Tinned Up by Manchester playwright Chris Hoyle (The Newspaper Boy), tells the story of a community disappearing, friendships disbursing and children having nowhere safe to play, as a result of the negative side of regeneration projects we don't tend to hear about.
Shirley Parkin (Karen Henthorn) has lived at No.10 Brook Street all her life and has defied the council for years, refusing to move out of her modest two-up-two-down terrace. But now the clock is ticking; will she be forced to leave behind her memories and forget her past to make way for the developers? Joined by her foul-mouthed friend Beryl, unhappy single mother Joy, and Daz the local stoner, Shirley campaigns to keep the local area from the cold grasp of profit-hungry developers.
Writer Chris Hoyle commented: "I got the idea for this story when one day I took a wrong turn and ended up on a 'tinned up' street where the whole street was boarded up apart from one house, but there was so much life coming from this one house so, I observed and chatted to the occupants as part of my research. The play is full of heart and soul just like that one house on that tinned up street. It's a story about friendship, community and fighting for social issues, it's set in Salford in the pre-Media City days."
Manchester's 53two and Manchester Actor's Platform (MAP) present  Tinned Up as part of the Coliseum's Main House Takeover.
Simon Naylor, Artistic Director of 53two and Director of Tinned Up, added: "Oldham has some areas that I feel have done or, indeed, are a part of what this piece is about and so it makes sense to use this play to start or continue important discussions about gentrification, a growing population and regeneration of the area."
Spanning two of Deansgate's famous tunnels, 53two were one of the central venues for Manchester's independent theatre scene, operating as a theatre with space for exhibitions, gigs, events, celebrations, rehearsals, classes, conferences and more. Having closed their doors earlier this year whilst they prepare to move to a new premises to continue their work, 53two are currently operating studios in central Manchester providing rehearsal, workshop, meeting and casting space.
Tinned Up runs at the Coliseum from Tuesday 24 – Thursday 26 September. Click here to learn more and book tickets.
The Main House Takeover brings the new and often daring new work seen across the North West's independent theatre scene to Oldham's historic Main Stage.
The Takeover also features a One Night-Special showcasing a double bill of the Coliseum's pick of this year's Greater Manchester Fringe Festival: Clouds by Time and Again Theatre Company and Men Chase Women Choose by People Zoo. See our Pick of the Fringe on Friday 27 September. Click here to learn more and book tickets.
---
On display: 100 Word Plays

Throughout September, whether you're seeing a show or not, stop by and take a look at the 100 Word Plays written by our audiences and friends (including some names you might recognise!)
This summer we invited writers of all ages and levels of experience to write short plays about Oldham that are 100 words or less.
With topics ranging from Annie Kenney to getting a coffee in the Coliseum's Stalls Bar, we've put the 100 Word Plays on display throughout the theatre in crafty and creative forms and places.
One 100 Word Play takes just a couple of minutes to read. If you like, you could go on a 100 Word Plays trail throughout the theatre and see how many you can find and read, but be quick, as the plays will only be on display until Monday 30 September.
The 100 Word Plays Oldham Coliseum Theatre project is inspired by and would like to acknowledge Royal Court, London's 100 Word Plays which ran during the Young Writer's Festival in 2012.
---
Our Annual Report

We've just released our Annual Report for 2018-19 which celebrates everything the Coliseum has achieved in the past year – on stage, in the communities of Oldham and in the wider UK Arts and Theatre community.
Here are just a few snippets from the report:
72,000 people saw a show at the Coliseum

We staged three world premieres in Oldham

We welcomed our first Associate Companies

We delivered over 100 sessions in community and youth settings across Greater Manchester

We worked with over 400 pupils from 15 schools
Click here to view our 2018-19 Annual Report
The Coliseum is a cultural and educational charity for Oldham and we couldn't do our work without the support of our audiences, partners, funders and sponsors. Thank you.
---
Main House Takeover Pick of the Fringe Double Bill

Women in STEM (Science, Technology, Engineering and Maths) links two independent productions from this year's Greater Manchester Fringe Festival due to double bill on the Coliseum's historic stage as part of our hugely successful Main House Takeover on Friday 27 September.
Men Chase Women Choose by People Zoo Productions, one of the Coliseum's supported shows at this year's Edinburgh Fringe Festival, will be joined by the theatre's Pick of the GM Fringe Award winner, Clouds by Time & Again Theatre Company.
Chris Lawson, Acting Artistic Director of the Coliseum, commented: "The Coliseum is dedicated to supporting theatre makers creating fresh and interesting new work in our region. This year our Picks of the Fringe share messages of feminism – past, present and future – and science and education. The double bill is a brilliant opportunity for these companies and their shows to gain a bigger platform and a wider reach."
Men Chase Women Choose is a riotous romp through the history of the female body and the patriarchy intended on skewering widely held gender myths and unearthing the bad science behind them.
A scientist and an arts student are tasked with a presentation on 'the point of women.' What begins as an attempt at a science and sociology lecture is derailed by the student's dramatisation of their research.
Taking the form of a sketch show, with co-creators Sophie Giddens and Eve Shotton at the helm, Men Chase Women Choose is an informative and uproarious feminist romp that features fruit flies, film, physical theatre and a flute solo, putting women, sex and science under the microscope.
Men Chase Women Choose ran at the Greater Manchester Fringe Festival on 6 and 7 July at Hope Mill Theatre. It then ran at the Edinburgh Fringe Festival supported by the Coliseum as part of Venues North alongside Best Girl by Best Girl Productions.
Clouds by Time & Again Theatre Company
Combining the suffocating society of pre-war Britain with a touch of comedy, early feminism, and pure vintage flair, Clouds won the Coliseum's Pick of the Fringe Award at this year's Greater Manchester Fringe Festival.
The year is 1913 and women are rising up…
Amidst the flock of pioneers fighting to rule the skies, Winifred (Freddie) Baxter is determined to become the first Englishwoman to enter an air race, learning to fly amidst the chaos of the suffragette movement, a glorious garden party and far too much nephology: the study of clouds. Clouds takes Britain's 'last glorious summer' and slowly draws to the surface the simmering tensions and stark inequality lurking just beneath the surface of repressed Edwardian respectability.
Writer and performer Laura Crow commented: "We're hugely excited to bring Clouds to the Coliseum. Oldham's links to the suffragette movement through notable residents Lydia Becker; who founded the Women's Suffrage Journal and helped to inspire a young Emmeline Pankhurst, and Annie Kenney; a leading member of the WSPU, give the show a sense of homecoming. The suffragette movement was born in Manchester and we're so excited to bring our story to life in such a beautiful local theatre. It's a truly huge opportunity for us."
Time & Again Theatre Company formed in the summer of 2017 and use history to highlight issues still relevant to the world today. With Clouds the company aim to raise awareness of the ongoing gender disparity in STEM fields, particularly the lack of women in the aviation industry. Currently, only 22% of the workforce in core STEM occupations is female. This percentage is even lower in areas such as engineering (12%) and IT (16%). Lower still, only 5.18% of commercial pilots worldwide are women.
To select the winner of the Pick of the Fringe Award the Coliseum sent a team of seven judges to see over 40 shows throughout this year's Greater Manchester Fringe Festival. Clouds ran at the Greater Manchester Fringe on 25 July at The Pankhurst Centre and at Edinburgh Fringe Festival from 2 – 17 August..
The Main House Takeover brings the new and often daring work seen across the North West's independent theatre scene to Oldham's historic Main Stage. Clouds and Men Chase Women Choose double-bill on the Coliseum's Main Stage on Friday 27 September. Click here to learn more and book tickets.
Putting the spotlight on Greater Manchester's eclectic fringe theatre scene, the Main House Takeover also features a three-night run of Tinned Up by Chris Hoyle, presented by 53two and Manchester Actor's Platform Productions (24 – 26 September). Click here to learn more and book tickets.
---
Cast announced for Jack and the Beanstalk

It may only be September, but pantomime season is just around the corner at the Coliseum. The theatre has lined up a talented cast of familiar faces for this year's famous festive spectacular, Jack and the Beanstalk, who will be putting the extra sparkle into Christmas in Oldham.
Announced earlier this year, pantomime favourite Richard J Fletcher will be making his first outing as Pantomime Dame on the Coliseum stage after 11 years as Oldham's beloved high-flying, heel-kicking Pantomime Comic.
Richard commented: "Being an Oldhamer, the Coliseum panto was a big part of my childhood, I couldn't imagine spending Christmas anywhere else. It's an honour to be asked to play the Dame"
Richard is praised year on year for his boundless energy and skilful enticement of audience participation, both on and off stage. At 2018's cast visit to Dr Kershaw's Hospice in nearby Royton he had patients and staff in fits of laughter as they shouted out his catchphrase from Cinderella.
With Richard stepping into the extravagant wardrobe of the Dame the theatre is thrilled to announce that Sam Glen will be playing the Pantomime Comic in Jack and the Beanstalk, the titular role of Jack. Sam will be familiar to Coliseum audiences from his previous role as Billy in the theatre's hit production of The Kitchen Sink. Recently returned from a hit run of Letter to Boddah at Edinburgh Fringe Festival, Sam is also a previous member of Oldham Theatre Workshop and appeared on BBC1's Take That musical audition programme, Let it Shine with Gary Barlow.
Last year's Cinderella Shorelle Hepkin returns to play Jill marking her third Christmas season at the Coliseum. Alongside her pantomime prowess, Shorelle may be familiar to audiences as Kay Lawrence in CBBC's BAFTA nominated teen drama Wolf Blood, in which she appeared in all four seasons.
Mitesh Soni returns to the Coliseum for his second pantomime season following his performance as Baron Boothby Mothwallet in Cinderella. Mitesh has recently completed a season performing in Twelfth Night, Henry V and The Borrowers as Grosvenor Park Open Air Theatre in Chester. In Jack and the Beanstalk he will be playing perhaps the most famous pantomime character of all time, the Pantomime Cow.
Previously seen at the Coliseum in a heart-rendering performance as Abbie Williams in the Northern Soul Award-nominated musical Bread & Roses, Sophie Mercell will be playing Grotton. Sophie's other theatre credits include The Ugly Duckling: Christmas Special at Hull Truck Theatre and Let Me Play The Lion Too at Barbican, London.
Another familiar face from hit Coliseum musicals, Jenny Platt returns to the Coliseum this Christmas to play Mavis Moorside and Good Fairy Greenfield. Jenny played leading lady Mandi in the Coliseum's musical ode to Oldham Athletic, Meat Pie, Sausage Roll, in Spring 2017. Soap fans will also recognise her from her previous role as a barmaid in the Rovers Return, as she played Violet Wilson in Coronation Street from 2004 – 2008.
Last seen at the Coliseum in 2010's production of Sleeping Beauty Patrick Bridgman returns to Oldham to play Jill's father, Lord Thickpenny Grabbmuch. Patrick appeared in five Coliseum pantomimes between 2006 – 2010. His recent theatre credits include Oliver Twist at Hull Truck Theatre and Hymn to Love at Theatre by the Lake, Keswick.    
Oldham Coliseum Theatre's nationally renowned pantomime has been putting the extra sparkle into the festive season for generations; with all the ingredients for fantastic family fun: hit songs, silliness, a sprinkling of fairy dust and a generous helping of It's Behind You! With two fairies, a magic hen, a GIANT and a pantomime cow,  Jack and the Beanstalk is the perfect Christmas treat for kids and not-so-grown-up grown-ups.
This year's pantomime is sponsored by George Hill Timber and Building Supplies, Jigsaw Group and N Brown Group. Jack and the Beanstalk's Educational Partner is Oldham Hulme Grammar School.
Jack and the Beanstalk runs at Oldham Coliseum Theatre from Saturday 16 November 2019 – Saturday 11 January 2020. Click here to learn more and book tickets.
---
Theatre-lovers wanted for volunteer opportunities at the Coliseum

We're looking for fellow theatre-lovers to join their dedicated team of Customer Experience Volunteers working in the Front-of-House areas of the venue.
The Coliseum is the last surviving professional theatre in Oldham and the cultural heart of the community, providing a diverse and exciting programme for everyone from Oldham and the surrounding areas through the Main Theatre, Studio Theatre and opportunities to get involved with its Learning and Engagement programme. The theatre produces a rich mix of dramas, comedies, musicals, adaptations and modern classics, as well as a hugely popular traditional pantomime.
Customer Experience Volunteers are a vital part of the smooth running of the theatre. Last year 44 volunteers donated 4,300 hours of their time to the Coliseum. The theatre's longest serving Volunteer, Leslin Simmons joined the team almost 25 years ago.
Leslin commented: "I've always loved the theatre, I've been coming to the Coliseum since I was in my forties. I had early retirement and my daughter suggested I get in touch – and that was 1995! When I started volunteering I fell in love with the theatre all over again. I've built really good friendships with the team and some of the regular customers. I look forward to going in and having a chat with particular people."
Volunteering with the Coliseum offers the opportunity to uncover hidden talents in an exciting and creative environment, meet new people, have fun and experience the theatre's diverse programme of plays and entertainment. Joining the team also offers a great opportunity to gain work experience working in a customer-facing role. All Coliseum volunteers are supported every step of the way by the theatre's Customer Services team and receive full training.
Kyle Wilcock, another of the theatre's Customer Experience Volunteer Team, fits his volunteering sessions around studying History at Manchester Metropolitan University and working part-time.
Kyle added: "I think this theatre is so special. When you walk into other theatres they can feel big and impersonal, whereas the Coliseum has always felt homely and friendly to me. I think being a Customer Service Volunteer gives you a broad range of skills that can be used elsewhere. I'm definitely more confident because of it and can mix with different groups of people much better. You get to volunteer in a way that suits your lifestyle and learn new skills; it's just a really great way to spend your free time."
The Coliseum's volunteers enjoy a busy and varied role: meeting and greeting customers, directing audiences around the theatre and taking them to their seats, checking tickets, selling refreshments and programmes, answering customer queries, keeping audiences safe in case of emergencies and working alongside Box Office and Front of House staff.
We're looking for people aged 18+ who are reliable, open and friendly and enjoy meeting new people and working on a variety of tasks to join the team. Those interested must be available for one session each week for a minimum of three months and have a flexible approach to the schedule.
If you're interested in finding out more about becoming a Customer Experience Volunteer at the Coliseum please contact House Manager Heather Shaw at heathershaw@coliseum.org.uk.
---
No kids – now what? Join Victoria Firth on a mid-life quest for joy, identity and belonging

Performer, theatre maker and director Victoria Firth brings her autobiographical show How to Be Amazingly Happy! to Oldham Coliseum's Studio on Wednesday 2 October.
How do you find a new 'once upon a time' after the 'happy ever after' never turned up? Victoria is on a quest to discover how you make a new life when you can't have the one you imagined. In this big hearted, big thinking show of storytelling and physical comedy our heroine's mid-life search for joy, identity and belonging features public displays of playfulness, private truths and sheer bloody mindedness. Join Victoria as she asks – is it possible to be happy without kids?
The launch of the 2019 tour of How To Be Amazingly Happy! coincides with World Childless Week (16 – 22 September 2019), which aims to help those that are childless despite their longing to be a parent to find support groups that understand their grief and can help them move forwards.
How to be Amazingly Happy! cuts across art forms to tell Victoria's autobiographical story of wondering whether to have kids, seeking medical intervention, coming up empty handed and ultimately coming to terms with and discovering what to do with the second half of her life as a non-mother.
Victoria commented: "I hope the show will resonate with the many woman not sure whether to have kids or without the right partner/circumstance to match their white picket fence dreams, the many people who have IVF, those that don't, won't or can't have children and how they build a life outside of the accepted trajectory. Family diversity is greater than ever but there is still very little social validation for women who don't have kids.
I think a lot of women end up in complicated discussions with themselves about having children and/or are worried what life looks like without taking that step. What I hope people take away is a story of reinvention that inspires them to be more daring in being themselves and being happy"
How to be Amazingly Happy! includes storytelling, physical comedy, clowning techniques, audio recordings and live art influences. It comes to Oldham Coliseum Studio on Wednesday 2 October.  Click here to learn more and book tickets.
---
Learning and Engagement: New Teaching Theatre Pathways course starting

Registration is open for our next Teaching Theatre Pathways course starting in October. If you're aged between 17 – 21 years and not in full-time education, employment or training, this is a brilliant way to learn new skills in a unique and creative environment.
The next course, running over six weeks, will begin on Monday 7 October and will focus on all the technical elements that go into creating a performance at a producing theatre.
Teaching Theatre Pathways is a fantastic opportunity for young people to explore the multiple jobs available in the theatre, as well as developing transferable creative and team working skills which can be applied to many other future career choices.
If you're interested in finding out more about the course please drop into our information event on Monday 30 September anytime between 4:30pm – 6pm here at the Coliseum. If you have any questions you'd like to ask before the event please contact bencain@coliseum.org.uk or phone 0161 785 7006
---
Coming soon: John Godber's Gym & Tonic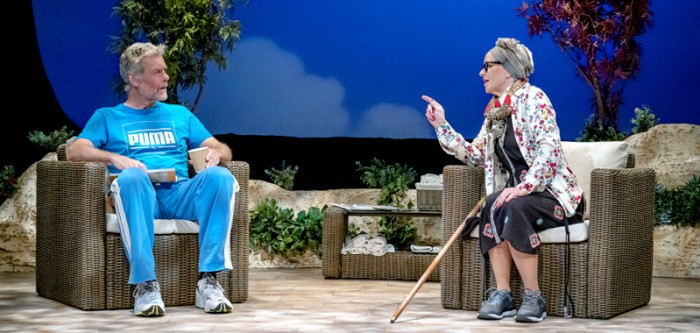 The John Godber Company and Theatre Royal Wakefield bring laugh-out-load comedy Gym & Tonic to the Coliseum this October.
Scardale Hall Health Farm has the best staff in Europe, happy to pamper you, massage you and put you through your paces. But when Don and Shirley arrive to fix their failing marriage, even the coolest therapists start to lose their karma. When the sanctuary is broken, it's not only the clients who need to lay back and relax. Gym & Tonic is a comedy about trying to find a moment of calm in these challenging times.
John Godber is one of the most performed writers in the English language. He was Artistic Director of Hull Truck for 26 years, taking it from bankruptcy in 1984 to its new home in a £15 million theatre in 2010. Since then his plays have continued to tour the UK and have been seen by over 100,000 people.
This production of Gym & Tonic is directed by John Godber himself.
John commented: "I'm excited to be bringing this play back at a time where wellness and mental health, particularly men's, are of such societal importance. It will be a true hilarious comedy, but also an honest commentary on the state of our times."
Gym & Tonic comes to the Coliseum on Tuesday 1 and Wednesday 2 October. Click here to learn more and book tickets.
---
Coming soon: Time Travelling Wheelchairs in Trollope

Multi-award winning comedy Trollope by Writer's Reign Theatre beams into the Coliseum Studio on Friday 4 October.
Once upon a time in 1850 or something like that, there was a boy called Percy Trollope. Whilst in the womb, Percy contracted a condition called Infantus Adultus Maximus, which means he was born a fully grown man, culminating in the death of his mother. His grief-stricken father decided to take him to Mrs Scrunt's Home for Unwanted and Difficult Waifs, where he discovered a library full of books.
Coupled with his hyperthymesia (the ability to remember everything that has ever happened), Percy memorised every fact that ever was from the Encyclopaedia Britannica. He then ran away and shacked up with HG Wells (writer of The Time Machine), who introduced him to his time travelling wheelchair.
Percy then learned to travel through time, and met lots of famous historical figures from William Wordsworth and Sid Vicious to Hitler.
Writer and actor Ronnie Leek founded Writer's Reign to provide a platform for writing that might not otherwise be seen. For its debut in summer 2018 Trollope won awards for Best Comedy Play at 2018's Greater Manchester Fringe Awards and Fringe Production of the Year at the Northern Soul Awards,
Trollope comes to the Coliseum Studio on Friday 4 October. Click here to learn more and book tickets. 
---
Build your own Season Ticket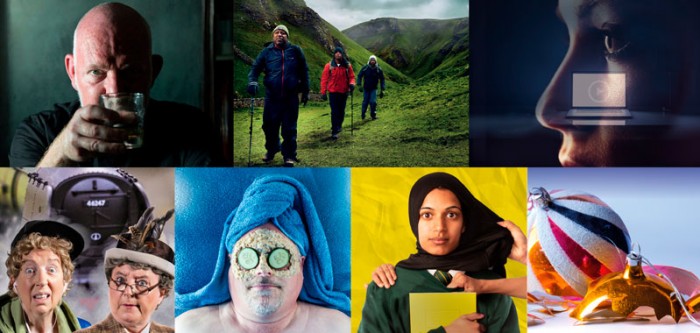 This Autumn and Winter we're giving you control of your Season Ticket with a multi-buy offer.
Following feedback from you, our audiences, we've created a more flexible Season Ticket offer that rewards your loyalty with bigger savings. We've also reduced our drama ticket prices for the first time in seven years and put together a programme with more variety than ever before.
How does the offer work?
It's simple, the more you book the more you save
Book two shows – save 5%
Book three shows – save 10%
Book four shows – save 15%
Book five shows – save 20%
Because you can book as few as two shows in a Season Ticket the latest you can take advantage of this season's offer is 7 March 2020.
The remaining shows in the Autumn/Winter 2019-20 Season Ticket are: Gym & Tonic, Black Men Walking, Trojan Horse, Four Minutes Twelve Seconds and Absurd Person Singular.
For the first time, there are no set shows that you have to see with a Season Ticket deal, giving you complete control over what you see and what you don't.
Gym & Tonic (1-2 October) is John Godber's laugh-out-loud comedy set in a health spa.
Black Men Walking (24-26 October) follows three friends who walk through the Peak District, and 2000 years of Black British history.
Trojan Horse (6-7 February) looks at the true story of a community torn apart by racial divisions following accusations of 'hardline' Muslim teachers and governors plotting extremism in Birmingham schools.
Four Minutes Twelve Seconds (21 February–7 March) is a topical drama that looks at how we see ourselves and others and highlights the dangers of modern technology.
Absurd Person Singular (10-14 March) is Alan Ayckbourn's much-loved classic set over three successive Christmas parties.
Season Ticket holders can still take advantage of free parking on Bradshaw Street for evening performances and, if booking four or more shows, the option to spread the cost by Direct Debit.
To book your Season Ticket click here to book online or call our Box Office on 0161 624 2829
---
Oldham Coliseum Theatre gratefully acknowledges funding from:

Oldham Coliseum Theatre is a Registered Charity, No: 508829.
Oldham Coliseum Theatre Ltd Reg No: 1415547