September 2018 Newsletter
This month we're handing over our historic Main Stage for a week to three of the finest productions on the Greater Manchester Fringe Theatre scene in the Main House Takeover.
We're also preparing to open our first production of the Autumn-Winter Season, Dishoom!, and getting ready to start rehearsals for this year's festive spectacular, Cinderella. 
Read all about it – plus even more updates on what's going on behind the scenes here at the Coliseum – below.
See you in the stalls,
Kevin Shaw
Chief Executive & Artistic Director.
---
Coming up: Dishoom!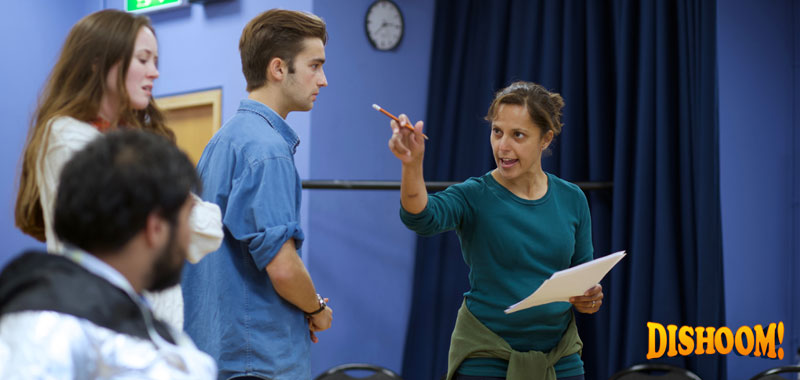 Our first production of the Autumn-Winter season, Dishoom!, opens in just a few weeks.
Penned by prolific playwright Gurpreet Kaur Bhatti, whose first play Behsharam (Shameless), broke box office records at Soho Theatre, London and Birmingham Rep, Dishoom! is a new play featuring songs from the iconic Bollywood film, Sholay.
Set in the 1970s, we meet Simon, a young man with a wheelchair who is struggling to find his place in the world. His grandmother, Bibi, is ashamed of him and his dad spends all of his time in the pub, whilst outside in the neighbourhood the National Front have taken to the streets. Inspired by Sholay's heros, Jai and Veeru, Simon and his friends find the courage to overcome their obstacles and change their lives.
""Dishoom! is about a young boy who is deemed worthless
and ends up being worth his weight in gold."
– Pravesh Kumar, Director
Sholay is one of the most influential Bollywood films of all time. Released in 1975, it ran for five years consecutively at Mumbai's Minerva Cinema and consistently tops fan and critics polls. In 2015, it was named No.1 in Time Out's 100 Best Bollywood Movies.  
Dishoom! is a co-production between the Coliseum, Rifco Theatre Company and Watford Palace Theatre. It comes to the Coliseum from Tuesday 2 – Saturday 13 October. Click here to learn more and book tickets.
---
The Effect: Interview with Director Jake Murray
As part of the Main House Takeover, this month sees Manchester theatre company, Play With Fire, take over the Coliseum stage with the North West premiere of Lucy Prebble's award-winning clinical romance, The Effect.
Love is a naturally occurring chemical reaction, so can it be created medicinally?  Psychology student Connie and drifter Tristan agree to take part in a clinical drug trial for a new kind of anti-depressant. When the clinicians up the dosage they find themselves falling for each other, but struggle to work out whether their feelings are real or just a side effect.
Writer Lucy Prebble is creator of the television series Secret Diary of a Call Girl (ITV2). The Effect premiered at the National Theatre in 2012, starring Billie Piper, and won the Critics' Circle Award for Best New Play.
We caught up with Director, Jake Murray, to chat about Play With Fire's production:

What is your history with Play With Fire?
I came to Play With Fire through Hannah Ellis Ryan, one of the founder members of the company. I was setting up my own company, Elysium TC, which is designed to bring theatre to the North East and North West, with actor Danny Solomon. I mentioned that we needed a producer, and he suggested Hannah. Hannah produced our first two shows: Days Of Wine And Roses and Jesus Hopped The A Train, and will be appearing in our next two: The River and Miss Julie. She introduced me to Daniel Bradford, her co-founder of Play With Fire, and together they invited me to direct The Effect.

How did you get involved in The Effect?
Both Hannah and Dan take it in turns to act in Play With Fire productions. When he's not acting in them Dan usually directs them, while when Hannah is not in them she usually produces. On this occasion Dan was acting and Hannah producing. They liked my work so very kindly asked me to direct. It was a huge honour, so I said yes.
What makes The Effect such a powerful story?
The Effect takes on two of the biggest themes of our time: love and grief, or depression. It's a thrillingly theatrical drama that tells the story of two young people who sign up to take part in a clinical trial for an anti-depressant. As the trial progresses they fall in love, intensely, passionately and dangerously. The question is: are they really in love or is it just the drug?
What The Effect does is dramatise this love in the most powerful, real and universal way I have ever seen in modern drama. You see the journey of love in all its agony and ecstasy. It then surrounds that with questions: what is love? Is it a real passion or just a bunch of chemicals? Is there a soul? Are we just bodies? Can love last or does it burn out? What is it to have loved and lost? Does anything mean anything? 
Who can't relate to these thoughts and feelings? Everyone will find themselves in the play. It's funny, moving, thrilling and powerful. 
Have you seen any previous productions of The Effect?
No. I missed the original London production although I was aware of it when it was on. I have looked at reviews of it and subsequent productions all round the world though, which offer fascinating insights into the play.
What are you most looking forward to about presenting The Effect on the Coliseum Main Stage?
It's going to be very exciting being on that Main Stage, with its atmosphere, scale and history. Having lived and worked in Greater Manchester for most of my life working at the Coliseum will be a privilege. It's a great theatre, and it will be wonderful to be part of it.
What should audiences expect to feel when watching The Effect?
If we get it right, a whirlwind of emotions: the first flush of love, the excitement of meeting someone who feels as passionately about you as you do them, the intoxicating excitement of sexual attraction, the pain of the true love 'which never did run smooth', most of all a sense of sharing thoughts and feelings that we all do. Somehow we are all in this story. I'm hoping people will see themselves on the stage and be moved to recognise the very real human emotions we all find ourselves gripped by when we are in love.
 
The Effect runs from Tuesday 25 – Thursday 27 September. Click here to learn more and book tickets.
Putting the spotlight on Greater Manchester's eclectic fringe theatre scene, our Main House Takeover also features a Double Bill of Rosie Fleeshman's Narcissist in the Mirror and the Coliseum's pick of the Greater Manchester Fringe Festival, POP by EVENTHORIZON on Friday 28 September. Click here to learn more and book tickets.
---
Share your stories for a new play about Prom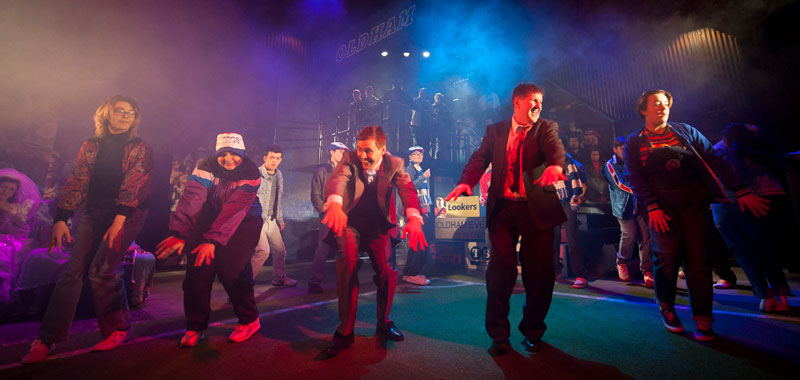 Cathy Crabb and Lindsay Williams, the team behind the Coliseum's hit musicals: Meat Pie, Sausage Roll and Dreamers, are writing a new musical about the end of high school dances and now the era of proms.
Did your child's prom cost a bomb? Did the search for the perfect dress/suit turn everyone's life into a mess? Was it worth the cost of the limo to see them all grown up?
Cathy and Lindsay would like to talk to mums, dads, sons and daughters about their school dance disasters and triumphs and are holding a sharing event at the Coliseum on Monday 17 September at 7pm. 
Please join us for an enjoyable evening of anecdotes – you never know, your story could end up as part of the play! Formal dress not required.
There's no need to book in advance, but please bring your pictures so we can see how amazing they looked.
---
Have you booked your Season Ticket?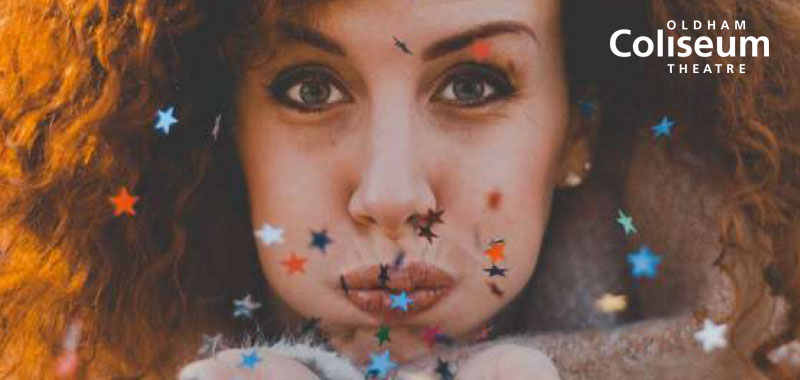 The Coliseum's Season Ticket offer is the best value, greatest quality theatre offer in the region – offering four productions for as little as £55, with a host of other benefits including free evening parking and the option to spread the cost via direct debit.
With a mix of new writing, classic and modern drama, spoof and black comedy, the Coliseum has something for everyone this Autumn and Winter. The Season Ticket includes Dishoom!, Withering Looks, A Skull in Connemara and a choice of either Othello or The Verdict.
Dishoom! is a new play featuring the music from the iconic Bollywood film, Sholay. A joyous celebration of young people overcoming obstacles, it follows a group of teenage friends in the 1970s who are inspired by the film's heroes to find the courage to change their lives. Dishoom! runs from Tuesday 2 – Saturday 13 October.
Withering Looks is LipService's cult spoof of Wuthering Heights. In celebration of the 200th year of Emily Brontë's birth the comic duo have added new material to their award-winning show and dusted off their crinolines  to take us back to Haworth Parsonage for a look at the lives and works of the Brontë sisters. Withering Looks runs from Tuesday 16 – Saturday 20 October.
A Skull in Connemara is a black comedy from the writer behind feature films In Bruges, Seven Psychopaths and Three Billboards Outside Ebbing, Missouri. Unveiling the murky mysteries of a sleepy Irish village, it follows Mick, a gravedigger whose wife died under mysterious circumstances seven years ago. A Skull in Connemara runs from Friday 22 February – Saturday 9 March.
Presented by English Touring Theatre, Othello is one of Shakespeare's most contemporary plays. It follows a young Muslim general who is manipulated by his friend to turn on everything he holds dear. Othello runs from Tuesday 23 – Saturday 27 October.
Presented by Middleground Theatre Company, The Verdict is a courtroom thriller made famous by the Oscar nominated film starring Paul Newman and James Mason. Veteran lawyer Frank Galvin is given one last chance to redeem himself with an open and shut case. However, smelling a cover up, Frank takes the entire legal system to court. The Verdict runs from Tuesday 12 – Saturday 16 March.
Season Tickets are available to buy until Saturday 13 October. You can book Season Tickets online here, by phone on 0161 624 2829 or in person at the Coliseum's Box Office.
---
LipService wish Happy Birthday to Emily Brontë

To celebrate the 200th anniversary of Emily Brontë's birth, Britain's favourite literary lunatics return with a special edition of their cult spoof, Withering Looks.
With new scenes added to the award-winning show for the anniversary year, Withering Looks is peopled with some of the great characters from the Brontë canon, going behind the grim facade of Haworth Parsonage for an intimate look at the lives and works of the three famous sisters. Well, two of them actually, Anne has just popped out for a cup of sugar.
Described as "literary specialists and comedy duo par excellence" LipService, otherwise known as Maggie Fox and Sue Ryding, have been writing and performing together since 1985, touring nationally and internationally. They have written 19 original comedies for the stage, and have twice won the Critics' Award for Comedy and the Stage Door Foundation Award.
The duo's previous productions include: Very Little Women, a comic version of Louisa May Alcott's Little Women; Hector's House, an epic tale of togas and taramasalata; the Aga Saga Women on the Verger, The Importance of Being Earnest; Move over Moriarty, an impenetrable case for Holmes and Watson, The Picture of Doreen Gray and most recently Mr Darcy Loses The Plot.
Withering Looks comes to the Coliseum from Tuesday 16 – Saturday 20 October. Click here to learn more and book tickets.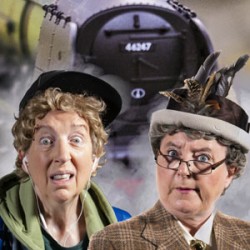 First Look: Strangers on a Train Set
On Tuesday 18 September  LipService will be presenting a 30-minute sneak peek of their new show for 2019, Strangers on a Train Set, at Oldham Library.
Sue and Maggie would love to hear what audiences think of their work so far – it's a must for fans of the comic duo, lovers of crime fiction and model railway geeks.
---
Fine Comb and Rogue Bones named as Coliseum Associate Companies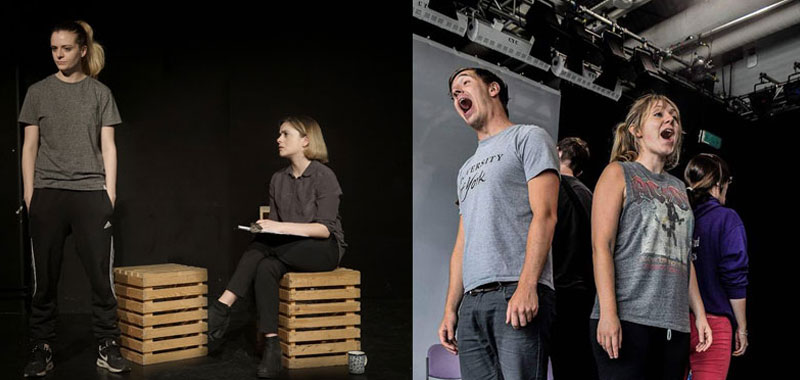 This month two Manchester theatre organisations, Fine Comb Theatre and Rogue Bones Theatre Company, joined the Coliseum as Associate Companies.
As Associate Companies Fine Comb and Rogue Bones will benefit from support in developing, presenting and promoting their work, including rehearsal space and access to the skills and experience of our in-house team.
They will also help to deliver the Coliseum's broad range of work with young people and in the community, including workshops at Oldham's Youth Zone, MAHDLO, and sessions with the theatre's scriptwriting group, Scribbles.
Fine Comb Theatre is a new-writing theatre company which was founded by Rachel McMurray and Catherine Morefield whilst studying at Salford University in 2013. Rachel and Catherine make issue-based theatre and have established a reputation for creating stylised, innovative and intriguing plays based on delicate subject matters.
They have performed at various venues across the North West, including 53Two and Square Chapel Arts Centre, Halifax, along with two successful tours of Switzerland. Last year's production, Matchsticks, which came to the Coliseum Studio in April, was nominated for the Best Drama and Best Newcomer Awards at the Greater Manchester Fringe Festival and nominated for the Write for the Stage New Writing Award.
Rachel and Catherine commented: "It's not often that an established theatre not only supports your work so passionately, but supports it enough to give you the opportunity to develop under their roof.  It's such a privilege to work with Oldham Coliseum."
Rogue Bones Theatre Company were formed by co-artistic directors Kash Arshad and Amie George in 2016. Kash and Amie first came together to share 15 minutes of original work at a Shoots Scratch Night at The Lowry, Salford, and were subsequently invited to perform at Paines Plough Roundabout, as an opener for award-winning production, Growth, by Luke Norris. In 2017 Rogue Bones produced the regional premiere of Vinay Patel's Free Fall at the Greater Manchester Fringe Festival, followed by two original plays: Selfies Kill More People Than Sharks and Making Love as part of the Coliseum's Studio Takeover Season 2018.
Kash and Amie commented: "This partnership means that Rogue Bones will have the space to play and experiment, helping us develop our unique style of work. The recognition and support of the Coliseum is invaluable to us as we strive to grow our company, and we're excited to see what the next year brings!"
As Associate Companies Fine Comb and Rogue Bones will receive organisational and artistic development, access to the Coliseum's rehearsal space, support from the theatre's in-house teams, press and marketing support and audience development support. The organisations will work closely with the Coliseum to develop new audiences and provide critical feedback for other Coliseum productions. They will also be part of a peer-to-peer support network and act as mentors for young aspiring theatre-makers working with the theatre.
---
Coliseum recommends: Head for the Hills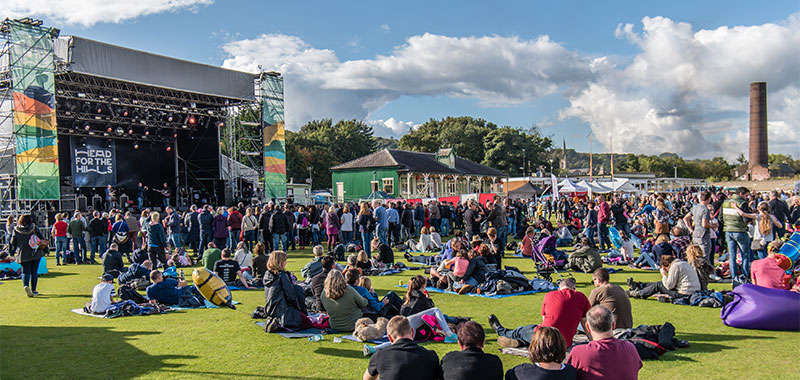 Over in Ramsbottom this weekend Head for the Hills festival returns for three fantastic days of live music and family arts in the Lancashire hills.
Do you like Mondays? We all know Bob Geldof certainly doesn't, and you'll be able to hear all about it when he and The Boomtown Rats headline on Sunday evening. The Bluetones, and The Slow Readers Club  headline on Saturday and Friday respectively, with a host of other established and up-and-coming bands on three live stages across the three days.
Families will also find plenty to do in the busy programme of activities, workshops and shows for young people including a Playground of Illusions by Travelling Light Circus.
Head for the Hills festival runs from Friday 14 – Saturday 16 September at Ramsbottom Cricket Ground. Tickets are available for the full festival or individual days, and there are discounts for children and families. For more information or to book click here. 
---
Full cast announced for this year's pantomime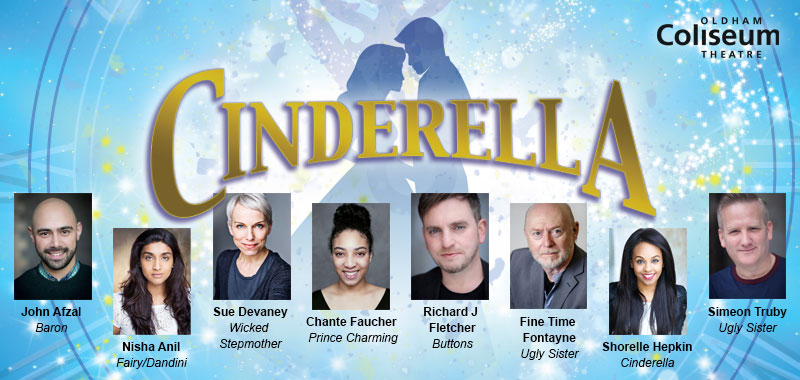 It may be September, but pantomime season is just around the corner here at the Coliseum and we've lined up a fantastic cast for Cinderella to put that extra sparkle into Christmas in Oldham.
This year the Coliseum's pantomime will have not one but TWO Dames (are we asking for trouble?) playing the Ugly Sisters. Our regular Pantomime Dame, Fine Time Fontayne, and fellow panto regular and hero of the hour from Sleeping Beauty, Simeon Truby, will be sporting some very fabulous frocks and no doubt getting up to mischief throughout the run.
Speaking of frocks, the woman of the hour (midnight, that is), Cinderella, will be played by Shorelle Hepkin, returning for her second Christmas in Oldham after a rip-roaring performance as Alice in last year's Dick Whittington.
Everyone's favourite silly billy Richard J Fletcher will be getting audiences involved with his antics as Buttons. Cinderella will be Richard's tenth Coliseum pantomime and he gets funnier every year.
Coliseum favourite Sue Devaney will be playing the Wicked Stepmother. Best known for her roles in Victoria Wood's Dinnerladies and BBC's Casualty, Sue played Rochdale's finest export, Gracie Fields, in the Coliseum's world premiere of Our Gracie in 2016 and hard-working mum, Kath, in our hit production of The Kitchen Sink earlier this year.
Treading the Coliseum's boards for the first time this Christmas we're extending a very warm welcome to John Afzal, who will be playing the Baron, Nisha Anil, who will be adding a touch of magic as the Fairy/Dandini, and Chante Faucher, who will be playing Prince Charming.
Every year the Coliseum serves up the perfect panto recipe – excellent actors, singers and dancers dishing out the very best in festive traditional fun that's great for kids and not-so-grown-up grown-ups. Add some music, songs and slapstick, plus a sprinkling of fairy dust for the perfect Christmas celebration.
Cinderella opens on Saturday 10 November 2018, running until Saturday 12 January 2019. Click here to learn more and book tickets.
---
Learning and Engagement: What's on for Adults this Autumn and Winter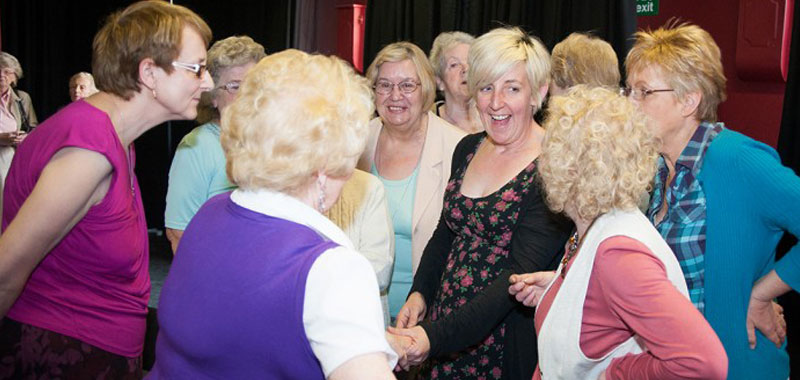 September means the beginning of all of our terms of work. We have plenty of opportunities to get involved and learn new skills. Here's a brief overview of what's to look forward to this term:
Full Circle is a friendly and welcoming group for anyone over 50 who has an interest in the arts and events in the local community. The group meet on alternate Tuesdays from 10:30am – 2:15pm with different workshops and talks each time.
This term, the group are looking forward to a host of interesting activities including:
A rehearsed reading of The Effect, Play with Fire's upcoming production on the main stage.

Bollywood Dancing with Karuna Jaipal

A writing workshop with The Wednesday Collective

A set tour of Cinderella led by the Coliseum's Head of Production.
And loads more…!
The next Full Circle day is Tuesday 18 September and costs just £5. Each session can be paid for individually so why not come along and see what you think?
For a full programme or for more information, email Anna Hughes, Admin Assistant at annahughes@coliseum.org.uk
Scribbles is our fortnightly writing group, meeting on alternate Wednesdays 11am-1pm. The workshops are led by local playwright Amie George whose work has previously been performed in the Coliseum's Studio.
Over five sessions, the group work on different aspects of writing from character development, to formatting and more. The exercises are suitable for everyone including absolute beginners.  This term, the group will begin to develop a full length script, so whether you've got a work in progress that needs refining or, you just want to develop your writing skills – Scribbles is for you!
The next session is Wednesday 19 September, to book ring the Box Office on 0161 624 2829.
Scripts is a friendly play reading group exploring a wide range of texts from submitted plays to modern classics and more. The group look at potential work for our Studio and Main House. In this group, you'll find more about the commissioning process in a theatre and you can listen or be part of the reading. Come along and find out more! Each session looks at a different text.
The next session is Wednesday 26 September, to book ring the Box Office on 0161 624 2829.
---
Hidden talents: Coliseum Housekeeper's paper craft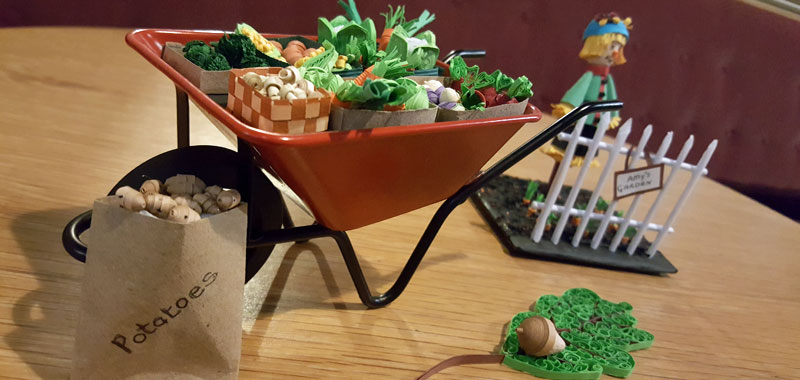 We all know about the talent on stage at the Coliseum, but backstage there are hidden creative talents just waiting to be discovered. One such talent is quilling, a long-time hobby of Shirley Hall, one the Coliseum's Housekeepers.
Quilling, also known as paper filigree, is the art of rolling narrow strips of paper into circles, shaping them, and putting them together to make a variety of artwork. The history of the craft dates back to the Renaissance, where nuns and monks would roll gilded paper remnants trimmed during the bookmaking process and use them to decorate religious objects. It later became a pastime of 18th and 19th century ladies, who would use quilling to decorate tea caddies and pieces of furniture with paper filigree. One such lady was Charlotte Brontë, who famously made a tea caddie as a present for her best friend Ellen Nussey.
These days, quilling is best known as a way of bringing personality to handmade cards, but as Shirley's work proves, you can make just about anything.
Shirley first got into quilling in 1996 after seeing a display of gift cards at the Royton Assembly Hall. She joined a local quilling class in Shaw and has never looked back. For her sister's wedding she handmade the invitations, signing-in book and table decorations and at the Quilling AGM her work was exhibited on the regional tables for the North West.
---
A special treat for our Friends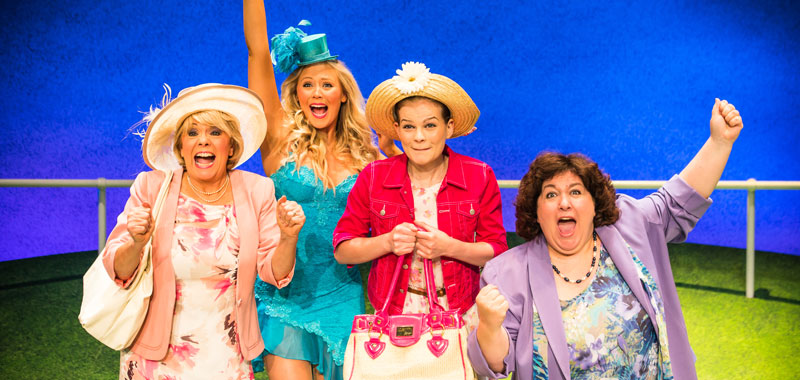 This month the Coliseum's Friends group met at the theatre for an insight into the future of theatre in Oldham.
The Friends are a growing and dedicated group of people who enjoy exclusive benefits while raising money for the theatre. As a thank you for their continued support of our work, they were joined by Associate Director, Chris Lawson, and Lead Capital Fundraiser & Development Manager, John Edwards, to hear about the exciting plans for future programming and the new Coliseum.
Associate Director, Chris Lawson, talked through his approach to selecting productions for the Coliseum, developing new work and supporting emerging theatre makers through schemes including the Main House Takeover and Associate Companies.
John Edwards, Lead Capital Fundraiser & Development Manager, ran through the plans and ambitions for the new purpose-built theatre, where the Coliseum will have the opportunity to develop both the work on stage and opportunities to participate in the performing arts for all people in Oldham.
Both sessions ended with lively Q&As and the we'd like to thank the Friends for their enthusiasm and insight. We're now looking forward to more sessions in the future to hear what our audiences and supporters think of our plans.
Becoming a Friend is one of the many ways theatre-lovers and audiences can support the Coliseum and become part of the theatre's long and exciting history. If you'd like to learn more about the Friends or become a member please contact our Box Office by phone at 0161 624 2829 or email boxofficeteam@coliseum.org.uk
---
Coliseum recommends: Future Bodies at HOME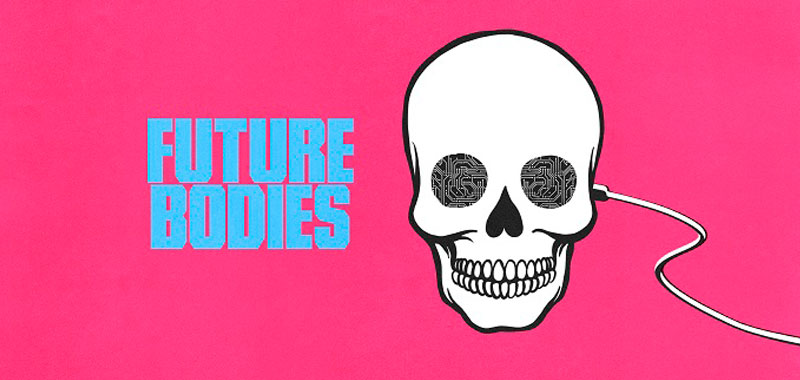 Presented by Unlimited Theatre, RashDash and HOME, Future Bodies  imagines the implications of real world, cutting edge developments in human enhancement technologies.
The technology of the future is being developed, in part, by very intelligent and/or very well-funded people who believe that death is just a technical glitch and immortality is genuinely possible.
The human being is being upgraded. This is terrifying and exciting and it's coming – whether we like it or not.
Think Black Mirror on stage, but with more songs.
Future Bodies runs at HOME, Manchester, from Friday 28 September – Saturday 13 October. Click here to learn more and book tickets. 
---
Spotlight on: Ben Cain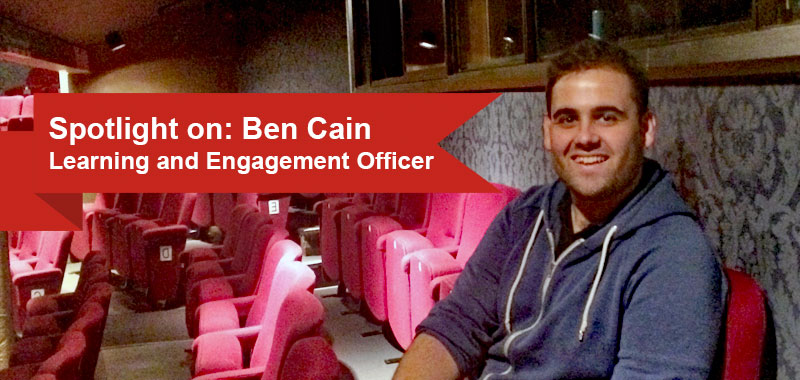 Introducing Ben, the Coliseum's new Learning and Engagement Officer. 
How long have you worked at the Coliseum?
Less than a week! Although I can't wait to see the Coliseum in full action with its performances and engagement sessions! 
What productions are you most looking forward to this season?
I love the work of Martin McDonagh and how it's equally dark and comedic, so I'd have to say I can't wait to see A Skull in Connemara.
What is your favourite aspect of working at the Coliseum?
It is amazing getting to know everybody at the theatre, and seeing how the whole team works together.
What are you currently working on?
I am still getting to know the ins and outs of our Learning and Engagement Department and each of the projects we do, but I am currently in the midst of introducing myself to all of the teachers who are part of our Secondary Education Scheme.
What are you currently looking forward to?
Christmas. I love a good panto, and the Coliseum's is the best in the North West!
Can you tell us an interesting fact about yourself?
I used to work in a pie shop called The Hull Pie. I loved it, but it's nice to no longer smell like gravy all the time!
---
Customer Experience Volunteers: Join us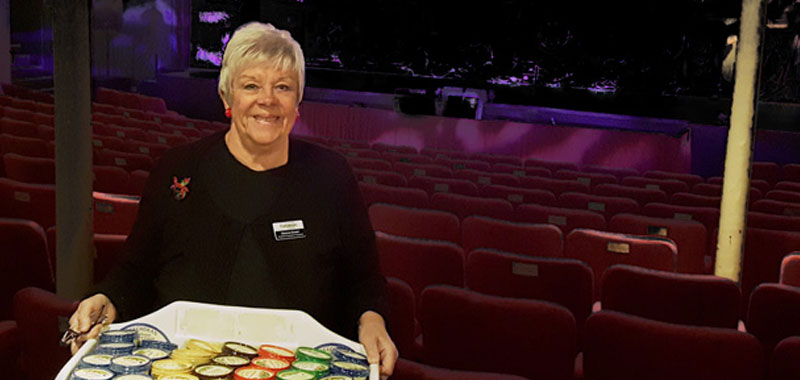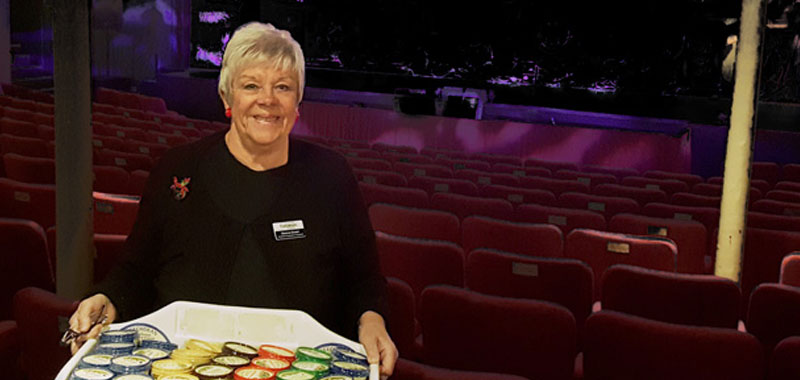 We're always on the lookout for friendly and reliable people to join our team of Customer Experience Volunteers, who help to look after our audiences from greeting them in the foyer, to selling programmes and ice creams, taking them to their seats and much more.
Customer Experience Volunteers must be 18+ and able to commit to a minimum of three months volunteering with us. No experience is needed as full training is provided.
Click here to learn more about becoming an Oldham Coliseum Theatre Customer Experience Volunteer or contact Heather Shaw, House Manager,  by phone on 0161 785 7021 or email heathershaw@coliseum.org.uk.
---
Oldham Coliseum Theatre gratefully acknowledges funding from:

Oldham Coliseum Theatre is a Registered Charity, No: 508829.
Oldham Coliseum Theatre Ltd Reg No: 1415547