Scripts discuss Visitors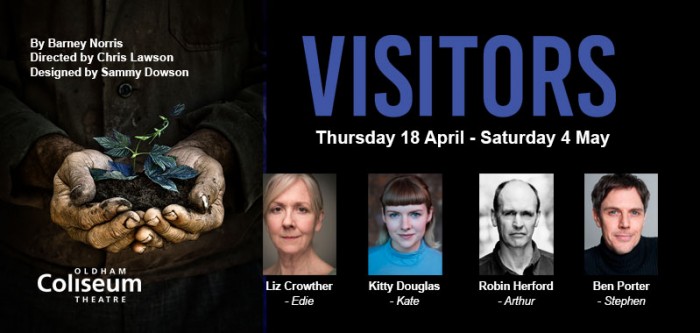 Our fortnightly play reading group, Scripts, explore a range of texts, looking at potential work for our Studio and Main House. Last year they read Visitors by Barney Norris, which started rehearsals this week and is due to open on Thursday 18 April.
We asked Scripts members John Maiden and Pat Marchant about their experience reading the play:
John: I think it's a tremendous perception of human relationships, dealing with a tricky subject in terms of the ageing process, but yet its handled really well.
Pat: It was beautiful, there was a lot of poetry in it. The wife is in stages of dementia and so there's the reality and the practicalities of that but she's also remembering things from her past in a very poetic and beautiful way.
It's about relationships, it's about marriage and what makes a good marriage, parenting and what makes good parenting, and our futures and caring. The dialogue is brilliant, the married couple are full of banter.
My mum's at that stage at the moment and when we read it one of the other ladies in the group's  mum had had it quite early and ended up in a home and so she's been through the whole thing and had a really bad experience with it. It really does you good to know that people understand it.  The catharsis of watching a play is that you engage with it and it sort of helps you with your emotions as well. It's so important.
John: What's challenging is the uncertainty about motives early on in respect of who's potentially doing what to whom.
Pat: It wasn't as clear cut as we might have thought.
It certainly was beautiful and a very satisfactory read. You can imagine the atmosphere that the Coliseum will create, the extra layers that will come with the lighting and the scenery.
We'll definitely be coming. Definitely one to recommend.
Edie and Arthur live a quiet life on their farm; they have done for most of their lives. When their son hires a twenty-something stranger to move in with them all of their futures come into question.
With frankness and light humour, Visitors is an ode to life-long love that illustrates the challenges faced by three different generations and encourages us to stop and appreciate the beauty of the every day.
Our production features actor, director and former Artistic Director of the Stephen Joseph Theatre in Scarbrough, Robin Herford, as Arthur, Liz Crowther as his wife Edie, Ben Porter as their son Stephen, and Kitty Douglas as blue-haired stranger, Kate.  
Visitors is directed by Coliseum Acting Artistic Director Chris Lawson and is designed by Sammy Dowson. 
The production runs from Thursday 11 April – Saturday 4 May. Click here to learn more and book tickets.