Scene Dock Weekly: Scripts & Scribbles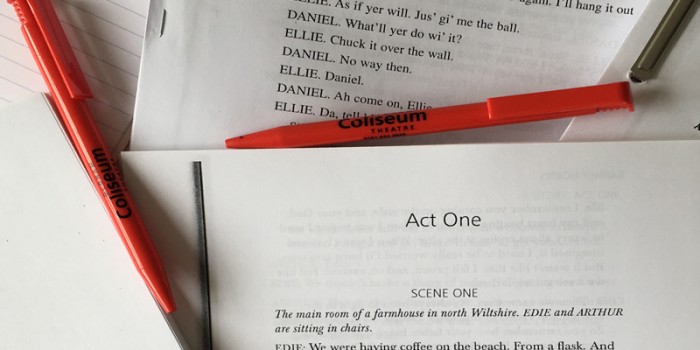 The Summer term of Scripts & Scribbles has just begun with sessions running fortnightly on Wednesdays, 11-1pm at the theatre.
This week was the first session of Scribbles, our writing group for anyone who has an interest in writing for the stage from absolute beginners to published writers. Whether you want to learn different techniques, meet other writers or make the commitment to writing regularly, Scribbles is suitable for you. This term, the group will be led by Amie George, Co-Artistic Director of Rogue Bones Theatre Company. Amie's play Making Love will be performed as a rehearsed reading in the Coliseum's studio on Thursday 26 April. Her work was also featured in last year's First Break New Writing Festival.
The next session of Scripts will be on the Wednesday 2  May. Scripts is a friendly play reading group, exploring a variety of texts chosen by Associate Director, Chris Lawson. During the last term, the group looked at everything from well-known texts such as Alan Ayckbourn's Confusions to Milk by Ross Dunmore which was recently performed at the Edinburgh Fringe Festival.
Pat Merchant, Scripts participant and workshop assistant, has attended the sessions since they began two years ago and read alongside professional actors for the Scribbles performance last year:
"Reading a script out loud brings it to life even though we're not physically acting it out. It means we can have fun reading roles we may not be suitable for, but we can voice with conviction. And if we are not masters of regional or national accents, we just carry on using our own natural one!
As well as reading the scripts we discuss their merits. As a group we have a love for theatre as writers, performers or just regular audience members, so we enjoy a bit of analysis and speculation about how something might work for staging in the Coliseum spaces.
You don't have to read a character part if you would just prefer to listen. You might even find that it increases your confidence for speaking or performing."
This year, the Scripts and Scribbles groups will be working together, producing scripts and reading as part of Cultivate Festival (Monday 25-30 June).  The Scribbles sessions from now until the end of the term will focus on developing short pieces for performances, with guidance from Amie George and feedback opportunities with the other members of the group. The Scripts group will have the opportunity to take part in the performance by reading the final pieces.
Cultivate will take the place of First Break Festival, offering a wide range of workshops and participatory opportunities over a week.  Associate Director Chris Lawson works closely with emerging artists across the Coliseum's programme.
"Cultivate festival provides a great opportunity for those that have attended Scripts and Scribbles to come together and share an afternoon of 'scratch' work, written and performed by the group." – Chris Lawson, Coliseum Associate Director
Scripts and Scribbles sessions are £3 and can be booked through the Box Office. The Cultivate show will be on sale soon, so if you're not able to attend the sessions, come along and watch!
If you have any questions about Scripts or Scribbles, please contact Rose Sergent, Admin Officer, on rosesergent@coliseum.org.uk. to book, contact  Box Office on 0161 624 2829.