Richard gets ready to play the Dame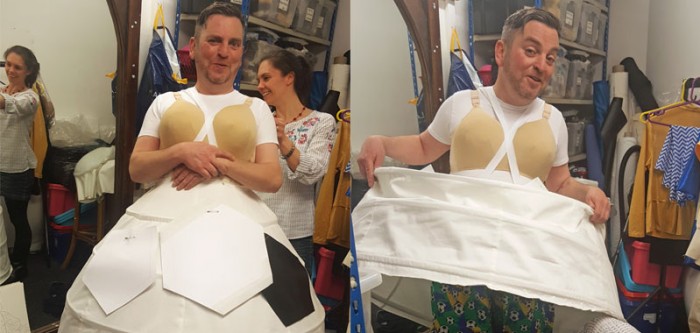 It may only be June, but earlier this month pantomime favourite Richard J Fletcher came along to the Coliseum for his first fitting for this year's pantomime, Jack and Beanstalk.
Each year the Coliseum's wardrobe department spends around eight months working on costumes for our festive spectacular, bringing designer Celia Perkins' inventive, bright and bold designs to life. This year Richard J Fletcher makes his first outing as Pantomime Dame on the Coliseum stage after 11 years playing our beloved Pantomime Comic.
As the Dame, Richard will have multiple lavish costumes to quick-change in and out of throughout each performance of the pantomime. We can't reveal any of the costumes until opening night in November, but we know they will be wonderful, eye-catching masterpieces.
With Richard stepping into the Dame's wardrobe we're thrilled to announce that Sam Glenn will be playing the Pantomime Comic in Jack and the Beanstalk. Sam will be familiar to Coliseum audiences from his previous role as Billy in our hit production of The Kitchen Sink. Sam is also a former member of Oldham Theatre Workshop and appeared on BBC1's Take That musical audition programme, Let it Shine with Gary Barlow.
Oldham Coliseum Theatre's nationally renowned pantomime has been putting the extra sparkle into the festive season for generations; with all the ingredients for fantastic family fun: hit songs, silliness, a sprinkling of fairy dust and a generous helping of It's Behind You!
In Jack and the Beanstalk poor young lad Jack sells his cow for magic beans, much to the dismay of his mother. But when the beans grow into a gigantic beanstalk Jack sets off for an adventure in the magical land above the clouds.
With two fairies, a magic hen, a GIANT and a pantomime cow,  Jack and the Beanstalk is a traditional family pantomime with a modern twist – the perfect Christmas treat for kids and not-so-grown-up grown-ups.
Jack and the Beanstalk runs from Saturday 16 November – Saturday 11 January and tickets are already on sale. Click here to learn more and book tickets.