Pride Stages Bursary launched by Greater Manchester LGBTQ+ Arts and Culture Network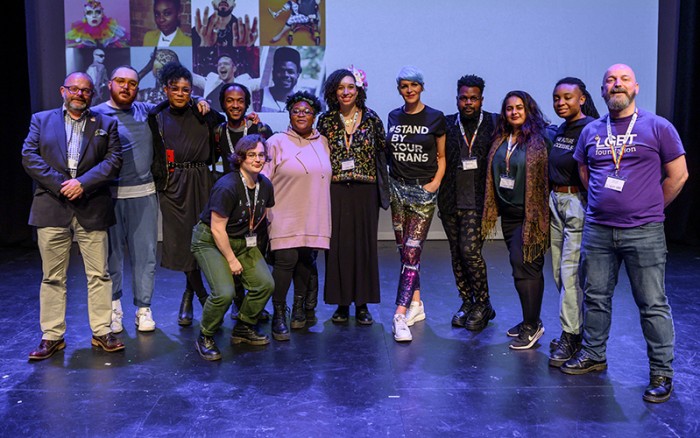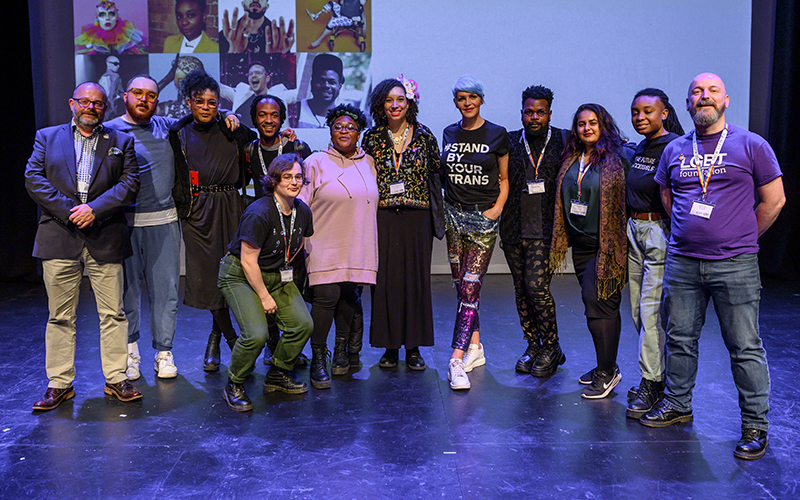 Greater Manchester LGBTQ+ Arts and Culture Network is delighted to launch a new opportunity for an LGBTQ+ performer/company based in Greater Manchester to develop a new performance to be showcased as part of Pride celebrations in 2021.
Following a successful Pilot in 2019-20, the Pride Stages Bursary offer is part of a new 18-month programme of activity led by LGBT Foundation and supported by Arts Council England – the Greater Manchester LGBTQ+ Arts and Culture Network – providing support, training and development for over 20 cultural organisations in the region working with LGBTQ+ communities, and creating opportunities for LGBTQ+ creatives across Greater Manchester.
Supported by four Network member venues Oldham Coliseum Theatre, The Met, Waterside Arts and The Lowry, the Pride Stages Bursary will include a cash grant of £1000, access to rehearsal space, and tailored development support from partner venues to create an exciting new performance celebrating LGBTQ+ communities.
Working within local COVID-19 guidance, the hope is that the performance will be showcased to socially distanced audiences at events in Bury, Trafford, Salford and Oldham in the summer, or if that's not possible, as part of digital programmes celebrating Pride across the region.
Artists are encouraged to submit Expressions of Interest by Friday 29 January, 5pm.
To find out more, including how to apply, please go to: www.lgbt.foundation/PrideStagesBursary
Paul Martin OBE, CEO of LGBT Foundation said: "After the amazing success of the Pilot programme, I'm thrilled that Arts Council England are supporting the next Phase of the Greater Manchester LGBTQ+ Arts and Culture Network. Alongside the great events, training, and opportunities we've got planned, I'm really looking forward to working with cultural leaders across Greater Manchester to see how we can improve access and inclusion for LGBT people, particularly in light of the impact of COVID-19."
Chris Lawson, Artistic Director, Oldham Coliseum Theatre said: "Pride Stages is a fantastic opportunity for an LGBTQ+ artist/company to share their creativity and talent with communities across Greater Manchester. The pandemic has had a devastating effect on the careers and livelihoods of performers, and we're thrilled to be a part of this collaborative project with our Greater Manchester LGBTQ+ Arts and Culture Network partners in Bury, Salford and Trafford supporting and sharing this work."
Victoria Robinson, Chief Executive, The Met said: "We're thrilled to be working in partnership as part of the Greater Manchester LGTBTQ+ Arts and Culture Network to create something for Bury Pride. 2020 had its challenges, which we continue to feel the impact of, but we're excited to look forward to this positive initiative"
Matthew Eames, Senior Programmer/Producer, The Lowry said: "The Lowry is proud to be a committed partner in the Network and excited to support new artworks through the Pride Stages Bursary. We're looking forward to initiating new relationships with LGBTQ+ artists, audiences and organisations in our community as well as building upon existing ones."
Darren Adams, Arts Centre Manager, Waterside Arts said: "As a founding member of the Network, we've seen first-hand the positive outcomes of supporting the creation of new work by and for LGBTQ+ people. At a time where the sector faces enormous challenges, we are proud to be able to provide meaningful support and opportunities to queer artists in Greater Manchester."
Matt Fenton, Artistic Director, Contact said: "Contact has a long tradition of supporting LGBTQ+ arts and culture through its annual Queer Contact Festival and a wide range of participation programmes addressing stigma and championing diversity. Contact's delighted to be taking part in the Greater Manchester LGBTQ+ Arts and Culture Network to learn, share and celebrate the great work happening in the region."
Greater Manchester LGBTQ+ Arts and Culture Network members include: LGBT Foundation (lead), Bolton Library & Museum Service, Contact, hÅb, HOME, Hope Mill Theatre, Islington Mill, Manchester International Festival, Manchester Museum, Octagon Theatre, Oldham Coliseum, People's History Museum, Peshkar, The Lowry, The Met, Royal Exchange Theatre, University of Manchester, The Whitworth, Touchstones, Waterside Arts and Z-arts.
LGBT Foundation is a national charity delivering advice, support and information services to lesbian, gay, bisexual and trans communities. With a history dating back to 1975, they campaign for a fair and equal society where all LGBT people can achieve their full potential. Through their services, they reduce isolation amongst LGBT communities, help people feel more confident and in control of their lives and enable people to flourish.
Together with LGBT communities and their supporters, LGBT Foundation are working to secure a safe, healthy and equal future for all LGBT people.
Associate Members include: akt (Albert Kennedy Trust), Art with Heart, Black Gold Arts, Dibby Productions, Family Gorgeous, George House Trust, Manchester Pride, Rainbow Noir, Sparkle, STUN Studios, Submerge,
The Proud Trust, and Trans Creative.
---
To find out more, including how to apply, please go to: www.lgbt.foundation/PrideStagesBursary
Click here to download the Pride Stages Bursary call out and guidance
---
15 January 2021
Image: GM LGBTQ Network CEO Paul Martin OBE with artists. Photo credit Joel Chester Fildes