Our Dreamers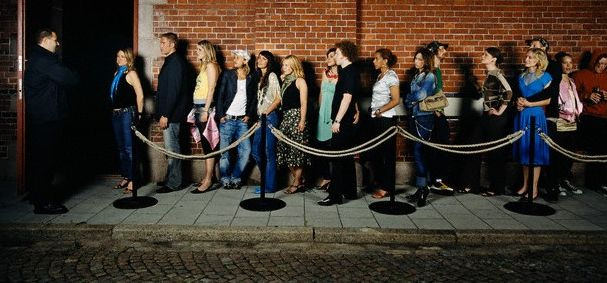 Dreamers nightclub in Oldham was the regular haunt of writers Cathy Crabb and Lindsay Williams, who were inspired to write our brand new musical when walking past the old building following a meeting at the Coliseum for the Professional Writers' Group.
Dreamers is remembered fondly by many in Oldham as the place to go for a guaranteed great night out, and we've heard so many fantastic stories about the club since we announced Dreamers the musical last year.
Every town has THAT club – and while our cast are busy getting ready for opening night we asked some of the Coliseum team about their old haunts.
David Salkeld, Box Office Manager : "I used to go to a place called Sunset and Vine in Leeds. After 9pm they would open the upstairs bar, and that was called Madisons. I had my first taste of Southern Comfort there and was violently sick on the way home!"
Liz Cunningham, Customer Services Manager : "I used to go to Pips in Manchester and was a member of the Hacienda when it first opened. I also went to The Press Club when I worked at Manchester Theatres. We used to stay out all night and then go into work the next morning."
Donna Allen, Wardrobe Assistant : "My old haunts were Pharaohs and Heaven and Hell in Barnsley."
Peter Wakefield, Finance Manager : "I went to Butterflies and Baileys in Oldham as well as Pips in Manchester. My partner went to Tram Tracks in Royton quite a lot too."
Kate Unwin, Designer of Dreamers : "I used to go to Roadmender in Northhampton, the walls were always dripping with sweat! I saw some good bands there; Sleeper, Elastica and more."
Anne-Louise Jones, Administrator : "I went to Dreamers and Tokyo Project in Oldham and 5th Avenue and 42nd Street in Manchester."
David Martin, Executive Director : My old haunt was Poptastic in Manchester. I used to be on the door dressed as a nun because if you were dressed as a nun you got in for free. I remember once being on the door with another nun and hearing them say "since when has velour been a fetish?"
There was also a memorable night out in Edinburgh when I was doing Post Student Drama. We were working on a Faustian production and we all had skinheads. We went out to this bar and there was another group of skinheads in there. I thought I'd relieve the tension by taking off my pullover to reveal a University of East Anglia top, but unfortunately as I took off my pullover my Anglia t-shirt went with it and I exposed my entire torso to this bar! A woman came up to me and I apologised, then she told me I could take my top off for her anytime!"
Anne-Marie Mason, Deputy Box Office Manager : "I went to Butterflies here in Oldham, and Zolly Boshers, which was near where the old police station was."
Ben Baughan, Marketing and Digital Officer : "I used to go to Poptastic, weekly if not more often. It was just cheesy wonderfulness."
Molly Burke, Admin Assistant : "I went to Missoula, Ark, Suede and One Central. Missoula was always really busy but if you were a group of girls they'd let you bypass the queue!"
Kathryn Ogden, Wardrobe Assistant : "I always went to Siberia in Bury."
Carly Henderson, Interim Head of Education : "We always went to Jumping Jacks in Blackburn. We used to iron our hair, go out wearing two bras and drink orange Reef because it was only a pound."
Shelly Ramsdale, Communications Officer : I was a regular at The Wheel in Carlisle. I went three nights a week and I knew all the bartenders. I used to make bets with people that the bar tender would know my drink – if they did then that person would buy me a drink, and if they didn't I'd buy them one.
If you have any stores about former nights out, get in touch, we'd love to hear them!