One year on – The week we went home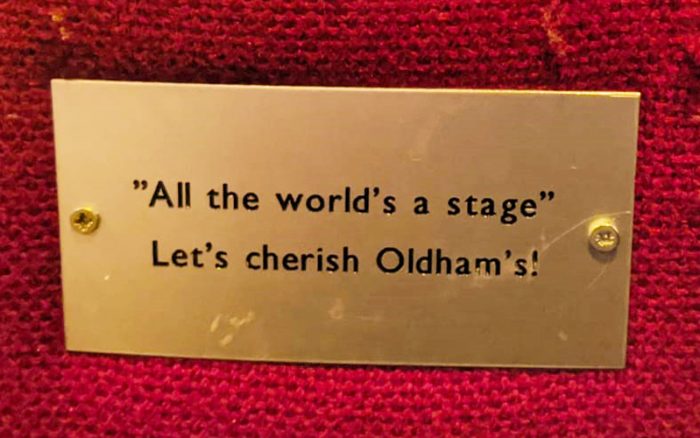 Monday 16 March 2020, just after 6pm. The Coliseum's Senior Management team gathered around a screen to watch Prime Minister Boris Johnson's national address about the virus sweeping the globe. We'd been seeing news about the coronavirus for a few weeks; we'd started putting new health and safety measures in place. We were one week into rehearsals for The Jungle Book.
Little did we know that we were about to take up our role in protecting our communities, by closing the doors.
When the Prime Minister advised that people should avoid public buildings including theatres we began the immediate closure of the Coliseum. That night we were due to host Box Of Tricks Theatre's The Last Quiz Night On Earth at the Bank Top Tavern in the town centre, and with only an hour before the show was due to begin our staff still in the building that evening began phoning customers to tell them to stay home, the show was cancelled. We sent a small team to the venue for any customers who had already set off or arrived early, to send them back home.
With our public statement that night to announce our closure we tried to articulate what was happening. We asked for patience as we figured out what that was ourselves.
"At this point in time, we don't know when we'll be back, but rest assured we're working away behind the scenes to ensure that the show goes on when it can." (taken from our 16 March 2020 statement)
In the following days with broken hearts we began cancelling and rescheduling our busy programme of events throughout March and we took one day on stage to take some photography and video of The Jungle Book in rehearsals. Once the cast left the building our production and technical teams started battening down the hatches.
As events globally progressed on the Wednesday we held an emergency all-staff meeting sitting socially distanced in the auditorium. We were going to work from home for a few weeks. Now, we're all used to working from home now, but having never done so before – and with many of our team having physical, hands on roles – this was completely new to us. The theatre's work on stage had to stop and off stage we didn't know then how we would continue our work with schools and communities. In that meeting we set up procedures to help safeguard our team's physical and mental wellbeing and that night almost all Coliseum staff went home not knowing when they would come back to the theatre.
"These decisions have been made with the wellbeing of our communities, audiences, staff, artists, and our theatre's great legacy at the forefront."  (taken from our second statement on Covid-19, published in April 2020)
On Thursday 19 March the last staff in the building went home after successfully setting up a mobile Box Office to enable us to continue to refund customers for cancelled events from home. We put up the signs to say we were closed, we turned the ghost light on and the main lights off.
To be honest, that week we were all terrified. We didn't know what would happen to our beloved theatre, to our friends and colleagues. But we're still here, still working to serve our communities, and now we're looking at the light at the end of the tunnel in the distance.     
"What we do know is that art is – and will continue to be – as important as ever, providing us with a form of escapism, a quiet moment of reflection and a connection to others."  (taken from our statement in June 2020)
Whilst we've been closed the Coliseum's work has never stopped. Just one week into lockdown we launched our first piece of digital work, episode 1 of our podcast series: 100 Word Plays about Oldham. This week we started covid-safe rehearsals in the building for our very own interactive murder mystery Whodunnit at the Coliseum?, which will take place on a special website from 9 – 25 April. 
We're so proud, too, of the voluntary work our team have done throughout the pandemic. Alana, one of our dedicated Customer Experience Volunteers, who is also a student nurse, started working on a Covid ward in the height of the first lockdown, our Technical Manager Kev has been litter picking all around Oldham on his daily walks, Janet from our Wardrobe team has been sewing scrubs and we've donated the stock from our shop to Oldham foodbank.
We've been truly moved by the remarkable support the Coliseum has received through our #GetBehindUs fundraising campaign and from audiences choosing to donate their ticket money from cancelled events to help support the theatre.
We will see you again, back at the Coliseum basking in the warmth of live theatre and joyful participation. Until then, thank you from the bottom our of hearts for your continued support of our theatre.
We really couldn't do it without you.  
18 March 2021