Oldham's Active Citizens in Sri Lanka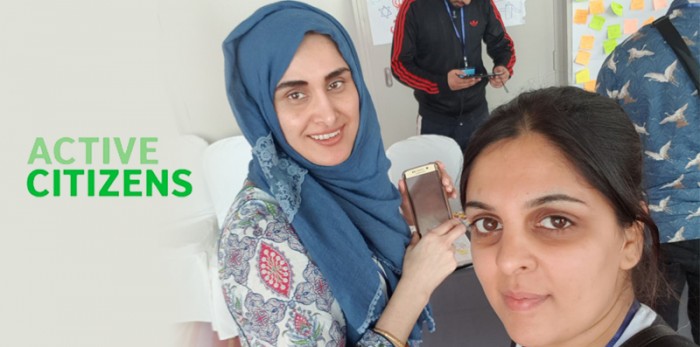 In December the Coliseum welcomed a group of community workers from across the globe to Oldham as part of The British Council's Active Citizens programme. In January, two Active Citizens from Oldham, Safa Khan and Shazia Iqbal, set off on an International Study Visit (ISV) to Sri Lanka for seven days to explore social development issues and the methods communities have found to address them.  
Safa came to the Coliseum to tell us about her trip:
"I've met so many amazing people and I was really inspired by them. What I found amazing was that the problems I heard about were similar to situations that still go on in most societies, it just depends on the degree. We've all got the same problems everywhere we go.
When we arrived in Sri Lanka we met up with the other participants on the ISV – people from the UK, Bangladesh, India, Ukraine, Vietnam, Egypt and Sri Lanka – and we discussed our own social action projects amongst ourselves and learnt about each other's countries and communities. We spent time at The British Council in Colombo where we heard from guest speakers about social action projects in Sri Lanka. It was really quite inspiring and a few of us were moved to tears. I felt so empowered by them, they have so few resources but they make do with what they have – and the people that are a part of The British Council over there give 110% in everything they do.
I went to Jaffna, where sexual abuse, alcohol abuse and domestic violence had become prominent after the civil war. At the Jaffna Social Action Centre I learnt about their initiatives to educate the women to be more aware of the situations and not to keep quiet about it, and to provide counselling for the men and help them to get back into work. A lot of the sexual harassment was happening on  public transport on Tuk Tuks, so they educated all the drivers, hired female drivers, and launched a scheme which gave Tuk Tuks a badge to display that they were safe.
There were a lot of women whose husbands had left them which meant they had no means of income; so they taught them skills so that they could make things to sell at the local market. We met a lady who was running to be the first ever female Councillor in her area. They say she has a lot of support from both men and women!
At the Jaffna Women's Development Foundation we met one lady that I was especially drawn to. She called herself 'the iron lady' and she was a very intelligent woman. When she was quite young she was recognised for her poetry and the President of Sri Lanka wanted to give her an award. She missed out on that opportunity because she didn't have the money to travel to collect the award. She has a child now who is disabled and the doctors have told her that by the age of 25 she will lose the use of her limbs, but she encouraged her daughter to believe that she could do anything and now her daughter is studying at Jaffna University.  They were really lovely, I told them my own story as well. It might feel like a struggle at the time but it's going to benefit future generations to come. I was really amazed by them.
We visited some amazing places including a few temples where we learnt about the history of the Buddha and their faith. We tasted Sri Lankan food in a banana leaf with rice, curries and spices. It was absolutely amazing, and the local people would watch in anticipation as we ate – they were so pleased that we liked it!
I've had this wonderful experience and now I want to put it into practice here".
The British Council's Active Citizens programme is a social leadership training programme that promotes intercultural dialogue and community-led social development. It is delivered by the British Council in partnership with organisations who share the same objectives. It has been delivered in over 50 countries worldwide, through local organisations, who deliver the programme to small groups at community level. These people go through a 'learning journey' and then go on to do social action projects for the benefit of their local community.
Learn more about The British Council's Active Citizens programme here.