October 2020 Newsletter
As you may know, earlier this week the Government announced that Greater Manchester will be subject to Tier 3 Covid restrictions from today, Friday 23 October.  We'd like to assure you that under these new restrictions the Coliseum is still able to open for socially-distanced performances.
We're continuing with our plans to welcome you back to the Coliseum safely, and will be re-opening on 12 November for our sold-out, socially-distanced performance of Drowning, followed by Petrichor on 20-21 November.
Despite all the very many difficulties of this year we're incredibly excited to welcome you back and we're proud to announce a great programme of Covid-Secure, socially distanced events, including hard-hitting drama, virtual reality theatre, household names and a new, promenade festive offer, on sale from today.
We're pleased to announce that from Monday 26 October Box Office will re-open for phone sales Monday – Friday, 10am – 4pm.
The Coliseum will look a little different when we reopen. We've put thorough measures in place to ensure your safety and entertainment. You can read all about them here. In line with all current Government guidelines, you are only able to attend the theatre with people in your household or support bubble and we will be checking this with you when you book.
We would like to reassure you that you can book to see a show at the Coliseum with confidence and that, if restrictions do change, you will be able to receive a refund on your tickets.
Last month we launched the Coliseum's first ever Crowdfunder, asking our audiences to #GetBehindUs, support the Coliseum's future and help keep the magic of theatre alive in Oldham for generations to come. Thanks to our incredible audiences and support from across the town we have already raised over £30,000 towards our £40,000 target. We have been truly moved by the response we've received and we'd like to send a huge thank you from everyone at the Coliseum to all those that have donated so far. Your support means everything to us.
---
Covid-Secure season on sale now!
---
A Christmas Carol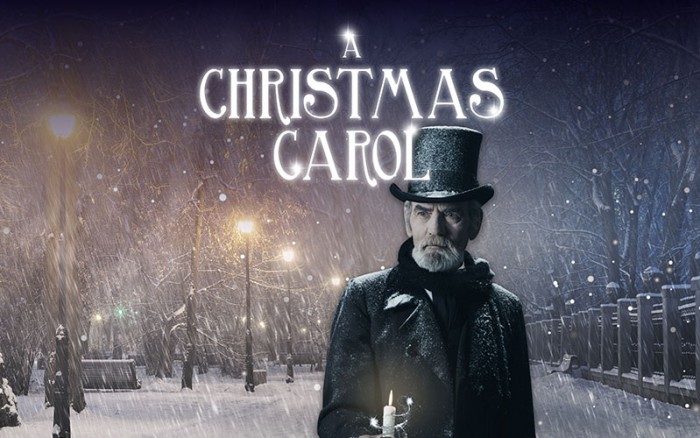 Friday 11 December 2020 – Saturday 2 January 2021
Presented by Oldham Coliseum Theatre and Front Room Productions
Adapted by Olivia Race from the novel by Charles Dickens
A magical, socially distanced promenade production of A Christmas Carol for all the family.
Meet Ebenezer Scrooge: a mean, bitter old grump who never spares a thought for anyone except himself – even at Christmas.
But this cold, foggy Christmas Eve is different. Tonight, three mysterious spirits will take Scrooge on a spellbinding journey through his past, present, and future, in an attempt to transform his selfish ways. Will they succeed, and warm the cockles of his frozen heart? Or is Scrooge doomed to remain lonely and cantankerous forever?
In this thrilling re-telling of the famous Christmas classic, you will – quite literally – join Scrooge on his path to redemption. Prepare to embark on an enchanting journey through the unseen nooks and crannies of the Coliseum and immerse yourself in a festive Dickensian wonderland. Featuring joyful live music and your favourite Christmas carols, this heart-warming production has social distancing carefully integrated into the performance and promises to leave you with a smile on your face, full of festive cheer.
This festive offer has been produced with covid-safety at its heart with just 48 tickets per performance.
Click here to learn more and book tickets.
(Pictured: promotional image for A Christmas Carol)
---
My Voice Was Heard But It Was Ignored
Saturday 5 December, 7.30pm
Presented by Red Ladder in association with Oldham Coliseum Theatre
By Nana-Kofi Kufuor
Directed by Dermot Daly
Coliseum Supported Artist Nana-Kofi Kufuor's debut play My Voice Was Heard But It Was Ignored interrogates Black identity and poses a big question: if you see something you don't agree with, do you intervene?
15 year-old Reece is roughly accosted by the police outside M&S. His young, Black teacher Gillian witnesses it all – but she doesn't question or intervene. The consequences of her lack of action erupt the following day when Gillian finds herself locked in a classroom with Reece, who wants her to feel the irreversible breakdown of trust he felt the night before.
Click here to learn more and book tickets.
(Pictured: promotional image for My Voice Was Heard But It Was Ignored)
---
Julie Likes To Draw Squirrels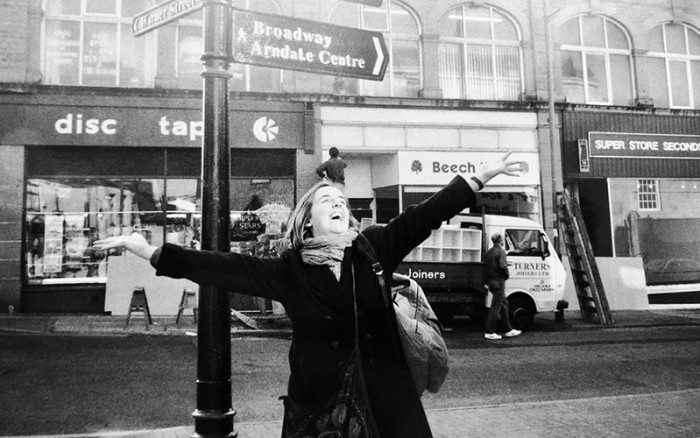 Monday 21 December, 6pm
Written and performed by Julie Hesmondhalgh
Directed by Sameena Hussain
A fundraiser for Oldham Coliseum Theatre and The Edge, Chorlton, Julie Likes to Draw Squirrels is the tale of a Lancashire childhood and adolescence written and performed by award-winning stage and screen actor, campaigner and quite possibly one of the nicest people you're likely to meet, Julie Hesmondhalgh.
Julie said: "I wanted to do something to support some of the theatres I love best in the North West and thought that this little show – about growing up in our part of the world – might be something that audiences might like: a bit of a diversion from the madness of the world during the festive season. It's a very personal show about my childhood and family, about the importance of words and nature, about the healing power of daftness. And, of course, about what it felt like to finally get a part in the world's longest running soap after years of being asked "So. When will we see you on Corrie?"!
Julie Hesmondhalgh rose to fame as Hayley Cropper in Coronation Street, going on to star in television shows including Happy Valley, Broadchurch and The A Word. Her stage career includes ground-breaking and award-winning roles including most recently: The Greatest Play in the History of the World at Trafalgar Studios London, There Are No Beginnings at Leeds Playhouse and Mother Courage and Her Children at Royal Exchange Theatre Manchester.
She is a patron and supporter of multiple charities and social causes including: The Sophie Lancaster Foundation, Trans Media Watch and City of Trees; the founder of 500 Acts of Kindness and co-founder of Take Back Theatre, a collective dedicated to making script in hand rapid responses to social and political events
Julie Likes To Draw Squirrels is a fundraiser for Oldham Coliseum Theatre and The Edge, Chorlton and will tour to both venues. It comes to the Coliseum on Monday 21 December.
Click here to learn more and book tickets.
(Pictured: promotional image for Julie Likes To Draw Squirrels)
---
Petrichor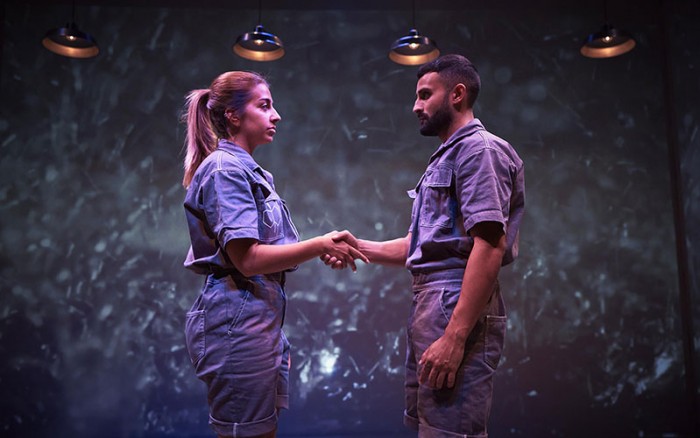 Friday 20 & Saturday 21 November
Presented by ThickSkin
360-degree Virtual Reality theatre at the Coliseum.
Petrichor is a story set in a parallel universe, exploring escape and connection; featuring two performers, an original soundtrack and projected animation. Step into a new world. A world where every single day is exactly the same and every moment is muted, managed and monochrome. Nothing bad ever happens, but nothing good does either. A chance meeting brings two unlikely individuals together and offers a small glimpse of what life could be.
The production will be viewed on VR headsets which will be made medical-grade safe before each use.
There are just 20 tickets per performance of Petrichor and all seats will be socially distanced in our 525-seat auditorium. Each performance lasts 30 minutes, with 12 performances across Friday 20 and Saturday 21 November.
Click here to learn more and book tickets. 
(Pictured: Ayesha Fazal and Dominic Coffey in Petrichor, photo by Ray Chan)
---

The Coliseum will look a little different when you return. We've put new plans in place to ensure your safety and entertainment; you can read more about them here.
---
#GetBehindUs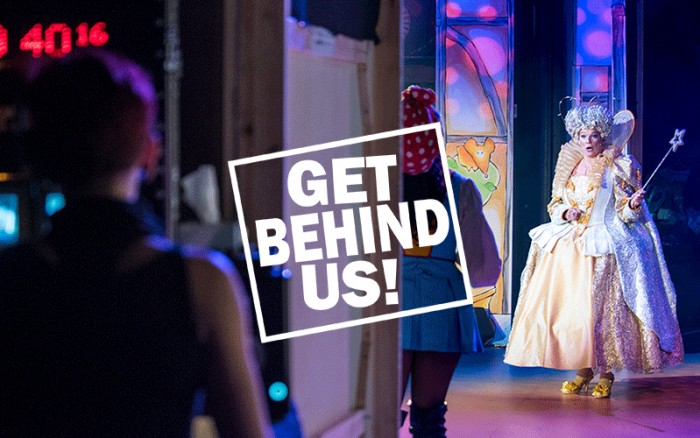 Since we launched our #GetBehindUs crowdfunder last month we have raised an incredible £30,000 toward our target. Now, we need that final push from our amazing supporters to help us reach our £40,000 target.
The Coliseum contributes millions to Oldham's economy and has helped to launch the career of many famous faces. Income from our work on stage helps to fund our vital work in the communities of Oldham with over 50,000 sessions per year – supporting some of the most underprivileged young people in the country, working with people with additional needs, offering training, bringing our richly diverse population together and building confidence. Our #GetBehindUs campaign is raising money to support the Coliseum's future and help keep the magic of theatre alive in Oldham for generations to come.
Alex Ludlam, teacher at Bright Futures School discussed the importance of the school's relationship with the Coliseum: "Bright Futures School have attended the pantomime at Oldham Coliseum for a number of years now. We have also booked workshops that have taken place both at the theatre and in school. Visiting the theatre to watch a show can be problematic to pupils with autism – they are faced with loud music and sound effects, darkness, sudden noises, variable lighting and new smells. The way that Oldham Coliseum prepared our children and catered to their needs enabled all of the children to not only access the pantomime but thoroughly enjoy the experience.
When attending the theatre the children are able to interact with people working in the theatre and meet others from the local community forging links and memories. The workshops give the pupils the freedom to see the world from a new perspective and practice scenarios to help them deal with day to day life. I cannot express how valuable both the workshop and pantomime experiences are for our pupils."
We have been truly moved by the response we have received. We'd like to send a huge thank you from everyone at the Coliseum to all those that have donated so far. Your support means everything to us.
We believe the Coliseum, its history and its future are worth fighting for.
If you are able to,  please donate at crowdfunder.co.uk/get-behind-us
(Pictured: Backstage during a performance of Dick Whittington, 2017)
---
Our Coliseum memberships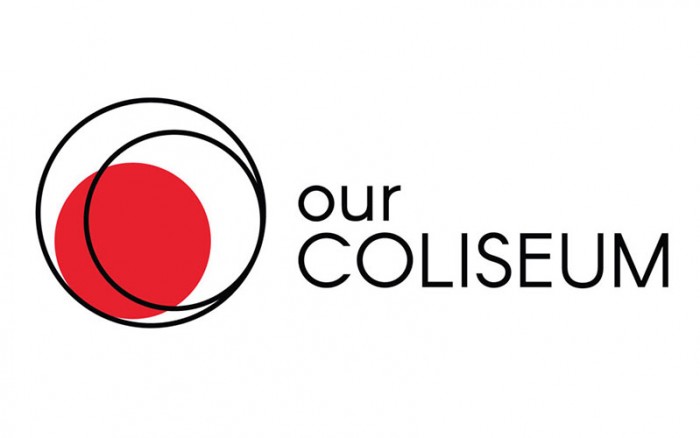 Our Coliseum is our membership scheme offering a host of benefits and opportunities to get more out of your theatre.
Since we closed our doors in March we've been unable to offer our usual discounts and special events to members, but we've been heartened by our fantastic members who have continued to support the Coliseum during this difficult time for everyone, and would like to extend our utmost thanks to those that have become Our Coliseum members during our closure to help support the theatre.
With our reopening on Thursday 12 November we are now able to re-boot our exclusive offers for Our Coliseum members, which will begin this month with offers for Virtual Reality theatre show Petrichor and our new festive show for 2020, A Christmas Carol.
Our Coliseum memberships are £30 and in return you receive:
£10 off your first booking

10% off at our bars and kiosk

2for1 tickets for the opening night of all Coliseum productions

Exclusive offers in a monthly newsletter

Invites to our exclusive Season Launch with the opportunity for priority booking on the night

Annual car park pass for evenings at Bradshaw Street car park
Our Coliseum memberships are now available to buy online at coliseum.org.uk/our-coliseum
(Pictured: Our Coliseum logo)
---
GM Artist Hub Revive and Reboot Funds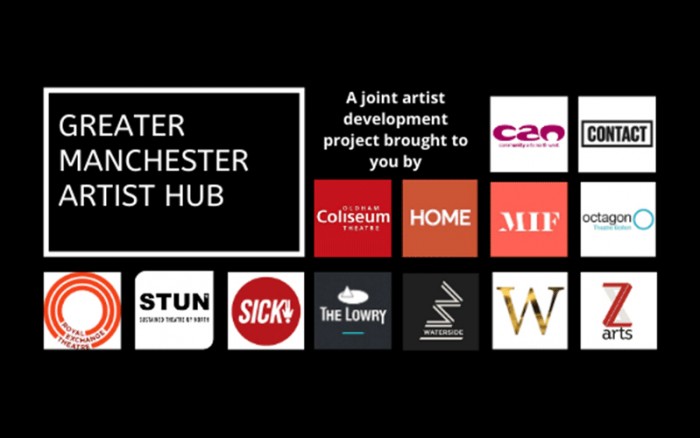 Earlier this month the GM Artist Hub opened two new funding opportunities to support independent artists and creative freelancers in Greater Manchester.
The Revive Fund offers a £500 bursary plus peer networking support and a 1-to-1 advice session with the GM Artist Hub for the most financially vulnerable members of the region's creative community.
The Reboot Fund offers grants of £1500 to support the development of a new piece of performance-based work for a live space or a digital platform over a three-month period.
Submissions for both funds close this Sunday, 25 October.
GM Artist Hub was formed by 13 leading arts organisations across Greater Manchester to help independent artists access support, advice and opportunities during the Covid-19 crisis.
Participating venues and arts organisations are: Community Arts North West, Contact, HOME, The Lowry, Manchester International Festival, Octagon Theatre Bolton, Oldham Coliseum Theatre, Royal Exchange Theatre, SICK! Festival, STUN (Sustained Theatre Up North), Waterside Arts and Creative Industries Trafford, hÅb/Word of Warning and Z-arts.
Since its formation in April 2020 GM Artist Hub has offered over 300 private advice sessions to local artists and a number of larger opportunities for artists to learn about specific funding streams and connect with chief executives and artistic directors across the region. The Revive Fund and Reboot Fund have been made possible with thanks to a £60,000 grant from Esmée Fairbairn Foundation.
Claire Symonds, Senior Producer of The Lowry said: "The GM Artist Hub is incredibly grateful to Esmée Fairbairn Foundation for their support, and we are very excited to now be launching these funds for artists and creatives across Greater Manchester. We've spent the last 6 months listening, talking and consulting with our creative communities, including local representatives of the Freelance Task Force and Disabled Artists Networking Community (DANC). These two strands of activity have been developed in response to these discussions; offering money and professional development support to early-career artists and creatives who are currently facing financial hardship. 
"Across the Hub we are committed to artist development and we have been actively working to find ways in which we can continue to support our independent arts sector through these challenging times. We recognise the important role that artists and freelance creatives play in our creative ecology, and we want to ensure that this sector continues to remain a key part of Greater Manchester's landscape."
For more information about GM Artist Hub and the Revive and Reboot Funds visit gm-artisthub.co.uk
(Pictured: GM Artist Hub venues)
---
Recruiting now: Teaching Theatre Pathways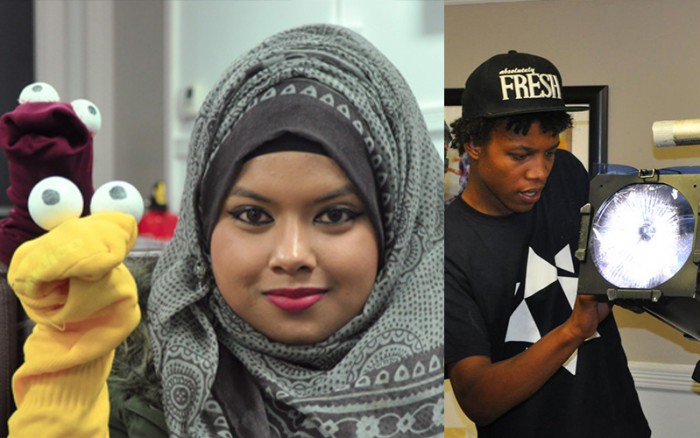 Last year our free Teaching Theatre Pathways programme was nominated for the UK Theatre Award for Excellence in Arts Education. If you're aged between 16-25, not in education or employment, and interested in learning new skills in a creative and dynamic environment, this could be exactly what you're looking for.
Over two terms participants work alongside the Coliseum's friendly and professional teams to develop employability skills through practical, hands on activities.
During the intensive period participate in a series of masterclasses covering the key aspects of theatre-making including: Sound, Lighting, Stage Management, Set Design, Wardrobe, Marketing and much more. Then respond to a brief, be given a budget and apply what you have learnt to creating a Main Stage production at the Coliseum.
Participants also have the opportunity to focus on their own career goals, develop social and personal skills and achieve a Bronze Arts Award. For more information on Arts Award click here.
Teaching Theatre will adhere to all current social distancing guidelines and will run between 10am – 4:30pm on:
Tuesday 12 November

Monday 16 November

Tuesday 17 November

Monday 23 November

Tuesday 24 November
After the intensive period participants have the opportunity to receive mentoring and support in finding Further Education and employment opportunities in varied industries in line with their individual interests and abilities. They also have access to online masterclasses and our monthly Teaching Theatre Pathways group.
Teaching Theatre Pathways is free of charge to participants. For more information or to sign up email Chelsea Morgan on chelseamorgan@coliseum.org.uk
"It's a particularly unique course, you had to put in the effort but the results have been amazing."
"I never thought I would be designing lights and sound for theatre shows, let alone for one I helped create.  I can't wait to learn more and start developing my skills."
"…very eye opening, it made me realise there is a lot of opportunities in the theatre workplace.  I got to meet some truly exceptional people.  I experienced work I had never done before and while a little scary at times it was thoroughly enjoyable.  It has inspired me to work even harder on the course and in my apprenticeship."
Teaching Theatre Pathways (Groups)
Interested in running Teaching Theatre Pathways with your school or community group? To discuss ways in which the programme could work for your group please contact our Teaching Theatre Practitioner Ben Cain on 0161 785 7000 or email bencain@coliseum.org.uk.
(Pictured: Past Teaching Theatre Pathways participants)
---
A welcome to the new Chair of our Board of Trustees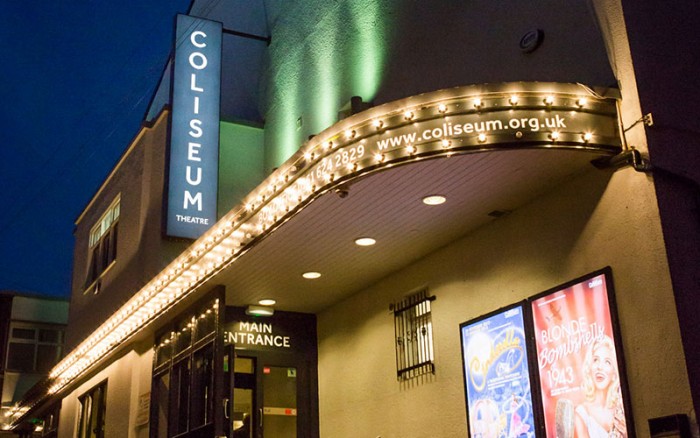 We would like to extend our welcome to the new Chair of the Coliseum's Board of Trustees, Jan O'Connor.
Born and bred in Oldham, Jan has been a passionate supporter of the Coliseum for many years. As well as being an avid theatre goer, Jan is a long-suffering Latics fan.
She started her career in Corporate Banking, working for a major high street bank for 14 years before moving into the voluntary sector where she has worked for the last 19 years. Jan managed one of the oldest children's charities in Manchester for 13 years and has more recently worked as director of a homeless charity in Bury offering supported accommodation to young people and adults. She is also a freelance charity consultant.
Jan has been involved as a trustee on several boards for many years, all aimed at relieving the impact of poverty on adults and families across Greater Manchester. This includes a young girls' hostel in Manchester. She has been a serving magistrate since 2016 on the Greater Manchester bench.
(Pictured: Oldham Coliseum Theatre)
---
Oldham Coliseum Theatre gratefully acknowledges funding from:

Oldham Coliseum Theatre is a Registered Charity, No: 508829.
Oldham Coliseum Theatre Ltd Reg No: 1415547