October 2019 Newsletter
This month we started rehearsals for our 2019-20 pantomime Jack and the Beanstalk (oh yes we did!)
We've also been nominated for two awards, made plans to bring pop-up theatre Paines Plough Roundabout to Oldham in summer 2020 and held a performance and exhibition of work by women aged 50+ that attend Glodwick Luncheon Club at Pakistani Community Centre.  
Read all about it – plus even more updates on what's going on behind the scenes here at the Coliseum – below.
---
In rehearsals: Jack and the Beanstalk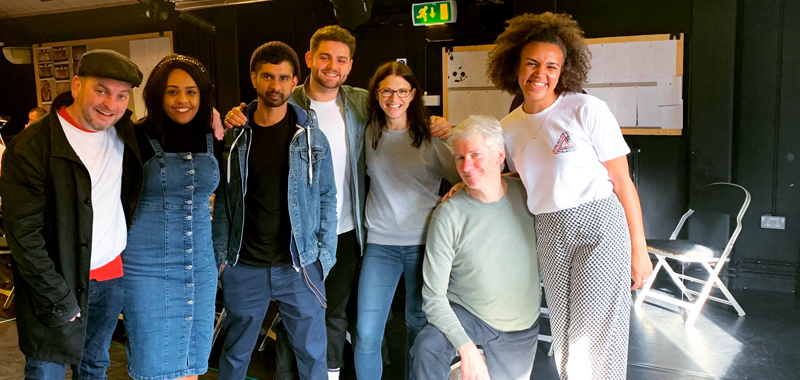 Earlier this month we started rehearsals for our nationally renowned pantomime. Families across Oldham and Greater Manchester are in for a gigantic treat with Jack and the Beanstalk (oh yes they are).
Based (loosely) on the Old English fairy tale, the Coliseum's pantomime is packed with hit songs, silliness, a sprinkling of fairy dust and a generous helping of "It's Behind You!"
Poor young lad Jack sells his cow for some magic beans, much to the dismay of his mother. But when the beans grow into an enormous beanstalk Jack sets off for an adventure in the magical land above the clouds.
This year Coliseum favourite Richard J Fletcher makes his first outing on the Coliseum stage as Pantomime Dame after 11 years at Oldham's beloved high-flying, heel-kicking Pantomime Comic. Richard is praised year on year by audiences and critics for his boundless energy and skilful enticement of audience participation.
Richard commented: "Being an Oldhamer, the Coliseum panto was a big part of my childhood, I couldn't imagine spending Christmas anywhere else. It's an honour to be asked to play the Dame."
As he steps into the Dame role Richard passes the baton of Pantomime Comic to another Oldham actor, Sam Glen, playing the titular role of Jack. A previous member of Oldham Theatre Workshop, Sam appeared on BBC1's Take That musical audition programme Let It Shine with Gary Barlow. Sam's previous performances at the Coliseum include the theatre's popular production of Tom Wells' The Kitchen Sink and a sell-out performance of Letter to Boddah in the Studio which followed a hit run at Edinburgh Fringe Festival this summer.
Richard and Sam will be joined by a cast of old friends: Shorelle Hepkin (Cinderella, Dick Whittingon) as Jill, Mitesh Soni (Cinderella) as Giant Moorside and Hazy the Hippy Cow, Sophie Mercell (Bread & Roses) as Grotton, Jenny Platt (Meat Pie, Sausage Roll and four years as Violet Wilson on ITV's Coronation Street) as Mavis Moorside and Good Fairy Greenfield and Patrick Bridgeman (five Coliseum pantomimes between 2006 – 2010) as Lord Thickpenny Grabbmuch.
Oldham Coliseum Theatre's nationally renowned pantomime has been putting the extra sparkle into the festive season for generations. Last year, almost 35,000 people saw the Coliseum's pantomime of Cinderella, which was also nominated for a national Great British Pantomime Award.
With two fairies, a magic hen, a GIANT and a pantomime cow,  Jack and the Beanstalk is the perfect Christmas treat for kids and not-so-grown-up grown-ups.
This year's pantomime is sponsored by George Hill Timber and Building Supplies, Jigsaw Homes and N Brown Group. Jack and the Beanstalk's Educational Partner is Oldham Hulme Grammar School.
Jack and the Beanstalk runs at Oldham Coliseum Theatre from Saturday 16 November 2019 – Saturday 11 January 2020. Click here to learn more and book tickets.
---
On this week: Black Men Walking

Inspired by a real-life walking men's group in Sheffield, Black Men Walking comes to the Coliseum from Thursday 24 – Saturday 26 October.
Black Men Walking tells the compelling story of three middle-aged Black men: Thomas, Matthew and Richard, who meet every month as part of a walking group to explore the dramatic landscape of the Peak District in Yorkshire. On this particular trip, the rest of group cancels and it soon feels like maybe they should have done too. The men find themselves forced to walk backwards through two thousand years of Black history, embarking on a dangerous journey that invokes an element of the supernatural, an encounter with the spirits of their ancestors and an exploration of what it means to be both Black and British today.
The Sheffield-based walking group which inspired the production was founded in 2004 by a group of men of African and African-Caribbean heritage who started walking for health, wellbeing and camaraderie.
Black Men Walking premiered at the Royal Exchange Theatre in  Manchester in January 2018 and was nominated for UK Theatre's Best New Play Award and The Writer's Guild's Best Play Award.
The first play staged as part of the Eclipse Theatre's ground-breaking 'Revolution Mix' movement, which is delivering the largest ever national programme of Black British stories produced and performed in UK theatres. The original production was conceived by Eclipse Theatre in collaboration with Leeds-based rapper Testament and directed by Dawn Walton.
Black Men Walking comes to the Coliseum from Thursday 24 – Saturday 26 October. Click here to learn more and book tickets.
---
Award-winning pop-up theatre is coming to Oldham

We are thrilled to announce that the Coliseum is co-producing the award-winning Paines Plough Roundabout next year, bringing three world premieres and a trailblazer short play to Oldham town centre in June 2020.
Created by Paines Plough, the UK's national theatre of new plays, Roundabout is a portable in-the-round auditorium which pops-up across the country. 2020 is Roundabout's seventh consecutive year; the season will be co-produced by Paines Plough and Oldham Coliseum Theatre in association with York Theatre Royal.
The Roundabout programme will include world premieres: Hungry by Chris Bush (Steel, The Changing Room), Black Love by Chinonyerem Odimba (The Sweetness of a Sting) and family show Really Big and Really Loud by  Phoebe Éclair-Powell (Fury, Epic Love and Pop Songs) performed in rep, directed by Paines Plough Joint Artistic Director Katie Posner, plus a new 'trailblazer' 30-minute short play, The Inconvenience Store by Charlotte Keatley. Roundabout will also host a programme of visiting companies, comedy, music and local community events. Full listings will be announced in due course.
Chris Lawson, Acting Artistic Director of Oldham Coliseum Theatre commented: "We are delighted to be co-producing Roundabout 2020 season with Paines Plough, and elevating our long-standing commitment to new writing in such an exciting way. We can't wait for the Roundabout to take centre stage in Oldham town centre and would like to thank our colleagues at Oldham Council for their support of this programme."
Councillor Sean Fielding, Leader of Oldham Council, said; "This is an exciting opportunity for Oldham and a great collaboration between the council and the Coliseum – bringing even more great theatre to our town.
 "The Roundabout will be pitched next to the Queen Elizabeth Hall and we hope residents will get involved and come along and see it."
Roundabout 2020 will arrive in Oldham town centre in June before transferring to Summerhall, Edinburgh for the Edinburgh Fringe Festival and York Theatre Royal in September, and then touring to Salford, Ramsgate, Doncaster, Bournemouth and Lincoln.  The award-winning venue flat packs into a lorry and can be assembled in a day with six people and an Allen Key.
About the shows:
Hungry by Chris Bush is a new play about food, class and grief in a world where there is little left to savour.
"Show me your fridge and I'll show you what you're worth."
 We are what we eat, and Bex eats sh*t. It's not like she has any choice though – when times are tough the last thing you think about is your five-a-day. Today is different though. Today the table groans, and the best china is out. Today things will change.
Chris Bush is an award-winning playwright, lyricist and theatre-maker. Her past work includes Pericles (National Theatre), The Assassination of Katie Hopkins (Theatr Clwyd), Standing at the Sky's Edge and Steel (both Sheffield Theatres) and The Changing Room (NT Connections).
_____
Black Love by Chinonyerem Odimba is brand new musical about love. Chinonyerem's latest work explores romantic relationships between black people, and in particular of how this is portrayed, or more often than not, isn't portrayed in theatre and on stage.
Chinonyerem Odimba is a Nigeria-born, Bristol based playwright, director and poet. Her work for theatre includes Joanne and Amongst the Reeds for Clean Break, London /The Yard, a modern retelling of Twist for Theatre Centre, Medea at Bristol Old Vic, and We Too, Are Giants for Kiln Theatre. More recently, a new play Princess & The Hustler toured across the UK for Eclipse Theatre/Bristol Old Vic/Hull Truck. She was the Writer-in-Residence at Live Theatre/Northumbria University and is now an Associate Artist at Live Theatre, Newcastle. Her work has been shortlisted for several awards including the Adrienne Benham Award, Alfred Fagon Award, and the Bruntwood Playwriting Award. She is the joint winner for the 2018 Sonia Friedman Award for a new play How to Walk on the Moon written for C4/Talawa Theatre. Currently Chinonyerem also writes for radio and TV, with a new 30-minute drama for Channel 4 scheduled to be broadcast in 2020.
_____

Really Big and Really Loud by Phoebe Éclair-Powell is a new play for families about living loudly.
Ten year old Charli is always being told to sit down and be quiet, so much so that one morning she wakes up and – nothing – her voice is gone. Her Mum is worried, her older brother thinks it's hilarious, everyone keeps offering her a lozenge. But Charli knows this is big – she needs to find it before it's too late.
Phoebe is a writer from South East London. In 2015 her debut play WINK received rave reviews and four Off West End Nominations including 'Most Promising New Playwright'. Her play Fury, was runner up for the Verity Bargate Award 2015, and subsequently won the Soho Young Writer's Award and received an Offie nomination for 'Best New Play'. For 2016-17 Phoebe was the resident playwright at Soho Theatre through the Channel 4 Playwright scheme. During which she had two Edinburgh shows, TORCH with Jess Edwards (Underbelly, New Diorama), and Epic Love and Pop Songs (Pleasance Theatre). In 2017 Phoebe adapted The Picture of Dorian Gray for the Watermill Theatre, which toured schools and village halls. In 2018 Phoebe's play These Bridges was part of the National Theatre Connections Festival. Prior to this Phoebe completed the Channel 4 Screenwriting course. She was also on the Soho Writers' Lab for 2014/15. Phoebe was a previous member of the RCYW and the Royal Court invited group under Alice Birch. Phoebe has completed the BBC writersroom drama programme with Sid Gentle Films, and took part in Nick Frost and Simon Pegg's YA incubator at their company Stolen Picture. Phoebe has written for award winning Channel 4 Continuing Drama Hollyoaks. Phoebe is also under commission from Fremantle Australia, and Live Theatre, Newcastle and is adapting a graphic novel with Twelve Town.
_____
The Inconvenience Store is a new 30-minute short play by Charlotte Keatley, writer of My Mother Said I Never Should – the most widely produced play ever written by a woman.
How many versions of yourself are you wearing today? Just those three? Do they really fit you? Bee doesn't fit hers. So she's opened a shop, where the changing room actually does change you. The Inconvenience Store offers what is needed by those who aren't Mr Normal- whoever he is. 
Charlotte Keatley's My Mother Said I Never Should has been translated into 31 languages, named as one of the National Theatre Significant Plays of the 20th Century, and a GCSE text. Her other plays include: Our Father and All the Daughters of War for the RSC. Charlotte has written for film, television, radio and won an EMMY for filming in children's prisons for a C4 documentary. Charlotte also teaches creative writing anywhere in the world on request.
---
Learning and Engagement: Ageing Equally

On Thursday 10 October we held a performance and exhibition of work  created by women aged 50+ who attend Glodwick Luncheon Club at Oldham Pakistani Community Centre.
Place, Textiles and Generation looked at what makes a good place to grow old through the medium of textiles, as part of our research project with The University of Manchester and Ambition for Ageing, Ageing Equally.
Many of the women came to Oldham for its textile industry decades ago. Through a range of creative methods, trips to arts venues including Whitworth Art Gallery in Manchester and working with artists such as Robina Akhter Ullah and Najma Khalid, the group explored themes of ageing, home and place.
The performance on the Coliseum's Main Stage was spoken in Urdu with captions in English on either side of the stage. It told the groups' stories of first coming to Oldham and creating a home in a new community, and addressed how they would like to engage more in their community.
If you'd like to learn more about the work of the Coliseum's Learning and Engagement Department email LED@coliseum.org.uk.
---
Coliseum nominated for UK Theatre Award

Our flagship training programme for young people who are not currently in full time education, employment or training (NEET), Teaching Theatre Pathways, has been shortlisted for the UK Theatre Award for Excellence in Arts Education.
Through practical work experience in the unique working environment of a professional producing theatre, Teaching Theatre Pathways equips young people with new skills, qualifications and pastoral support to re-enter education or pursue a career in theatre directly. Workshops led by leading practitioners offer the opportunity to begin to develop a range of practical theatre skills giving them the confidence and ambition to consider a career in the theatre industry.
Teaching Theatre Pathways is an intensive behind-the-scenes introduction to the life of a professional producing theatre. A mixture of demonstrations, hands-on activity, one-to-one shadowing with theatre professionals and group tasks provide an introduction to the myriad of practical techniques and disciplines found within the Coliseum Company. The young people taking part in Teaching Theatre also have the opportunity to gain extended practical experience in a specialism of their choice; build individual portfolios working alongside professional theatre technicians; and apply their skills to a group project, working as a company to produce a professionally-supported theatre production in the Coliseum's Studio Theatre.
"After the course I got work at the Royal Exchange Theatre with help from the course leaders and as the years have gone on I've worked at more and more of the theatres in the area. I've worked on loads of different productions over the past four years, I feel like it's helped me progress into a career." – Martyn, former participant
Teaching Theatre Pathways was developed in response to the growing numbers of young people out of work and education in Oldham, particularly young people aged 16-18 years with no or low qualifications and those who leave further education. Since its inaugural programme in 2014, it has positively impacted the lives of over 60 young people in Oldham.  Its approach, although rooted in young people's creative participation in making theatre, is to provide in depth pastoral support. Each programme takes a maximum of 15 young people, which means mentors and practitioners are able to give each participant more individual time and attention.
"This whole experience here at Oldham Coliseum taught me many new skills and mind-set and will definitely benefit me in the future as I would be able to take on what I leant here to university and when applying to jobs in the future.." – Farhana, former participant
All Teaching Theatre Pathways participants are invited to work towards a Bronze or Silver Arts Award which benefits further education applications. On completion of the course, they receive a guaranteed interview for a place on the Technical Theatre course at Oldham College. Participants also receive pastoral support to identify appropriate and realistic progression routes and develop their CVs, interview techniques and communication skills.
UK Theatre is the UK's leading theatre and performing arts membership organisation. They support the resilience of the theatre industry by promoting excellence, professional development and – alongside sister organisation Society of London Theatre (SOLT) – help create positive change in the theatre industry, both on and off stage. The winners of the UK Theatre Awards will be announced at a glitzy ceremony at Guildhall in London on Sunday 27 October. Wish us luck!
---
Spring-Summer 2020 Season Launch

On Monday 18 November we'll be announcing our programme for Spring and Summer 2020 at our twice yearly Season Launch event.
Season Launch is a free evening at the Coliseum where we introduce our programme of plays and events for the forthcoming season – with live entertainment and a question and answer session with the creatives, the Coliseum's professional teams and some special guests.
Attending Season Launch also gives you the chance to book your tickets first before events go on general sale the following day to ensure you get your favourite seats. Box Office will be open before and after the event and during the interval.
Tickets for Season Launch are free but must be booked in advance by phoning 0161 624 2829 or calling in at Box Office. 
---
Dishoom! nominated for Asian Media Award

Our Autumn-Winter 2018 co-production with Rifco Theatre Company and Watford Palace Theatre, Dishoom! has been nominated for Best Stage Production at this year's Asian Media Awards.
Featuring songs from the smash hit Bollywood film Sholay, our world premiere production of Dishoom! was seen by over 7000 people across the UK. The story followed a tale of four friends living in Britain in the 1970s.
Wriitten by Gurpreet Kaur Bhatti and directed by Pravesh Kumar, Dishoom! was borne from a desire to tell the story of an Asian boy with a disability growing up at a time of national divide over immigration during the rise of the National Front. As well as trying to find a balance in his own life Simon must face up to the reality that some people are not willing to accept those who are different.
The national Asian Media Awards recognise the strength and depth of the British media industry. Established in 2013, the awards aim to highlight the ground breaking work of reporters and producers in highlighting issues affecting race relations and human rights, reward the efforts of media organisations in helping to galvanise their communities and forging ahead with what sometimes are limited resources and showcase the very best talent working in the British Asian media and those working in the mainstream media.
The winners of the Asian Media Awards will be announced at a Black Tie event at Manchester's Hilton this Thursday. Wish us luck!
---
Recruitment at the Coliseum

We're currently recruiting for four positions here at the Coliseum. 
Programme Coordinator
Contract: 12 months
The Programme Coordinator is accountable for coordinating and administrating the artistic output of the Coliseum. The Programme Coordinator will work across all areas of the Artistic Programme, and in collaboration with other departments throughout the theatre.
Deadline for applications: Friday 25 October
Associate Producer
Contract: 12 months
The Associate Producer is accountable for managing the process of conception to realisation of our productions and co-productions, working closely with the Acting Artistic Director (AD) and Interim Chief Executive (CEO).
Deadline for applications: Friday 25 October
Front of House Assistants
Fixed term: Saturday 4 November 2019 – Saturday 11 January 2020
Front of House Assistants are crucial members of the Customer Services team, maintaining service standards and ensuring sales are maximised and that the customer experience is always of the highest standard.  They are responsible for providing an inclusive, friendly, efficient, knowledgeable service and ensure a safe working environment complying with all health and safety procedures and standards.
Deadline for applications: Monday 28 October
Housekeeping Assistant
Fixed term: Monday 11 November 19 – Saturday 11 January 2020
The Housekeeping Assistant will help to deliver excellent standards of cleaning throughout the theatre during the pantomime season.
Deadline for applications: Monday 28 October
The Coliseum is the cultural focus of our community, providing a diverse and exciting programme of theatre, events and opportunities for everyone through our Main Theatre, Studio and Learning and Engagement programme.  
Click here to learn more about these roles and how to apply
---
Build your own Season Ticket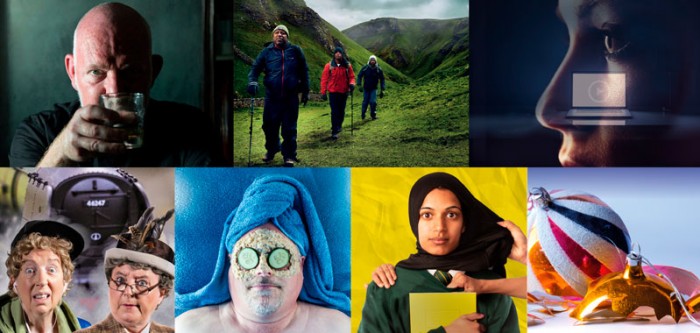 This Autumn and Winter we're giving you control of your Season Ticket with a multi-buy offer.
Following feedback from you, our audiences, we've created a more flexible Season Ticket offer that rewards your loyalty with bigger savings. We've also reduced our drama ticket prices for the first time in seven years and put together a programme with more variety than ever before.
How does the offer work?
It's simple, the more you book the more you save
Book two shows – save 5%
Book three shows – save 10%
Book four shows – save 15%
Because you can book as few as two shows in a Season Ticket the latest you can take advantage of this season's offer is 7 March 2020.
The remaining shows in the Autumn/Winter 2019-20 Season Ticket are: Black Men Walking, Trojan Horse, Four Minutes Twelve Seconds and Absurd Person Singular.
For the first time, there are no set shows that you have to see with a Season Ticket deal, giving you complete control over what you see and what you don't.
Black Men Walking (24-26 October) follows three friends who walk through the Peak District, and 2000 years of Black British history.
Trojan Horse (6-7 February) looks at the true story of a community torn apart by racial divisions following accusations of 'hardline' Muslim teachers and governors plotting extremism in Birmingham schools.
Four Minutes Twelve Seconds (21 February–7 March) is a topical drama that looks at how we see ourselves and others and highlights the dangers of modern technology.
Absurd Person Singular (10-14 March) is Alan Ayckbourn's much-loved classic set over three successive Christmas parties.
Season Ticket holders can still take advantage of free parking on Bradshaw Street for evening performances and, if booking four or more shows, the option to spread the cost by Direct Debit.
To book your Season Ticket click here to book online or call our Box Office on 0161 624 2829
---
Christmas in Oldham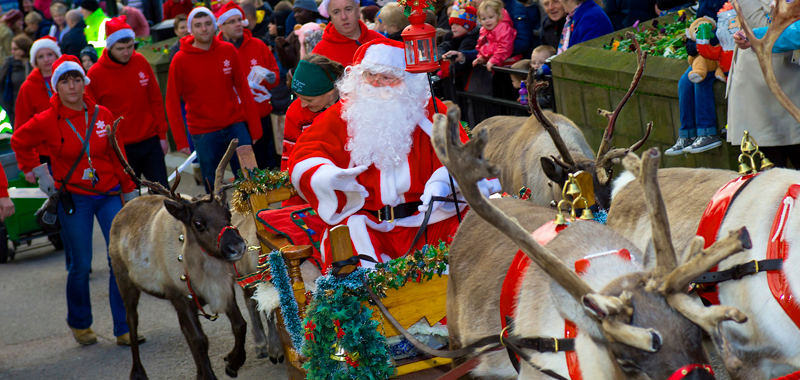 As well as the Coliseum's nationally renowned pantomime, Oldham town centre hosts fantastic events to celebrate the festive season.
Santa's Reindeer Parade 
Oldham's annual Reindeer Parade will take place on Saturday 16 November from 1pm, with street theatre and entertainment from 11am – 4pm.
Santa's coming to town… and he's bringing his reindeer with him. This year's parade will feature local community groups, including the Coliseum's Youth Theatre groups dressed in costumes from pantomimes past, bringing global Christmas traditions to life. There will be music from Dobcross Silver Band, Oldham Scottish Pipe Band and not forgetting Santa and his reindeer too. The parade will loop around the town and last approximately 30 minutes.
Oldham's Christmas Lights Switch-On
Join CBeebies' big friendly dog Hey Duggee to switch on for Oldham's Christmas Lights on Sunday 24 November from 1-6pm, with a funfair and a firework display to finish the evening off with a bang.
For more information about Oldham town centre events click here. 
---
Customer Experience Volunteers: Join us

We're always on the lookout for friendly and reliable people to join our team of Customer Experience Volunteers, who help to look after our audiences from greeting them in the foyer, to selling programmes and ice creams, taking them to their seats and much more.
Customer Experience Volunteers must be 18+ and able to commit to a minimum of three months volunteering with us. No experience is needed as full training is provided.
Click here to learn more about becoming an Oldham Coliseum Theatre Customer Experience Volunteer or contact Heather Shaw, House Manager,  by phone on 0161 785 7021 or email heathershaw@coliseum.org.uk.
---
Oldham Coliseum Theatre gratefully acknowledges funding from:

Oldham Coliseum Theatre is a Registered Charity, No: 508829.
Oldham Coliseum Theatre Ltd Reg No: 1415547