November 2020 Newsletter
As you know, the Coliseum will be remaining closed to the public until early next year. However, that doesn't mean there's nothing to look forward to between now and 2021 – quite the opposite in fact! We've created a package of digital offers for the festive season, plus there's a new experience in forming new friendships with Project Intimacy and we're launching a new regular meet-up for audiences, participants and artists to chat about all things arts and culture in Oldham and Greater Manchester, over chips.
Our #GetBehindUs Crowdfunder is still running and we are incredibly grateful for the support we have received thanks to our incredible audiences and support across the town. Having met our £40,000 target on the day the national November lockdown was announced we've stretched our target to £55,000. If you'd like to donate and support the Coliseum you can do so here.
Fancy a look inside the Coliseum again? On 10 November BBC Two re-aired the episode of Celebrity Antiques Road Trip in which Anita Harris and Paul Laidlaw came to visit us. Filmed (and first aired) in 2018 during our run of A Taste of Honey Anita and Paul came to the Coliseum to learn about Annie Horniman and the history of repertory theatre.   You can watch the episode online here (we're on from 35 minutes in)
This month the Coliseum was due to open with a season of Covid-secure, socially distanced events. When Government announced the second national lockdown on 31 October we made the difficult decision to err on the side of caution and remain closed until 2021. Read the full statement on our extended closure here. This week Oldham was placed back into Tier 3, with tighter restrictions including the closure of theatres.
Our Box Office phone lines are currently open for enquiries only on Mondays from 10am-3pm.
---
Digital offers this festive season
Although we're all missing the Coliseum's nationally renowned pantomime this year we've created some brilliant digital offers for the festive season.
---
Panto Digital Storytelling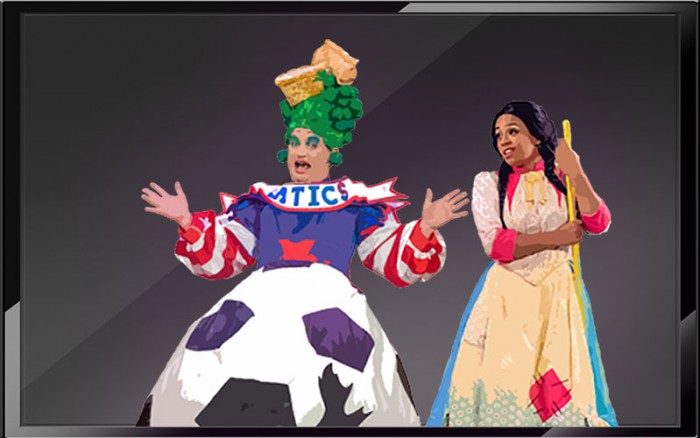 Saturday 12 December – Saturday 2 January
Choose between Cinderella or Jack and the Beanstalk
Tickets on sale from Saturday 12 December
By Chelsea Morgan
Directed by Rachel McMurray
Filmed and Edited by Grant Archer
A new kind of panto magic for 2020, Panto Digital Storytelling will be available online giving you the opportunity to invite Dame Dotty Trott (actor Richard J Fletcher) or Cinderella (actor Shorelle Hepkin) into your home for unique tellings of their famous tales.
Straight off the Coliseum stage these much-loved panto characters tell their stories as you've never heard them before – from their own perspective. Choose from either Jack and the Beanstalk with Dame Dotty Trott or Cinderella with Cinderella herself, with access to the online video for a whole day.
Expect a few new twists in these famous stories. Does Dotty Trott really think she's the true Giant Slayer? Find out how tough Cinderella really had it when she reveals all the Ugly Sisters' secrets…
We spoke to Chelsea Morgan about adapting the famous tales:
Was it difficult adapting panto to a one-person show?
The most difficult part of adapting the panto into a one-person show was telling the story from just one character's perspective. This was particularly tricky in Jack and the Beanstalk as we decided at the start of the process that we wanted to use the Dame character Dotty Trott, who plays Jack's mum, for the storytelling, so we had to retell the tale from Trotty's perspective.
Other than the amount of characters, what is the main difference between Panto Storytelling and a Coliseum panto?
I think the main difference is the journey the characters go on. The stories might not end in the same way our panto audiences might be used to!
What was your favourite aspect of writing a panto adaptation?
The best thing about a panto adaptation is thinking about the jokes and current pop culture references. I also like reading it aloud and pretending to be the different characters!
What advice would you give to someone working on a panto offer during the pandemic?
I think this has been such a challenging year for the creative industries so my advice would be keep going, keep playing, and just think about creating the panto magic!
Each ticket for Panto Digital Storytelling: Cinderella or Panto Digital Storytelling: Jack and the Beanstalk gives audiences one day's video access. Much like the Fairy Godmother's magic, access will expire each day at midnight.
Tickets are on sale from Saturday 12 December. Learn more here
(Pictured: Digital illustrations of Dame Dotty Trott and Cinderella)
---
Advent Plays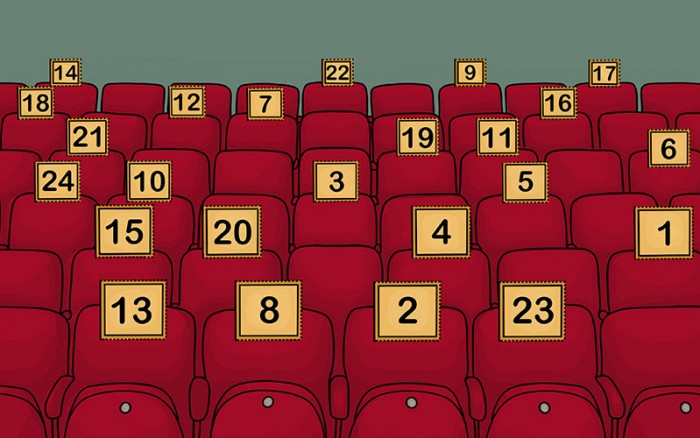 Airing Tuesday 1 – Thursday 24 December
24 plays – 14 writers – 25 actors.
The Advent Plays are a little sprinkle of Christmas, released daily across our Social Media channels and lasting no longer than 2 ½ mins. Our theatrical advent calendar of plays is perfect to watch whilst you eat the chocolate out of your calendar at home.
Writers were given a Christmas themed title to respond to, and all of the short plays were filmed on stage at the Coliseum on our cosy living room set, with props and furniture from shows you may have seen. We meet a range of characters who share their funny, sweet and sometimes obscure Christmas tales.
Writers of the Advent Plays include: Cathy Crabb (Meat Pie Sausage Roll and Dreamers); Chris Hoyle (Tinned Up); Nana-Kofi Kufuor (My Voice Was Heard But It Was Ignored); Rob Ward (Gypsy Queen) and Ian Townsend (All The Bens) and you'll be sure to spot some familiar faces amongst the actors, including: Karen Henthorn (Tinned Up and Spring and Port Wine), Jenny Platt (Jack and the Beanstalk and Meat Pie Sausage Roll), Joyce Branagh (Boomtown Gals), Mitesh Soni (Jack and the Beanstalk and Cinderella) and Will Travis (The Kitchen Sink and Hard Times).
It's the perfect pick-me-up on those chilly December mornings.
Subscribers to the Coliseum YouTube Channel will receive a notification each morning when the day's Advent Play becomes available. The plays will also be available to view on the Coliseum's Facebook, Twitter and Instagram channels.
(Pictured: Illustration by Rose Sergent)
---
Messages from the Dame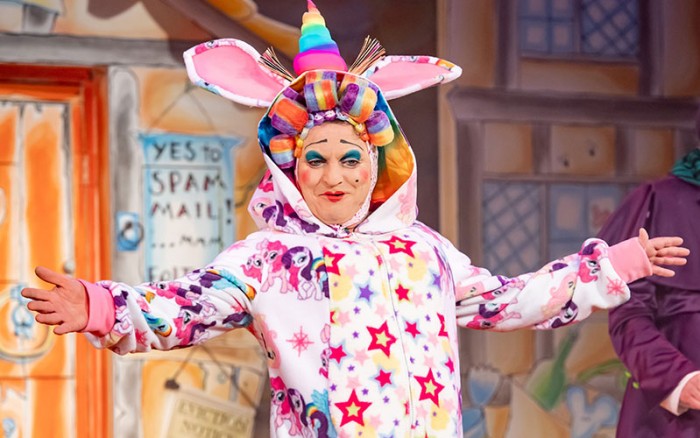 Get your nominations in by Wednesday 2 December
This Christmas Dame Dotty Trott is sending special messages to people from our area to celebrate their achievements.
Oldhamers are invited to nominate people who have achieved something great or overcome something challenging during the coronavirus crisis for a special message, as Dame Dotty puts it, 'it's a bit like Pride of Britain, except I'm much better looking than Carol Vorderman'.  
Nominees for Messages from the Dame could be someone who works for the NHS, a teacher, a neighbour, a co-worker, volunteer or simply a good Samaritan.
To make a nomination simply complete a submissions form, which can be downloaded from the Coliseum website here, and return it to marketing@coliseum.org.uk by Wednesday 2 December.
Messages from the Dame will be unique for each successful nominee, recorded on video and shared via a link. There are 20 messages available and nominees will be selected from all submissions by the Coliseum.
(Pictured: Richard J Fletcher reprises his role as Dame Dotty Trott)
---
Our 2019-20 Annual Report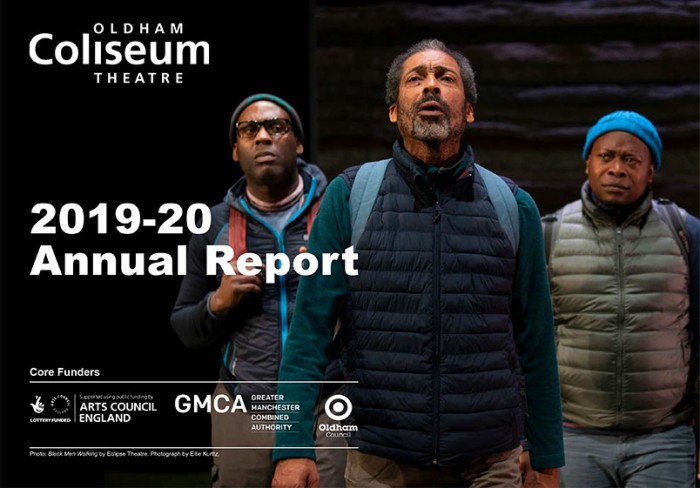 Our Annual Report looks back at the year April 2019 – March 2020 with facts, figures, quotes and case studies on our work – on stage, in education and in our communities – and our impact.
Click here to read our 2019-20 Annual Report 
Some great figures from the report include:
We staged 273 performances

34,000 people came to see our 2019 pantomime

We provided 224 hours of free research and development space for artists

We worked with over 2,384 pupils from 41 schools

We held 12 Dementia Friendly workshops

95% of our audiences say the Coliseum is good for Oldham's image

45 Customer Experience Volunteers donated 3,705 hours of their time to the Coliseum
(Pictured: Oldham Coliseum Theatre's 2019-20 Annual Report)
---
Culture and Chips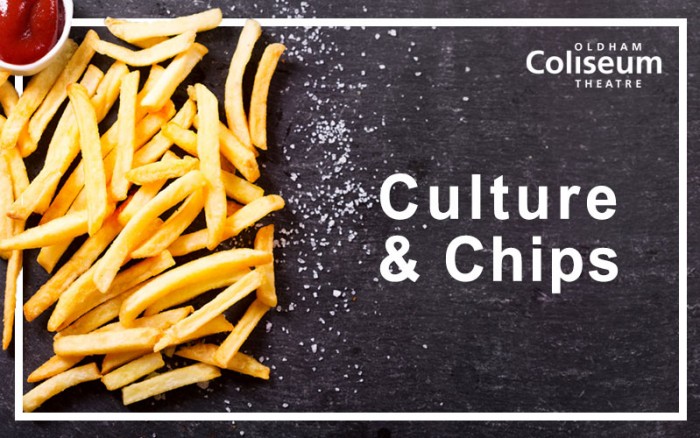 Culture and Chips is a new monthly meet up for audiences, participants, artists and all members of our local community to discuss arts and culture in Oldham and Greater Manchester (over chips, because discussions are always better over a bag of chips). The first event is Wednesday 16 December at 5pm.
Open to anyone, whether you currently engage with the Coliseum or not, this is a space to discuss what you'd like to see and how the Coliseum can best serve the community in the future.
Each month we will invite guests from Oldham and beyond to talk about their practice, connection to Oldham and vision for the future. Three questions will form the basis of each meet up to get the discussions going, topics will be set by the attendees, and then there is an open space to chat more broadly.
When we're able to meet in person we'll provide the chips. Until then, we're holding Culture and Chips over Zoom – meaning it's a BYOC (Bring Your Own Chips) event.
Culture and Chips is free to attend but must be booked. Places are limited to enable all attendees to have a voice and be heard.  Click here to book for Wednesday 16 December.  
(Pictured: Culture and Chips promotional image)
---
Project Intimacy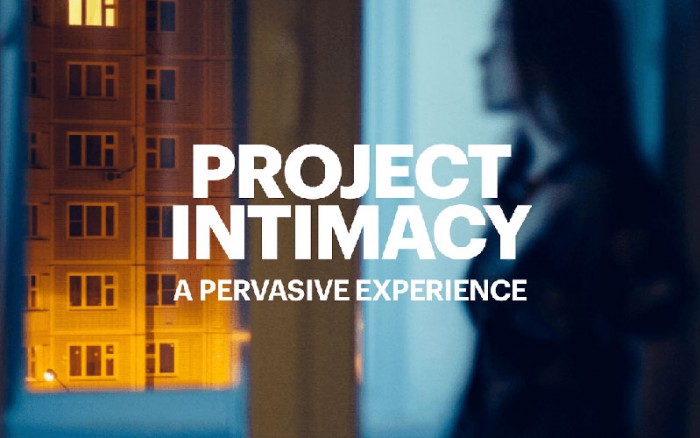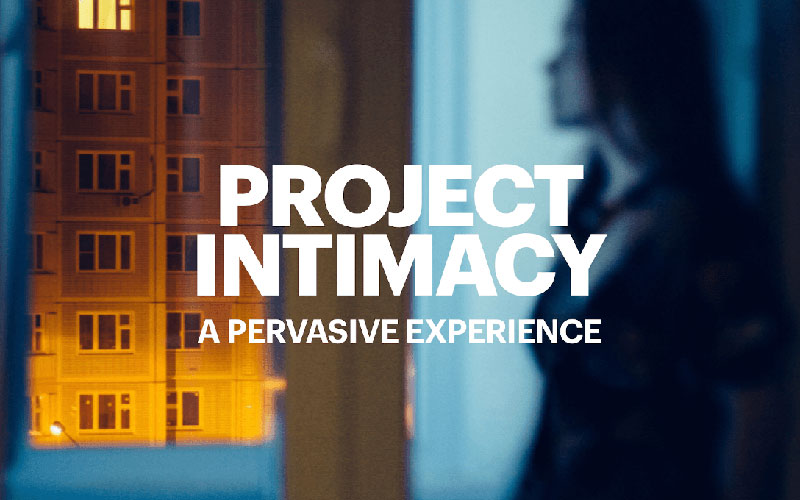 As part of our work supporting exciting digital work taking place at the moment we're thrilled to back Riptide's Project Intimacy.
The way we engage with the world and connect with others has changed overnight. Project Intimacy is a two-week experience which aims to form new connections and combat isolation with people from across the country.
Before the experience begins you will complete a questionnaire and based on your answers you will be paired with someone for a two-week experience. Once paired both participants will receive daily instructions, and through SMS text messaging form a remote pairing and maybe even a friendship.
Riptide have curated a carefully structured fortnight experience which is based on scientific evidence on how we make friends. We hope this project will encourage people to look beyond their own four walls and to find a meaningful connection with a stranger from across the world.
Project Intimacy runs from Sunday 6 – Sunday 20 December 2020. Tickets are £15 and booking closes on Friday 4 December. Click here to learn more and book.
(Pictured: Project Intimacy artwork)
---
#GetBehindUs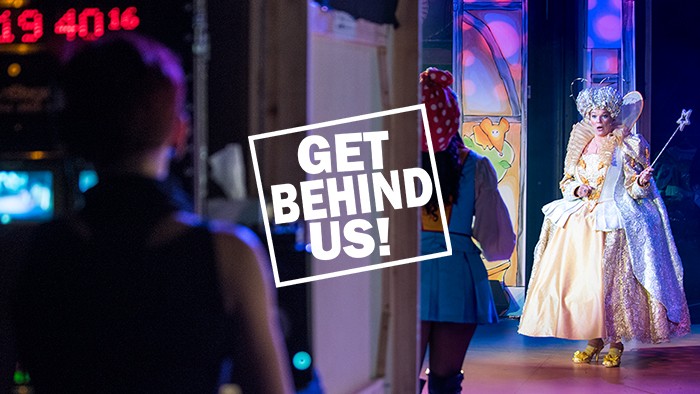 We're continuing to fundraise to support the Coliseum's future as our building remains closed to the public until early 2021.
We were less than two weeks from reopening with a season of covid-safe, socially distanced events when the Government announced that a further nationwide lockdown would commence from Thursday 5 November.  The Coliseum's first ever Crowdfunder has received phenomenal support, reaching its £40,000 target on the day the lockdown began. Our new stretch target for the continuing campaign is £55,000.
Launched in September following the postponement of this year's pantomime to 2021, #GetBehindUs asks people to support the Coliseum to help keep the magic of theatre alive and save Christmas in Oldham for generations to come. Having already postponed the pantomime, we also had to cancel our socially distanced Christmas offer, A Christmas Carol, as we could not guarantee that the production would be able to go ahead.
For 135 years people have visited Oldham's historic theatre to experience the magic of the renowned annual pantomime and year-round programme of award-winning drama, comedy and music. The Coliseum contributes millions to Oldham's economy and has helped to launch the career of many famous faces. Our work in the communities of Oldham offers support to some of the most underprivileged people in the country and people with additional needs, offers training, brings the borough's richly diverse population together and helps to build confidence.
In a survey by The Audience Agency 95% of audiences said that the Coliseum is good for Oldham's image and a further 63% said that the Coliseum enhances the sense of community in Oldham.
Su Schofield, Director of Manchester Cabins commented: "As a business with a history of over 40 years in the town, we believe in the importance of the Coliseum and how it serves its audiences and communities. The theatre does amazing work all year round and the loss of panto this year is a massive blow to both the town and the Coliseum. This is why we are proud to get behind this campaign and help protect local theatre in Oldham."
Theatres were the first industry to close due to coronavirus, a week ahead of the start of the national lockdown in March. In August the we announced the postponement of our pantomime, which would usually have welcomed an audience of 35,000 people. Not only is the Coliseum's festive spectacular a fun-filled family tradition for generations of people from across the North West, income from the pantomime supports many of our activities in the communities of Oldham throughout the year.
Pearson Senior Partner, Richard Eastwood, said: "It's a pleasure for Pearson Solicitors and Financial Advisers to get involved in the crowdfunding campaign and help secure the future of theatre in Oldham. 2020 has been a tough time for all, but the arts especially as being in front of people is what it's all about.  We forget and take for granted the excellent theatre we have on our doorstep, only when the doors close and the auditorium falls silent do we realise what we have lost, hopefully thanks to this campaign that silence will be short lived."
We have been truly moved by the response we have received. We'd like to send a huge thank you from everyone at the Coliseum to all those that have donated so far. Your support means everything to us.
We believe the Coliseum, its history and its future are worth fighting for.
If you are able to,  please donate at crowdfunder.co.uk/get-behind-us 
(Pictured: Backstage during a performance of Dick Whittington, 2017)
---
Freelancers x Venues NORTH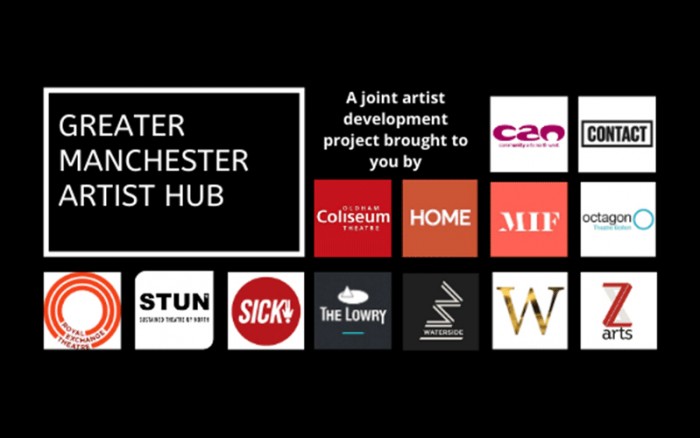 A great opportunity for artists and practitioners to (virtually) meet northern theatre venues and open up a dialogue about ways to support each other.
Organisations will individually feedback about their current status and adaptations to legislations, as well as opportunities available to freelance artists. Freelancers will then have the chance to ask any questions and there will be a freelancers only feedback chat once the venues have left the meeting.
GM Artist Hub was formed in April 2020 to help independent artists access support, advice and opportunities during the COVID-19 crisis. The project has now offered over 300 private advice sessions to local artists and a number of larger opportunities for artists to learn about specific funding streams and connect with chief executives and artistic directors across the city region.
GM Artist Hub venues and arts organisations are: Community Arts North West, Contact, HOME, The Lowry, Manchester International Festival, Octagon Theatre Bolton, Oldham Coliseum Theatre, Royal Exchange Theatre, SICK! Festival, STUN (Sustained Theatre Up North), Waterside Arts and Creative Industries Trafford, hÅb/Word of Warning and Z-arts.
GM Artist Hub's Freelancers x Venues NORTH is on Thursday 3 December at 4pm. Tickets are free but must be booked. Click here to book for Freelancers x Venues NORTH
Click here to learn more about GM Artist Hub
(Pictured: GM Artist Hub venues)
---
A tribute to Oldham legend Bobby Ball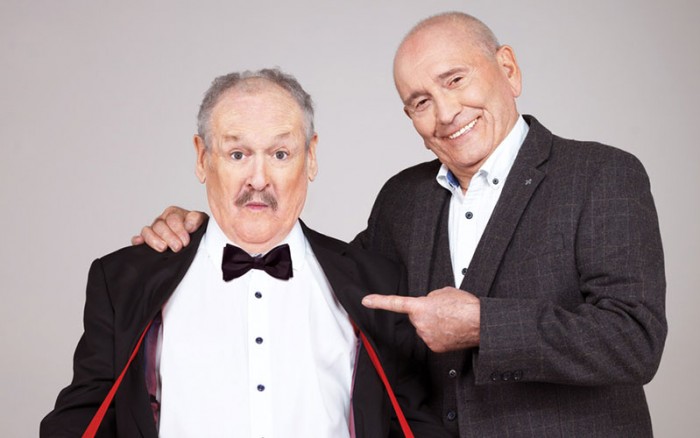 On Wednesday 28 October Oldham lost one of its beloved legends, Bobby Ball.
One-half of Cannon and Ball, he co-hosted The Cannon and Ball Show for nearly a decade, from 1979 – 1988. Following the success of the show he went on to appear in shows including Last of the Summer Wine, Heartbeat, Mount Pleasant, Benidorm, and Not Going Out.
At the age of 76 Bobby was still working, due to appear at the Coliseum in An Audience with Cannon and Ball early next year.
Coliseum Deputy Production Manager Adam Gent said: "He was a lovely chap to work with, he was always nice to the production staff and he'd have a laugh with you in the wings"
Bobby passed away in hospital in Blackpool after testing positive for coronavirus. Our thoughts are with his family and friends at this terrible time.
An Audience with Cannon and Ball has been cancelled and ticket holders have been contacted.
(Pictured: Tommy Cannon and Bobby Ball)
---
Virtual Actor Conference 2020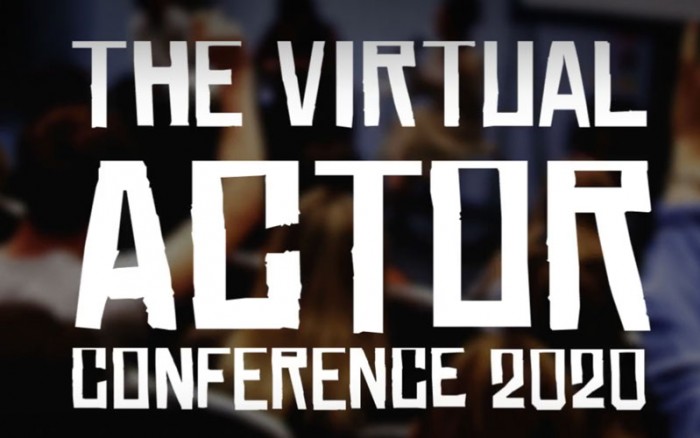 This Saturday Do or Die Studios present the Virtual Actor Conference 2020, with speakers including Mike Leigh, John Godber and Frantic Assembly.
In In Conversation with Mike Leigh OBE the conference talks like with the BAFTA winning, Oscar nominated director about his career and his unique way of working with actors. Mike will offer advice for actions approaching auditions and working on set for big projects, followed by an audience Q&A
In Writing and Creating your own work with John Godber, the Olivier-award winning writer gives his top tips – from ideas, dialogue, characters and structures.
In The Physical Actor & Building a Successful Theatre Company Frantic Assembly Artistic Director Scott Graham talks about an actor's relationship to their physicality/movement, performance and text. He'll also touch on how and why he set up Frantic Assembly and what it's like to run a successful theatre company, followed by a Q&A
There will be a Round Table with Casting Directors Isabella Odoffin and Victor Jenkins, with a discussion focussing on auditioning for theatre and recorded media, including tips from self tapes to final recalls, marketing yourself and making the best impression.
The Secrets to Industry Networking with Emotional Intelligence Group will help you to present the best of yourself, including top tips on engaging and interacting with Industry at auditions, press nights, on the job and social settings.  
The day will begin with Morning Mindfulness with yoga instructor and personal trainer Eryn Barber to start the conference in a good headspace and the conference will be hosted by Kate Coogan.
Virtual Actors Conference runs on Saturday 28 November from 10am – 6pm online.
To book tickets visit https://www.doordiestudios.com/vac2020
Receive a 10% discount using the code oldhamcoliseum
(Pictured: Virtual Actors Conference 2020)
---
Oldham Coliseum Theatre gratefully acknowledges funding from:

Oldham Coliseum Theatre is a Registered Charity, No: 508829.
Oldham Coliseum Theatre Ltd Reg No: 1415547