Mini-Podcast Series
Episode 4: Distance by DANC
The Coliseum joined forces with TripleC and DANC (Disabled Artist Networking Community) to commission, produce and present short audio plays by writers who are part of DANC, based on the theme of 'Distance'.
TripleC is a disabled led arts organisation that creates projects to break down the barriers for people with disabilities accessing the arts. DANC is the professional strand of TripleC that champions solution focussed events, workshops and conversations between disabled artists and key industry decision makers to increase representation, inclusivity and employment of disabled artists in the arts and media sector.
Our three selected plays take us from the dancefloor through the phoneline to the great wide galaxy, giving us a glimpse at the world inspired by the writers' real-life experiences. All actors cast in the episode are also members of DANC.
The Coliseum's Mini-Podcast-Series is edited by Digital Associate Grant Archer.
#DistancebyDANC
---
1. Introduction from Artistic Director Chris Lawson
2. Personal Space by Adam Fenton
Read by:
Milton Lopes as Sam
Adam said:
"During lockdown I, like many people, have been experiencing anxiety about leaving the house. To counteract this I've been doing a lot of writing to keep my mind occupied, so when I saw the opportunity to write for the Coliseum's Mini-Podcast Series I knew I wanted to submit something. I played with a few ideas around the theme but I was struggling and couldn't settle on anything I was really happy with. With an hour to go before submissions closed I suddenly realised what I should be writing about. Instead of trying to distract from my anxiety I should explore it through writing and combine it with something that gives me comfort; space! It was down to the wire, but I managed to write Personal Space and submit it just before the deadline. The result was a piece a bit closer to the heart that I'm very happy with.
Sam wants to enjoy the vast expanse of the known universe, but he can't do that without some crisps. The corner shop is just down the road but that feels like a lightyear away for this would-be space explorer. Sam must find a way to make the leap into a world that feels so alien, just to be clear, we're talking about Earth. Personal Space is a piece about when the smallest of acts feel massive, how distance is all relative, and why closeness isn't always about proximity"
3. From a Distance By Andrew Duffy
Read by:
Caron Rae-Brand as Nan
Fergus Rattigan as Andy
Andrew said: 
"From a Distance was inspired by my daily conversations with my nan. She has dementia and lives in a care home in Romiley. Sadly, we lost my granddad, who also lived there, in February, but she is not aware he is no longer alive, as it would've been too hard for her. She says he is there and is often at work. She has had coronavirus whilst in the home, but was asymptomatic. She really enjoys our chats every day. As we are both shielding I was playing around with her interpretation of the word. Like everyone, I look forward to the day we can meet up and hug our loved ones again."
4.  25 Metres From Salsa by Karen Featherstone
Read by:
Caron Rae-Brand as Sheila
Porcelain Delaney as Physio
Simon Startin as Alf
Karen said:
"25 Metres From Salsa is inspired by my experience of having a medication withheld until symptoms worsened. I wanted Alf to occupy that strange headspace in which he knows his condition must deteriorate in order for it to have the best chance of improving…"
---
Writers: 
Andrew is from Warrington and studied Acting and then Theatre and Performance at the Arden School of Theatre in Manchester, and Comedy Writing and Performance at Salford University, graduating in 2017.
He has been involved with Triple C and DANC since 2018 and has performed his own work for CO:Lab at Royal Exchange Theatre, acted with Manchester ADP at The Lowry, OffCut at 53Two and last summer performed an eight minute comedy piece that he wrote for BBC Ouch at the Edinburgh Festival, which was shown on BBC2. Andrew likes to write about things from his own life experiences.
.
Karen writes plays, screenplays and prose. Her short stories have appeared in anthologies and magazines. In 2015 she received a Northern Writers' Award. She has an MA in Screenwriting from the University of the Arts.
Karen has spent time in the story offices of Coronation Street and Emmerdale and her play The End of Sleep, a futuristic depiction of a society forced to stay awake, was a finalist for the BBC's Alfred Bradley Bursary Award for drama.
An alumna of Graeae Theatre's Write To Play initiative, recent work was heard on BBC Radio Lancashire, during Sphinx Theatre's Women Centre Stage Festival at the National Theatre Studio, at Hampstead Theatre, and as part of a Little Pieces of Gold showcase at Southwark Theatre. In 2019 she wrote and performed her first solo show.
Karen is currently writing an original TV screenplay with Manchester-based DANC (Disabled Artists Networking Community).
.
Adam trained as an actor at ALRA North and has since been pursuing a career in writing and performing.
He has performed new writing as part of Freshly Scratched at BAC, worked with Graeae Theatre Company on their Crips Without Constraints project and is currently developing a new play about Tourette's Syndrome that will hopefully be toured next year.
.
TripleC is a disabled led arts organisation that creates projects to break down the barriers for people with disabilities accessing the arts. This is through a 360 approach focussing on professional disabled artists through to audiences and the grass roots of youth theatre, schools and colleges.
DANC (Disabled Artists Networking Community) is one of TripleC's major strands. It's the professional strand that champions solution focussed events, workshops and conversations between disabled artists and key industry decision makers to increase representation, inclusivity and employment of disabled artists in the arts and media sector.
---
Performers: 
Caron is a professional actress and writer originally from London, based in Glasgow.
Theatre credits include: Cheers to the Children (writer – Old Barber's Shop, Glasgow), The Most Horrific and Chair Life (Theatre Uncut); and Monologue Slam.
Television credits include: The Victim; Doctors; River City and The Limmy's Show (all BBC).
.
Porcelain is a professional actor based in Greater Manchester. Her career has taken her all over the world performing across the Middle East and Asia but she's happy to now be at home for a while.
Theatre credits include: Rigoletto (Blackpool Grand Theatre, Manchester Opera House and Liverpool Empire Theatre); Peter Pan (International tour) and Hamlet (UK tour).
.
.
Milton was born in Cape Verde Islands and grew up in Portugal where he worked as an actor in various TV series, theatre shows and feature films. He won a Best Actor Award for his first role in a feature film, The Dauphin. The four languages that he speaks has allowed him to work in Portugal, France, Angola, Mexico and the UK. He is also an aerialist and has performed in the Paralympic Opening Ceremonies and Weighting by Extraordinary Bodies in 2013.
Credits include: Milton works regularly with Graeae Theatre Company having played the lead role Macheath in Bertolt Brecht's The Threepenny Opera, a co-production by Graeae, New Wolsey Theatre, Nottingham Playhouse, West Yorkshire Playhouse and Birmingham Rep. He was part of the cast of immersive physical theatre show Titus Andronicus directed by Pia Furtado and produced by The Theory of Everything in Peckham Multi-storey Carpark. He also worked with Coney in Early Days Of Better Nation (National Tour, directed by Annete Mees).
Milton played Peter in the feature film Bonobo, directed by Matthew Hammet Knott.
In 2016 he played John "The Savage" in Brave New World for BBC Radio 4 directed by David Hunter, and worked as an aerialist in Calling Tree, an Arts Admin production directed by Rosemary Lee and Simon Whitehead. 
During the same year he participated in the smash hit Portuguese Telenovela A Unica Mulher produced by Plural Entertainment for TVI. He toured Wales playing Ariel in The Tempest (Taking Flight). In 2018 he performed in Our Country's Good (Ramps On The Moon, directed by Fiona Buffini), The Three Musketeers (The Dukes, Lancaster) and Death Of A Salesman (Royal Exchange Theatre, Manchester). In 2019 he toured Splash, a circus show produced by Extraordinary Bodies, directed by Jamie Beddard and Billy Alwen.
He is developing his own show, Elephant, a multidisciplinary show that involves theatre, live music and circus with D/deaf and disabled performers, using audio description and sign language in a creative way. 
He is currently part of The Writers Lab @ Soho Theatre.
For more information, visit Milton's website here
.
Fergus is an Irish actor, based in London with an MFA in Shakespearian theatre from the University of Exeter and is an Actor Combatant with the APC.
Recent theatre credits include: Our Country's Good (Tour, Ramps on the Moon); Wizard Of Oz (Storyhouse, Chester); The Mechanicals (Etcetera Theatre, London); Snow White (Middlesbrough Theatre); All's Well That Ends Well (Cambridge Shakespeare Festival) and Twelfth Night (Dell Summer Theatre Stratford).
Television credits include:  4'O Clock Club (CBBC) and Callan's Kicks (RTE).
Film credits: Tamlin (Chagford Films); Killing Lionel (Sunsetrider Prod.)  and Deadly Presents (Bloody Cuts).
Online productions (2020): Henry IV part II (The Show Must Go Online); Richard III & As You Like It (Shake-Scene Shakespeare) and A Midsummer Night's Dream (Worldwide Shakespeare).
.
Simon trained at the Royal Welsh College of Music and Drama.
Theatre credits include: The Visit (National Theatre); Romeo & Juliet and Richard III (Shakespeare's Rose); Ralegh (The Globe); The Plague (Arcola Theatre); Arabian Nights; Spangleguts and Pericles (London Bubble); Maddie and the Invisible Groovers (Invisible Flash); Islands (The Bush); Government Inspector (Birmingham Rep); Now You Know (Hampstead Theatre); Sherlock Homes in Trouble (Royal Exchange Theatre, Manchester); The Tempest (Theatre Royal); Beyond Midnight (Trestle Theatre); Heelz on Wheelz (Fittings); Revolting (The Ministry of Clowns); Hamlet (Red Shift); Bartleby (Red Shift); Tartuffe (Mappa Mundi); Fanny Hill (Dukes Playhouse); The Fly (Oldham Coliseum Theatre); Waiting for Godot (Tottering Bipeds); Collateral Damage (Traverse Theatre); Subterranean (Traverse Theatre); The Fall of the House of Usher; Volpone and Ubu (Graeae); The Changeling (BAC) and Love of a Good Man (Arts Threshold).
TV credits include: The Musketeers; Mapp & Lucia; Tag; Holby City; Doctors; Criminal Justice;  Dunkirk; Are you Looking at Me and Ouch (all BBC) and Keen Eddie (Paramount).
Film credits: Preserve; Optimum; Future Got No Past and Ideal Candidate.
Radio credits: The In Touch Xmas Panto and Blind Jack (BBC).
.
---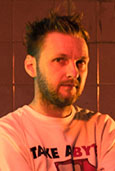 Grant Archer – Editor
Grant is the Coliseum's Digital Associate Artist. He initially studied Fine Art Photography in Manchester and London, working on projects with The Theatres Trust and National Piers Society. Recent projects include books on Iceland and Gibraltar, published by Out Of Place Books.
In 2015 Grant co-founded Take Back Theatre with actor Julie Hesmondhalgh and writer Rebekah Harrison, responding to social and political issues. Starting with script in hand rapid response theatre Take Back has expanded into immersive and full length pieces as well as audio recordings and most recently a series of short films.
Awarded a Developing Your Creative Practice fund from the Arts Council in 2019 Grant has been creating theatrical installation work that explores the relationship between live and recorded media and storytelling. Recent works have included Connect – a series of phone conversations at HOME, Patient – and audio/visual installation at Oldham Coliseum and Virtual Reality films at The Lowry, the Coliseum and various site specific locations.
---
From a Distance, 25 Metres From Salsa and Personal Space are original pieces commissioned by Oldham Coliseum Theatre, TripleC and DANC for the Coliseum's Mini-Podcast series.