Mini-Podcast Series
Episode 3: Pop and Crisps
Pop and Crisps is a short audio play written by Coliseum Supported Artist Sorcha McCaffrey.
Saf hasn't seen her dad for 20 years. All she remembers about him is his love of 80s music and Doritos. Her aunt said he went to Scotland. Linda over the road said he went to the North Pole. Her mum didn't say anything. On the brink of making a life-changing decision, Saf arranges to meet him again.
#PopandCrisps
---
1. Introduction from Artistic Director Chris Lawson
2. Pop and Crisps by Sorcha McCaffrey
Read by:
Cora Kirk as Saf
William Travis as Shaun
Directed by Chris Lawson
Edited by Grant Archer
---
Performers: 
Cora made her professional debut in 2017 playing the lead role of Irina in The People are Singing at The Royal Exchange Theatre, Manchester.
Recent theatre credits include: A Monster Calls (Old Vic, London, Bristol Old Vic UK and Us tour); Peter Pan (National Theatre at Troubadour White City Theatre); Emilia (Vaudeville Theatre); Not Such Quiet Girls (Leeds Playhouse); The Lion, The Witch & The Wardrobe (West Yorkshire Playhouse) and Peter Pan (Regent's Park Open Air Theatre).
Television credits: Doctors (BBC)..
.
William trained at the Royal Welsh College of Music and Drama.
Oldham Coliseum Theatre credits: The Kitchen Sink and Hard Times.
Other theatre credits include: Wonderland (Nottingham Playhouse); Ghosts (HOME, Manchester); Fallen Angels (Salisbury Playhouse); Blind Date (touring); Romeo and Juliet (Pilot Theatre); The Scarlet Pimpernel (Fool's Gold Theatre Company); As You Like It, The Hound of the Baskervilles and A Midsummer Night's Dream (Midsommer Actors).
Television credits include: Shakespeare and Hathaway (BBC); This is England (regular, Channel 4); Katy (BBC); Father Brown (BBC); Doctors (BBC); Coronation Street (ITV); Between the Sheets (ITV); The Second Coming (ITV); Where the Heart Is (series regular, ITV); The Accused (BBC) and Torchwood (BBC).
Film credits: Dark River (Film 4).
Other: As a writer, William's first piece, Monopoleyes, premiered in Manchester at the end of 2016..
.
---
Creative Team: 
Sorcha is a Yorkshire actor, writer and theatre-maker based in Manchester, and is a Supported Artist at the Coliseum. She trained at ALRA North and has taken part in the Royal Court writers' group. She has performed with the John Godber Company, Contact Theatre, Manchester and Co:LAB Festival at the Royal Exchange Theatre, Manchester. Her play Ladybones has been touring in the North of England and has been recorded as an audio drama for Audible.
 .
Chris is Oldham Coliseum Theatre's Artistic Director.
His previous shows at the Coliseum include: Four Minutes Twelve Seconds; Jack and the Beanstalk (2019); Visitors; A Skull in Connemara; A Taste of Honey; The Kitchen Sink; Up 'N' Under, Hard Times and Jumpers for Goalposts. He also assisted on the Coliseum's productions of Pygmalion and The Pitmen Painters.
As a theatre director, Chris has worked across the country following his original training at Bretton Hall, The University of Leeds, and later at RADA and Birkbeck, where he completed his Master's in Text and Performance. Outside of Oldham he most recently directed the 2019 international tour of Gypsy Queen by Rob Ward (Emmerson and Ward Productions) and in 2018 the pantomime for Cast in Doncaster, Robin Hood and the Babes in the Wood.
Chris has launched a number of initiatives and opportunities for theatre makers at the Coliseum including: the annual Main House Takeover which sees independent companies usually seen in Studio theatres on the Coliseum's Main Stage; the annual Cultivate festival of workshops, opportunities and industry insight; appointing the theatre's first Associate Artists and Associate Companies; launching Scribbles writing group and Scripts play reading group; programming the Coliseum's Studio with a focus on new writing and emerging artists; artist development workshops and the Regional Theatre Young Directors Scheme (RTYDS). He has also developed a number of partnerships with Universities and Drama Schools including Academy of Live and Recorded Arts (ALRA) North.
.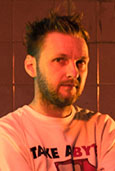 Grant Archer – Editor
Grant is the Coliseum's Digital Associate Artist. He initially studied Fine Art Photography in Manchester and London, working on projects with The Theatres Trust and National Piers Society. Recent projects include books on Iceland and Gibraltar, published by Out Of Place Books.
In 2015 Grant co-founded Take Back Theatre with actor Julie Hesmondhalgh and writer Rebekah Harrison, responding to social and political issues. Starting with script in hand rapid response theatre Take Back has expanded into immersive and full length pieces as well as audio recordings and most recently a series of short films.
Awarded a Developing Your Creative Practice fund from the Arts Council in 2019 Grant has been creating theatrical installation work that explores the relationship between live and recorded media and storytelling. Recent works have included Connect – a series of phone conversations at HOME, Patient – and audio/visual installation at Oldham Coliseum and Virtual Reality films at The Lowry, the Coliseum and various site specific locations.
---
Pop and Crisps is an original piece commissioned by Oldham Coliseum Theatre for its Mini-Podcast series.