Mini-Podcast Series
Episode 2: 'Off Out' Monologues
Our Learning and Engagement Department challenged people ages 21 and under to write a monologue, inspired by the UK lockdown, about a character's once-daily trip out of the house. Episode 2 of our Mini Podcast Series features three of the 'Off Out' Monologues, chosen by our Learning and Engagement team Carly and Ben, performed by Oldham local actors and edited by Grant Archer.
Following the three monologues eight actors whose voices you may well recognise tell us their favourite joke.
#OffOutMonologues
---
1. Introduction from Artistic Director Chris Lawson
2. Like Dad, Like Duck by Joe Walsh
Read by Jake Talbot
3. A 60 Minute Adventure by Adele Barnes
Read by Natasha Davidson
4. A Birthday in Quarantine by Freya Williams
Read by Sonya Nisa
5. Eight actors tell us their favourite joke
---
Performers: 
Natasha is a professional actress who has won a Manchester Theatre Award for Best Supporting Actress.
Her theatre credits include Oldham Coliseum Theatre, Octagon Theatre Botlon, The Dukes Lancaster, New Vic Theatre, Newcastle-under-Lyme and York Theatre Royal.
.
.
Recently seen at The Grange Theatre performing This is Oldham, written with Lindsay Williams. Actor Sonya has worked both in and outside of Oldham and is excited to reconnect with the outer world from within quarantine.
.
.
.
Jake Talbot is an actor, writer and script editor based in Oldham.
Jake's career began as the lead role in Welsh drama Rocket Boys (2012) directed by BAFTA nominee James Button. The film screened around the world, including at Festival de Cannes and Carmarthen Bay Film Festival, earning him the award for Best Actor at ScreenTest Film Festival, a nomination at St. Albans Film Festival and praise from the director behind the 8th season of Doctor Who.
Jake has been working in the industry since finishing education in 2017. His credits include: playing Kenny and Paul in The Punjab (BBC Radio 4); a small role in Coronation Street (ITV) and Rob Johnston's sell out play Riot Act, which toured museums and libraries in early 2019 before heading into GM fringe (Best Drama nominee) and Buxton Fringe (Best Theatre Production nominee).
At the end of 2019, Jake set up Dare to Know Theatre with former tutor Miranda Parker. His previous work with Miranda includes four tours of The Myths Surrounding Student Finance for theatre in education company Yes and…? Theatre Company, in which Jake devised the play and performed in various roles.
As a writer, Jake's debut play Drowning will be touring nationally Autumn 2020, funded by Arts Council England and produced by Dare to Know Theatre. The tour includes Oldham Coliseum Theatre, Lawrence Batley Theatre Huddersfield and Etcetera Theatre London.
Jake has also worked as a script editor on The Betrayal of Maria Sivan by Nicholas Connor, which is currently in pre-production with Oscar winning producer Julie Foy.
.
---
Jokes from:
Sophie Ellicott
Oldham Theatre Workshop
John O'Dowd
A Skull in Connemara
Lee Toomes
Four Minutes Twelve Seconds
Mitesh Soni
Jack and the Beanstalk (2019) and Cinderella (2018)
Patrick Bridgman
Jack and the Beanstalk (2019)
Reece Richardson
Up 'N' Under and Oh What A Lovely War
Shorelle Hepkin
Jack and the Beanstalk (2019), Cinderella (2018) and Dick Whittington (2017)
Sophie Mercell
Jack and the Beanstalk (2019) and Bread & Roses (2018)
---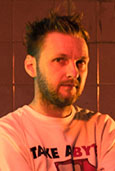 Grant Archer – Editor
Grant is the Coliseum's Digital Associate Artist. He initially studied Fine Art Photography in Manchester and London, working on projects with The Theatres Trust and National Piers Society. Recent projects include books on Iceland and Gibraltar, published by Out Of Place Books.
In 2015 Grant co-founded Take Back Theatre with actor Julie Hesmondhalgh and writer Rebekah Harrison, responding to social and political issues. Starting with script in hand rapid response theatre Take Back has expanded into immersive and full length pieces as well as audio recordings and most recently a series of short films.
Awarded a Developing Your Creative Practice fund from the Arts Council in 2019 Grant has been creating theatrical installation work that explores the relationship between live and recorded media and storytelling. Recent works have included Connect – a series of phone conversations at HOME, Patient – and audio/visual installation at Oldham Coliseum and Virtual Reality films at The Lowry, the Coliseum and various site specific locations.
---
The 'Off Out' Monologue Challenge was the first in a series of challenges launched by Oldham Coliseum Theatre's Learning and Engagement Team to help keep creative spirits alive during the coronavirus crisis and UK lockdown.