Mini-Podcast Series
Episode 1: 100 Word Plays
Last summer we invited writers to submit new plays inspired by Oldham. There was one main rule, the plays had to be 100 words or less including stage direction. Throughout September 2019 we displayed the 100 Word Plays across the Coliseum in crafty and creative forms and places.
Our first Mini-Podcast episode features 17 of the 100 Word Plays from well-known writers alongside local emerging writers, performed by a cast of Greater Manchester based actors and edited by Grant Archer.
#100WordPlays
---
1. Introduction from Artistic Director Chris Lawson
2. 1980 Swimming Lessons by Ian Kershaw
Read by Darren Jeffries
3. At the Park by Adam Gent
Read by John Askew
4. The Chippy by Francesca Waite
Read by Catherine Morefield
5. First job – Benjamin Lees, Westwood by Violet Barrow
Read by Rachel McMurray
6. Trouble at t'Mill by Karen Booth
Read by Rachel McMurray and Catherine Morefield
7. Untitled by Clive Stubbings
Read by Louisa May Parker (RedBobble Arts) and Martha Simon (RedBobble Arts)
8. Farewell by Pearl Andrews-Horrigan
Read by Hafsah Aneela Bashir
9. Annie Kenney by Susan Wildman
Read by Sorcha McCaffrey
10. Ghosts by Lindsey Williams
Read by Rachel McMurray and Catherine Morefield
11. BACK TO THE DIGS AFTER A SHOW by Christine Mackie
Read by Sorcha McCaffrey
12. If Walls Could Talk by C.S. Barrow
Read by Darren Jeffries, Natalie Gavin and Jack Radcliffe
13. Stage Fright by Paul Bateson
Read by John Askew
14. Throwing Clogs by Steve Greenhalgh
Read by Sam Glen
15. The Sickest thing I've ever done by Charlotte O'Leary
Read by Kelly Munro-Fawcett (RedBobble Arts)
16. Ticket Time by Jamie Walsh
Read by Sam Glen
17. Who's That by Amy Gavin
Read by Rachel McMurray and Catherine Morefield
18. We are Annie by Julie Hesmondhalgh
Read by Hafsah Aneela Bashir
---
Performers: 
John trained at ArtsEd.
Theatre credits include: Rita, Sue and Bob Too (UK Tour); And Did Those Feet (Octagon Theatre Bolton); Gypsy Queen (UK Tour); Harvest (New Perspectives/UK Tour); Wuthering Heights; Ladies in Lavender; Rope and Hay Fever (Theatre Royal Windsor); The Revengers Tragedy (Nottingham Playhouse); Darkness Darkness (New Perspectives/Nottingham Playhouse); Romeo & Juliet (Buxton Opera House); An Ideal Husband (New Street Jersey); The Importance Of Being Earnest (St. James Theatre); The Glasshouse (Tristan Bates); Travesti (Pleasance); Christopher And His Kind; Sing Sing Sing; The Tempest and Don Juan (UK Tour) and 40 Years On (York Theatre Royal).
Television credits include: The English Game (Netflix); Flack (CBS); The Rook (Lionsgate/Starz); Shameless (Channel 4) and Spooks: Code 9 (BBC).
Film credits include: Wasted and Two Sides.
Radio credits include: The Legend of Robin Hood (Augustine); Killer By Nature and Unheard (Audible) and Dark Shadows (Big Finish)..
.
Hafsah Aneela Bashir is a Manchester-based poet, playwright and performer originally from East London. Founder and co-director of Outside The Frame Arts, she is passionate about championing voices outside the mainstream. Winner of the Jerwood Compton Poetry Fellowship 2019, she is an Associate Artist with The Poetry Exchange, Associate Artist with Oldham Coliseum Theatre and Supported Artist at Royal Exchange Theatre, Manchester. Her play Cuts Of The Cloth was commissioned for PUSH Festival 2019. Her debut poetry collection The Celox And The Clot is published by Burning Eye Books. She has worked creatively with Manchester International Festival, Ballet Black London, HOME Manchester, Manchester Literature Festival and ANU Productions Irl. She is currently developing her SICK! Festival commission Four Dholis And A Divorce, exploring mental health set in the South Asian community..
.
Kelly is one half of RedBobble Arts, Associate Company at Oldham Coliseum Theatre.  She has a mixed bag of roots, starting life in Birmingham before moving to Nottingham and growing up there. Kelly adopted the North as her home at 21 and is happily based in Leeds with her young son Hadley. Kelly is a passionate advocate for parents in the arts and lives with the reality of maintaining a career whilst managing the needs of a little one. It can be challenging but she wouldn't have it any other way! Kelly is also very passionate about arts for all and is an experienced community development worker and workshop specialist, with a particular focus on working in areas of low arts engagement. She's also a freelance producer and tries to remember she's also an actor several times throughout the year!.
.
Natalie was born in West Yorkshire and studied at Leeds Intake Performing Arts College following a BA in Drama and Theatre studies with an outstanding achievement award at Huddersfield University. She has worked professionally in the industry for 14 years within television, film and theatre.
Television credits include: Shameless and Ackley Bridge (Channel 4); The Syndicate (ITV); Jericho (lead role of Alma Capstick, ITV); and Prisoners Wives; Line of Duty and Gentleman Jack (BBC). You can find Natalie next in Julian Fellowes up and coming Netflix series The English Games.
Theatre credits include: Bracken Moor and Mermaid (Shared Experience); The Crucible (Old Vic); Shirley (Hope Mill Theatre Manchester and Square Chapel, Halifax); Pygmalion (Headlong) and Charley Miles new play There Are No Beginnings (Leeds Playhouse).
Natalie is also Square Chapel Theatre's youngest patron alongside Harrogate Theatre. Natalie's film career started with Clio Barnard's first film The Arbor as young Andrea. She is in Barnards latest film Ali & Ava, and she also starred alongside Peter Mullen in Jake Gavin's film Hector..
..
Oldham Coliseum Theatre credits:  Jack and The Beanstalk; The Kitchen Sink and Star-Cross'd.
Other theatre credits: Letter To Boddah (Edinburgh Fringe Festival); Robin Hood and the Babes in the Wood (Cast, Doncaster); Jack and the Beanstalk (Pantodrome, Newcastle); King Lear (Royal Exchange Theatre, Manchester and Birmingham Rep) and A Letter To Boddah (Hope Mill Theatre, Manchester).
Television credits: World's End (series regular, CBBC); Coronation Street (ITV) and The Street; Doctors and Shameless (BBC).
Sam also appeared in BBC One's Let It Shine with Gary Barlow, making it through several stages of the competition.
Twitter: @samglen
Instagram: @samglenuk.
.
A stage/television actor originally from Warrington, Darren's theatre credits include: Dear Nomad (Octagon Theatre, Bolton); Where We Are (HOME, Manchester) and Andrea Dunbar's final play Shirley (Square Chapel Arts Centre). Television credits include: Channel 4's Hollyoaks and BBC's Doctors. He is a self-confessed film fanatic, music lover, and an ardent supporter of all things art and culture..
.
.
.
.
Sorcha is a Yorkshire actor, writer and theatre-maker based in Manchester, and is a Supported Artist at the Coliseum. She trained at ALRA North and has taken part in the Royal Court writers' group. She has performed with the John Godber Company, Contact Theatre, Manchester and Co:LAB Festival at the Royal Exchange Theatre, Manchester. Her play Ladybones has been touring in the North of England and has been recorded as an audio drama for Audible..
.
.
.
Rachel is an actress and theatre maker, based in Manchester. She is Artistic Director of Fine Comb Theatre Company, Associate Company at Oldham Coliseum Theatre. Rachel completed a BA (hons) in Performing Arts at Salford University and an MA Applied Theatre at The University of Manchester.
Her most notable performance credits include: Matchsticks at Oldham Coliseum Theatre and Wind in The Willows at The Lowry, Salford. As a theatre practitioner she has been fortunate enough to work with such organisations as Oldham Coliseum Theatre, Royal Exchange Theatre, Manchester; Octagon Theatre, Bolton; The Lowry, Salford; Theatre in Prison and Probation and more..
.
Catherine Morefield is co-founder of Fine Comb Theatre, Associate Company at Oldham Coliseum Theatre. She is an actor and producer and trained at Salford University and the Independent Centre for Actor Training. She has worked as an actor in theatre, TV and commercials alongside running Fine Comb Theatre..
.
.
.
.
Louisa is one half of RedBobble Arts, Associate Company at Oldham Coliseum Theatre. She was born and raised in Wythenshawe, Manchester and remains very proud of her working-class roots. She trained as an actor at The Arden, Manchester and more recently completed her MA at Drama Centre London. She was also lucky enough to spend two months training at the Boris Shchukin Theatre Institute, Moscow. Lou wrote RedBobble's debut show The Box and as an actor she's worked extensively in theatre, film and TV. Also an experienced workshop leader for communities and schools, she spends her time producing, teaching, temping and everything else that comes with running an arts company! At home, she's currently learning how to make her new garden grow.
..
Jack Radcliffe has been a student at First Act Drama Tuition in Warrington since 2017. He made his theatre debut as one of Fagin's Gang in Oliver and went on to play the lead role of Will in Goodnight Mr Tom, both with local amateur companies. His productions with First Act include: Frankenstein's Creature and Korzak's Children, which was written and directed by the students. He is currently rehearsing for Lord of the Flies, to be performed at some point in the near future at The Brindley in Runcorn..
.
.
.
Martha is a director, facilitator, and Associate Artist with RedBobble Arts. She originally trained as an actor at The Arden alongside Kelly and Lou, and she currently lives in Yorkshire with her partner and baby daughter Joni. Martha has directed touring theatre for around ten years and has also taught at various Drama Schools and Universities in the North West. For RedBobble, she has directed To Walk In Your Shoes and If I Should Fall. She is also currently an Associate Artist of the National Youth Theatre.
.
.
.
---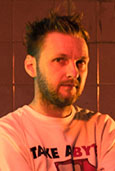 Grant Archer – Editor
Grant is the Coliseum's Digital Associate Artist. He initially studied Fine Art Photography in Manchester and London, working on projects with The Theatres Trust and National Piers Society. Recent projects include books on Iceland and Gibraltar, published by Out Of Place Books.
In 2015 Grant co-founded Take Back Theatre with actor Julie Hesmondhalgh and writer Rebekah Harrison, responding to social and political issues. Starting with script in hand rapid response theatre Take Back has expanded into immersive and full length pieces as well as audio recordings and most recently a series of short films.
Awarded a Developing Your Creative Practice fund from the Arts Council in 2019 Grant has been creating theatrical installation work that explores the relationship between live and recorded media and storytelling. Recent works have included Connect – a series of phone conversations at HOME, Patient – and audio/visual installation at Oldham Coliseum and Virtual Reality films at The Lowry, the Coliseum and various site specific locations.
---
Oldham Coliseum Theatre's 100 Word Plays project is inspired by and would like to acknowledge Royal Court, London's 100 Word Plays which ran during the Young Writer's Festival in 2012.