Messages from the Dame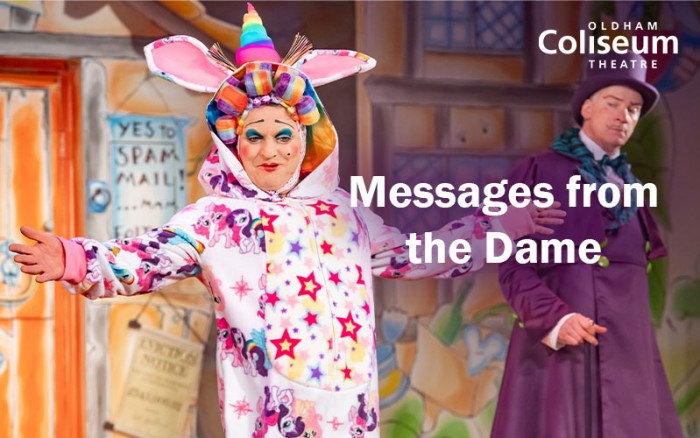 This Christmas Dame Dotty Trott is sending special messages to celebrate the achievements of people in our area.
The world has changed dramatically in 2020, and since March we have all lived under restrictions to help slow the spread of Covid-19. Messages from the Dame will celebrate, thank and/or congratulate people in Oldham and Greater Manchester who have achieved something great or overcome something challenging during the coronavirus crisis.
Oldhamers were invited to nominate people for a Message from the Dame by completing and returning a Messages from the Dame Submission Form by Wednesday 2 December.
Nominees could be someone who works for the NHS, a teacher, a neighbour, a friend, a co-worker, a volunteer, or simply a good Samaritan. Messages will be unique for each recipient, recorded on video and shared via a link.
Submissions closed on Wednesday 2 December.
This year Oldham Coliseum Theatre's nationally renowned pantomime has been postponed to 2021 due to the coronavirus crisis, as it is not possible to present it with social distancing. This is the first time in decades that there will not be a pantomime at the Coliseum. Messages from the Dame is one of a series of offers designed to help keep some panto magic alive in Oldham in 2020.