May 2020 Newsletter
Whilst the Coliseum's building remains closed we're working from home to continue to create and share art and creative opportunities for people from Oldham's communities and beyond.
In this month's newsletter learn about the second episode of our Mini-Podcast series, our co-commission with HOME in Manchester, art and craft packs we're distributing in Oldham's neighbourhoods and our latest challenge for young people.
Plus, we've more updates on what our team are up to during lockdown and our Artistic Director Chris Lawson recommends more great online theatre for you to watch from the safety of your home.
---
Coliseum commissions Hafsah Aneela Bashir for the Homemakers project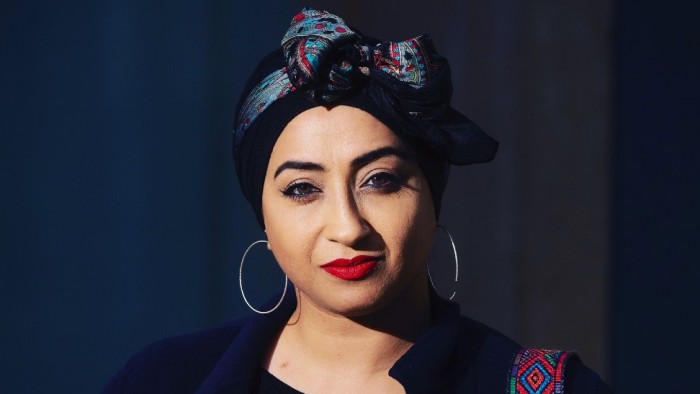 We're proud to be commissioning partners with our Greater Manchester neighbours at HOME, Manchester for the Homemakers project. 
Homemakers is series of new commissions inviting artists to create new works at home, for an audience who are also at home. These fully funded commissions are an offer to groundbreaking artists to challenge the definition of "live performance" – whether through live streaming, recordings, games, interactive stories, personal encounters, or something completely different.
The Coliseum has commissioned Associate Artist Hafsah Aneela Bashir to create a project as part of Homemakers. Hafsah is a poet, playwright and performer and founder and co-director of Outside the Frame Arts. 
Hafsah is creating the Poetry Health Service as a tool for healing. Using both her own poetry and gifted poems, she will provide poetry panaceas by the people for the people. Emphasising the importance of art to our mental and emotional health, the PHS will be accessible both online and via a dedicated phoneline where people will be able to respond to the service. The idea came from Insta Live readings Hafsah has been delivering every day at 2.30pm since the lockdown. 
Hafsah commented: "I'm so excited to receive a  Homemakers commission – one that will draw on my lockdown connections made with strangers on insta Live through our simple love for poetry. This is the beautiful birth of the Poetry Health Service."
Coliseum Artistic Director Chris Lawson added: "We're delighted to be working in association with our Greater Manchester neighbours HOME. We feel the PHS project, led by Hafsah, is a vital and necessary artistic service that we are proud to support."
The first Homemakers works by Bryony Kimmings, Ad Infinitum, Plaster Cast Theatre and Chris Thorpe & Yusra Warsama, commissioned by HOME, were announced in April and are now on sale via the HOME website. 
The Coliseum's commission joins commissioned works from ARC Stockton – Vici Wreford-Sinnott; Cambridge Junction – Zoe Svendsen and Hannah Jane Walker; Candoco Dance Company – Jo Bannon; Chinese Arts Now – Naomi Sumner Chan; Fermynwoods Contemporary Art – Anna Brownsted; Lime Pictures – Seiriol Davies and Matthew Blake; Music Theatre Wales and London Sinfonietta – Elayce Ismail and Alex Ho; and Z-Arts and STUN – Chad Taylor, expanding the Homemakers project's scale nationwide. 
Learn more about Homemakers on HOME's website here. 
This is an Oldham Coliseum Theatre Homemakers commission, in partnership with HOME, Manchester
(Pictured: Hafsah Aneela Bashir)
---
Mini-Podcast Series: Episode 2. Off Out Monologues

Our second Mini-Podcast episode features three monologues written by young people, inspired by the UK lockdown.
The Coliseum's Learning and Engagement Department challenged people ages 21 and under to write a monologue about a character's once-daily trip out of the house for exercise or essential work or shopping.
The three monologues in Episode 2 have been selected by Carly and Ben from our Learning and Engagement team, recorded by professional actors and edited by our Digital Associate Grant Archer.
Joe Walsh's Like Dad, Like Duck is performed by Jake Talbot, who would have been in the Coliseum's Studio with his debut play Drowning last week.
A 60 Minute Adventure by Adele Barnes is performed by Natasha Davidson, who was last seen on the Coliseum stage in our production of Hindle Wakes in 2015.
A Birthday in Quarantine by Freya Williams is performed by Sonya Nisa, who most recently appeared in This is Oldham at The Grange Theatre, written by Dreamers and Meat Pie, Sausage Roll co-writer Lindsay Williams.
The 'Off Out' Monologue Challenge was the first in a series of challenges launched by the Coliseum's Learning and Engagement Team to help young people keep their creative spirits alive during the coronavirus crisis and the UK lockdown.
As an extra treat, episode two also features eight jokes from actors whose voices you may well recognise: Sophie Ellicott from Oldham Theatre Workshop, John O'Dowd from A Skull in Connemara, Lee Toomes from Four Minutes Twelve Seconds, Mitesh Soni from Jack and the Beanstalk and Cinderella, Patrick Bridgman from Jack and the Beanstalk, Reece Richardson from Up 'N' Under and Oh What A Lovely War, Shorelle Hepkin from Jack and the Beanstalk and Cinderella and Sophie Mercell from Jack and the Beanstalk and Bread & Roses.
Episode 2 of the Coliseum's Mini-Podcast Series is available to listen to on our website here or on Soundcloud here
(Pictured: Like Dad, Like Duck)
---
Update on rescheduled events and our Box Office

Our Box Office team are set up in their living rooms and kitchens, working from home to process rescheduled events, contact ticket holders and amend bookings. This isn't something we can automate as we need to process each ticket holder's individual preferences, but we're working as quickly as we can.
Here's an updated handy list of all the events we have so far rescheduled or unfortunately had to cancel:
If you're waiting to hear from us about an event you have tickets for we thank you for your patience. Our small team is working as fast as they can from home.
We're working on rescheduling the rest of our Spring-Summer season as a matter of priority and we'll be in touch with all ticket holders as soon as possible. Thank you for your patience.
Our Box Office phone line is not in use whilst our team are out of the building. Please don't try to call us, but instead bear with us and we will contact all ticket holders with information on the event(s) they have booked for as soon as we are able.
Some events are more complicated to reschedule than others, for example because they rely on the availability of more actors and creatives, or because they are part of a larger tour, and so we cannot guarantee that we will announce new dates for each show in chronological order. There are some events that will unfortunately have to be cancelled, and we will contact ticket holders when this information is confirmed.
The Coliseum, like many theatres that have been forced to cancel performances, is a charity; and whilst ticket holders are all entitled to a refund for cancelled performances, we would ask, if you can, to consider either: having your ticket money refunded to credit on your account – which is valid for 12 months and can be used on any other show at the Coliseum – or to donate all or part of your ticket money to the theatre to enable us to continue to make great theatre in Oldham as soon as we're able.  Your support is more vital than ever during this unprecedented time; it will help to ensure not only the Coliseum's financial sustainability, but also that of the artists, creatives and theatre makers we support.
(Pictured: Box Office Manager Ann-Marie Mason working at home)
---
'Take Two' Duologue Challenge for young people

Our Learning and Engagement Team have launched another great challenge to help young people keep their creative spirits alive during this unprecedented time.
The 'Take Two' Duologue Challenge invites anyone aged 21 and under to write a duologue between two characters from previous Coliseum productions:
Hazy the Cow from Jack and the Beanstalk
Queen Elizabeth II from Handbagged
Roxie Hart from Chicago
Mairtin Hanlon from A Skull in Connemara
Lucy Rose Atkins from Bread & Roses
Sherlock Holmes from Hound of the Baskervilles
Eliza Doolittle from Pygmalion
Lucy Fur from Hot Stuff
Danny from Brassed Off
In their own shows these characters made a huge impact within the story, but what if two of these characters were to meet one another? What would they think of each other? What would they say to each other?
The challenge runs until Friday 15 May and the writer of our favourite duologue will win four tickets to see The Jungle Book in 2021
Learn more and get involved here.
(Pictured: 'Take Two' Duologue Challenge characters)
---
Coliseum in the Community: Deputy Wardrobe Supervisor Janet Weston on The Scrubs Hub

Coliseum Deputy Wardrobe Supervisor Janet Weston is putting her skills to good use as a volunteer for The Scrubs Hub Bury, Oldham and Rochdale.
Janet saw a post about The Scrubs Hub on her local Facebook page and wanted to help. She sews in the mornings and evenings around running home school for her children. Her daughter Bronwyn has also gotten involved, handmaking labels for the scrubs with a rainbow and the words 'Thank You NHS'.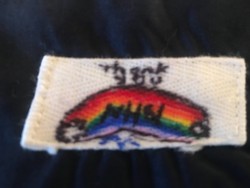 The Scrubs Hub Bury, Oldham and Rochdale are a network of volunteer seamstresses who are making scrubs for local hospitals and community health workers. The group are part of a national initiative, For the Love of Scrubs.
Janet said: "It's a really well organised group, run by Maxine Grimshaw and Zoe Sutcliffe. They're fundraising money for the fabric, co-ordinating requests from NHS staff and sending out fabric and patterns to volunteers. There are two pickup/collection days each week and a driver brings you a pack with everything you need in. Most of the drivers are volunteers from Brass Knuckle Riders.
"More people are joining each week and so far over 500 sets have been completed so every little helps. Some people are cutting now which helps us get more sets made faster.
"I know that not everyone sews, but people can still support our efforts by sharing the fundraising page, many groups are making scrubs from old bedding and other materials but our focus is to provide new garments in the appropriate fabric so people can be easily identified within the clinical setting."
To donate to The Scrubs Hub Bury, Oldham and Rochdale click here 
Learn more about The Scrubs Hub Bury, Oldham and Rochdale here
Janet added: "I love to sew and this gives me a reason to do it but I also hope to be back making Pantomime costumes soon!"
(Pictured: Some of the scrubs Janet and Bronwyn have made)
---
Scribbles moves online

We've moved our fortnightly scriptwriting group Scribbles online and opened up the group with ten new spaces.
Scribbles is for everyone aged 18+, including complete beginners. Over five sessions each term writers of all levels of skill and experience work on different aspects of playwriting – including character, structure, dialogue, generating ideas and developing a writing practice.
You can drop-into sessions as you choose or attend a whole term, so whether you've got a work in progress that needs refining or you just want to develop your writing skills Scribbles is for you.
The group runs fortnightly via Zoom on Wednesday from 11am – 1pm and costs just £3 per session.
The next sessions are:
Wednesday 27 May

Wednesday 10 June
New spaces are available on a first come, first served basis. To sign up email scripts@coliseum.org.uk 
(Pictured: Pages from a script)
---
Your Coliseum Needs You

Thank you to everyone who has donated to the Coliseum so far in this unprecedented time. Your support means the world to us, it's helping to keep theatre alive in Oldham.
Since 1885, the Coliseum has brought joy, entertainment and enrichment to Oldham through our work on stage and in the community. Oldham Coliseum Theatre is a Registered Charity (no. 508829) and we rely on income from tickets and bar sales. Closing the theatre makes maintaining our business extremely difficult.
We need your help to protect the Coliseum's great history and ensure that, once this crisis is over, the Coliseum can continue to serve Oldham and its communities for generations to come.
Our stage may be dark, but we're working with artists, touring companies, our communities, participation teams and the rest of the theatre industry to continue to create and share great theatre and projects. Some examples of this are our new Mini-Podcast Series, our co-commission for Homemakers working with HOME, Manchester and the 'Take Two' Duologue Challenge for anyone aged 21 and under.
Alongside our work on stage the Coliseum works with people across our communities including: over 15 local schools from Oldham, Rochdale and Tameside, including SEND (special educational needs and disabilities) schools for children with additional needs; disadvantaged young people who are not currently in full time work, education or employment; theatre-lovers aged over 50 who come together for creative activities; and a community of artists and theatre makers across the North West.
In its 135-year history the Coliseum has only closed once before. Following 46 years as a popular theatre and music hall, in 1931 the theatre was converted into a cinema, closing nine months later. In 1939 the Coliseum was reopened by passionate theatre lovers the Oldham Repertory Theatre Club, and during World War II our theatre hosted celebrated London companies Saddler's Wells Opera and the Old Vic.
Your Coliseum needs you to help keep theatre alive in Oldham. We urge you, if you can at this difficult time for everyone, to make a donation to support the theatre. Every donation makes a difference; and please don't forget to add GiftAid which will add an extra 25p for every £1 you donate, at absolutely no cost to you.
Click here to donate to the Coliseum.
If you are unable to donate right now, please help us by sharing our message.
(Pictured: Four Minutes Twelve Seconds, February 2020)
---
Distributing art and craft packs for young people in our communities

In partnership with First Choice Homes, we have developed and are distributing packs to ensure children and young people from Roma backgrounds have resources at home to enable them to take part in creative activities during the lockdown.
In light of the COVID 19 crisis, we recognise the barriers faced by groups of young people in accessing alternate cultural opportunities. Our activity packs contain art and craft resources and an activity book with ideas and instructions on things to make and do at home.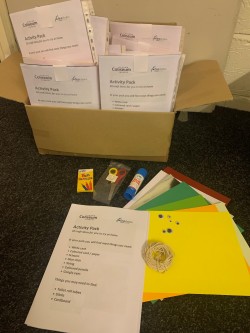 Since 2018 the Coliseum has been working with First Choice Homes on a developing project that focusses on the concept of place and identity amongst young people in the Clarksfield and Greenacres neighbourhoods of Oldham.
The first stage of the project involved work with Greenacres Primary and Waterhead Academy to engage pupils in writing their own poems and rhymes based on the streets where they live. The second stage then involved working with a different set of pupils from each school to develop the theme further, extracting key lines from the poems to create and stage a piece of theatre, which was performed on the Coliseum's Main Stage that year.
The third stage of the project identified the barriers faced by Roma children and young people from the area in particular, in accessing extra-curricular provision. A Kerrching grant enabled our team to engage these young people in the design and development of an arts project; co-creating a programme which introduced the young people to various art forms and practitioners, whilst strengthening their sense of place and belonging in the community. The sessions were supported and extended by the Rounthorn Salvation Army Church and Oldham Youth Council's Dynamix programme, who held community events and brought street art to the area.
The Coliseum is passionate about our community and ensuring that no one is excluded from the innovative range of cultural opportunities being made available online during this time. If you know of a group or individual we could help, please let us know by emailing our Learning and Engagement Team, Carly and Ben, at LED@coliseum.org.uk
(Pictured: Illustration of young Roma people by Rose Sergent)
---
Coliseum Sessions: Lauryn Redding plays free gig on Instagram

Actor and musician Lauryn Redding played a free gig on the Coliseum's Instagram Live on Thursday 30 April – but don't worry if you missed it – you can now watch a video of the gig on the Coliseum's Instagram feed.
Last seen on the Coliseum stage with an award-nominated performance in the heartrending hit musical The Hired Man (co-produced with Queens Theatre Hornchurch and Hull Truck Theatre), Lauryn played an acoustic gig live on our Instagram account, with a mix of original songs, covers and songs from previous Coliseum productions.
As well as The Hired Man (2019), Coliseum audiences will recognise Lauryn from the theatre's productions of Bread & Roses (2018), Up 'N' Under (2017), Oh What A Lovely War (2017) and Dreamers (2015). She also came to the Coliseum with Northern Broadsides' productions of The Winter's Tale and An August Bank Holiday Lark.
Alongside skill and talent in acting and singing, Lauryn plays eight musical instruments. She is currently in the process of writing a one-woman musical.
Watch her performance on the Coliseum Instagram feed here.
(Pictured: Lauryn Redding)
---
More recommended online theatre to watch at home

Our Artistic Director Chris Lawson has compiled another list of great theatre you can watch online from the safety and comfort of your home.
These brilliant shows are free to watch online. Some of these shows offer a Pay What You Can option and others ask that if you're able to, you consider donating to help support the UK theatre industry during this unprecedented crisis.
Homemakers
Homemakers is series of new commissions inviting artists to create new works at home, for an audience who are also at home. These fully funded commissions are an offer to ground breaking artists to challenge the definition of "live performance" – whether through live streaming, recordings, games, interactive stories, personal encounters, or something completely different.
Shows already available to watch online include: Tell Me by Chris Thorpe and Yusra Warsama, I am Falling in love with you and it's making me do stupid things by Bryony Kimmings and A Small Gathering by Ad Infinitum.
We recently announced our co-commission for the Homemakers Project working with HOME and we're excited to see our commission, The Poetry Health Service by Hafsah Aneela Bashir, come to life.
Electrolyte
We highly recommend this outstanding piece of gig theatre by Wildcard Theatre. It's being published online by Scottish Mental Health Arts Festival for a week from Monday 18 May.
Electrolyte powerfully explores mental health via spoken word poetry and underscored by original music performed by six multi-instrumentalists. The show won the Mental Health Fringe Award last year.
Everything Is Possible: The York Suffragettes
York Theatre Royal and Pilot Theatre's 2017 production about the history of the Suffragette movement in the North is available to watch online until Sunday 31 May.
The theatre commented: "If there was ever a time when we all need a little bit of extra hope, it's right now. That's why we're streaming one of our most inspirational and affirming productions of recent years for free."
It is Easy to be Dead
Finborough Theatre's 2016 world premiere by Neil McPherson was nominated for seven OffWestEnd Awards and an Olivier Award. It stars Jenny Lee, who our audiences will recognise from her role as Maryjohnny in A Skull in Connemara.
It is Easy to be Dead is based on the poetry, letter and brief life of Charles Hamilton Sorley, a soldier who was killed in action in 1914 at the age of 20.
Ghost Light Social
Presented by Totally Showreels, Ghost Light Social is a YouTube series discussing all things theatre, film and television. It is hosted by Lee Toomes (Four Minutes Twelve Seconds), and episodes include familiar faces to the Coliseum including Rupert Hill (Bread & Roses), Liz Carney (Dick Whittington) and Natasha Harrison (Co-Director of Four Minutes Twelve Seconds).
(Pictured: Homemakers)
---
Rachel McMurray leads Applied Theatre workshops online

Rachel McMurray, Co-Founder of our Associate Company Fine Comb Theatre, is leading workshops via Zoom for theatre practitioners who are interested in the possibilities of theatre in non-traditional settings.
The two-part series of workshops in applied theatre began on Monday, with the second workshop taking place on Monday 18 May. The workshops explore the process of devising theatre with, for and by its audience, enabling participation and opening up the arts to a variety of communities, with a particular focus on prisons and with hard to reach groups.
The workshops will cover the foundations of applied theatre, the consideration of working in a variety of setting and facilitation and designing workshops. Rachel will also answer questions surrounding  working in the applied theatre sector as a freelancer and the various considerations of this.
Rachel McMurray is a professional applied theatre practitioner and director.
She has years of experience in the application of theatre practice as an interventionist tool, and using theatre to effect social change. With a BA (Performing Arts) and MA (Applied Theatre) Rachel has delivered drama-based projects in prisons, pupil referral units, schools, care homes, young offender institutions, community venues, with asylum seekers, CAHMS service, looked after young people and many more.
Rachel is also an associate lecturer at Staffordshire University, leading the Applied Theatre module for undergraduate students. She has also worked as a residency supervisor for TiPP (Theatre in Prison and Probation) at The University of Manchester, supervising students through practical residencies in prison settings.
The Applied Theatre Workshops take place via zoom on Monday 11 May and Monday 18 May. These workshops are now sold out.
(Pictured: Rachel McMurray)
---
The Last Quiz Night on Earth: Kathy in lockdown

The day we closed the Coliseum to help slow the spread of Coronavirus, Monday 16 March, we were due to present the first of two performances of Box Of Tricks Theatre's immersive pub quiz play The Last Quiz Night on Earth at The Bank Top Tavern in Oldham town centre. Last week Box Of Tricks released a short monologue online from The Last Quiz Night on Earth pub landlady Kathy, played by Merial Schofield.
We know our audiences were disappointed that the show had to be cancelled, and we're thankful for ticketholder's understanding, especially at the short notice in which we had to cancel the event. This short monologue, from the writer of The Last Quiz Night on Earth Alison Carr and performed by Meriel Schofield, offers a glimpse at one of the characters from the show.
 Kathy in Lockdown was written by Alison Carr, filmed and performed by Meriel Schofield and directed by Hannah Tyrell-Pinder.
(Pictured: YouTube still of Kathy in Lockdown)
---
Our favourite Coliseum memories

With such a long history there are near countless fond memories of the Coliseum. We asked our team for some of theirs to share with you.
Marketing & Communications Campaigns Manager Shelly Ramsdale said: "Our annual pantomime trip to Dr Kershaw's Hospice is always a highlight of the year for me. We started taking the cast to the hospice four years ago to spread Christmas cheer; it has become a bit of a tradition for both the Coliseum and the hospice and I'm very proud to have been involved in the beginning and the continuation of it. With over 80 performances each year I know the cast are tired but they're always happy to go to the hospice and show support for the fantastic work they do there.
"Our pantomime is an Oldham institution and it's wonderful to see how happy meeting the cast makes the patients and the staff. Our visits have included a song from the cast of Dick Whittington (2017), panto favourite Richard J Fletcher telling jokes for patients, and most recently hearing about the work on a new impatient unit and landscaped garden at the hospice, with a tour of the temporary wing whilst the new unit was under construction. There are always a lot of laughs and occasionally a few tears.
"One of the most complicated parts of taking the cast to the hospice, but often the start of the hilarity, is figuring out how to get larger than life pantomime costumes into taxis to get there and back!."
(Pictured: The cast of Jack and the Beanstalk with staff at Dr Kershaw's Hospice. Photograph by Andy Russell)
---
Oldham Coliseum Theatre gratefully acknowledges funding from:

Oldham Coliseum Theatre is a Registered Charity, No: 508829.
Oldham Coliseum Theatre Ltd Reg No: 1415547