May 2019 Newsletter
This month we opened satirical comedy Handbagged to rave reviews, our production of The Hired Man was nominated for three prestigious awards and we announced the programme for our second Cultivate Festival.
We also hosted the Inspiring Women in Business Event with Oldham Enterprise Trust and we're putting the finishing touches on our next season ready to announce our programme for Autumn-Winter 2019/2020 on Monday 3 June
Read all about it – plus even more updates on what's going on behind the scenes here at the Coliseum – below.
---
Handbagged is a must-see political pantomime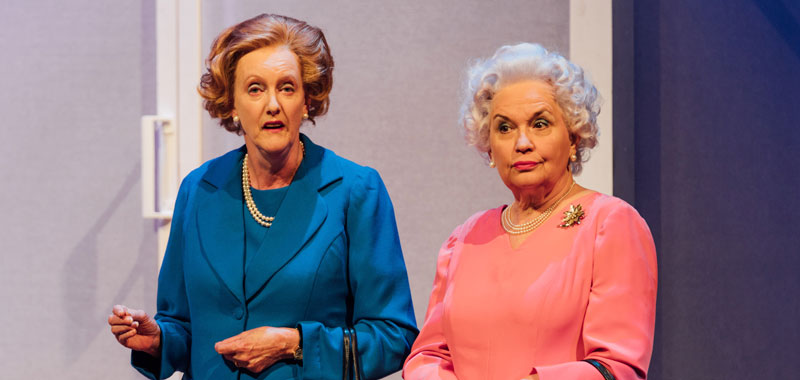 We opened our production of Handbagged earlier this week to rave reviews from critics and a packed auditorium filled with laughter and cheering (and the occasional boo).
"Thought provoking and a barrel of laughs"
– Remote Goat
★★★★★
Handbagged imagines the relationship between The Queen and former Prime Minster Margaret Thatcher, telling of their weekly meetings during Thatcher's 11 years in office.
"Very entertaining, mischievously funny and resolutely theatrical"
– The Stage
★★★★
"Clever, shocking and a tongue in cheek reminder of a pretty bonkers time in history! Superbly acted by all! Remember the 80's? Go! Don't remember the 80's? Go!"
– Audience member
The satirical style of Spitting Image collides with the drama of The Crown as two versions of The Queen and two versions of Margaret Thatcher discuss the political and social events. Two further actors play multiple people including Ronald and Nancy Reagan, Denis Thatcher and The Duke of Edinburgh.
"A hilarious, must-see production"
– The Oldham Times
"A very enjoyable political pantomime"
– North West End
★★★★
"Absolutely hilarious and laugh-out-loud, yet still poignant and politically relevant. Who doesn't want to see The Queen and Mrs Thatcher's arguments – sorry, civil conversations – on stage?"
– Audience member
Funny, sharp and mischievous, Handbagged runs until Saturday 1 June. Click here to learn more and book tickets.  
---
The Hired Man nominated for three Off West End Theatre Awards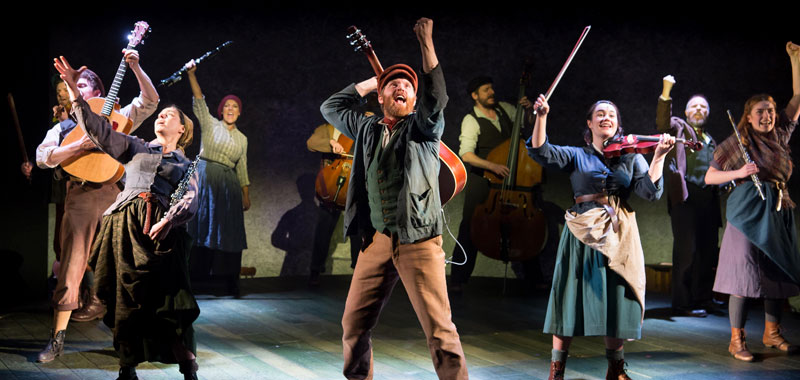 Our production of British musical The Hired Man has been receiving rave reviews at its opening run in Hornchurch, where it has been nominated for three prestigious Off West End Theatre Awards (Offies). We can't wait until the production comes North to Oldham on 20 June.
Based on the novel by Melvyn Bragg, with an original score by award-winning composer Howard Goodall (Bend It Like Beckham, Love Story), The Hired Man follows the story of young married couple John and Emily, who have just moved to a new town to start their lives together. Whippet racing, hiring fares, hunting and drunken antics collide in a passionate and heroic tale of love, betrayal, loyalty and community.
In true Coliseum style, a company of 11 talented actor-musicians play and sing a soundtrack of foot stomping rhythms and soaring choruses live on stage. Our cast features Coliseum favourite Lauryn Redding as Emily, who you may recognise from her roles in our previous hit musicals: Bread & Roses; Oh What A Lovely War and Dreamers.
Lauryn is joined by Oliver Hembrough as John; John Bonner as the farmer Pennington; Lloyd Gorman as his son Jackson; TJ Holmes and Samuel Martin as John's brothers Seth and Isaac; Lara Lewis and James William Patterson as John and Emily's children May and Harry; Lucy Keirl as Sally, and Sufia Manya and Tom Self in the Ensemble.
First published in 1969 as part of Melvyn Bragg's Cumbrian Trilogy, The Hired Man was adapted into a musical in 1984, with Bragg collaborating with Howard Goodall in what was then his first professional musical. The premiere production won the Ivor Novello Award for Best Musical, earned four Olivier Award nominations and was voted Best Musical of the year by critics of Time Out, The Guardian, Punch and The Stage.
At this year's Offies our new production with Queen's Theatre Hornchurch and Hull Truck Theatre has been nominated for Best Musical Director (Ben Goddard and Tom Self), Best Female Performance in a Musical (Lauryn Redding) and Best Male Performance in a Supporting Role in a Musical (Samuel Martin).
Howard Goodall commented: "I am absolutely thrilled about this revival: three brilliant regional theatres, a wonderful creative team and a chance for a new generation of theatre-goers to see this piece that Melvyn Bragg and I first put in front of an audience 35 years ago."
The Hired Man is a Queen's Theatre Hornchurch and Hull Truck Theatre production in association with Oldham Coliseum Theatre. It comes to the Coliseum from Thursday 20 June – Saturday 6 July. Click here to learn more and book tickets.
---
Frantic Assembly workshop amongst highlights at Cultivate festival

Internationally renowned theatre company Frantic Assembly are set to run their physical theatre workshop at Cultivate 2019, our week-long festival packed with workshops, opportunities and industry insights for theatre makers. Now in its second year, the festival also includes open auditions,  workshops in stage combat, puppetry, acting, producing and crowdfunding, and new writing and virtual reality performances.
Chris Lawson, Acting Artistic Director, commented: "Cultivate is a celebration of all elements of theatre including making, critiquing and its use as a learning tool – and an unmissable opportunity for anyone interested in working in the industry. The inaugural festival in 2018 welcomed 200 people into the building using all of our public spaces for a variety of workshops and activities. We're proud to contribute toward meeting the demand for accessible and affordable training opportunities in our region."
Frantic Assembly are one of the most studied and praised theatre companies working today. They have toured extensively across the UK and worked in over 40 countries internationally with their productions including: The Unreturning, Fatherland and Things I Know To Be True, and collaborated with leading artists, including providing movement direction on The National Theatre's award-winning production of The Curious Incident of the Dog in the Night-Time (West End, Broadway, UK & Ireland tour and USA tour) and the BAFTA nominated Channel 4 series Humans.Their Physical Theatre Workshop is an active exploration of the Frantic method of devising, based in empowering people to be better at making theatre from a physical starting point.
For the second year running the Coliseum is holding Open Auditions as part of Cultivate with a panel of theatre and television professionals. In 2018 the theatre received over 400 applications for Open Auditions and met with 62 actors, including Kitty Douglas, who completed a run playing Kate in the Coliseum's production of Barney Norris' Visitors (★★★★ – The Stage) on Saturday 4 May. The 2019 Open Auditions panel includes Chris Lawson (Acting Artistic Director of Oldham Coliseum Theatre), Sarah Punshon (current Artistic Director of The Dukes, Lancaster), Claire Bleasdale (Casting Director) and Joanne Moss (ITV Coronation Street Casting). The deadline for applications for Open Auditions is 10am, Friday 24 May.
Kaitlin Howard, an Academy of Performance Combat Senior Instructor and one of only three women on the Equity Register of Fight Directors, will lead an Introduction to Unarmed Stage Combat for theatrical and film purposes. Suitable for actors and performers wishing to have a taster into a subject that may widen their skill set, those who wish to refresh their knowledge, or those who are just curious, the masterclass will take participants through various stage combat techniques suitable for use in different media and staging situations and the acting skills needed to convince the audience of the violence, culminating in a short sequence and performance opportunity on stage.
Other workshops throughout Cultivate include: a Puppetry Workshop with Lancashire based puppet and mask theatre company Horse + Bamboo, Acting and Producing Workshops with new writing company Box Of Tricks Theatre and Crowdfunding for Creatives with Art With Heart.
Alongside professional development opportunities Cultivate features performances of new work from established and emerging Northern writers and artists.   
The Understudy is a virtual reality experience produced by digital artist and co-founder of Take Back Theatre, Grant Archer. Allowing audiences to step into a fictional world as an understudy, the experience offers a glimpse backstage to witness first-hand the tensions and relationships of the world of theatre.
Coliseum Associate Company Rogue Bones Theatre host a new writing night with a difference, Write Here, Write Now. Rogue Bones invites a group of established Northern writers to take up a challenge: write a short piece of work in response to a provocation in just eight days. On the ninth day the work will be rehearsed and staged with professional actors at Cultivate in front of an audience ready and raring to give feedback on how each piece made them feel.
Scribbles, the Coliseum's fortnightly scriptwriting group, present a sharing of their work, with actors and directors bringing a scene to life from each of their full-length plays. Led by Rogue Bones Theatre's Aime George, Scribbles have been meeting over a number of months to learn elements of playwriting including story structure, character and dialogue. Their sharing offers an opportunity to support the work of Oldham's newest writing talent.
Cultivate culminates with Creative Matchmaking from Girl Gang Manchester on Friday 14 June. Girl Gang Manchester is a collective of artists, activists, academics and party instigators who put on events and create projects building connection, community, collaboration, confidence and connectivity. Taking inspiration from dating shows, bad business meetings, teenage sleepovers, Art Attack and agony aunts, Creative Matchmaking rebels against the pressures of adulthood and our increasingly online lives to get people in a room together, talking to strangers, being your most authentic self and making connections. The event is a twist on Girl Gang's Speed Mate-ing and is open to creatives of all levels of experience.
To see the full lineup for Cultivate 2019 and book tickets click here.
---
The Queens in Oldham

With the cast of Handbagged arriving in Oldham earlier this week, The Queen(s) – Caroline Harker, who plays Liz – the younger version of The Queen, and Susan Penhaligon, who plays Q – the older version of The Queen – took a little time out of their busy schedules to record a message for our audiences and have a look around the theatre.
The actual Queen, Elizabeth II, has visited Oldham twice during her reign: in 1954 along with her husband The Duke of Edinburgh to visit the Town Hall and in 1992 when Oldham held a party for Her Majesty in Alexandra Park.
The Oldham Evening Chronicle reported:
"Fireworks heralded her arrival in the borough and thousands lines the streets along the route from Manchester. Surrounding streets were shut and there was a heavy police presence to protect the royal party. Rain pours for the majority of the visit but it didn't deter the crowds who waved Union Jacks as the royal car passed by."
Written by Moira Buffini Handbagged is a satirical comedy that imagines what may have happened during The Queen's weekly meetings with Margaret Thatcher during her time as Prime Minister. With great theatricality and mischievous wit we meet two versions of Her Majesty and two versions of Margaret Thatcher along with a host of other recognisable characters including the Reagans, Arthur Scargill and Rupert Murdoch as they discuss the political and social events between 1979 – 1990.
Handbagged is an Oldham Coliseum Theatre, Wiltshire Creative and York Theatre Royal production. It runs at the Coliseum until Saturday 1 June. Click here to learn more and book tickets.
---
Manchester ADP present Hand-blagged

On Monday 20 May Manchester ADP present a collection of short plays in response to our production of Handbagged.
Following fantastic feedback to their previous response shows: A Taste of Home (in response to A Taste of Honey) and What The Dickens (in response to Hard Times), Hand-blagged features four new short pieces all about political comedy which will be performed on our Main Stage on the set of Handbagged.
Manchester ADP are an award-winning network of actors, directors and producers that hold a fortnightly performance of rehearsed readings, Scripts Aloud, for writers to receive feedback from the audience and creative team. Alongside their previous response shows at the Coliseum, they brought Scripts Aloud to Oldham in June 2017 and premiered their production of Purge earlier this year in our Studio. In 2018 they won the Greater Manchester Fringe Festival Award for Best Comedy for their production of Loves of Others.
Hand-blagged comes to the Coliseum on Monday 20 May. Click here to learn more and book tickets.
---
Coliseum recommends: The Importance of Being Earnest at Bolton Albert Halls

The Importance of Being Earnest  will be brought to life in the grand Victorian setting of the beautiful Albert Halls over in Bolton in a fresh and vibrant new production directed by Suba Das, Artistic Director of HighTide Festival.
Bachelors and best friends Jack and Algernon create alter egos to escape their tiresome lives. However when they both fall in love and attempt to win the hearts of two women, the pair become tangled in a tale of deception, disguise and misadventure.
A cast of celebrated screen and stage actors will bring this wonderfully witty and deliciously decadent comedy masterpiece to life, including Coronation Street's Vicky Entwistle and Dean Fagan. They will be joined on stage by David Cardy, best known for the role of Chris Theodopolopodous in the hit sitcom Birds of a Feather. Completing the cast are Sarah Ball, Jack Hardwick, Melissa Lowe, Dan Sheader and Elizabeth Twells.
See an interview with the director here.
The Importance of Being Earnest is an Octagon Theatre Bolton production running at Bolton  Albert Halls from Thursday 6 – Saturday 15 June. Click here to learn more and book tickets.  
---
In rehearsals: Not Yours, Mine

Earlier this week we welcomed the cast and company of Not Yours, Mine, a new play by Coliseum Associate Company Fine Comb Theatre, as they started rehearsals in our Studio.
Fine Comb Theatre were granted Arts Council England funding for their show exploring parental rights and responsibilities within the British judicial system earlier this year. Not Yours, Mine was inspired through working with a variety of communities across the North West, from Women's Centres to Male Prisons. Fine Comb Writer and Director Rachel McMurray was surprised to learn about some of the processes and complexities involved in the family court system. She was keen to create a platform for the topic.
It's his, but she's denying it. She's having it, but he can't see it. But that doesn't mean he's not going to try.
Adam lives at home with his agoraphobic mother Joyce. His girlfriend Kate has fallen pregnant but following a breakdown of their relationship is refusing Adam access. With an incomprehensible judicial system, his mother's obsessive Amazon orders, and an unwavering ex-girlfriend, he's at a cluttered and confusing standpoint.
Rachel commented: "The support of the Arts Council and Oldham Coliseum are so valuable for us, allowing us to bring this raw and exciting piece to the Studio stage. We're really grateful for the opportunity to share this really important story, exploring the life of a young father as he tries to gain access to his new born son. It is a story inspired by fact and infused with fiction, and we hope it will provoke both thought and conversation."
Not Yours, Mine runs in the Coliseum Studio on from 1 – 7 June. Click here to learn more and book tickets.
---
Coming Up: special one-night events

There's a host of music, comedy and new drama coming up for special one-night events at the Coliseum.
On Tuesday 4 June Brooklyn Creed & The Salvation Band present Hello Again: The Story of Neil Diamond. With evocative imagery, video and narration to enhance the magic, this show takes audiences on a musical journey through Neil Diamond's glittering 50 year career. From The Band Years to the present day you'll soon find yourself dinging along to all the hits: Sweet Caroline, Cracklin' Rosie, Forever in  Blue Jeans, Hello Again and many more. Click here to learn more and book tickets.
On Thursday 6 June we welcome to 10th anniversary tour of Big Girls Don't Cry featuring The East Coast Boys. Step back in time to the era of romance and experience the iconic sounds of Frankie Valli & The Four Seasons authentically recreated by a phenomenal cast and live band. During the sixties and seventies number one hits: Sherry, December 1963 (Oh What A Night), Walk Like A Man and Big Girls Don't Cry helped to propel The Four Seasons and Frankie Valli to superstardom. There's a Four Seasons song that shares a special place in everyone's heart. Click here to learn more and book tickets.
Grease is the word on Friday 7 June with a Sing-a-Longa screening of the iconic 1978 film. Ever wanted to know what it's like to be a T-Bird or a Pink Lady but never quite felt cool enough to pull it off? Now is your chance to don those pink jackets, grease up those quiffs and let your inhibitions go for an evening with Sing-a-long-a Grease. Sit back and watch Danny, Sandy and the gang while singing and dancing along to the lyrics on screen. Fancy dress is strongly encouraged and you'll even get the chance to learn the Hand Jive. Click here to learn more and book tickets.
The Lancashire Hotpots are back with a brand new show on Saturday 8 June, and this time they're in the mood for love. Bernard and the boys will be playing all of your Hotpot favourites with an emphasis on all the things they really love: meat pies, nights out down the boozer, and of course a chippy tea. If music be the food of love, have yer dinner with the Hotpots. Click here to learn more and book tickets.
Jess Gibson gets comfortable with feeling uncomfortable in Work In Progress on Friday 28 June. Sometimes, Jess struggles with her mental health, borderline personality disorder anxiety and depression. Her warm, light hearted solo show tells how humor and a passion for dancing to Britney Spears has helped her on her journey. Click here to learn more and book tickets.
On Saturday 18 October Britain's Got Talent 2018 winner Lost Voice Guy comes to the Coliseum with his show I'm Only in it for the Parking.  Lee Ridley (aka Lost Voice Guy) is the first stand-up comedian to use a communication aid. He made his first stand-up appearance in February 2012 and has performed in some of the UK's most popular comedy venues. As well as being the first comedian to win Britain's Got Talent, he also won the BBC New Comedy Award in 2014 and his TV and radio credits include: The One Show and BBC at the Edinburgh Festivals. He may not be able to talk but he definitely has something to day and his comedy will leave you speechless. Click here to learn more and book tickets.
Click here to see all upcoming shows at the Coliseum.
---
Get involved: Teaching Theatre Pathways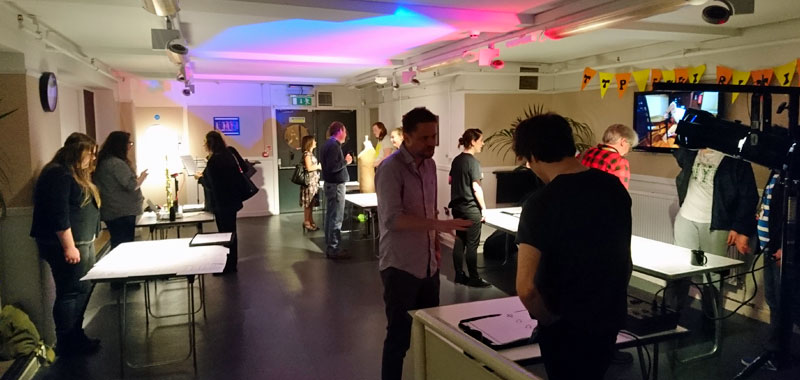 If you're aged between 16-25, not in education or employment, and you're interested in learning new skills in a creative and dynamic environment, Teaching Theatre Pathways could be for you.
Teaching Theatre Pathways is a hands-on work experience programme providing practical experience and knowledge in all aspects of theatre making and production.
"It's a particularly unique course, you had to put in the effort but the results have been amazing"
"I never thought I would be designing lights and sound for theatre shows, let alone for one I helped create. I can't wait to learn more and start developing my skills"
This 10 week project runs from Monday 3 June from 10.30am-1pm. Over two terms you'll work alongside the Coliseum's professional teams.
Term One: Participate in five workshops focussed around key backstage roles in theatre including: costume, lighting, sound, stage management and set design
Term Two: Respond to a project brief and receive mentorship from an industry professional
"This course made me realise there are a lot of opportunities in the theatre workplace. I got to meet some truly exceptional people. I experienced work I had never done before and while a little scary at times it was thoroughly enjoyable. It has inspired me to work even harder on the course and in my apprenticeship"
The next Teaching Theatre Pathways programme begins on Monday 3 June and runs to Monday 12 August. The course is free to attend.
For more information on Teaching Theatre Pathways contact Ben Cain, Learning and Engagement Officer, on 0161 785 7008 or email bencain@coliseum.org.uk.
---
Coliseum recommends: The Exonerated at Hope Mill Theatre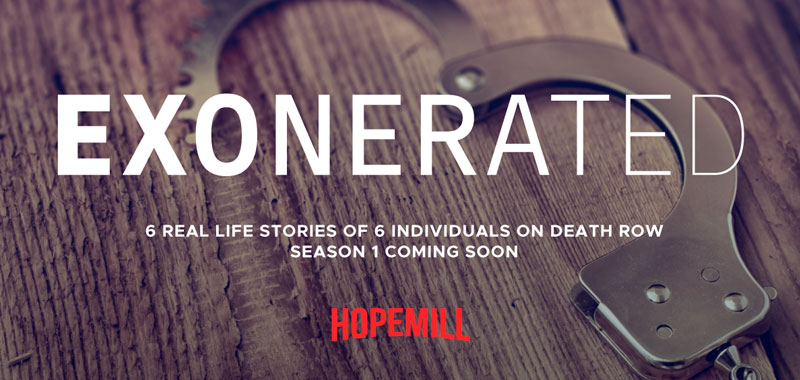 Taken from interviews, letters, transcripts, case files and the public record, The Exonerated tells true stories of six wrongfully convicted survivors of death row in their own words.
Moving between first-person monologues, courtrooms and prisons; six interwoven stories paint a picture of an American criminal justice system gone horribly wrong—and of six brave souls who persevered to survive it.
Following last year's highly successful Proof, Hope Mill is proud to present their second in-house play production, directed by Joseph Houston.
The Exonerated runs from Thursday 6 – Saturday 16 June at Hope Mill Theatre. Click here to learn more and book tickets.
---
Women in Business inspiring the next generation in Oldham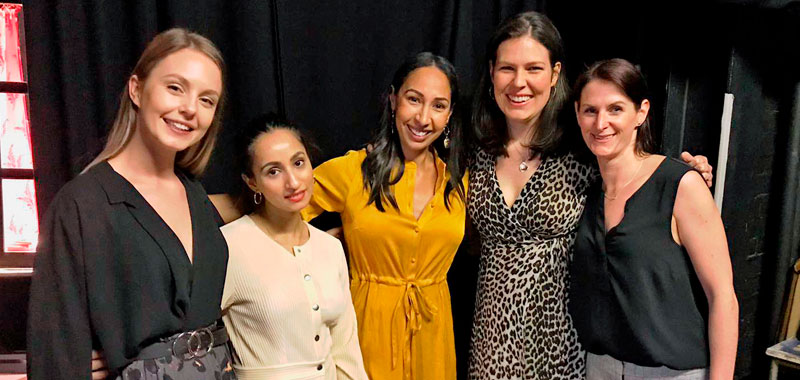 Last month the Coliseum hosted the Inspiring Women in Business event as part of Oldham Enterprise Trust's Festival of Business 2019 in the lead up to the annual Oldham Business Awards.
Held on Thursday 25 April, the event was attended by 60 aspirational young women from local colleges and schools to heard from successful female professionals and entrepreneurs. The inspirational women that spoke at the event included: Joanne Jones, Head of Wills, Trust and Probate Team at Pearson Solicitors and Financial Advisers; Laura Smart, Senior Partner at KPMG and Rubbi Bhogal-Wood, Director of Wild and Form Digital.
Joanne Jones from Pearson Solicitors and Financial Advisers commented: "I was only too happy to support this event. My talk celebrated 100 years of women working in law as well as my role at Pearson."
Rubbi Bhogal-Wood of Wild and Form Digital added: "It was a fantastic event, I'm so pleased to have been asked to be a part of it. Fingers crossed we've helped inspire a good few young women thinking of entering the world of business."
Oldham Enterprise Trust provides a one-stop portal to start-up and growth companies across the borough to access a wide range of business funding and free business advice and support. The 2019 Oldham Business Awards was held at the Queen Elizabeth Hall in Oldham town centre on Friday 26 April. The annual event celebrates business success whilst also recognising the contribution that businesses make in helping to shape the fabric of our society. The Awards reward business excellence amongst companies in Oldham, whether it be for wealth creation, innovation, inspirational leadership or good practice in people management, skills development or environmental issues.
---
Writers call out: Write Here, Write Now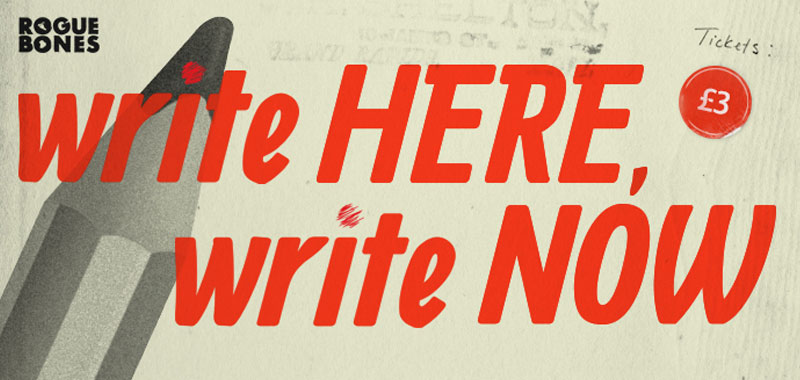 Following the success of the first Write Here, Write Now event Coliseum Associate Company Rogue Bones are hosting Write Here Write Now, Round 2 and are on the hunt for writers to take up the challenge.
Could you write a short piece of work in response to a provocation set by Rogue Bones in just eight days?
The second Write Here, Write Now takes place on Friday 14 June at 7.30pm, as part of  Cultivate. Rogue Bones are looking for writers who have some experience writing for theatre and would like an opportunity to test their skills in a fun and encouraging space. To apply please send a paragraph about yourself outlining your experience as a writer and a sample of work (10 pages max) to roguebones@outlook.com by 10am on Monday 20 May.
Chosen writers will receive the provocation on  Wednesday 5 June and then have eight days to submit a short piece of work. Writers must also be available to attend the night itself on 14 June. This is not a paid opportunity, but writers will get a free ticket to the event and travel expenses to the Coliseum can be covered.
Click here to see full details of the dates and requirements
Click here to find out more about Cultivate.
---
Autumn/Winter 2019-20 Season Launch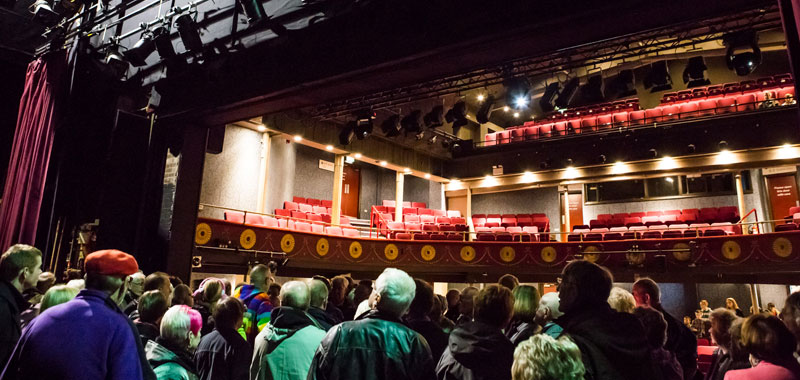 On Monday 3 June we'll be announcing our programme for Autumn-Winter 2019/20 at our twice yearly Season Launch event.
Season Launch is a free evening at the Coliseum where we introduce our programme of plays and events for the forthcoming season – with live entertainment from LipService and a question and answer session with the creatives, the Coliseum's professional teams and some special guests.
Attending Season Launch also gives you the chance to book your tickets first before events go on general sale the following day to ensure you get your favourite seats. Box Office will be open before and after the event and during the interval.
Tickets for Season Launch are free but must be booked. Click here to book your place.
---
Spotlight on: Chris Lawson, Acting Artistic Director
Introducing Chris, the Coliseum's Acting Artistic Director
How long have you worked at the Coliseum?
I've worked here for three and a half years: three years as Associate Director and now as Acting Artistic Director since December.
What is your favourite production that you've seen at the Coliseum?
I can't choose a favourite from the productions I've made so I'm going to be safe and go with one that I didn't make but really love, which is Handbagged. The form of Handbagged and the style of how it's made is a little bit different for our audiences and their reaction to it has been really good and it's a great example of us working in partnership with two other theatres. Also the politics of it – particularly around Thatcher's time as PM – as a person from a family who still remember the impact those policies had on us.
What is your favourite aspect of working at the Coliseum?
I love the start of the process of working on a production before its even got into the rehearsal room. I particularly like casting and meeting loads of great actors and starting to imagine what the rehearsal room could look like. Also since my role here changed I'm working closely with Marketing and Learning and Engagement to look at the bigger picture of how we can connect all the strands of the Coliseum's work together.
What are you currently working on?
Right now I'm planning the Season Launch and what that will look like and also the putting the finishing touches to our next season, which we'll be announcing at the event.
Also, for the first time here I'm working on the pantomime script with Fine Time, which is a new thing for me – so in the sunshine of May I'm writing a Christmas show.
What are you currently looking forward to?
I'm really looking forward to Cultivate this year. I'm really proud of the people that we've got joining us and the workshops that are happening; in particular I'm looking forward to holding Open Auditions again, especially being joined by the rest of the panel: Sarah [Punshon, Artistic Director, The Dukes, Lancaster, Claire [Bleasdale, Casting Director] and Jo [Moss, ITV Coronation Street Casting]; the Frantic Assembly workshop, and Stage Combat and Box of Tricks' workshops, they're a great company and it's great to see them working with people.
I'm also really excited to see Not Yours, Mine by our Associate company, Fine Comb. It's been great to see their journey from starting with us in September to their show now being realised.
Can you tell us an interesting fact about yourself?
We've been talking about taking on Work Placements and young people joining us on Teaching Theatre Pathways recently, and in rehearsals for Visitors we had three girls join us on work experience for a week – it's reminded me of my Work Experience; which was as a DJ on a hospital radio station; where Lady in Red was number one pretty much every week.
---
Customer Experience Volunteers: Join us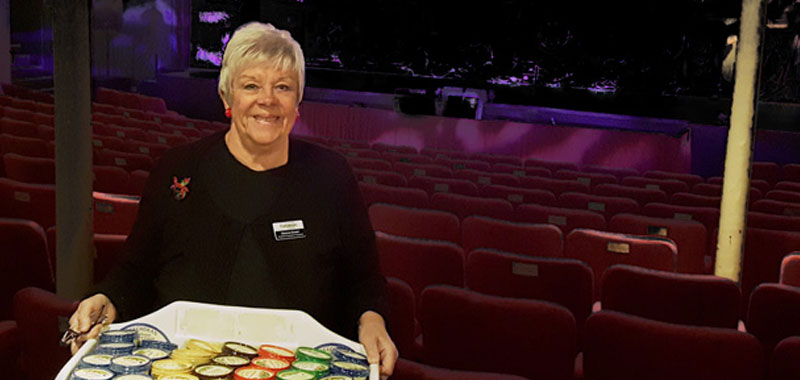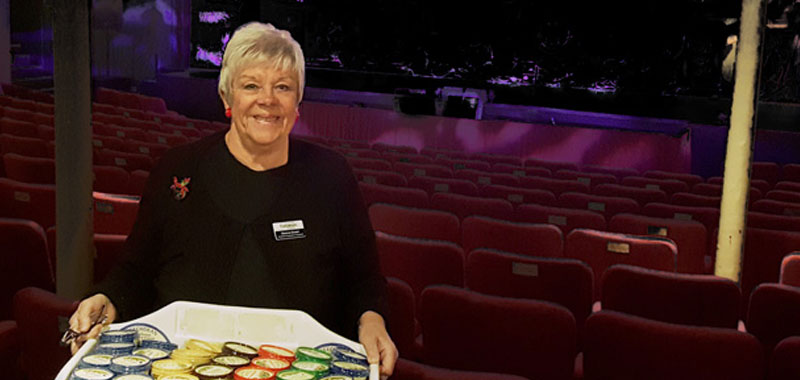 We're always on the lookout for friendly and reliable people to join our team of Customer Experience Volunteers, who help to look after our audiences from greeting them in the foyer, to selling programmes and ice creams, taking them to their seats and much more.
Customer Experience Volunteers must be 18+ and able to commit to a minimum of three months volunteering with us. No experience is needed as full training is provided.
Click here to learn more about becoming an Oldham Coliseum Theatre Customer Experience Volunteer or contact Heather Shaw, House Manager,  by phone on 0161 785 7021 or email heathershaw@coliseum.org.uk.
---
Oldham Coliseum Theatre gratefully acknowledges funding from:

Oldham Coliseum Theatre is a Registered Charity, No: 508829.
Oldham Coliseum Theatre Ltd Reg No: 1415547