March 2019 Newsletter
This month we're starting rehearsals for our next production, Visitors, and our Associate Company Fine Comb Theatre were granted funding from Arts Council England for their current project, Not Yours, Mine.
We also held our first Scratch Night, our fourth annual International Women's Day event in partnership with Jigsaw Homes Group, and gave our Main Stage over to pupils from 12 schools for the Inter-Schools' Festival as part of our Education Partnership Scheme.
Plus we have an exciting paid opportunity for a visual artist to create a graphic for this year's Cultivate Festival.
Read all about it – plus even more updates on what's going on behind the scenes here at the Coliseum – below.
---
Introducing our cast for Visitors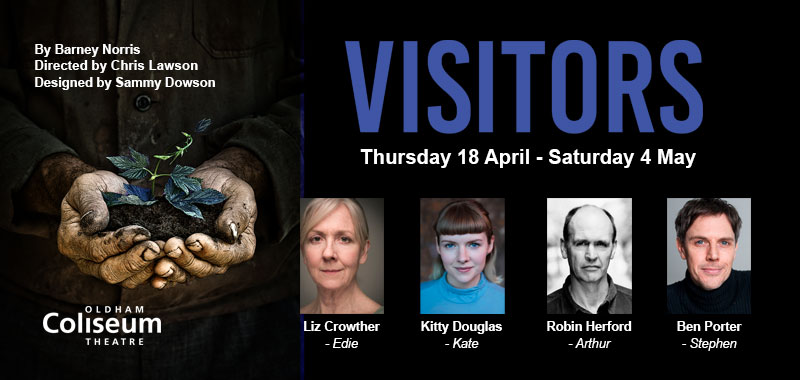 Next week we start rehearsals for Visitors by Barney Norris, a compassionate and wryly comic love story set in a farmhouse, where elderly couple Arthur and Edie reminisce about their lives together and contemplate the changes to come. Their son Stephen has hired twenty-something stranger Kate to move in and care for Edie as her mind begins to unravel…
"You look at a wedding photograph, it looks like the end of a story. I s'pose that's the books we read when we're babies. But it's not an ending, is it?" – Edie in Visitors
Actor, Director and former Artistic Director of the Stephen Joseph Theatre in Scarborough, Robin Herford, plays Arthur. Robin is best known as the director of Steven Mallatratt's phenomenally successful adaptation of The Woman in Black, which has been running in the West End for 30 years. Trained as an actor, he started his career in 1976 at the Stephen Joseph Theatre and has appeared in the original production of more of Alan Ayckbourn plays than any other actor. Amongst his many other acting credits he has also played Arthur Kipps in The Woman in Black in London, Singapore, India, Hong Kong and New Zealand, Frank in Educating Rita at the Stephen Joseph Theatre and appeared in Only Fools and Horses (BBC), Casualty (BBC), The Secret Diary of Adrian Mole and The Growing Pains of Adrian Mole (Thames Television). Robin is also known to Coliseum audiences as one of the theatre's favourite visiting directors, having most recently directed the Coliseum's productions of Relatively Speaking, Gaslight and Boeing Boeing.
Liz Crowther plays Edie. Liz has performed in over a hundred theatre productions throughout her career. Her recent credits include: Kite at Soho Theatre; The Witch of Edmonton, The White Devil and The Roaring Girl with Royal Shakespeare Company; and Middlemarch at Orange Tree Theatre, Richmond-upon-Thames.
Kitty Douglas plays Kate. Kitty graduated from the Royal Central School of Speech and Drama in 2017 and auditioned at the Coliseum's Open Auditions as part of the inaugural Cultivate Festival in 2018. Her credits include: BestGirl88 for Retract The Abstract; Blowing Your Paradise Away for Lump's Room and Never Have I Ever for Get Over It Productions.
Ben Porter plays Stephen. Ben was last at the Coliseum playing Robert in 2015's production of Boeing Boeing, for which he was nominated for the Manchester Theatre Award for Best Actor in a Supporting Role. His other credits include: Ten Times Table and Improbable Fiction at The Mill at Sonning and the international tour of Heartbreak House.
The Coliseum's production of Visitors will be directed by the theatre's Acting Artistic Director Chris Lawson. Chris' directorial credits for the Coliseum include: Martin McDonagh's A Skull in Connemara, Shelagh Delaney's A Taste of Honey; Tom Wells' The Kitchen Sink and Jumpers For Goalposts and Stephen Jeffreys' adaptation of Hard Times.
Designer Sammy Dowson returns to the Coliseum following 2018's production of A Taste of Honey and 2016's production of Hard Times. Sammy was Designer-in-Residence at Orange Tree Theatre, designing over 70 production between 1996 – 2014. Her work has since taken her to St James Theatre, Edinburgh Festival and The Dukes, Lancaster as well as the Coliseum.
Visitors won the Critics Circle Award for Most Promising Playwright and Best New Play at the Off West End Theatre Awards following its world premiere in London in 2014.
Our production runs from Thursday 18 April – Saturday 4 May. Click here to learn more and book tickets.
---
Coming up: My Mother Said I Never Should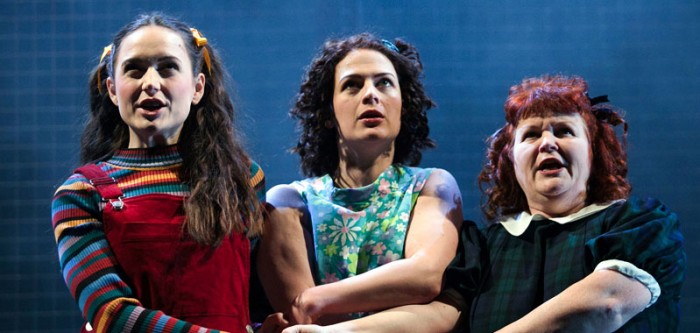 My Mother Said I Never Should is the most widely performed play ever written by a woman, having now been translated or produced in 31 countries from Japan to Peru. This April London Classic Theatre bring their popular production of Charlotte Keatley's cross-generational drama to the Coliseum.
My Mother Said I Never Should details the lives of four women from one family though the immense social changes of the twentieth century. In 1940, Doris, a former teacher, encourages her daughter Margaret to mind her manners and practise the piano. In 1969 Margret's relationship with her own daughter is strained as art student Jackie experiments with her new found sexual freedom. When Jackie becomes pregnant at 18, a decision is made that will affect all of their lives irrevocably.
"I wanted to write a play which laid out four different lives, neither better nor worse, to find out what is possible for today. If I was writing this play now, I would do the same.
I split the century into four generations. I deliberately made Jackie and Rosie a little older and a little younger than me because I didn't want to write from my own point of view. I connected the women as mother and daughter because I feel this relationship of love and jealousy most influences the choices a daughter makes. I also wanted to acknowledge the debt which my generation owes to previous ones." – Charlotte Keatley
My Mother Said I Never Should was written in 1985 and premiered at Contact Theatre, Manchester in 1987, winning the Manchester Evening News Award for Best New Play and the George Devine Award for Most Promising Playwright. In 2000 The National Theatre named it as one of the Significant Plays of the Twentieth Century.
London Classic Theatre's acclaimed production of My Mother Said I Never Should runs at the Coliseum from Tuesday 2 – Saturday 6 April. Click here to learn more and book tickets.
---
Fun for little-ones this Spring

In May the Coliseum welcomes two fantastic family shows sure to delight little-ones and their grownups: Northern Ballet's Puss in Boots and a stage adaptation of popular children's book The Tiger Who Came to Tea.
On Friday 10 May Northern Ballet present their 40 minute ballet for children based on the much-loved children's story Puss in Boots. Puss is no ordinary cat. Clever and charming, he takes life in his stride and befriends everyone he meets. The only thing is, he always seems to bring his master, Jack, bad luck. Join Puss and Jack on their adventure as they meet a flurry of loveable characters, and even come face-to-face with royalty.
With sell-out performances and a string of successful CBeebies TV adaptations, Northern Ballet's shows for children are the perfect opportunity for little ones to enjoy live ballet, music and theatre. Suitable for ages 3+ Click here to learn more and book tickets.
On Saturday 11 and Sunday 12 May we welcome a stunning stage adaptation of the classic tale of teatime mayhem  The Tiger Who Came To Tea. The doorbell rings just as Sophie and her mummy are sitting down to tea. Who could it possibly be? What they certainly don't expect to see is a big, stripy tiger!
Packed with oodles of magic, sing-a-long-songs and clumsy chaos this show comes to the Coliseum on tour direct from an Olivier nominated run on London's West End. Suitable for ages 3+. Click here to learn more and book tickets.
---
Education Partnership Scheme: Where I Stand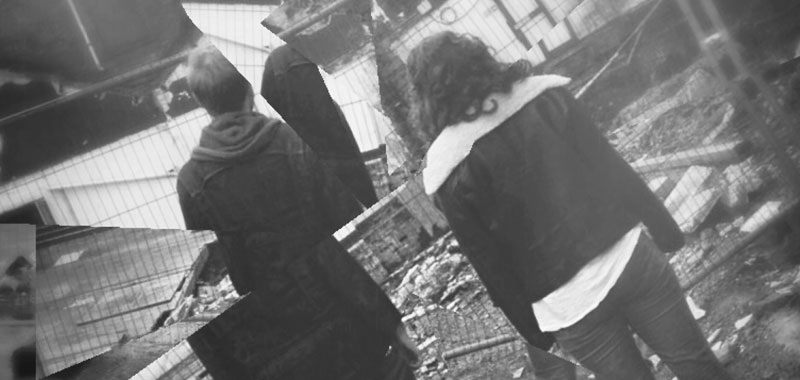 This week 12 schools from across Greater Manchester performed on the Coliseum's Main Stage in the Inter-Schools' Festival as part of our Secondary Education Partnership Scheme.
Supported by the Andrew Lloyd Webber Foundation, the Secondary Education Partnership Scheme has been running since 2012 and has forged long-running relationships with schools and their students across the boroughs of Oldham, Tameside and Rochdale. The scheme works with teachers to augment work in the classroom, collaborating to enhance access to the Coliseum and its resources; whilst students benefit from workshops, masterclasses and work experience mornings, as well as the opportunity to perform on the Main Stage.
Carly Henderson, the Coliseum's Head of Learning and Engagement, commented: "For some of the students this is not their first time performing on the Coliseum's stage. We're proud of our continued relationships with the young people in our area, some of whom first came to the Coliseum at Primary School level with North West Drama's Children's Shakespeare Festival, or through the Oldham Linking Project, Primary Links, which the Coliseum runs in partnership with Oldham Metropolitan Borough Council."
This year, the Coliseum has worked with local emerging writers, who responded to the question: 'where do you stand?' to create a collection of short plays for the schools to perform, exploring the themes of identity, belonging and aspiration. Mentored by writer Rob Johnston, the plays included: Soil by Matthew Smith, Careers Day by Ryan Roberts, Moody by Emma Rogerson, Uniform by James McDermott, No Filter by Tom Kinney and Everyday Heroes by Lumenus.
Taking place throughout the week, the Inter-School's Festival featured performances by students from Waterhead Academy, Mossley Hollins High School, Oldham Hulme Grammar School, Denton Community College, Oasis Academy Oldham, Kingsway Park High School, Oulder Hill Community School, Newbridge Multi Academy Trust, Wardle Academy, Falinge Park High School, Great Academy Ashton and Hollingworth Academy.
For more information on the work of the Coliseum's Learning and Engagement Department contact LED@coliseum.org.uk
---
Coming Up: Approaching Empty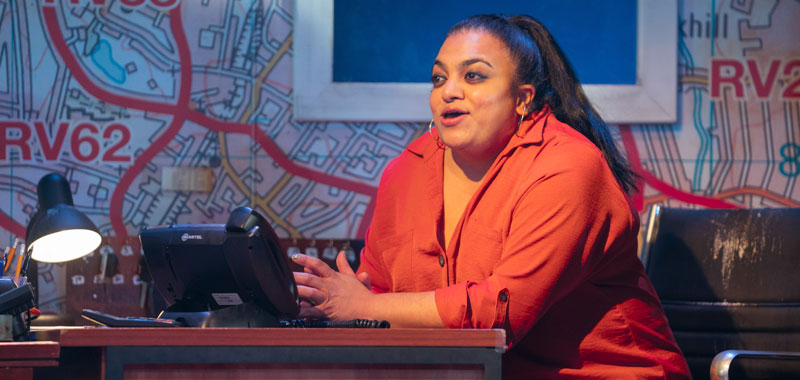 Approaching Empty is a brand new comedy drama from Ishy Din, the award-winning taxi driver–come–playwright whose writing career started here in Oldham in 2007.
In a scruffy minicab office, Mansha decides it's time to create his own destiny and offers to buy a business from his lifelong friend Raf. As the realities of the state of the business slowly unravel, these two best friends must confront the difficulties of going into business with those closest to them.
Set in North East England, in the aftermath of Margaret Thatcher's death, this razor-sharp comedy, packed with black humour and subtle social commentary, lays bare the everyday struggles of a post-industrial generation of South Asian British men.
Ishy Din is a taxi driver from Middlesbrough whose first short theatre script £1.50 to Pay came second in the British Asian writing competition BANG held by Oldham Coliseum Theatre, Tamasha Theatre and BBC Writers Room in 2007. His first full length play Snookered – a comedy set in a Middlesbrough pool hall – premiered at University Campus Oldham as part of the Coliseum's Out and About Season in 2012, winning the Manchester Theatre Award for Best New Play, before opening at London's Bush Theatre to further critical acclaim.
Approaching Empty is directed by Pooja Ghai, former Associate Director of Theatre Royal Stratford East, where her credits included: Rapunzel, Counting Stars, The House of In Between, Home Theatre and Angelic Tales.  The cast features Kammy Darweish as Mansha (All My Sons, Nottingham Playhouse; East is East, Nottingham Playhouse/Northern Stage/UK tour); Karan Gill as Shazad (The Lovely Bones, Child of the Divide, UK tour); Nicholas Khan as Raf (Wonderland, Nottingham Playhouse; Our Town; Animal Crackers, Royal Exchange Theatre); Rina Fatania as Sameena (The House of Bilquis Bibi, Wuthering Heights, A Fine Balance, Child of the Divide and Strictly Dandia, Tamasha Theatre); Nicholas Prasad as Sully (Henry V, New Generation Festival; Much Ado About Nothing, Rose Theatre Kingston); and  Maanuv Thiara as Tany (King Lear, Bristol Old Vic; Hamlet, Almeida Theatre; and A Passage to India, Park Theatre).
Approaching Empty comes to the Coliseum from Thursday 11 – Saturday 13 April. Click here to learn more and book tickets.
---
Fine Comb Theatre receive Arts Council England funding for Not Yours, Mine
One of our Associate Companies, Fine Comb Theatre, have been granted Arts Council England funding for their new show exploring parental rights and responsibilities within the British judicial system.
Not Yours, Mine was inspired through working with a variety of communities across the North West, from Women's Centres to Male Prisons. Fine Comb Writer and Director Rachel McMurray was surprised to learn about some of the processes and complexities involved in the family court system. She was keen to create a platform for the topic.
 It's his, but she's denying it. She's having it, but he can't see it. But that doesn't mean he's not going to try.
Adam lives at home with his agoraphobic mother Joyce. His girlfriend Kate has fallen pregnant but following a breakdown of their relationship is refusing Adam access. With an incomprehensible judicial system, his mother's obsessive Amazon orders, and an unwavering ex-girlfriend, he's at a cluttered and confusing standpoint.
Rachel commented: "We're really excited, and so grateful to announce that we have been granted support by Arts Council England on our current project Not Yours, Mine which will be premiering at the Coliseum in June. The support of the Arts Council and Oldham Coliseum are so valuable for us, allowing us to bring this raw and exciting piece to the Studio stage. We will be rehearsing for two weeks in May in preparation for the June show. We're really grateful for the opportunity to share this really important story, exploring the life of a young father as he tries to gain access to his new born son. It is a story inspired by fact and infused with fiction, and we hope it will provoke both thought and conversation."
Not Yours, Mine runs in the Coliseum Studio on from 1 – 7 June. Click here to learn more and book tickets.
---
Artist call out: create a graphic for Cultivate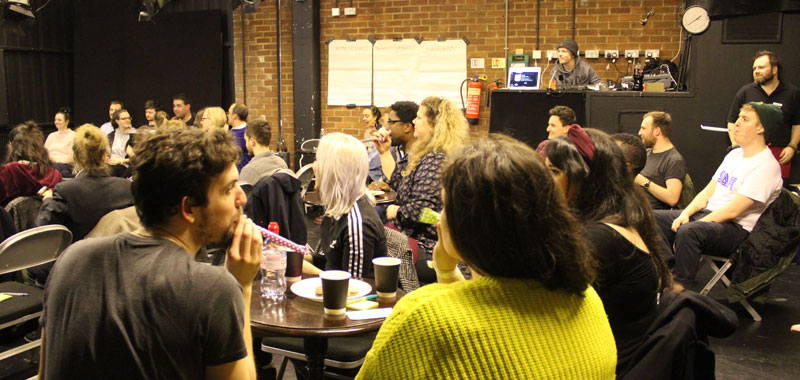 We're looking for a visual artist to create a graphic for our upcoming Cultivate Festival.
Cultivate is the Coliseum's annual festival devoted to artist development, which this year will be from 10 – 15 June. For one week we invite emerging artists and the theatre makers of the future to take over the Coliseum building for opportunities which include open auditions, scratch nights, guest speakers and a variety of theatre-skills workshops. The full line up for this year's Cultivate will be announced soon.
We would like a visual artist to create a graphic or image that we can use to promote Cultivate and throughout the festival. The chosen artwork will be included in our online and print channels. The artwork must reflect this vibrant artist development programme. More information about Cultivate can be found here. We welcome a variety of styles and interpretations and use of colour, font, imagery is up to the artist. This opportunity is open to everyone although we're particularly keen to hear from Oldham, Greater Manchester and North West Artists.
The Coliseum will pay a fee of £200 to the chosen artist for their artwork.
If you are interested in applying, please send examples of your previous work and a written response to studio@coliseum.org.uk
You must be over 18 and registered as self-employed.

We accept art examples sent in a digital format (JPEG, PDF or PSD please).

The work needs to be your own and if you are referencing another's work, make sure you have permission to do so.
Deadline for submissions: Mon 1 April
Successful artist will be informed: Thu 4 April
Final artwork to be submitted: Fri 26 April
If you would like more information, please email studio@coliseum.org.uk
---
Last chance to book your Season Ticket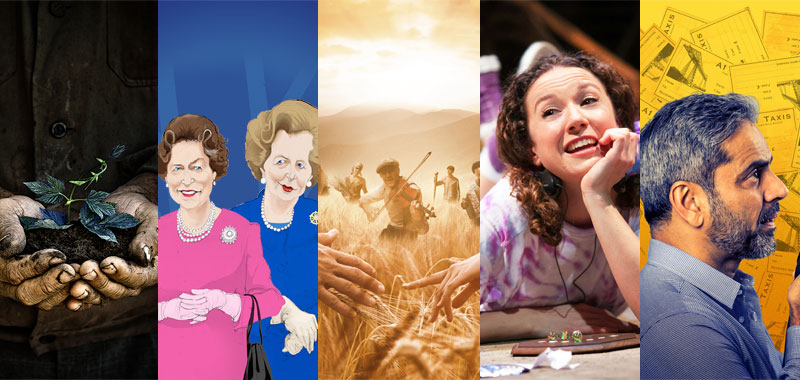 There are just a few weeks left to book Spring-Summer 2019 Season Tickets and make great savings on theatre at the Coliseum.
The Spring-Summer 2019 Season Ticket includes: Visitors, Handbagged and The Hired Man plus a choice of Approaching Empty or My Mother Said I Never Should. Book by Saturday 6 April to include My Mother Said I Never Should or by Saturday 13 April to include Approaching Empty  
See four shows for as little as £55
Opening on Thursday 18 April, Visitors is a compassionate and wryly comic tale set in a farmhouse where elderly couple Arthur and Edie have lived for most of their lives. Featuring Actor, Director and former Artistic Director of the Stephen Joseph Theatre in Scarborough, Robin Herford, as Arthur, this ode to life-long-love highlights the challenges facing people of three different generations. Learn more here.
On Tuesday 14 May we open Handbagged, a satirical comedy which imagines what might have happened at the Queen's weekly meetings with Margaret Thatcher. With great theatricality, the two women collide as Handbagged takes us through the political and world events during Thatcher's time in office with sharp wit and mischievous humour. Learn more here.
Opening on 20 June The Hired Man is a musical based on the stirring novel by Melvyn Bragg, with music by Howard Goodall, the award-winning composer of West End hits Bend it like Beckham and Love Story. This epic and heroic tale of love, betrayal and loyalty is set against the backdrop of English country traditions being swept away in the gathering storm of WWI. Learn more here. 
London Classic Theatre bring their production of My Mother Said I Never Should to the Coliseum from Tuesday 2 April. Set in Oldham, Manchester and London My Mother Said I Never Should is a poignant, bittersweet story about love, jealousy and the price of freedom. Learn more here.
Tamasha Theatre, Kiln Theatre and Live Theatre bring Ishy Din's Approaching Empty to Oldham from Thursday 11 April. Set in Northern England in the aftermath of Margaret Thatcher's death, Approaching Empty is a razor-sharp new drama that lays bare the everyday struggles of a post-industrial generation of British men. Learn more here. 
The Coliseum's Season Ticket is the best value theatre offer in the region, saving 20-30% on ticket prices when seeing four or more productions. Season Ticket holders can also take advantage of free parking on Bradshaw Street for evening performances and the option to spread the cost via Direct Debit with three monthly payments.
Click here to book your Season Ticket online, or phone our Box Office on 0161 624 2829.
---
Greater Manchester LGBT Arts + Culture Network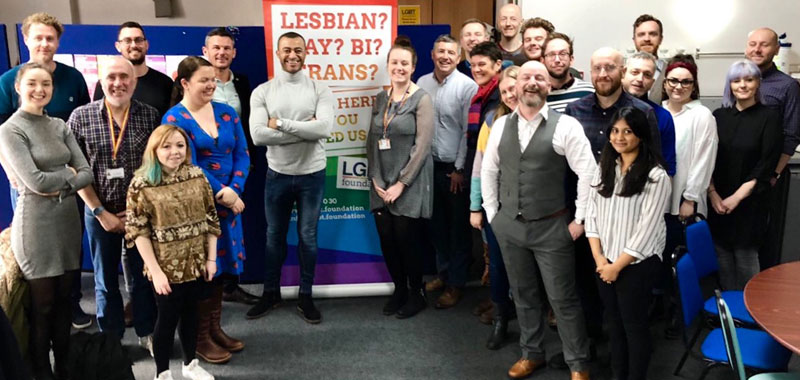 We're thrilled to be part of the LGBT Arts + Culture Network in partnership with the LGBT Foundation. With an estimated 215,000 people identifying as LGBT across Greater Manchester, the network aims to build upon and centralise previous informal partnerships to provide greater support, training and awareness for cultural organisations in delivering events and projects in all boroughs with LGBT artists, participants and audiences.
The LGBT Arts + Culture Network was launched earlier this week with a partners event at LGBT Foundation with guest speakers: Rob Cookson, Deputy Chief Executive of the LGBT Foundation; Mark Fletcher, CEO of Manchester Pride; and Carl Austin-Behan, LGBT Advisor to the Mayor of Greater Manchester.
Alongside the Coliseum, organisations that have signed up to take part include: Contact, HOME, Islington Mill, Manchester Metropolitan University, Octagon Theatre Bolton, People's History Museum, The Lowry, The Met, Royal Exchange Theatre, University of Manchester and Waterside Arts Centre. The project will be managed by Barry Priest, former Producer for Manchester's Queer Contact Festival.
Paul Martin OBE, CEO of LGBT Foundation, commented: "LGBT Foundation are really excited to be leading this project. We know that there are so many fantastic cultural organisations in the region producing some truly incredible art – and the ultimate aim of this partnership is to bring them together to increase participation in and engagement with the arts amongst LGBT people. It's brilliant to see so many cultural organisations involved, and we're really excited to get started."
Barry Priest, Project Manager, GM LGBT Arts + Culture Network said:  "It's incredible to see so many organisations that want to engage with the Network. With an estimated 215,000 LGBT people living in Greater Manchester, it's important to engage with those communities. We expect to see a lot of great activity over the next year."
LGBT Foundation is a national charity delivering advice, support and information services to lesbian, gay, bisexual and trans communities. With a history dating back to 1975, they campaign for a fair and equal society where all LGBT people can achieve their full potential. Through their services, they reduce isolation amongst LGBT communities, help people feel more confident and in control of their lives and enable people to flourish. Together with LGBT communities and their supporters, LGBT Foundation are working to secure a safe, healthy and equal future for all LGBT people.
The Greater Manchester LGBT Arts + Culture Network is supported using funding by the National Lottery through Arts Council England.
---
Inspiring Women in the Spotlight
Women from across Greater Manchester celebrated International Women's Day at the Coliseum's fourth annual event in partnership with Jigsaw Homes Group earlier this month.
Residents from  Oldham and Tameside came along to the theatre for a day packed with creative activities plus inspiring talks from local actress Amy Gavin and Social Media guru Rubbi Bhogal-Wood.
Amy Gavin played local heroine Annie Kenney in BBC's The Suffragettes in June last year. In December she reprised the role of Annie, delivering one of her rousing speeches at the launch event at Gallery Oldham ahead of the unveiling of the commemorative statue of Annie Kenney at Oldham's Parliament Square. Amy is no stranger to the Coliseum stage having played Nancy in 2016's popular production of Gaslight.
Speaking ahead of the event, Amy commented: "Being from Oldham, I feel so lucky to have had the opportunity to portray Annie Kenney. Through researching her I have learnt so much more about the Suffragette movement and have met so many inspiring women. I feel privileged that I get to share this International Women's Day with women in my hometown. I think Annie would approve!"
Rubbi Bhogal-Wood is Founder and Director of Wild and Form Digital, a company which specialises in helping small to medium sized businesses grow online through Social Media. With 20 years' experience in the advertising business, Rubbi is passionate about female leadership and entrepreneurship and is keen to inspire the next generation of business women.
Rubbi said: "Every woman has a story to tell. Every woman deserves to tell it. Unfortunately, not all are able to do so. I feel honoured to be able to share a bit of mine with the likeminded women attending the event at the Coliseum. For me, International Women's Day means doing my bit to join in the wondrous global effort to lift and raise women and pave the way for future female generations to tell their stories, on their terms and in their own unique way."
The global theme for 2019's International Women's Day is #BalanceforBetter, calling for a more gender-balanced world. Balance is not a women's issue, it's a business issue; #BalanceforBetter is a call to action for accelerating gender-balanced boardrooms, a gender-balanced government, gender-balanced media coverage, a gender-balance of employees, more gender-balance in wealth, gender-balanced sports coverage and more.
Carly Henderson, the Coliseum's Head of Learning and Engagement commented: "International Women's Day is an opportunity for us to celebrate the work we deliver with Jigsaw Homes Group and the participants who really shape our work. This year our women's group, delivered in partnership with Jigsaw Group, curated an exhibition as part of English Touring Theatre's production of Othello. Their work has a real presence in the building and we're delighted that practitioner and group leader Caitlin Gleeson will be delivering a workshop based on the themes of #BalanceforBetter as part of the event."
Ivan Wright, Assistant Director of Neighbourhoods at Jigsaw Group added: "Working with Oldham Coliseum Theatre to run projects and events like International Women's Day enables us to empower socially isolated women within our communities to go out, make new friends and try something new. We work with tenants from all genders and backgrounds, and through the theatre, we hope to give them the skills and confidence they need to improve their lives."
Oldham Coliseum Theatre and Jigsaw Homes Group are both committed to serving the communities of Oldham and the surrounding areas, offering opportunities for people to be inspired and reach their potential. The two organisations work in partnership to run regular projects with tenants which help to build confidence, employability and health and wellbeing. Working together, the theatre and Jigsaw Group have helped over 100 young people return to work or education, created a theatre company for people with additional needs and reached hundreds of school children using theatre as a propeller for learning.
The partnership also encourages tenants to try something new whilst experiencing different cultures. Past International Women's Day events at the Coliseum have included talks from actresses Sue Devaney (best known for previous roles in Johnny Briggs and Dinnerladies, plus the Coliseum's hit production of Our Gracie and the 2018 pantomime Cinderella), Julie Hesmondhalgh (best known for her former role as Hayley Cropper in Coronation Street) and Isabel Ford (most recently seen in the Coliseum's productions of Whisky Galore, Hard Times and Brassed Off).  
---
International Women's Day: A poem created by the women who attended
At this year's International Women's Day event theatre practitioner Caitlin Gleeson led a workshop about inspirational women, looking at who inspires us and how we can support and inspire others. As part of the workshop the residents each wrote one line which were then combined into the following poem:
Working together, achieving our goals
We are the women of the world
We could reach for the stars with the support of each other
Holding hands for the ones who are unsure
We give a lot because kindness is our goal
I am free
I am courageous
I am strong
I am a lady just like you!
We are International Women's Day
We stand together
I feel pride
I feel power
I want to be an open minded woman like Princess Diana
There's Irene, Lorraine, Cath, and Sue
And Debbie at the back too
We all volunteer and share things we do
Sometimes we're happy
Sometimes we're blue
But we carry on through
We can dance and sing
And we're going to Blackpool too
We are all proud to be strong women
As women we aspire to be like those we admire
I met the person at the top
Her warmth inspired me to be myself
Knowing I could still fly
Here we are today
To celebrate
So the history will say
Women have got a say!
As well as running a bespoke workshop as part of the International Women's Day event, Caitlin Gleeson leads the Coliseum's regular Women's Group in collaboration with Jigsaw Homes which provides a space for local women to meet and take part in creative activities. To learn more about the Women's Group contact Carly Henderson, Head of Learning and Engagement on 0161 785 7008.
---
The Coliseum's first Scratch Night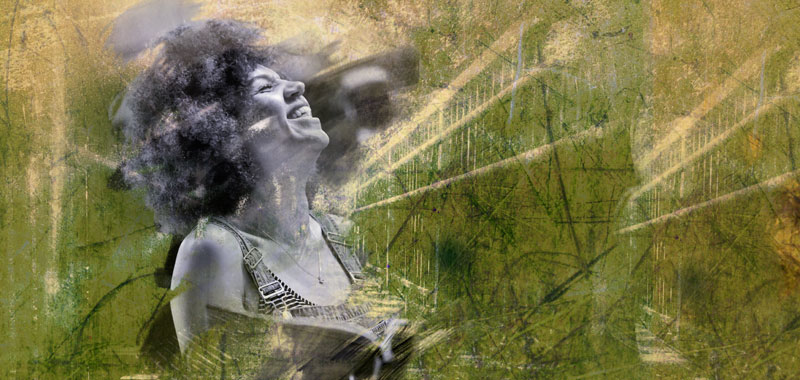 Last week we held our first Scratch Night, a night of new work in progress from local companies co-ordinated and hosted by our Associate Company, Fine Comb Theatre.
"Hosting the Coliseum's first scratch night was an absolute pleasure. It was a fantastic night, where four unique artists were given the opportunity to showcase work in development and receive valuable feedback. The audience were really supportive and gave in-depth and thoughtful responses.  – Cat and Rachel, Fine Comb Theatre
In the lead up to fringe festivals, such as Greater Manchester, Edinburgh and Brighton, scratch performances are opportunities for companies and artists to try out their ideas with a supportive audience. The companies can ask specific questions of the audience such as 'What do you think of the characters?' 'Was the theme clearly portrayed?' and the feedback can shape the development of the piece.
"We've been looking at the written feedback collected on the night and it's already thrown up a lot of very useful questions about how we might develop the next draft of the script". – James Harker, Public Burning Theatre
At the first Scratch Night, four companies shared their work:
Buglight Theatre focus on exploring untold stories, often localised stories or well-known stories told from a unique perspective. Currently touring their latest show Me, Mum and the Patriarchy, they make work that aims to entertain and provoke conversation.
Buglight performed scenes from their upcoming show Fight which explores a decent into poverty for one couple. The piece focuses on a very relatable relationship and how poverty is presented as something tangible and very possible.
For more information on Buglight Theatre's work, visit their website or  Twitter:@buglighttheatre
Pegeen Murphy is a writer, actor and theatre producer. Her writing work has been produced for the Manchester Monologue competition in association with the Royal Exchange Theatre and BBC Radio Manchester. Pegeen has also produced work with Writers Reign Theatre Company, working with them on the hugely successful Trollope which was performed at Greater Manchester Fringe 2018, winning Best Comedy Play and went on to win Fringe Production of the Year at the Northern Soul Awards.
For Scratch Night, Pegeen shared her latest work, Dreams for Our Daughters, which explored how women are often defined according to their decisions around motherhood. The piece focuses on snapshots of different points in time, going back to the '90s and reliving the experiences of a young mother who gives her baby up for adoption then turning to the present where Sarah, the child who was adopted, has just given birth to her own child.
For more information on Pegeen's work, visit Twitter@PegeenMurphy 
Ellie Silver is a freelance theatre practitioner and writer. Her recent credits include performing for Scratch #10 with Only Skin Theatre, presenting a work-in-progress for the Scottish Mental Health Arts Festival, and working with Rachel Mars on Joke Translation Service at the Royal Exchange Theatre.
It Offends me as a Comedian is a solo comedy performance exploring the conflict between humour and culture. In this show, Eliza Silverman, is hosting an all-female, all-Jewish comedy event. However her guests fail to make an appearance… The piece provokes questions about identity, our characteristics and standing up for our own belief systems.
For more information on Ellie's work, visit her website
Public Burning Theatre is a North West based theatre company founded by director Danielle McIlven and playwright James Harker. They create work which explores politically important subject matter through humanistic and theatrical storytelling. Their previous work includes: Gary: A Love Story which tackled inequality in the prison system and received a five-star review in The Skinny, and Borderland which debuted in the Coliseum Studio and went on to tour the North West with Art's Council funding. Their most recent show, Voices from the Moon explored the politics of the 1969 moon landings and was a collaboration with Sound Designer Karen Lauke. 
Transabled is a verbatim theatre piece exploring Body Image Integrity Disorder (BIID), a condition in which abled-bodied people feel they should be disabled. Compiled from interviews with patients and doctors, it explores the experience of BIID: the stories of those who have it, and the complicated ethical problems the condition brings up.
For more information on Public Burning Theatre's work visit: Twitter@public_burning
We'd like to thank everyone who came to our first Scratch Night, the companies and artists who shared their work and the wonderful Fine Comb Theatre for arranging and hosting the evening.
Providing opportunities to share in front of an audience can be formative experience for new pieces of work. In addition to another Scratch Night (date TBC) we'll be hosting our second Write Here Write Now evening with Associate Company Rogue Bones during this year's Cultivate Festival for theatre makers (full line-up to be announced). Write Here Write Now gives writers the opportunity to take part in a unique experience, writing from the same provocation and creating completely different pieces of work.
Keep an eye on our Twitter, Facebook and website for upcoming opportunities.
---
Spotlight on: Brenda Lomas, Bar & Events Manager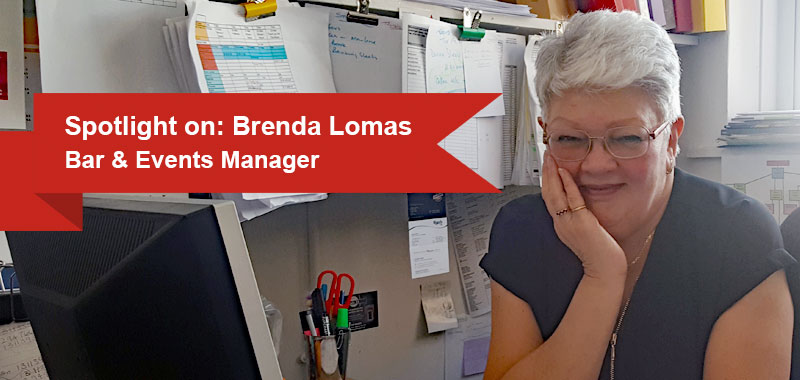 Introducing Brenda, the Coliseum's Bar & Events Manager, and one of the original Peter's Friends…
How long have you worked at the Coliseum?
I think I've been here about eight years, first as a Front of House Assistant Manager and then on to managing the bars.
What is your favourite production that you've seen at the Coliseum?
I enjoy a range of really different shows. I really liked The Kitchen Sink, Bedroom Farce and A Skull in Connemara and I recently enjoyed The Verdict. Sometimes it's difficult to see the shows because of the hours I work in the evenings, but theatre is something I've always loved.
What is your favourite aspect of working at the Coliseum?
Working in a live theatre. It's wonderful to be able to watch something build from the first meetings about a show and then to see it evolve.
What are you currently looking forward to?
I always like it when the local amateur dramatic societies take over the Coliseum – next week Ashton Operatic are doing Hello Dolly.
I'm also looking forward to seeing the Studio develop. When there's a Studio production in there's quite a buzz around the building and a younger audience. I've noticed a shift and a lot of the people coming haven't been to see us before.
Can you tell us an interesting fact about yourself?
I started coming to this theatre when it was a repertory theatre. I was involved with Congress Players and Lyceum Players and a lot of the amateur dramatic societies in and around Oldham – of which there were an awful lot – and a big group of us used to come to see most productions. I also performed with the Oldham Amateurs at the Rep, as it was called then, for two week runs of shows like My Fair Lady and The Sound of Music. That's how I fell in love with the Coliseum.
I used to do a lot of singing and I'm one of Peter's original Friends from Peter's Friends – a cabaret evening which is still very popular here.
I was also in a group called Quartz with Peter Wakefield, Lesley Abbott and a professional actress called Irene Skillington. We sang together for 17 years all around the area, and we took ourselves off to Spain three times to sing for ex pats who live out there in a beautiful villa. We had a nice time, we were treated very nicely and everywhere we went there seemed to be an audience waiting for us to do another spot. I wouldn't have missed it for the world.
---
Customer Experience Volunteers: Join us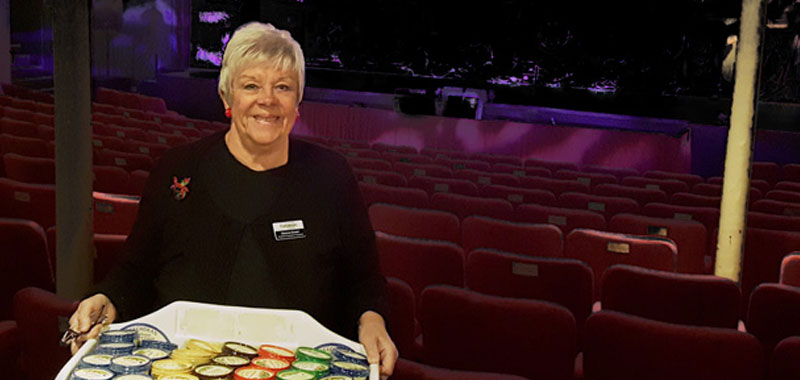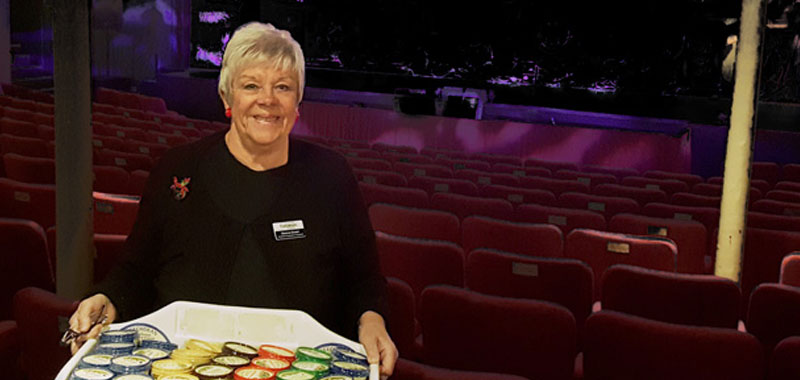 We're always on the lookout for friendly and reliable people to join our team of Customer Experience Volunteers, who help to look after our audiences from greeting them in the foyer, to selling programmes and ice creams, taking them to their seats and much more.
Customer Experience Volunteers must be 18+ and able to commit to a minimum of three months volunteering with us. No experience is needed as full training is provided.
Click here to learn more about becoming an Oldham Coliseum Theatre Customer Experience Volunteer or contact Heather Shaw, House Manager,  by phone on 0161 785 7021 or email heathershaw@coliseum.org.uk.
---
Oldham Coliseum Theatre gratefully acknowledges funding from:

Oldham Coliseum Theatre is a Registered Charity, No: 508829.
Oldham Coliseum Theatre Ltd Reg No: 1415547