June 2020 Newsletter
Whilst the Coliseum's building remains closed due to the crisis we're working from home to continue to create and share art and creative opportunities for people from Oldham's communities and beyond.
In recent weeks the world has called out in pain and outrage following the latest killings of black people by police in America. Before we move into this month's newsletter we would like to express our complete support of the Black Lives Matter movement. The Coliseum exists to support, inspire and entertain Oldham's vibrant and diverse communities. We have complied a snapshot of resources, petitions and charities, in support of our audiences, our participants and our friends.  You can download our resource pack here.
In this month's newsletter read about our online stream of 2019 epic musical The Hired Man (available until midnight on Sunday 21 June), our new community sewing project and the latest episode of our Mini-Podcast Series, Pop and Crisps
Plus, we've more updates on what our team are up to during lockdown and our Artistic Director Chris Lawson recommends more great online theatre for you to experience at home.
---
Watch The Hired Man online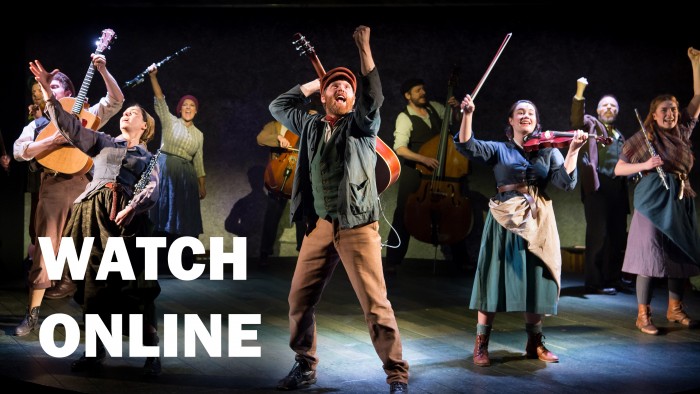 Alongside our co-producers, Queen's Theatre Hornchurch and Hull Truck Theatre, we're streaming our epic summer 2019 musical The Hired Man online this week. The stream is available on the Queen's Theatre Hornchurch YouTube channel and on our website until midnight on Sunday 21 June.
Throughout this stream of The Hired Man we're asking our audiences to please make a donation, if you can, to support the Coliseum and raise vital funds for current and future creative projects.
Together, the Coliseum, Queen's Theatre Hornchurch and Hull Truck Theatre reach 380,000 people per year through our work on stage and in our respective communities.
Based on the stirring novel by Melvyn Bragg first published in 1969, The Hired Man was adapted into a musical in 1984 by award-winning composer Howard Goodall (Bend It Like Beckham, Love Story). It features a superb score of rousing, foot stomping rhythms and soaring choruses.
Cumbria, 1898. Whippet racing, hiring fairs, hunting and drunken antics collide, in this passionate story of John and Emily, a young married couple, and their moving struggle to carve a living from the land.
An epic and heroic tale of love, betrayal and loyalty, set against a backdrop of English country traditions being swept away as a new century faces the gathering storm of war…
Download the digital The Hired Man programme
★★★★
"They play Goodall's glorious folk-based score as if it's pouring from their very souls."
–  Sunday Express
"A gorgeous, resonant new production…Wrenching and wonderful" 
– Mark Shenton
★★★★★
"This is theatre to relish and cherish"
– North West End
★★★★
"One of the most well-crafted British Musicals of all time"
– Upstaged Manchester
Our production of The Hired Man played to national critical acclaim across the country, earning three Offie nominations and with Lauryn Redding a finalist for Best Female Performance in a Musical.
This online stream of The Hired Man takes place with support of The Really Useful Group.
Click here to watch The Hired Man online.
(Pictured: The Hired Man)
---
Mini-Podcast Series: Episode 3. Pop and Crisps

Our third Mini-Podcast episode is Pop and Crisps, a new 20 minute audio play by Sorcha McCaffrey commissioned by the Coliseum especially for the series.
Saf hasn't seen her dad for 20 years. All she remembers about him is his love of 80s music and Doritos. Her aunt said he went to Scotland. Linda over the road said he went to the North Pole. Her mum didn't say anything. On the brink of making a life-changing decision, Saf arranges to meet him again.
Sorcha McCaffrey is an actor, writer and theatre maker and a Supported Artist of the Coliseum. She trained at ALRA North and has taken part in the Royal Court writers' group. Sorcha has performed with the John Godber Company, Contact, Manchester and Co:LAB Festival at the Royal Exchange Theatre, Manchester. Her play Ladybones has been touring in the North of England and has been recorded as an audio drama for Audible.
Pop and Crisps was recorded remotely by Cora Kirk (A Monster Calls Old Vic UK Tour, Peter Pan at The National and Not Such Quiet Girls at Leeds Playhouse) and William Travis (the Coliseum's productions of The Kitchen Sink and Hard Times and most recently Wonderland at Nottingham Playhouse and Northern Stage), directed by the theatre's Artistic Director Chris Lawson and edited by Coliseum Digital Associate Grant Archer.
Episode 3 of the Coliseum's Mini-Podcast Series is available to listen to on our website here or on Soundcloud here
(Pictured: Pop and Crisps actors Cora Kirk and William Travis)
---
Stitch: Patches of positivity

We're inviting people from our communities to join us in creating a patchwork quilt representing togetherness. Whilst we're currently separated by the pandemic patches will be created individually, then they'll be joined and transformed into a quilt by the Coliseum's professional Wardrobe team and shared at the theatre when we're able to come together again.
In partnership with Women's Chai Project, Housing 21, Jigsaw Homes and Pakistani Community Centre, we're asking individuals and groups to appliqué / embroider a patch of fabric. Although created individually, we will use your patches to make one quilt; stitching together your responses whilst looking ahead to a time when we can share and celebrate your collective work.
Don't worry if your needlework isn't up to scratch, we welcome any form of response. Be it a poem, photograph, drawing or piece of writing, we'll feature your work it in a creative way at the showcase event.
Patches of positivity inspired by the theme 'togetherness'
What has given you hope during this crisis?
Who or what has made you feel connected even when apart from other people?
What does it mean to feel together?
If creating a patch, your base fabric should be 20 inches x 20 inches in total, with an inner border of 1 inch to give us room to sew together (45cm x 45cm with an inner border of 2.5cm). You are welcome to use whatever colours and materials you wish.
If you're new to sewing and appliqué and don't have a sewing machine, we've created a pack with simple step by step instructions (instructions in English and Urdu). To download a digital copy of the pack click here.
When complete, please email chelseamorgan@coliseum.org.uk or leave us a message on 0161 785 7026 to register your contribution, and we'll collect them as soon as we're able to.
In the meantime, if you're on Social Media, we'd love to see your works in progress. Please tag us on @OldhamColiseum on Twitter or @oldhamcoliseumtheatre on Facebook
(Pictured: the Stitch project pack)
---
Shandyland: Behind the scenes interviews with Gareth Farr and Hannah Bannister

Last week we would have opened our co-production of Shandyland by Gareth Farr. We're still working on rescheduling Shandyland and will be in touch with all ticket holders as soon as we have new dates, until then we have two behind the scenes interviews from our co-producers Northern Stage to share with you.
Shandyland is a love letter to your local. Amy was born on the floor of a working man's pub in the heart of a tough-loving northern working class community. Spanning 20 years, we see the world change both inside the pub and in the communities around it. Beyond the laughter, the songs, the bar stool politics and the endless late nights, what is it that Amy truly wants?
Our co-producers Northern Stage recorded behind the scenes interviews with director Hannah Banister and writer Gareth Farr as part of their Podcast series. The interviews are available to listen to online via the links below:
Hannah Banister, Director – Click here
Gareth Farr, Writer –  Click here
On average, before the UK lockdown, 27 pubs closed each week in the UK, predominantly in working class towns and cities. Gareth Farr's third full length play, Shandyland was written as part of the prestigious Old Vic12 scheme.
Speaking with The Old Vic, he commented: "I come from a small, working class mining town in Lancashire where pubs are social spaces, they are community venues, they are places of comfort and exceptional conversation… The fact that so many are closing and at such a fast rate means that local working-class pubs could disappear completely from the cultural landscape of Britain and if that happens then what would happen to that environment?"
Shandyland is a Northern Stage co-production with Liverpool Everyman & Playhouse, Oldham Coliseum Theatre, York Theatre Royal and Greyscale.
(Pictured: Shandyland)
---
Update on rescheduled events and our Box Office

Here's an updated handy list of all the events we have so far rescheduled or unfortunately had to cancel due to the pandemic:
 Our Box Office team are set up in their living rooms and kitchens, working from home to process rescheduled events, contact ticket holders and amend bookings. This isn't something we can automate as we need to process each ticket holder's individual preferences, but we're working as quickly as we can. If you would like to contact Box Office you can do so by emailing boxoffice@coliseum.org.uk
We're working on rescheduling the rest of our Spring-Summer season as a matter of priority and we'll be in touch with all ticket holders as soon as possible. 
Our Box Office phone line is not in use whilst our team are out of the building. Please don't try to call us, but instead bear with us and we will contact all ticket holders with information on the event(s) they have booked for as soon as we are able.
Some events are more complicated to reschedule than others, for example because they rely on the availability of more actors and creatives, or because they are part of a larger tour, and so we cannot guarantee that we will announce new dates for each show in chronological order. There are some events that will unfortunately have to be cancelled, and we will contact ticket holders when this information is confirmed.
The Coliseum, like many theatres that have been forced to cancel performances, is a charity; and whilst ticket holders are all entitled to a refund for cancelled performances, we would ask, if you can, to consider either: having your ticket money refunded to credit on your account – which is valid for 12 months and can be used on any other show at the Coliseum – or to donate all or part of your ticket money to the theatre to enable us to continue to make great theatre in Oldham as soon as we're able.  Your support is more vital than ever during this unprecedented time; it will help to ensure not only the Coliseum's financial sustainability, but also that of the artists, creatives and theatre makers we support.
(Pictured: the Coliseum Box Office)
---
Coliseum in the Community: Donating stock to Oldham Food Bank

Earlier this month we donated a car-full of stock from our bars and kiosk to Oldham Foodbank to help local families and individuals as the crisis continues.
Based at the Three Crowns Centre on Oldham's Manchester Road, Oldham Foodbank is part of a network of foodbanks supported by The Trussell Trust, providing emergency food to people who are in need.
Over 90% of the food distributed by foodbanks in The Trussell Trust is donated by the public. Oldham Foodbank relies on the goodwill and support of the people of Oldham helping their fellow Oldhamers.
Click here to learn more about donating to Oldham Foodbank 
Oldham Foodbank was founded by Fr David Hawthorn from St Margaret's, Hollinwood and St. Chad's, Limeside. It is a collaboration of local churches and community groups of all denominations, faiths and none, working together towards stopping hunger in our area. As well as providing much-needed food parcels, it is the aim of the foodbank to help people out of poverty. Outside of the coronavirus crisis, they do this by signposting to other support agencies, providing free access to the internet for job searches and online applications and free use of telephone to contact agencies and employers.
(Pictured: stock from our Kiosk on its way to Oldham Food Bank)
---
Your Coliseum Needs You

It has been almost 15 weeks since we last welcomed audiences into the Coliseum. We'd like to express our utmost and heartfelt thanks to everyone that has donated to support our theatre so far during this crisis. There are many ways you can support the Coliseum and help to keep theatre alive in Oldham.
Donate to the #YourColiseumNeedsYou campaign
Since 1885, the Coliseum has brought joy, entertainment and enrichment to Oldham through our work on stage and in the community. Oldham Coliseum Theatre is a Registered Charity (no. 508829) and we rely on income from tickets and bar sales. Closing the theatre makes maintaining our business extremely difficult.
In its 135-year history the Coliseum has only closed once before. Following 46 years as a popular theatre and music hall, in 1931 the theatre was converted into a cinema, closing nine months later. In 1939 the Coliseum was reopened by passionate theatre lovers the Oldham Repertory Theatre Club. The rest, as they say, is history. Learn more here
Become a member of Our Coliseum
For £30 for a year Our Coliseum members receive a host of exclusive benefits.
£10 off your first booking

10% off at our bars and kiosk

2for1 tickets to opening night of all Coliseum productions

Exclusive offers in a monthly newsletter

Annual car park pass for evenings at Bradshaw St.
Although we're not currently able to offer many of the membership benefits due to the closure we've been heartened to see our audiences buying memberships to help support us. We're looking forward to a time when we can provide all Our Coliseum members with all of these benefits and exclusive offers once again. Learn more here
Become a Patron of the Coliseum
By becoming a Patron of the Coliseum's work individuals, couples and families can enjoy a special relationship with the theatre and play a vital role in helping to continue our history in the town and contribute to its ongoing regeneration.
Patrons are an integral part of our company and as such are at the heart of what we do. Once we return to the Coliseum, Patrons will once again receive invitations to Press Nights, special behind-the-scenes events to see how our work is made and exclusive talks from actors and theatre professionals. Learn more here
Sponsor a seat in our auditorium to celebrate a lasting memory, celebrate something special or profile your company. Seat sponsorship costs £250 and your donation will be used to support all aspects of the theatre's work – from the production of plays to our extensive programme of education and activity in our local community.
In recognition of your donation, we'll place a plaque on the seat of your choice in our Auditorium. The distribution of the plaques is allocated on seats on a first come, first served basis. You can choose the text inscription on the plaque and we'll keep the plaque on the seat for ten years. Learn more here
Thank you to everyone who has donated to the Coliseum so far in this unprecedented time. Your support means the world to us, it's helping to keep theatre alive in Oldham.
Click here to donate to the Coliseum
If you are unable to donate right now, please help us by sharing our message.
(Pictured: the Coliseum's Ghost Light)
---
Our Mini-Podcast Series

Our Mini-Podcast Series shares original works by people of all ages and backgrounds from the communities of Oldham and Greater Manchester. For each episode we have invited writers to respond to a theme within a specified length, with pieces ranging from 100 words to a 20-minute short audio-play.
Launched on World Theatre Day 2020 (27 March), the we have already recorded and aired new works by well-known names, professional playwrights, emerging writers and young people from the local area for the series. All pieces in the Coliseum's Mini-Podcast Series are recorded remotely by professional actors, with an introduction from the theatre's Artistic Director Chris Lawson and edited by the theatre's Digital Associate Grant Archer.
Episode 1: 100 Word Plays (about Oldham) features 17 plays of no more than 100 words based on the theme of Oldham. The plays were written by well-known writers including Julie Hesmondhalgh, writers of previous Coliseum hits: Ian Kershaw (Bread & Roses, The Mist in the Mirror and Star-Cross'd) and Lindsey Williams (Meat Pie, Sausage Roll and Dreamers) and local emerging writers.
The 100 Word Plays submissions responded to a 2019 call-out for which the plays were displayed across the theatre in crafty and creative places. Within two weeks of the theatre's closure to help slow the spread of COVID-19, the theatre had employed a cast of nine Greater Manchester actors to record 17 of the 100 Word Plays for the inaugural episode of the series. Click here to listen to Episode 1: 100 Word Plays (about Oldham).   
Episode 2: 'Off Out' Monologues features three monologues written by young people and inspired by the UK lockdown. The Coliseum's Learning and Engagement Team invited people aged 21 and under to submit monologues about a character's once-daily trip out of the house, offering insight into their reactions around the unprecedented situation. Click here to listen to Episode 2: 'Off Out' Monologues.     
Episode 3: Pop and Crisps is a new 20-minute audio play by Sorcha McCaffrey commissioned by the Coliseum for the series. Sorcha is an actor, writer and theatre maker and a Supported Artist of the Coliseum.
Saf hasn't seen her dad for 20 years. All she remembers about him is his love of 80s music and Doritos. Her aunt said he went to Scotland. Linda over the road said he went to the North Pole. Her mum didn't say anything. On the brink of making a life-changing decision, Saf arranges to meet him again.
Click here to listen to Episode 3: Pop and Crisps     
Episode 4 of the Mini-Podcast Series sees the Coliseum collaborate with DANC (Disabled Artist Networking Community) and TripleC to invite writers who are part of DANC to write short plays no more than five minutes in length responding to the theme of 'distance'.
TripleC is a disabled led arts organisation that creates projects to break down the barriers for people with disabilities accessing the arts. DANC is the professional strand of TripleC that champions solution focussed events, workshops and conversations between disabled artists and key industry decision makers to increase representation, inclusivity and employment of disabled artists in the arts and media sector. Keep an eye on our website Social Media channels for the forthcoming airing of Episode 4.
The Coliseum's Mini-Podcast Series is free to access. It is available online here or on Soundcloud here
(Pictured: the cast of Episode 1: 100 Word Plays (about Oldham) 
---
Recommended online theatre to watch at home

Our Artistic Director Chris Lawson has compiled another list of great theatre you can experience online from the safety and comfort of your home.
These brilliant shows are free to experience online. Some of these shows ask that if you're able to, you consider donating to help support the UK theatre industry during this unprecedented crisis.
The Hired Man
We'd be remiss not to start this list with our own stream of 2019 epic musical The Hired Man. Alongside our co-producers Queen's Theatre Hornchurch and Hull Truck Theatre we're presenting The Hired Man on the Queen's Theatre Hornchurch's YouTube channel and via our website until Midnight on Sunday 21 June.
The stream of the Hired Man is a fundraiser to support all three theatres – the Coliseum, Queen's Theatre Hornchurch and Hull Truck Theatre.
Rockets and Blue Lights
Royal Exchange Theatre, Manchester's production of Rockets and Blue Lights had not yet had its press night when theatres closed in March. Now it's been given a new lease of life as part of BBC Radio 3's Lockdown Theatre Festival, which captures in audio form some of the stage productions which had their performances unexpectedly cut short by the pandemic.
Written by Winsome Pinnock Rockets and Blue Lights fuses fact with fiction, past with present, the powerfully personal with the fiercely political as it retells British history through the prism of the slave trade
Made in India
Tamasha, The Belgrade Theatre and Pilot Theatre are sharing their production of Satinder Chohan's exploration of birth and motherhood in a brave new world on the Tamasha YouTube channel until Tuesday 30 June.
It's Londoner Eva's last chance for motherhood. For village girl Aditi, surrogacy is a lifeline out of poverty. For clinic owner and businesswoman Dr Gupta, it's all just another transaction. But with the backdrop of profound global forces, can it possibly remain that simple?
Reasons To Be Cheerful
Graeae are streaming their 2017 production of Ian Dury and The Blockhead's musical until Monday 3 August via their YouTube channel.
Part gig, part play, Reasons To Be Cheerful tells a coming of age tale that rejoices in the infectious and enduring music of Ian Dury and the Blockheads. Featuring classic songs including Hit Me With Your Rhythm Stick; Plaistow Patricia and Sex and Drugs and Rock and Roll, Graeae's production is loud, bold and jubilant.
Age recommendation 14+
Kes Reimagined
Presented by The Space, Kes Reimagined is a celebrated retelling of a modern classic, in award-winning choreographer Jonathan Watkins' work through dance, music and puppetry, to create 'a family-friendly Kes to rival War Horse'.
Set in a Yorkshire mining community, Kes Reimagined takes audiences on a journey with Billy Casper and his family. The young working-class boy troubled at home and at school, finds solace when he finds and trains a kestrel.  As the beloved, Kes swoops and spins in the expansive freedom of the Barnsley countryside, Billy's self-confidence begins to soar and boy and bird become one.
I Want My Hat Back trilogy
The digital theatre for children from Little Angel Theatre is a favourite of mine and my son Finn! Jon Klassen's 'Hat' series is available on the Little Angel YouTube channel until Tuesday 30 June.
Ian Nicholson, Samuel Wilde and Jim Whitcher's puppet-filled adaptations of I Want My Hat Back, This Is Not My Hat and We Found A Hat are perfect for young children.
Contractions
Deafinately Theatre's Contractions by Mike Bartlett won the Offie (Off West End Award) for Best Production in 2018.
A dark comedy about faceless corporations, nameless management and the boundaries between work and play. When Emma starts a relationship with colleague Darren, her Manager suggests she might be in breach of contract. A series of bizarre meetings follow, during which the consequences of Emma's actions take on a disturbing quality…
Age Guidance 16+
Deafinitely Theatre are the first deaf launched and deaf led professional theatre company in the UK producing quality bilingual theatre in British Sign Language and spoken English.
Key Change
Key Change is an award-winning all-female prison drama from Open Clasp Theatre Company. It was devised by female prisoners in HMP Low Newton in County Durham and based on their real life experiences. Raw, powerful and funny, it's an illuminating portrayal of the lives of women in a British prison and is a unique opportunity to hear their voices.
It has toured to male prisons, Edinburgh Fringe, New York, women's high security prisons in Edinburgh and New York state and enjoyed a sell-out UK national tour including a performance in the Houses of Parliament
(Pictured: Rockets & Blue Lights – Rochelle Rose (Lucy) & Karl Collins (Thomas) (c)Brinkhoff-Moegenburg)
---
Our favourite Coliseum memories

With such a long history there are near countless fond memories of the Coliseum. We asked our team for some of theirs to share with you.
Stage Technician Kev Leach said: "My favourite memory has got to be successfully helping to stage a fantastic production in a park, Star-Cross'd. It was such a logistical nightmare, made even harder considering we were out of our building and had so much going on with its refurbishment at the time. To be able to deliver a family show in Alexandra Park was very rewarding. All the Coliseum staff came together to make it work, going over and above the call of duty. It really made me proud and the reaction from the public was amazing on the whole!
"Setting the locations up in the Oldham summer weather was something I will never forget! We had biblical amounts of rain all through the rehearsal weeks. I'll always remember my nephew's excitement at watching it!"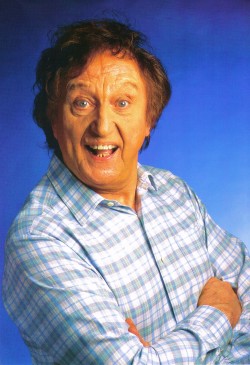 "Ken Dodd's many appearances at the Coliseum are another fond memory. Working the show was always hard work for many reasons, but the admiration and sheer respect for the man made it always a shift you wanted to work. After his many hours on stage he would always like to take his time leaving his dressing room. He would gladly meet with audience members afterwards and always had friends who were in watching, and they would always be invited backstage. But after all of that he still made time to chat to me. He made you feel important and part of his team. He would still be cracking jokes when heading for his car, sometimes at 2am in the morning. A true gentleman and greatly missed".
(Pictured: Star-Cross'd in Alexandra Park, 2012 and Ken Dodd)
---
Oldham Coliseum Theatre gratefully acknowledges funding from:

Oldham Coliseum Theatre is a Registered Charity, No: 508829.
Oldham Coliseum Theatre Ltd Reg No: 1415547