June 2018 Newsletter
This month we opened Bread & Roses with an incredible response from both audiences and critics, welcomed a host of people interested in theatre craft to a mix of workshops, sessions and talks as part of Cultivate, and enjoyed a debut performance from residents of Somerset House with their new short play, The Post Box Bandit.
Read all about it – plus even more updates on what's going on behind the scenes here at the Coliseum – below.
See you in the stalls,
Kevin Shaw
Chief Executive & Artistic Director.
---
Bread & Roses: "An honour to watch"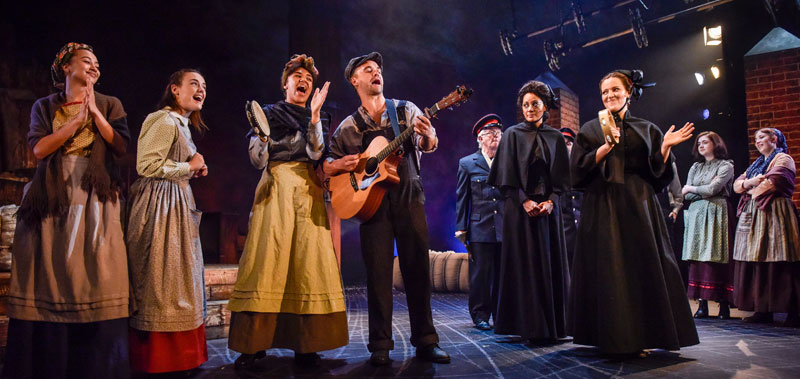 We opened award winning writer Ian Kershaw's brand new musical Bread & Roses last Friday evening and the reaction from audiences and critics has been incredible.
This uplifting and heartfelt production uses a mix of gospel and Americana music, including songs by legendary songwriter Joe Hill – who inspired the likes of Bruce Springsteen and Billy Bragg, to tell the true story of the millworkers strike in Lawrence in 1912. Each song is performed beautifully by our phenomenally talented cast, who, in true Coliseum style, also play instruments live on stage.
"I would happily buy the soundtrack to this production if it's made available"
– Live Art Alive
Much like Oldham, Lawrence at the time was awash with textile mills and workers travelled from all over the globe to find work at the looms. Single mother Lucy-Rose Atkins (Emma Naomi) works in Dukes Mill alongside her close friends and colleagues – Anna (Claire Burns); Abbie (Sophie Mercell); Joe (Rupert Hill); Salvation Army Captain, Martha (Lauryn Redding); and newcomer, Cal (Oliver Wellington). When Dukes (Matthew Ganley) cuts their wages to reflect a law reducing working hours for women and children they find themselves short of the funds required to live. Enter Elizabeth Gurley Flynn (Tupele Dorgu) from the IWW (Industrial Workers of the World), who has come to empower Lucy-Rose and her friends and colleagues to fight back, not just for the bread on their tables, but to enrich their lives with roses, too.
The Bread & Roses strike was one of the most significant labour movements in American history – but it is as resonant today, both in the US and the UK, as it was then. Ian Kershaw's new musical, masterfully directed by Amanda Huxtable, is a moving story about hope and the power of people coming together.
"This is one of the most pleasurable pieces of theatre you'll see this year, or any year probably"
★★★★★
– Remote Goat
"This is quite simply one of the best productions I have ever seen in a provincial repertory theatre."
– Oldham Times
A story encompassing love, loss, laughter, lies and deceit, emotional songs and an ultimate feeling of empowerment and joy make Bread & Roses the must-see hit of the summer.
What audiences have been saying:
"So brilliant in every respect that I could have just watched it all over again"
"Wow. I am speechless. I am bowled over. I AM SHOOK. Bread & Roses at Oldham Coliseum is glorious. An honour to watch"
"What a great show, beautiful, moving, truly a story that needs to be told"
"I advise everyone to go and see this show over the next 2 weeks – it's incredible!!"
"Such an inspiring, heartfelt play with the most beautiful songs"
"A heart achingly beautiful, uplifting night at the theatre, full of hope & ideas & heavenly music"
Bread and Roses runs until Saturday 7 July. Click here to learn more and book tickets.
---
Cultivate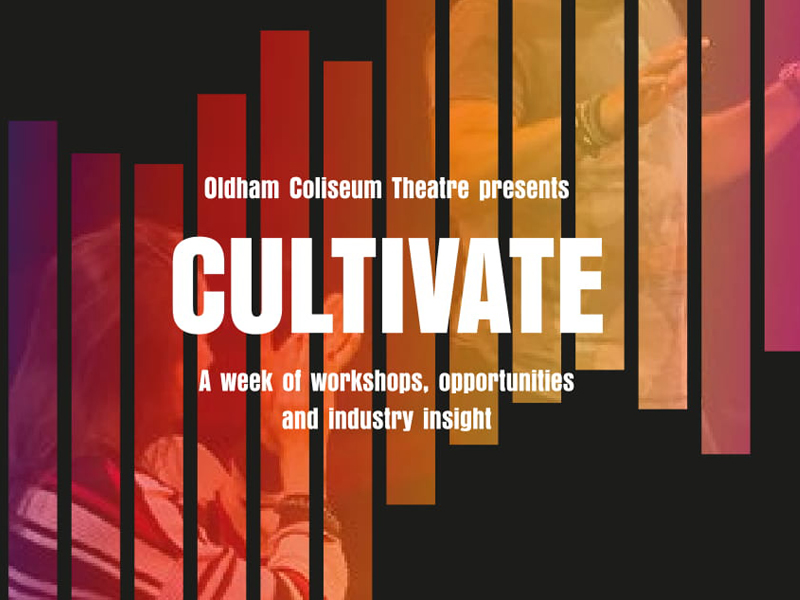 This week we held our first Cultivate Festival, a new initiative offering workshops and insight to people who are interested in getting into any of the many areas of theatre craft.
The festival kicked-off on Monday with a day of Facilitation Workshops led by the Coliseum's Learning and Engagement team. With a focus on leading drama workshops for young people, the workshop offered practical advice on structuring and planning, managing behaviours and delivering sessions.
On Tuesday Cultivate turned the volume up with a Voice and the Actor Workshop with vocal coach and singing teacher, Manny Crooks, and a Musical Theatre Workshop with James Baker, Director of the phenomenally successful Parade at Hope Mill Theatre.
"An important and vital platform to make tuning your skills accessible and affordable to all! I loved my time this afternoon!" – James Baker
"Just had the best of times at @Mr_James_Baker's #MusicalTheatre workshop, part of @OldhamColiseum's #Cultivate event. Feeling fantastic" – Daniel Brennan
Wednesday saw new writing take centre stage with six new short plays written by the Coliseum's writing group, Scribbles, performed script-in-hand by the theatre's play reading group, Scripts. The performances were followed by a new writing panel where audiences heard from professional playwrights about the process of taking a script from the page to the stage.
"Great to watch 6 new plays, some by first time writers from the Scribbles group today.  Happy National Writing Day!!! Great work by all!" – Chris Hoyle
On Thursday, Kevin Shaw, the Coliseum's Chief Executive & Artistic Director; Chris Lawson, the Coliseum's Associate Director; Claire Bleasdale, Casting Director; and Joanne Moss, ITV Coronation Street Casting saw 52 actors for Cultivate's Open Auditions. The theatre received over 400 applications for the Open Auditions and each of the successful applicants performed either a contemporary monologue or duologue for the panel. That evening Common Ground held a discussion for working class artists which considered potential barriers to career progression and sought out solutions.
Cultivate comes to an end today with another day packed full of workshops: Art with Heart will be hosting an Introduction to Producing and an Introduction to Small Scale Touring, Chris Honer, former Artistic Director of Manchester's Library Theatre Company will host an Acting Workshop and Kirsty Stott, Theatre Editor for Creative Tourist and Editor of Upstaged Manchester, will host a Blogging & Content Workshop.
Everyone who has joined us for Cultivate across the week is in for another treat this weekend, with the opportunity to see the Coliseum's highly praised production of new musical, Bread & Roses on Saturday evening at a discounted price. 
---
Family fun this July with Monstersaurus!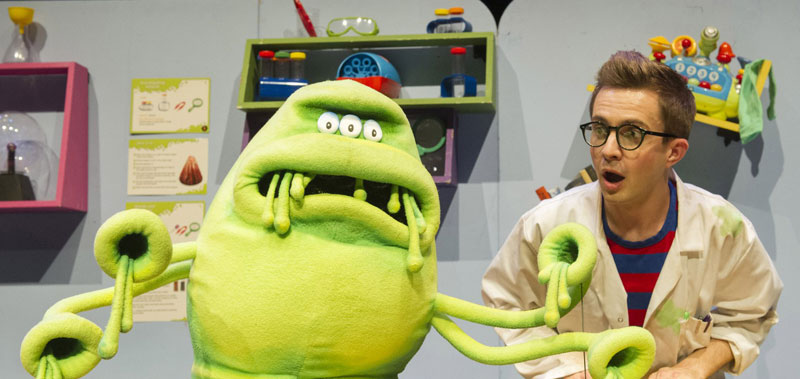 Young inventor, Monty, is coming to the Coliseum on Saturday 14 July with a fun packed show filled with magic and mayhem; perfect for children aged 3+ and their grown-ups.
One day Monty found a book: 'Inventions Very Rare.' Create yourself a monster friend, but only if you dare! Join him as he creates a whole world of wacky inventions and incredible monsters, but now he's made them all, how is he going to get rid of them?!
From the creators of Aliens Love Underpants, Monstersaurus is an energetic show with original music and plenty of chances to join in.
"An all-singing, dancing panto-style which the young audience loved"
★★★★
– The Argus
Monstersaurus is presented by Big Wooden Horse, a company who produce high quality theatre for younger audiences across the UK. Their productions always strive to both entertain and inform young people, drawing from different cultures and traditions to present entertaining and educational work. Monstersaurus is adapted for the stage from the popular book of the same name by Claire Freedman and Ben Court.
Monstersaurus comes to the Coliseum on Saturday 14 July at 11.30am and 2pm. Click here to learn more and book tickets.
---
Stand Up Season

As the Spring-Summer season nears its end, we look forward to the next season, which starts with a lot of laughs…
Saturday 22 September
The award-winning comedian Rich Hall will be making his Coliseum debut. With his unique and clever mix of music, comedy and observations, this show is not to be missed. Rich has won critical acclaim across the Globe, selling out across the UK and featuring at Edinburgh Fringe Festival and Brighton Comedy festival to name a few.
"Immaculate wordplay imbued with a genuine passion for the songwriter's craft"
★★★★
– The Times
Click here to learn more and book tickets.
Saturday 29 September
Chris Ramsay (Celebrity Juice, Never Mind the Buzzcocks and 8 Out of 10 Cats regular) brings his brand new show to the Coliseum. This highly energetic comedian (who is the only person to put Katie Hopkins in her place) sold out quickly last time so make sure you snap up a ticket soon!
Click here to learn more and book tickets.
Monday 29 October
Barbara Nice, Stockport resident, housewife, mother of five and occasion stage diver is embracing the opportunities that retirement brings. Played by Janice Connelly (Phoenix Nights), Raffle has something for everyone – even the opportunity to win something off Barbara's table…
Click here to learn more and book tickets.
Friday 15 February
Justin returns to the Coliseum for a brand new show exploring Brexit, America and what it's like to start feeling redundant as a parent and having to cancel the family Beano subscription… Due to feature at the Edinburgh Fringe festival this summer, this is not to be missed. 
Click here to learn more and book tickets.
---
Learning and Engagement: Play in a Week
There are still a few spaces left for this summer's youth project Play in a Week, which runs from Monday 20 – Friday 24 August at 10am-4pm, and is suitable for 13-25 year-olds.
Play in a Week is an innovative week-long project, in which participants are encouraged to be creative and develop their skills as theatre makers. This year's programme will take inspiration from The Beatles song She's Leaving Home. The group will devise a production from start to finish, gaining exclusive industry insight and present it to a panel of industry professionals on the Coliseum's Main Stage. This is an ideal project for young people who are looking for development opportunities, are enthusiastic about theatre and enjoy working as part of a team.
The week costs just £20. To register your interest, please get in touch with Ben Hallworth, Learning and Engagement Officer on benhallworth@coliseum.org.uk or phone 0161 785 7000.
---
Somerset House's Post Box Bandit Debut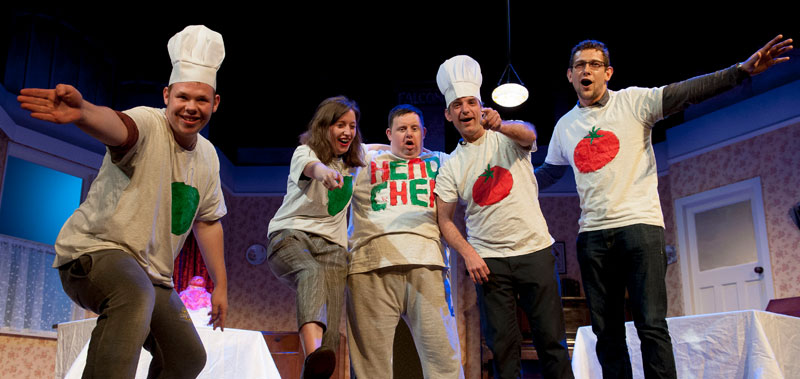 A group of young men with learning difficulties from Jigsaw Homes Group performed the premier of their latest short play, The Post Box Bandit, to an audience at theatre this month.
The young men are tenants of Somerset House, part of a housing scheme from Jigsaw Homes, that provides people of all ages with varying degrees of additional needs with 24-hour support in partnership with Creative Support and Tameside Council.
Their play was a short comedy featuring a cheeky Manchester City fan who painted all the post boxes sky blue and the bumbling cops who were on the hunt for him. The Post Box Bandit was written by the residents of Somerset House with the Coliseum's Head of Learning and Engagement, Carly Henderson. The Coliseum is working with tenants at Somerset House to deliver a series of theatre workshops through in-house sessions, complemented by trips to the theatre. The focus of this work is to bring the tenants together and promote self-confidence and independence.
The Post Box Bandit will now get a second performance at Jigsaw's Head Office as part of their community engagement evening.
This is the third time the tenants from Somerset House have performed at the Coliseum; they performed their first show at the Coliseum in October 2016, and took part in the theatre's Community Partnership Scheme in 2017, which saw them perform on our historic Main Stage.
The Coliseum and Jigsaw Housing have a major three year partnership delivering culture, creative workshops and training on their doorstep to the housing association's customers.
---
Spotlight on: Neil Eskins, Duty House Manager and Box Office Assistant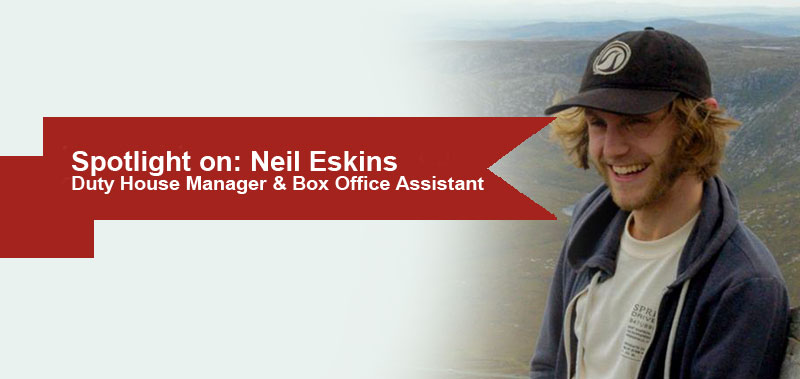 Introducing Neil, one of the Coliseum's Duty House Managers and Box Office Assistants, and guitarist for popular local band, Gardenback.
How long have you worked at the Coliseum?
Since December 2016, I started working here during Sleeping Beauty.
What has been your favourite production since working at the Coliseum?
Relatively Speaking – I'm now an Ayckbourn convert!
What is your favourite aspect of working at the Coliseum?
It's great working within such an important Oldham cultural institution, and alongside the teams of staff and volunteers.
What are you currently working on?
I'm about to take up many of Jane Boardman's Front of House Supervisor duties as she's on Maternity Leave, part of which is ensuring we're all sold out of stock for the end of the season and stocked up for the next.
What are you currently looking forward to?
Bread and Roses, I've been looking forward to it all season. I've heard bits of the rehearsal when walking past the studio and it sounds great!
Can you tell us an interesting fact about yourself?
I play guitar in a band called Gardenback, we just came back from our first London gig and we took the Coliseum van, everyone wanted a picture next to it.
---
Customer Experience Volunteers: Join us
We're always on the lookout for friendly and reliable people to join our team of Customer Experience Volunteers, who help to look after our audiences from greeting them in the foyer, to selling programmes and ice creams, taking them to their seats and much more.
Customer Experience Volunteers must be 18+ and able to commit to a minimum of three months volunteering with us. No experience is needed as full training is provided.
Click here to learn more about becoming an Oldham Coliseum Theatre Customer Experience Volunteer or contact Heather Shaw, House Manager,  by phone on 0161 785 7021 or email heathershaw@coliseum.org.uk.
---
Oldham Coliseum Theatre gratefully acknowledges funding from:

Oldham Coliseum Theatre is a Registered Charity, No: 508829.
Oldham Coliseum Theatre Ltd Reg No: 1415547