July 2020 Newsletter
In this month's newsletter read about the launch of our co-commission with HOME – the Poetry Health Service and the latest episode of our Mini-Podcast Series – Distance by DANC, and learn how to make your own Crankie theatre with puppeteer Thomas Daniel Byrne.
Plus, we take a look back at what we've been up to so far whilst our building is closed.
---
Introducing the Poetry Health Service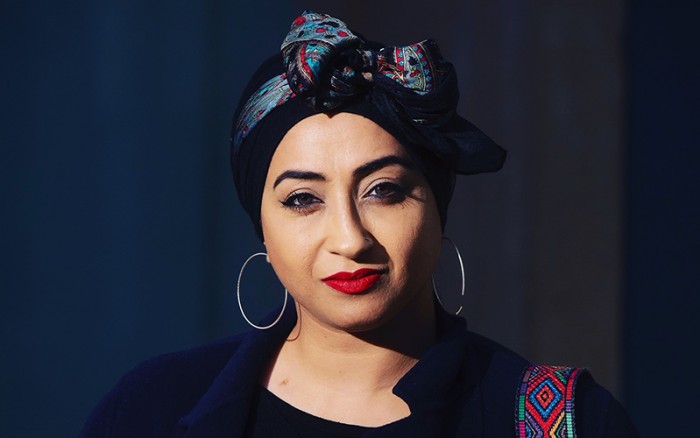 The Poetry Health Service (PHS), is a brand new, free creative service that prescribes contemporary poems as a tool for connection and healing. Founded by Coliseum Associate Artist Hafsah Aneela Bashir the PHS is an Oldham Coliseum Theatre Homemakers commission, in partnership with HOME, opening its virtual doors to the public on Thursday 30 July.
PHS will embody and champion the importance of art in supporting our mental and emotional health. It will be available to access via a dedicated website and phoneline sharing a range of exciting, inspiring, heart-warming and healing poetry.
PHS features poems contributed by writers from across the world including: Hafsah Aneela Bashir (Jerwood Compton Poetry Fellow 2019/20), Roger Robinson (winner of the 2019 TS Eliot Prize), Theresa Lola, Anthony Anaxagorou, Keisha Thompson, Shagufta Iqbal, Salena Godden and USA-based poets: Roya Marsh, Buddy Wakefield and Aisha Sharif.
Users will be prescribed a complimentary poem following the completion of a colour-based flowchart. They will then be invited to respond to their poetry panacea with a Haiku of their own.
Founder Hafsah Aneela Bashir explains her relationship with poetry and the inspiration behind PHS: "When my 25 year marriage came to an end and I began another a chapter in a new home, with a different landscape, it was Derek Walcott's 'Love after Love' that reminded me to meet myself again and to 'feast' on my life and who I have become. When my children wanted to venture out to a life beyond us as parents and discover new chapters of their own, it was Kahlil Gibran's 'On Children' that gave me comfort and tamed the pangs of a mother's heart letting 'the bending in the archer's hand be for gladness'. When I lost three very important people together in a short space of time, it was through poetry that I challenged my grief, writing a poem titled 'To You' from my collection The Celox And The Clot – a way to channel all the love that had nowhere to go. When I faced challenges as a woman, I read Maya Angelou's 'Phenomenal Woman' and the work of Audre Lorde. I loved the powerful simplicity of Mary Oliver's 'Wild Geese' when my mind would get quite full – a beautiful reminder that we're all part of something much bigger that announces our place 'in the family of things'.
"The fact that poetry has an ability to make sense of what you can't put into words sometimes, is not new. That poetry can transcend and communicate something to another human regardless of our common or uncommon background across time and space, and then in that moment create an emotional change within us, feels like nothing short of a miracle to me. Especially in a world that can leave many of us feeling isolated, cold and disconnected at times. Just take lockdown as an example. As the government introduced strict measures to keep us in our homes, I shared poetry and short stories everyday for 75 days straight. It was poetry that connected so many of us together."
Hafsah is a Manchester-based poet, playwright and performer and is founder and co-director of Outside The Frame Arts. Winner of the Jerwood Compton Poetry Fellowship 2019, she was writer-in-residence with Manchester Literature Festival, is an Associate Artist with The Poetry Exchange, an Associate Artist with Oldham Coliseum Theatre and a Supported Artist at Royal Exchange Theatre. Her play Cuts Of The Cloth was commissioned for PUSH Festival 2019. Her debut poetry collection The Celox And The Clot is published by Burning Eye Books. She has worked creatively with Manchester International Festival, Ballet Black Ldn, HOME Manchester, Manchester Literature Festival and ANU Productions Irl. Before Covid-19 she was developing her SICK! Festival commission, Four Dholis And A Divorce exploring mental health set in the South Asian community. She is currently writing the libretto for The Bridge Between Breaths, a Tête-à-tête commission in collaboration with Gareth Churchill and FormidAbility.
Contributing poet Shamshad Khan commented: "I am so happy to be contributing to the Poetry Health Service as I know from experience how uplifting and healing poetry can be. As a poet and resilience coach I hope to bring together my skills and personal experience to soothe and uplift anyone who needs it. I know how important and valuable accessible arts and well being projects can be and how much difference they can make to our lives. Hafsah Aneela Bashir is a wonderful advocate for the arts and I'm very pleased to be contributing to her great project."
clare e. potter added: "I'm glad to share a poem with the Poetry Health Service as it shows how poetry was a healing force for me in the first few days of lockdown when I felt adrift and afraid. Poetry is a conversation and it's so important that users will be able to respond to the poems they hear and read on this platform by adding their own words. A chain of voices that remind us we are not alone."
The Poetry Health Service (PHS) is an Oldham Coliseum Theatre Homemakers commission, in partnership with HOME. The PHS user experience was co-designed by Coney
It opens to the public on Thursday 30 July. Learn more on HOME's website and visit the PHS online from Thursday at www.poetryhealthservice.com
Learn more:
Hafsah Aneela Bashir on her relationship with poetry and her inspiration for the Poetry Health Service
Q&A with Hafsah Aneela Bashir and HOME
(Pictured: Hafsah Aneela Bashir)
---
Mini-Podcast Series: Episode 4. Distance by DANC

For our latest Mini-Podcast episode we've joined forces with TripleC/DANC to commission, produce and present three short audio plays by disabled writers, based on the theme of 'distance'. Inspired by the writers' real-life experiences the five-minute plays offer insight into the emotional challenges faced by disabled people in managing their conditions, shielding and the easing of the UK lockdown.
TripleC is a disabled led arts organisation that creates projects to break down the barriers for people with disabilities accessing the arts. DANC is the professional strand of TripleC; it champions solution-focussed events, workshops and conversations between disabled artists and key industry decision makers to increase representation, inclusivity and employment of disabled artists in the arts and media sector.
Actors Cherylee Houston and Melissa Johns (co-creators of TripleC/DANC) said: "We've loved working with Oldham Coliseum on the mini plays! DANC has such a wealth of talent and it's been great to offer creative opportunities during such an uncertain time"
The three selected short plays produced for the episode are: Personal Space by Adam Fenton; From a Distance by Andrew Duffy and 25 Metres From Salsa by Karen Featherstone. All actors cast in the episode are also members of DANC.
Personal Space is a piece about when the smallest of acts feel massive, how distance is relative and why closeness isn't always about proximity. Sam wants to enjoy the vast expanse of the known universe, but he can't do that without some crisps. The corner shop is just down the road but that feels like a lightyear away for this would-be space explorer. He must find a way to make a leap into a world that feels so alien, the one just outside his front door. Writer Adam Fenton trained as an actor at ALRA North and has since been pursuing a career in writing and performing. He has worked at BAC, with Graeae Theatre on Crips Without Constraints and is currently developing a new play about Tourette's Syndrome.
Adam Fenton commented: "During lockdown I, like many people, have been experiencing anxiety about leaving the house. To counteract this I've been doing a lot of writing to keep my mind occupied so when I saw the opportunity to write for the Coliseum's Mini-Podcast Series I knew I wanted to submit something. With an hour to go before submissions closed I realised that instead of trying to distract from my anxiety I should explore it through writing and combine it with something that gives me comfort, space!"
Personal Space is read by actor Milton Lopes, whose credits include The Threepenny Opera (Graeae Theatre Company, New Wolsey Theatre, Nottingham Playhouse, West Yorkshire Playhouse and Birmingham Rep); Titus Andronicus (The Theory of Everything at Peckham multi-story car park); Our Country's Good (Ramps On The Moon); The Three Musketeers (The Dukes Lancaster); Death Of A Salesman (Royal Exchange Theatre, Manchester); Splash (Extraordinary Bodies) and the Paralympic Opening Ceremonies.
From a Distance is a conversation between a man who is shielding at home and his grandmother who is living with dementia and is shielding in a care home. Writer Andrew Duffy has been involved with TripleC and DANC since 2018. He has performed his own work for CO:Lab at Royal Exchange Theatre Manchester, acted with Manchester ADP at The Lowry, OffCut at Manchester's 53Two and last summer performed his own eight-minute comedy for BBC Ouch at the Edinburgh Festival which was shown on BBC2.
Andrew Duffy commented: "From A Distance was inspired by my daily conversations with my nan. She has dementia and lives in a care home in Romiley. Sadly, we lost my granddad, who also lived there, in February, but she is not aware as it would've been too hard for her. She has had coronavirus whilst in the home but was asymptomatic. She really enjoys our chats every day. As we are both shielding I was playing around with her interpretation of the world. Like everyone, I look forward to the day we can meet up and hug our loved ones again."
From A Distance is read by Caron Rae-Brand and Fergus Rattigan. Caron's credits include: Cheers to the Children (writer – Old Barber's Shop, Glasgow) and The Most Horrific and Chair Life (Theatre Uncut). Fergus's credits include: Our Country's Good (Ramps On The Moon) and Wizard of Oz (Storyhouse, Chester). During the UK lockdown Fergus has appeared in Henry IV part II (The Show Must Go Online); Richard III and As You Like It (Shake-Scene Shakespeare) and A Midsummer Night's Dream (Worldwide Shakespeare).
In 25 Metres From Salsa we meet Alf as he has his walking assessed to see if he is eligible for a medication to improve it. Writer Karen Featherstone received a Northern Writers' Award in 2015. She has spent time in the story offices of Coronation Street and Emmerdale, in an alumna of Graeae Theatre's Write to Play initiative.
Karen Featherstone commented: "25 Metres From Salsa is inspired by my experience of having medication withheld until symptoms worsened. I wanted Alf to occupy that strange headspace in which he knows his condition must deteriorate in order for it to have the best chance of improving".
25 Metres From Salsa is read by Porcelain Delaney, Simon Startin and Caron Rae-Brand. Porcelain's credits include: Rigoletto (Blackpool Grand Theatre, Manchester Opera House and Liverpool Empire); Peter Pan (International tour) and Hamlet (UK tour). Simon's credits include: The Visit (National Theatre); Romeo & Juliet and Richard III (Shakespeare's Rose) and Ralegh (Shakespeare's Globe).
Our Mini-Podcast Series was launched on World Theatre Day 2020, just one week into the UK lockdown. It shares original works by people of all ages and backgrounds from the communities the theatre serves. For each episode we invite writers to respond to a theme within a specified length, with pieces ranging from 100 words to a 20-minute short audio-play. All pieces in the series are recorded remotely by professional actors and edited by Digital Associate Grant Archer.
Episode 4 of the Coliseum's Mini-Podcast Series is available to listen to on our website here. You can also view it with subtitles on YouTube here.
(Pictured: writers and performers of Distance by DANC)
---
We're upgrading our Box Office next week

Next week we're changing our Box Office suppliers. This means that our website will be down for a couple of days (Monday 27 – Wednesday 29 July).
Our Box Office team will still be available via email to offer advice and you can keep in touch with us online via our Social Media channels: Twitter@OldhamColiseum, Facebook/oldhamcoliseumtheatre and Instagram@OldhamColiseum.
The next time you come to book a ticket online our website may ask you to reset your password. You will receive an email to register a new password, please check your junk folder if you have not received it after a couple of minutes.
This will only happen once and afterwards you will benefit from a much-improved and easier to follow booking process.
If you have any questions about the new booking procedure or the temporary Box Office closure you can contact us at boxoffice@coliseum.org.uk
(Pictured: Four Minutes Twelve Seconds, February 2020)
---
Young people: How to make a Crankie theatre

A Crankie theatre is a historic storytelling artform, using a long illustrated scroll that is wound onto two spools. In a special video made in partnership with the Coliseum puppeteer Thomas Daniel Byrne gives us a step-by-step guide on how young people and their families can make their own Crankie Theatre using materials you can find around the house.
Fancy making your own Disney+ or Netflix? With a Crankie you can draw any tale you like on a scroll and present it for your family and friends with a story, a song, a tune, and any sound effects you'd like (and can make!).
Once you've drawn your story on the scroll it is wound onto two spools and then loaded into a viewing screen made from a box. To tell your story you just need to turn the cranks whilst you tell your story, sing your song or make your sound effects.
In the video Thomas makes a story called 'Blast Off' which takes us on a space mission with an astronaut to deliver a special present to an alien.
(Pictured: How to make a simple Crankie sign)
---
Stitch: Oldhamers creating Patches of Positivity

People across Oldham are joining our creative community project, Stitch, making patches of positivity representing 'togetherness'.
Whilst we're currently separated by the pandemic patches are being created individually, then they'll be joined and transformed into a quilt by the Coliseum's professional Wardrobe team and shared at the theatre when we're able to come together again.
In partnership with Women's Chai Project, Housing 21, Jigsaw Homes and Pakistani Community Centre, we're asking individuals and groups to appliqué / embroider a patch of fabric. Although created individually, we will use your patches to make one quilt; stitching together your responses whilst looking ahead to a time when we can share and celebrate your collective work.
Here are just a few of the patches in creation across the borough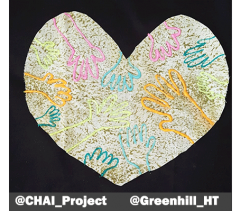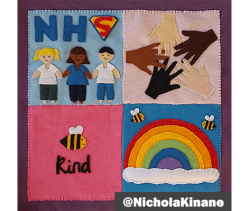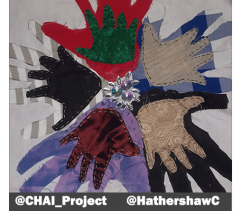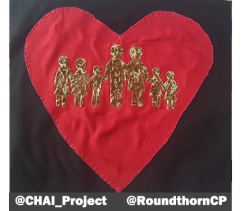 Don't worry if your needlework isn't up to scratch, we welcome any form of response. Be it a poem, photograph, drawing or piece of writing, we'll feature your work it in a creative way at the showcase event.
Patches of positivity inspired by the theme 'togetherness'
What has given you hope during this crisis?
Who or what has made you feel connected even when apart from other people?
What does it mean to feel together?
If creating a patch, your base fabric should be 20 inches x 20 inches in total, with an inner border of 1 inch to give us room to sew together (45cm x 45cm with an inner border of 2.5cm). You are welcome to use whatever colours and materials you wish.
If you're new to sewing and appliqué and don't have a sewing machine, we've created a pack with simple step by step instructions (instructions in English and Urdu). To download a digital copy of the pack click here.
When complete, please email chelseamorgan@coliseum.org.uk or leave us a message on 0161 785 7026 to register your contribution, and we'll collect them as soon as we're able to.
In the meantime, if you're on Social Media, we'd love to see your works in progress. Please tag us on Twitter@OldhamColiseum, Facebook/oldhamcoliseumtheatre and Instagram@OldhamColiseum.
(Pictured: a patch being created by a member of the Hathershaw Chai Ladies)
---
What goes on behind closed doors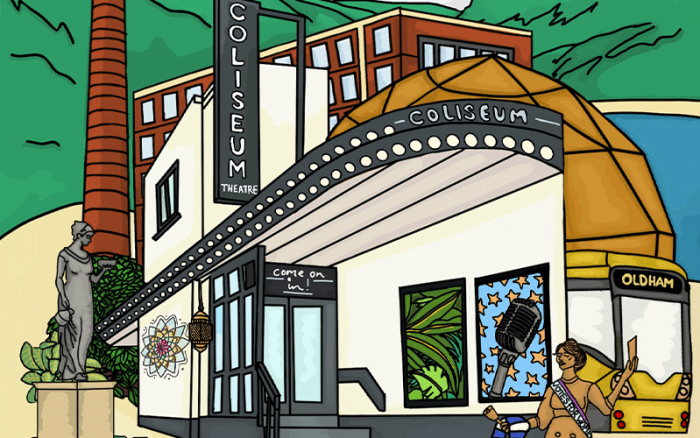 On Monday it will be 19 weeks since we closed our doors to help slow the spread of the virus. Although our building may be closed, our work has never stopped. Here's a look at what we've been up to and what we've achieved whilst Harold (our friendly spectre) has been looking after the Coliseum stage.
Launched our

Mini-Podcast Series

sharing over 20 new audio-plays so far, ranging from 100 words to 20 minutes
Launched on World Theatre Day 2020 (27 March), our Mini-Podcast Series shares original works by people of all ages and backgrounds from our communities, recorded remotely by professional actors, with an introduction from the theatre's Artistic Director Chris Lawson and edited by the theatre's Digital Associate Grant Archer.
With four episodes now available online we have already recorded and aired new works by well-known names, disabled artists, professional playwrights, emerging writers and young people from the local area. The Coliseum's Mini-Podcast Series is free to access via our website. Learn more here
Co-commissioned a local artist to create the Poetry Health Service
From Coliseum Associate Artist Hafsah Aneela Bashir, the Poetry Health Service (PHS) is a brand new, free online service which champions the importance of art to support mental and emotional wellbeing. Available by a dedicated website and phoneline the PHS gifts users a poem from a collection of exciting, inspiring, heart-warming and healing poetry by writers from across the world tailored by their responses to a colour-based flowchart.
Engaged over 250 Young People in two creative writing challenges
From the creative engine of our Learning and Engagement Department The 'Off Out' Monologue Challenge and the 'Take Two' Duologue Challenge helped young people to keep their creative spirits alive in lockdown.
Inspired by the UK lockdown the 'Off Out' Monologue Challenge invited young people to write about a character's once-daily trip out of the house. Three of the submitted monologues were chosen to be recorded by professional actors for Episode 2 of our Mini-Podcast series.
The 'Take Two' Duologue Challenge invited young people to imagine a scene in which characters from different Coliseum productions met, asking what they would think of each other and what they would say.
Shared our 2019 musical The Hired Man with over 12,500 people online
Alongside our co-producers Queen's Theatre Hornchurch and Hull Truck Theatre we streamed summer 2019's hit The Hired Man online for a week, allowing audiences across the country (and indeed the world) to relive all the emotion of Melvin Bragg and Howard Goodall's epic musical in our multi-award nominated production.
Made over 80 phone calls to participants who are at risk of experiencing loneliness and isolation due to the lockdown
In more normal times the Coliseum hosts multiple groups, giving people from our communities the opportunity to meet socially in a welcoming, creative and safe space. We've made sure to keep in touch with members of those groups who may be experiencing loneliness and isolation at home throughout the lockdown. A friendly voice over the phone can go a long way.
Live streamed a gig featuring songs from previous Coliseum shows to over 400 people (almost a full auditorium)
On Thursday 30 April actor and musician Lauryn Redding performed a free gig on the Coliseum's Instagram Live. Lauryn is well-known to Coliseum audiences from her performances in The Hired Man (2019), Bread & Roses (2018), Up 'N' Under (2017), Oh What A Lovely War (2017) and Dreamers (2015). Her gig on the Coliseum Instagram featured a mix of original songs, covers and songs from previous Coliseum productions.
Distributed over 100 creative craft packs for people in our communities
Our Learning and Engagement department have created two craft packs for people from across Oldham and its surrounding communities so that they have the resources to take part in creative activities at home. We have been distributing the packs from a safe social distance since May.
Launched a new creative community project with partner groups from across Oldham
In partnership with Women's Chai Project, Housing 21, Jigsaw Homes and Pakistani Community Centre, Stitch invites individuals and groups to create patches of positivity responding to the theme of 'togetherness' which will be sewn together into a patchwork quilt by our professional Wardrobe team and displayed at the Coliseum when we are able to come together again. Learn more here
Supported 200 freelance artists through the GM Artist Hub advisory sessions
Arts organisations across Greater Manchester have come together to offer our support to independent practitioners, artists and companies in our region. The GM Artist Hub offers free 30 minute advisory sessions on Mondays and Wednesdays plus select group workshops. Learn more here
Held 16 workshops online
Our script writing group, Scribbles, moved online, led by Amie George, plus our Youth Steering Group (TSG) had a special session and theatre practitioner Rachel McMurray led a two-part Zoom session on Applied Theatre.
(Pictured: Our 2020 Spring-Summer brochure cover – illustration by Rose Sergent)
---
Learning and Engagement: Summer Challenges for young people

This August our Learning and Engagement team will be running a range of creative challenges for young people of all ages that can be completed from home – inviting you to showcase your skills in photography, art, and drama.
You will be able to send in your responses to us, with the opportunity to have your work featured online.
Keep an eye out on our Social Media channels for the grand Summer Challenges launch in August.
Twitter@OldhamColiseum
Facebook/oldhamcoliseumtheatre
Instagram@OldhamColiseum
(Pictured: Designer Katie Scott's costume illustrations for The Jungle Book)
---
Update on rescheduled events and our Box Office

Here's an updated handy list of all the events we have so far rescheduled or unfortunately had to cancel due to the pandemic:
Our Box Office team are set up in their living rooms and kitchens, working from home to process rescheduled events, contact ticket holders and amend bookings. This isn't something we can automate as we need to process each ticket holder's individual preferences, but we're working as quickly as we can. If you would like to contact Box Office you can do so by emailing boxoffice@coliseum.org.uk
Our Box Office phone line is not in use whilst our team are out of the building. Please don't try to call us, but instead bear with us and we will contact all ticket holders with information on the event(s) they have booked for as soon as we are able.
The Coliseum, like many theatres that have been forced to cancel performances, is a charity; and whilst ticket holders are all entitled to a refund for cancelled performances, we would ask, if you can, to consider either: having your ticket money refunded to credit on your account – which is valid for 12 months and can be used on any other show at the Coliseum – or to donate all or part of your ticket money to the theatre to enable us to continue to make great theatre in Oldham as soon as we're able. Your support is more vital than ever during this unprecedented time; it will help to ensure not only the Coliseum's financial sustainability, but also that of the artists, creatives and theatre makers we support.
(Pictured: the Coliseum Box Office)
---
100 Word Plays on air

On Monday evening Revolution 96.2 will begin to air the 100 Word Plays (about Oldham) series. The plays will run from 27 July – 19 August on weekday evenings at 10.15pm
In 2019 the Coliseum invited writers of all ages and levels of experience to submit short plays inspired by Oldham and consisting of 100 words or less. Throughout September the submitted plays were displayed around the theatre in crafty forms and creative places for audiences to discover and enjoy. This March we produced 17 of the 100 Word Plays as audio plays.
The 17 plays were written by well-known writers including Julie Hesmondhalgh and Christine Mackie, writers of previous Coliseum hits: Ian Kershaw (Bread & Roses, The Mist in the Mirror and Star-Cross'd) and Lindsey Williams (Meat Pie, Sausage Roll and Dreamers) and local emerging writers.
They were recorded remotely by a cast of Greater Manchester actors including: John Askew (Netflix's The English Game), Natalie Gavin (also Netflix's The English Game, plus Alma Capstick in ITV's Jericho), star of last year's pantomime Jack and the Beanstalk Sam Glen (also the Coliseum's productions of The Kitchen Sink and Star-Cross'd and BBC's Let it Shine with Gary Barlow), Darren Jeffries, Jack Radcliffe and Coliseum Associate and Supported Artists: Hafsah Aneela Bashir, RedBobble Arts (Kelly Munro-Fawcett, Louisa May Parker and Martha Simon), Fine Comb Theatre (Rachel McMurray and Catherine Morefield) and Sorcha McCaffrey.
The 100 Word Plays (about Oldham) were originally recorded for Episode 1 of the Coliseum's Mini-Podcast Series. You can hear them on Revolution 96.2, the radio station for Oldham, Rochdale and Tameside on Monday evening from 10pm.
(Pictured: the cast of the 100 Word Plays audio plays)
---
Your Coliseum Needs You

We'd like to express our utmost and heartfelt thanks to everyone that has donated to support our theatre so far during this crisis.
There are many ways you can support the Coliseum and help to keep theatre alive in Oldham.
Donate to the #YourColiseumNeedsYou campaign
Since 1885, the Coliseum has brought joy, entertainment and enrichment to Oldham through our work on stage and in the community. Oldham Coliseum Theatre is a Registered Charity (no. 508829) and we rely on income from tickets and bar sales. Closing the theatre makes maintaining our business extremely difficult.
In its 135-year history the Coliseum has only closed once before. Following 46 years as a popular theatre and music hall, in 1931 the theatre was converted into a cinema, closing nine months later. In 1939 the Coliseum was reopened by passionate theatre lovers the Oldham Repertory Theatre Club. The rest, as they say, is history. Learn more here
Become a member of Our Coliseum
For £30 for a year Our Coliseum members receive a host of exclusive benefits.
£10 off your first booking

10% off at our bars and kiosk

2for1 tickets to opening night of all Coliseum productions

Exclusive offers in a monthly newsletter

Annual car park pass for evenings at Bradshaw St.
Although we're not currently able to offer many of the membership benefits due to the closure we've been heartened to see our audiences buying memberships to help support us. We're looking forward to a time when we can provide all Our Coliseum members with all of these benefits and exclusive offers once again. Learn more here
Become a Patron of the Coliseum
By becoming a Patron of the Coliseum's work individuals, couples and families can enjoy a special relationship with the theatre and play a vital role in helping to continue our history in the town and contribute to its ongoing regeneration.
Patrons are an integral part of our company and as such are at the heart of what we do. Once we return to the Coliseum, Patrons will once again receive invitations to Press Nights, special behind-the-scenes events to see how our work is made and exclusive talks from actors and theatre professionals. Learn more here
Sponsor a seat in our auditorium to celebrate a lasting memory, celebrate something special or profile your company. Seat sponsorship costs £250 and your donation will be used to support all aspects of the theatre's work – from the production of plays to our extensive programme of education and activity in our local community.
In recognition of your donation, we'll place a plaque on the seat of your choice in our Auditorium. The distribution of the plaques is allocated on seats on a first come, first served basis. You can choose the text inscription on the plaque and we'll keep the plaque on the seat for ten years. Learn more here
Thank you to everyone who has donated to the Coliseum so far in this unprecedented time. Your support means the world to us, it's helping to keep theatre alive in Oldham.
Click here to donate to the Coliseum
If you are unable to donate right now, please help us by sharing our message.
(Pictured: Bread & Roses, 2018)
---
Our favourite Coliseum memories

With such a long history there are near countless fond memories of the Coliseum. We asked our team for some of theirs to share with you.
Box Office Assistant Rachel Hollister has been involved with the Coliseum since she was young. She performed in the chorus for our pantomimes and musicals for several years before she joined the team behind the Box Office counter. Rachel said: "One of my favourite memories of the Coliseum was being part of Our Day Out: The Musical. Everything about the show was incredible – the cast, creatives, and the chorus (which I was part of). I played one of the 'boring girls' who spent the entire show moaning about how boring everything was. I couldn't get away from it even after the show finished and for a good two years afterwards, I still had people quote the phrase 'it's boring!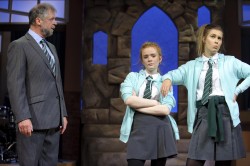 "One thing I'll never forget is opening night. The music started and most of the cast minus two started off stage, so we were all stood together. Our hearts were pounding full of nerves and excitement and as soon as we started singing the first song which was Our Day Out it sent goose bumps all over my body. It was absolutely immense. There is no better feeling than being stood side-stage waiting to go on with the rest of your team. The adrenaline rush you get is incomparable, especially on opening night when there's a live audience waiting to see it for the first time. It's incredible. I don't perform anymore unfortunately, but Our Day Out gave me memories I'll never forget, lifelong friends and the Coliseum will always hold a special place in my heart"
(Pictured: Our Day Out: The Musical, 2014)
---
Oldham Coliseum Theatre gratefully acknowledges funding from:

Oldham Coliseum Theatre is a Registered Charity, No: 508829.
Oldham Coliseum Theatre Ltd Reg No: 1415547