July 2019 Newsletter
This month we're launching a new initiative for short plays about Oldham, our busy Learning and Engagement Department are celebrating and sharing creative work produced by people in Oldham's communities and we look ahead at some of the events coming up at the Coliseum toward the start of our new Autumn-Winter season.
Read all about it – plus even more updates on what's going on behind the scenes here at the Coliseum – below.
---
Oldham in 100 Words
This September the Coliseum will be brimming with short plays about Oldham, and we'd like you to write them.
We're inviting writers of all ages and levels of experience to submit plays about our town that are 100 words or less (including stage direction). The plays can be about anything connected with Oldham – the people, the history, the future, the landmarks, even the tubular bandage!
We'll select 100 of the 100 Word Plays to exhibit at the Coliseum – all around the theatre in crafty and creative forms and places, from September, and another 20 of the 100 Word Plays to be recorded and curated into a podcast.
The deadline to submit 100 Word Plays is Monday 19 August at 10am. Click here for full details and submission guidelines.
---
Build your own Season Ticket

This Autumn and Winter we're giving you control of your Season Ticket with a multi-buy offer.
Following feedback from you, our audiences, we've created a more flexible Season Ticket offer that rewards your loyalty with bigger savings. We've also reduced our drama ticket prices for the first time in seven years and put together a programme with more variety than ever before.
The Autumn/Winter 2019-20 Season Ticket includes: No Man's Land, Strangers on a Train Set, Gym & Tonic, Black Men Walking, Trojan Horse, Four Minutes Twelve Seconds and Absurd Person Singular.
For the first time, there are no set shows that you have to see with a Season Ticket deal, giving you complete control over what you see and what you don't.
No Man's Land (5-7 September) is a dark comedy by Nobel Prize winning writer Harold Pinter which sees two elderly writers – one famous and wealthy and the other a down-at-heel poet, in an alcohol fuelled night of reminiscence and power games.
Strangers on a Train Set (11-14 September) is a new show from Britain's favourite literary lunatics, LipService. This time, the comic duo are taking on train related crime fiction.
Gym & Tonic (1-2 October) is John Godber's laugh-out-loud comedy set in a health spa.
Black Men Walking (24-26 October) follows three friends who walk through the Peak District, and 2000 years of Black British history.
Trojan Horse (6-7 February) looks at the true story of a community torn apart by racial divisions following accusations of 'hardline' Muslim teachers and governors plotting extremism in Birmingham schools.
Four Minutes Twelve Seconds (21 February–7 March) is a topical drama that looks at how we see ourselves and others and highlights the dangers of modern technology.
Absurd Person Singular (10-14 March) is Alan Ayckbourn's much-loved classic set over three successive Christmas parties.
How does the offer work?
It's simple, the more you book the more you save
Book two shows – save 5%
Book three shows – save 10%
Book four shows – save 15%
Book five shows – save 20%
Book six shows – save 25%
Season Ticket holders can still take advantage of free parking on Bradshaw Street for evening performances and, if booking four or more shows, the option to spread the cost by Direct Debit.
To book your Season Ticket click here to book online or call our Box Office on 0161 624 2829.
---
Coming Soon: No Man's Land

London Classic Theatre open their Autumn 2019 national tour of Harold Pinter's dark comedy No Man's Land at the Coliseum on Thursday 5 September.
A chance meeting of two elderly writers – Hirst, an alcoholic upper-class litterateur, and Spooner, a down-at-heel poet, leads to a drunken night of reminiscence. As the shadows lengthen and the whisky flows, their stories become more elaborate and improbable, forcing us to question whether the two men actually know each other. The comedy and ambiguity intensify when the arrival of two younger men, Briggs and Foster, forces events to take an unexpected turn.
Playwright, director, actor, poet and political activist, Harold Pinter was born in 1930 in East London. He was one of the most influential modern British dramatists, with a writing career that spanned over 50 years and a Nobel Prize for literature under his belt. His best-known works include The Birthday Party, The Homecoming and Betrayal. No Man's Land premiered at The Old Vic in London in 1975, starring John Gielgud and Ralph Richardson. Other notable revivals include Almedia Theatre in London in 1993 in which Pinter himself played Hirst and a production which ran on New York's Broadway in 2013 and London's West End in 2016 staring Sir Ian McKellen and Sir Patrick Stewart.
Launched in 2000, London Classic Theatre is one of the UK's leading touring theatre companies. Their recent visits to the Coliseum include: Charlotte Keatley's My Mother Said I Never Should earlier this year, Terry Johnson's Hysteria (2017), Harold Pinter's The Birthday Party (2016) and Samuel Beckett's Waiting for Godot (2015). The Coliseum is the first of 22 venues across the country to receive their new production of No Man's Land.
No Man's Land comes to Oldham from Thursday 5 – Saturday 7 September. Click here to learn more and book tickets.
---
From the arches to Oldham: 53two present Tinned Up in the Main House Takeover

As part of this year's Main House Takeover, Manchester's 53two and Manchester Actor's Platform (MAP) present Chris Hoyle's Tinned Up on the Coliseum's Main Stage from Tuesday 24 – Thursday 26 September.
Tinned Up was inspired by Salford streets affected by demolitions, where people were forced to leave their homes to make way for regeneration.
In it we meet Shirley Parkin, who has lived at number ten Brook Street, Langworthy, all her life and is adamant that she isn't going anywhere. A spirited spinster, she has defied the council for years, refusing to move out of her modest two-up-two-down terrace. Beryl, a foul-mouthed friend, Joy, an unhappy single mother and Daz, a thirty-year-old stoner, campaign alongside her to keep their local park from the cold grasp of profit-hungry developers.
We spoke to Simon Naylor, Artistic Director of 53two, about the production:
Why did you choose to produce Tinned Up?
As 53two is forced to move out of its home for a development, a play about being forced out of a home for development was an obvious choice! Tinned Up is fantastic – a beautiful piece of theatre from Chris Hoyle. I had the pleasure of directing The Newspaper Boy at 53two, which was also written by Chris, and this piece is just as good. Heartwarming, moving, powerful, relevant and hilariously funny – a classic Hoyle!
What are 53two and Manchester Actor's Platform up to right now?
53two are fundraising for our new home! We're a registered charity and we spend as much time and money as we can on supporting emerging talent and providing accessible theatre. Currently, without a theatre to produce in, we're relying on brilliant venues like Oldham Coliseum to give us a home. We've also been lucky enough to secure studio spaces in central Manchester, from which we can still continue to support other charities and artists. Planning is due to be submitted for the new venue very soon, then it's all systems go!
What are you most looking forward to about coming to the Coliseum?
For me, Oldham has always been a part of my career – I started attending the Youth Theatre Workshop there at age 13. I'm also from Bury and so, although a staunch Manc, I feel very strongly about Greater Manchester being as much a part of this great region's bustling personality. Oldham is just that – the theatre is the centre of the community and a beautiful venue, steeped in history and run by a team working incredibly hard to produce quality theatre for everyone. On top of this, Oldham does have some areas that I feel have done or, indeed, are a part of what this piece is about and so, again, it makes sense to use this play to start or continue important discussions about gentrification, a growing population and regeneration of the area.
Spanning two of Deansgate's famous tunnels, 53two were one of the central venues for Manchester's independent theatre scene, operating as a theatre with space for exhibitions, gigs, events, celebrations, rehearsals, classes, conferences and more. Having closed their doors earlier this year whilst they prepare to move to a new premises to continue their work, 53two are currently operating studios in central Manchester providing rehearsal, workshop, meeting and casting space.
Tinned Up runs at the Coliseum as part of the Main House Takeover from Tuesday 24 – Thursday 26 September. Click here to learn more and book tickets.
The Main House Takeover brings the new and often daring work seen across the North West's independent theatre scene to Oldham's historic Main Stage. The Takeover also features a One Night-Special showcasing the Coliseum's pick of this year's Greater Manchester Fringe Festival.
The Greater Manchester Fringe Festival takes place in venues across Greater Manchester throughout July, with over 100 shows covering a range of genres. We're busy seeing as many shows as possible throughout the festival to select the winner of the Coliseum's Pick of the Fringe Award, who will then have the opportunity to perform at the Coliseum in September.
See our Pick of the Fringe on Friday 27 September. Click here to learn more and book tickets.
---
Verbatim theatre explores the history of the LGBTQ rights movement

Powerful verbatim theatre piece Riot Act comes to the Coliseum Studio this July as part of a UK Pride Season Tour.
Taking place on Saturday 27 July, coinciding with Oldham Pride 2019, Riot Act explores the history of the LGBTQ rights movement, taking audiences on a journey through six decades of queer history.
Writer and performer Alex Gregory interviewed Michael-Anthony Nozzi, one of the only remaining survivors of the Stonewall Riots; Lavinia Co-op, a 1970s London radical-drag artist and Paul Burston, a prominent 1990s AIDS activist to create this verbatim piece.
Producer Rob Ward commented: "With recent developments in Brunei as well as protests outside primary schools in Birmingham, Riot Act provides a timely reminder just how precious these rights are and how passionately they must be defended."
Provocative, tender, truthful, funny, political and personal, these are stories of queerness, sexuality, activism, addiction, family, childhood, love, sex, drag, community, togetherness, conflict, identity, youth, ageing, loss, fierce queens and a Hollywood diva.
Riot Act comes to the Coliseum Studio on Saturday 27 July at 2.30pm. Click here to learn more and book tickets.
---
Join the cast on stage in this year's pantomime

We're on the lookout for talented young people aged between 8 and 15 to join the young chorus of this year's pantomime, Jack and the Beanstalk.
The Coliseum's annual pantomime is nationally renowned, described last year  by The Guardian as "A lovingly made dessert of a panto" and Upstaged Manchester as "the best traditional panto in the North".
Pantomime is the biggest show of the year at the Coliseum, attracting audiences of 35,000 people. Joining the pantomime as part of the chorus gives young people the opportunity to perform alongside the theatre's cast of professional actors, including pantomime favourite Richard J Fletcher, who makes his debut as the Pantomime Dame this year after 11 years as the Coliseum's beloved Pantomime Comic.      
Oldham Coliseum Theatre's nationally renowned pantomime has been putting the extra sparkle into the festive season for generations; with all the ingredients for fantastic family fun: hit songs, silliness, a sprinkling of fairy dust and a generous helping of It's Behind You! In Jack and the Beanstalk poor young lad Jack sells his cow for magic beans, much to the dismay of his mother. But when the beans grow into a gigantic beanstalk Jack and Jill set off for an adventure in the magical land above the clouds.
We're looking for three teams made up of both boys and girls to form the chorus for Jack and the Beanstalk. Auditions will take place on Sunday 1 September at the Coliseum. Audition times will be allocated based on age and slots can be registered for by downloading the form here and returning it to casting@coliseum.org.uk. The deadline to register for an audition slot is Monday 26 August at 9am.  
Those interested in joining the pantomime chorus must be able to dance and should wear clothes that they can easily move around in to their audition. There is no need to prepare anything in advance. If chosen to be part of the chorus, each young person will need to have approximately six full days and four half-days off school for performances. Rehearsals for Jack and the Beanstalk young chorus will take place on two weekday evenings and Saturday days each week between 28 September – 16 November (exact dates to be confirmed). Successful chorus members will need to have excellent availability for rehearsals.
Oldham Coliseum Theatre's annual pantomime has been entertaining families of Oldham and beyond for generations. Joining the pantomime's chorus is an amazing opportunity for young aspiring performers to take part in a professional, fun-filled and much-loved theatre tradition. 
---
Coming soon: Oldham Theatre Workshops's Prom! The Musical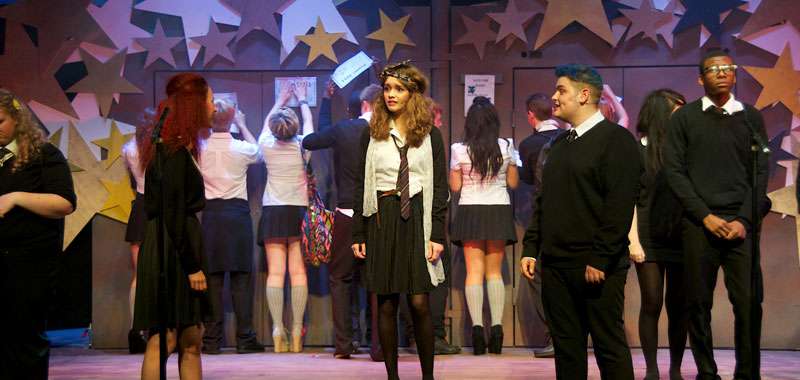 Oldham Theatre Workshop revive their teenage take on the Cinderella story, Prom! The Musical, at the Coliseum this month.
Prom! is an upbeat explosion of magic and music as two schools in parallel worlds: the magical school for Fairy Godmothers, Defixus, and the real-world school, Delawick, collide. The energy infused piece of musical theatre will performed by talented young actors, singers and musicians, offering the change to see future stars in action.
OTW first presented Prom! at the Coliseum in 2010 featuring young performers who have since gone on to work both on stage and on the big screen: Sam Glenn, who performed in the Coliseum's hit production of The Kitchen Sink alongside Sue Devaney and has also appeared in Coronation Street; Olivia Cooke, who has recently appeared in Vanity Fair and Ready Player One and Caitlin O'Ryan who has appeared in Outlander.
Sam Glenn commented: "The Coliseum is such an incredible theatre to perform in. It's a beautiful space – it feels like you're coming back home when you walk out on that stage. Prom! is an exciting new musical which celebrates being different, being quirky and the power of friendship. I can't wait to see what the team have done with the revival. I think the piece is timeless and it will resonate now just as it did then. I have no doubt it'll be an incredible spectacle. I'll be on the front row singing along! If you're up for a fun all-singing, dancing night of laughter and maybe a few tears, book your ticket now"
Prom! The Musical runs from Wednesday 24 – Saturday 27 July. Click here to learn more and book tickets.
---
Supporting new work at Edinburgh Fringe Festival

We're supporting two shows made in the North of England at this year's Edinburgh Fringe Festival: Best Girl by Christine and Lois Mackie and Men Chase Women Choose by People Zoo Productions.
The Coliseum is part of Venues North, a network of over 40 venues based in the North of England who share a commitment to supporting artists making new work.  Over the course of the year member venues support many artists and companies to create new work; and working collectively, we've created a Venues North Guide for the Edinburgh Fringe Festival to highlight and showcase the shows on offer at this year's Festival that are supported by Venues North members.
Best Girl by Best Girl Productions
Written by actor Christine Mackie (the Coliseum's production of Whisky Galore and Coronation Street's Dr Gaddas) Best Girl is semi-autobiographical play inspired by the loss of her father.
Meet Annie, a veteran's child on her way to change her life. Performed with humour and honesty by her daughter, actor Lois Mackie (Leeds Playhouse, Elysium Theatre Company and Hope Mill Theatre), this is a tour-de-force one-woman show about the power of the past and the search for a hopeful future.
Best Girl runs at The Cellar, Pleasance Courtyard from 31 July – 26 August. Learn more here.
Men Chase Women Choose by People Zoo Productions
With its title derived from one of many gender myths that pervade our society, this show is intent on skewering some widely held beliefs and unearthing the bad science behind them.
Men: Are you tired of chasing women down the street? Women: Are you deafened by the hoarse mating cries of your prospective suitors? Darwin says it's our biology. But is it?
Taking the form of a sketch show, with co-creators Sophie Giddens and Eve Shotton at the helm, Men Chase Women Choose is an informative and uproarious feminist romp that features fruit flies, film, physical theatre and a flute solo, putting women, sex and science under the microscope.
Men Chase Women Choose runs at Summerhall from 13-18 August. Learn more here.
Venues North's aim is to work together as venues to get work made in the North seen more widely regionally, nationally and internationally.
Click here to view the full Venues North Edinburgh Fringe Festival Guide
Click here to learn more about Venues North
---
TheatreLab present Monkey Bars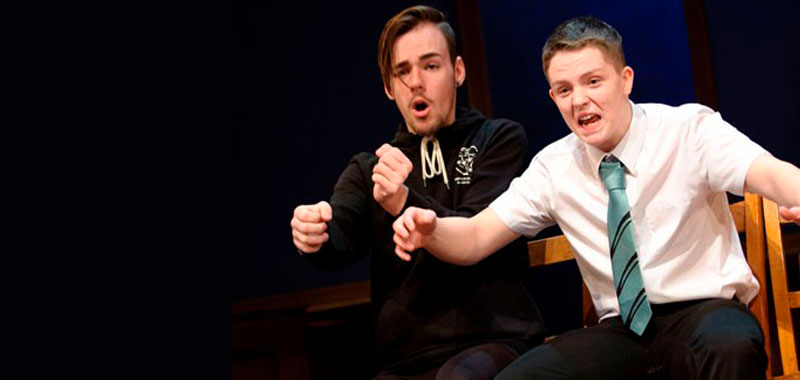 The Coliseum's Youth Theatre, TheatreLab present Chris Goode's Monkey Bars on Saturday 20 July.
Monkey Bars is a verbatim piece of theatre which takes real life conversations with children and presents them as adults, in grown-up situations. It was first performed Edinburgh Fringe Festival in 2012 in a Chris Goode & Company and Unicorn Theatre co-production, followed by two sell-out runs at the Unicorn Theatre in London.
Award‐winning writer Chris Goode teamed up with Karl James (The Dialogue Project) to ask 6‐11 year olds to talk about their lives, their thoughts and their world. In Monkey Bars their words are spoken by adults. Not adults playing children, but adults playing adults.
"A discussion about one child's favourite sweets takes the form of a job interview in front of a panel of three. A conversation about nightmares and being chased by a blue bee takes place in a restaurant over glasses of wine. A small girl, quizzed about writing stories, is presented as if it is an intense discussion at a literary festival. Translated into adult situations, the words of children take on a new gravity, but also highlight the absurdities of the adult world." – The Guardian on Monkey Bars' original run at Edinburgh Fringe Festival, 2012
From tales of a ski-lift accident to a discussion about the perfect cake, Monkey Bars examines how different children and adults really are.
TheatreLAB is our Youth Theatre for 13 – 21 year olds which runs on a Tuesday evening from 6-8pm at a cost of £3 per session or pay what you can. The group explore different forms of theatre.
Tickets for Monkey Bars are £3. Learn more and book online here.
To learn more about TheatreLab contact Learning and Engagement Officer, Ben Cain at bencain@coliseum.org.uk
---
Jigsaw Homes residents enjoy an evening with The Hired Man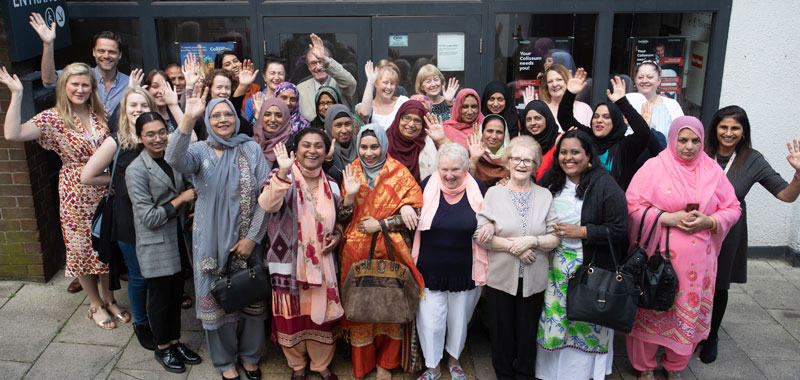 Earlier this month staff and residents from Jigsaw Homes Group enjoyed a VIP evening at the theatre with a production of The Hired Man, plus a food and drinks reception in the interval. 
Jigsaw Homes Group are the Coliseum's Major Partner. The two organisations have been working together for five years to deliver an in-depth scheme of work, introducing residents to the theatre and providing several opportunities to engage with groups and bespoke projects with a focus on creativity, health and employability. 
Alongside VIP events to see the Coliseum's productions, opportunities on offer for Jigsaw residents include: Teaching Theatre Pathways – a hands-on work experience project for young people who are not currently in education, employment or training, the Jigsaw Women's Group, drama work with adults that have additional needs at Somerset House and the annual International Women's Day event. 
The Hired Man ran at the Coliseum from Thursday 20 June – Saturday 6 July. An epic musical by Melvyn Bragg and Howard Goodall, the production featured a cast of 11 talented actor-musicians telling the story of young married couple John and Emily Tallentire, and how their lives were shaped by farming, mining and World War One. 
---
Join us: Trustees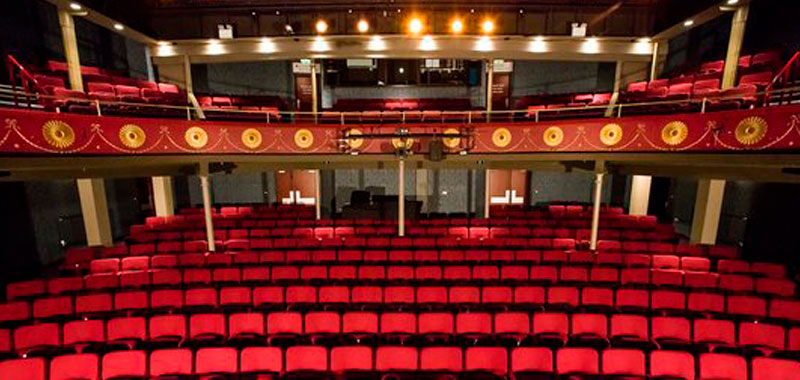 We're recruiting new Trustees to join the Coliseum's board.
The role of Trustee is a voluntary position and requires dedication to the theatre's development, ensuring that the Company fulfils its charitable purpose.  All of our trustees are ambassadors for our work and community.
Whilst we welcome applications from all individuals, we're particularly interested in applicants with a strong financial background to complement the current membership of our board. We're also keen to recruit individuals with the skills, experience and willingness to serve as Chair of the board. An interest in theatre and experience of representing organisations both internally and externally at a senior level is also desirable.
The Coliseum welcomes applications from all sections of the community in order to reflect the diverse community which we serve.
---
Learning and Engagement: Tackling social isolation and celebrating the creativity of our communities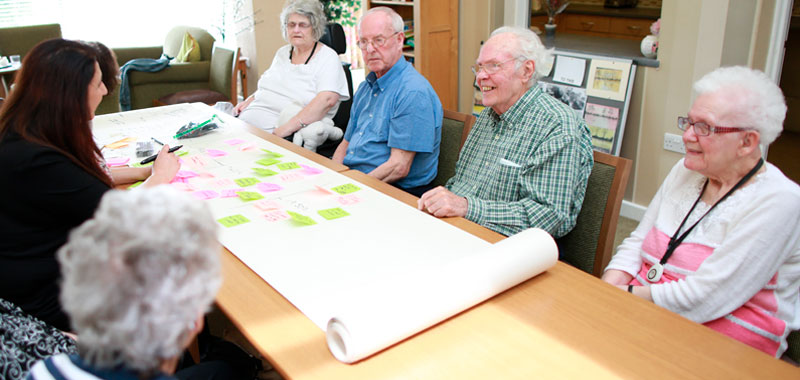 This summer the Coliseum's busy Learning and Engagement Department are presenting three events to celebrate the creative work produced by people in Oldham's communities.
Culture Hubs – Thursday 18 July, 11am
The Coliseum has been working in partnership with Housing 21, a leading not-for-profit provider of retirement housing and extra care for older people, since 2018. Taking place this morning at the Coliseum, Culture Hubs was a culmination and celebration of the artwork, writing and poetry produced by Housing 21 residents across Oldham, performed by professional actors.
Local Lives – Thursday 18 July, 4pm
In partnership with Regenda Homes, as part of Thriving Hollinwood PBI initiative,  the Local Lives project was set up to identify people living within the Hollinwood area who may be feeling socially isolated or lonely. Working with local partners in the Hollinwood area to identify and refer people into the project, the Coliseum ran creative sessions exploring the local area with people from a range of different settings, ages and backgrounds to develop insights into how people view and  envisage the themes of community and togetherness.
Taking place at the Coliseum this afternoon, the Local Lives performance is a culmination of the conversations that took place; the memories, stories and thoughts generated within each workshop setting. Performed by a cast of professional actors, every word of the short play was spoken or has been developed by people living in Hollinwood. The story highlights the importance of everyday conversations, social interactions with different people from our community and a good cup of tea! We hope to use the event as a way of referring people to other relevant services, launch legacy projects, share learning and importantly, bring people together.
Hands & Hearts – Tuesday 13 August, 2pm
We're passionate about making the Coliseum a creative and accessible place for our community. With thanks to The Big Lottery Community Fund we're delivering sessions across Oldham with people living with dementia and their friends/carers. Using puppetry, the project is focussed on making and sharing stories and bringing them to life through playful hands-on approaches.
On Tuesday 13 August we're holding a sharing of work from creative sessions we've been delivering with people living with dementia across Oldham. There will be taster workshops on the day and an opportunity to chat with the makers of the show.
Hands & Hearts is free to attend, but must be booked in advance at Box Office or by phone on 0161 624 2829.
---
RedBobble Theatre introduce Female Artist Network North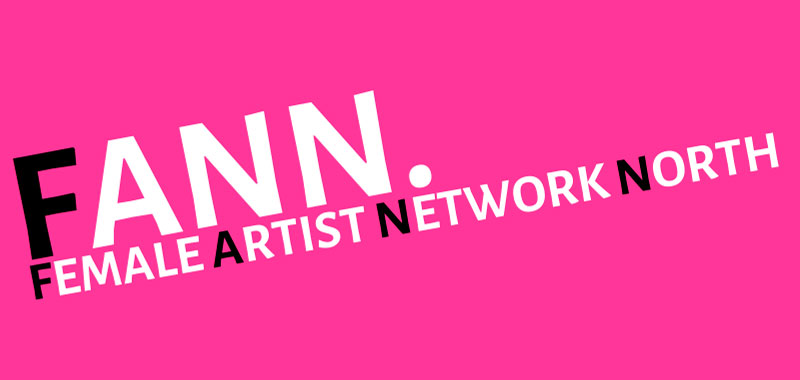 Female Artist Network North (FANN) are having their first ever Manchester meet up in the Coliseum's Studio on Thursday 25 July.
Created by RedBobble Theatre, FANN is intended to connect, inspire, celebrate and support women in the arts. Are you a female identifying creator or maker? FANN would love to hear about your skills and what it is you feel you need in order to keep making. Where are your gaps in knowledge? What are your blind spots? What would you like from FANN? Some ideas currently include: skill swapping, networking, seminars on specific topics, scratch sessions and eventually, opportunities to showcase work collectively.
RedBobble's specialism is live performance but they're excited to meet women from all art forms. There is no need to prepare anything in advance of the meet up, the session will be relaxed and friendly, all they ask is that you arrive with a smile and an open heart. Refreshments will be provided. The session is free and will last no longer than 2 hours.
Click here to learn more about the FANN Manchester Meet Up
Click here to learn more about FANN and RedBobble Theatre.
---
Fantastic Family events coming to the Coliseum

As well as pantomime, this season we've added more great family shows to our programme to delight little-ones of all ages.
On Saturday 21 September four enormously talented girls bring you up close and personal with the greatest female pop stars of today in a fun packed show featuring all the best songs from Meghan Trainor, Ariana Grande, Beyonce, Rihanna and more. With dazzling choreography, state of the art videos and superb vocals Pop Divas Live! is the perfect pop concert experience for the little divas in your life. Click here to learn more and book tickets.
Following two sell-out shows at the Coliseum earlier this year Sing-a-Long-a The Greatest Showman returns on Saturday 25 January, giving you the opportunity to experience The Greatest Showman with on screen lyrics so you can join in as loud and proud as you like. Fancy dress is strongly encouraged! Click here to learn more and book tickets.
On Saturday 21 March 2020 Immersion Theatre presents a brand new musical adaptation of Rapunzel. This witty, tongue-in-cheek retelling of the family favourite is complete with a laugh out loud script, catchy songs, audience interaction and an exciting array of magical characters, including a wickedly boo-able witch, a clumsy Prince and a feisty princess with the longest hair you're ever likely to come across. Click here to learn more and book tickets.
From Friday 27 – Saturday 29 March Freckle Productions and Rose Theatre Kingston bring a magical stage adaptation of Julia Donaldson's much loved children's book Zog to the Coliseum stage. Zog is eager to win a gold star at Madam Dragon's school, where dragons learn all the things that dragons need to know, and he's about to face his biggest challenge yet: a duel with a knight, Sir Gadabout the Great. Click here to learn more and book tickets.
Click here to see all forthcoming family events at the Coliseum
---
How to survive at your wit's end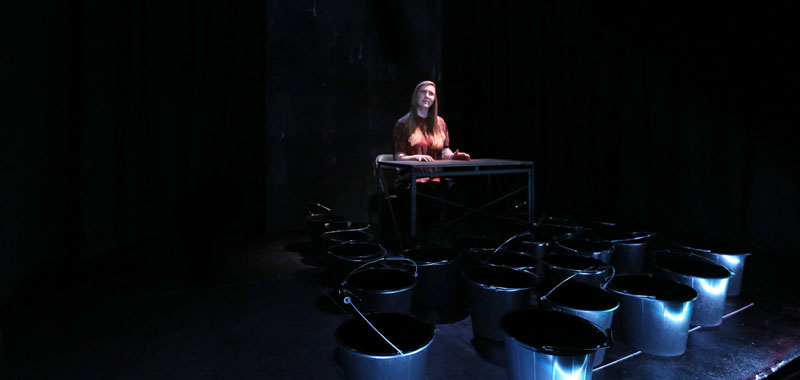 On Thursday 19 September Arc Stockton present Tensile Strength, a new play about stress, and why so many of us feel it to an unhealthy degree, in the Coliseum's Studio.
We've all been there, struggling with work, with relationships, feeling like things are all a bit too much… and then the cat goes missing.
Teesside based Holly Gallagher tells the stories of He, She & They, three people living in the same post-industrial northern town. As seasons pass, we follow them as they attempt to deal with the fear, pressure and uncertainty of everyday life.
Holly commented: "I made this show because I am stressed, quite a lot. I made it because I wanted to see if other people feel the same as me. And because people love to tweet about living on coffee and never sleeping all the while everyone's answer to 'how are you?' is 'tired.' and it's DAFT to go on like this to be honest."
Tensile Strength (or How To Survive At Your Wit's End) is a show about the world we live in now – we all worry about work, about family, about break ups, but why do they cause us to so feel stressed? This is a show which poses some urgent questions to a society which just can't seem to relax anymore.
Click here to learn more and book tickets.
---
Spotlight on: John Edwards, Lead Capital Fundraiser & Development Manager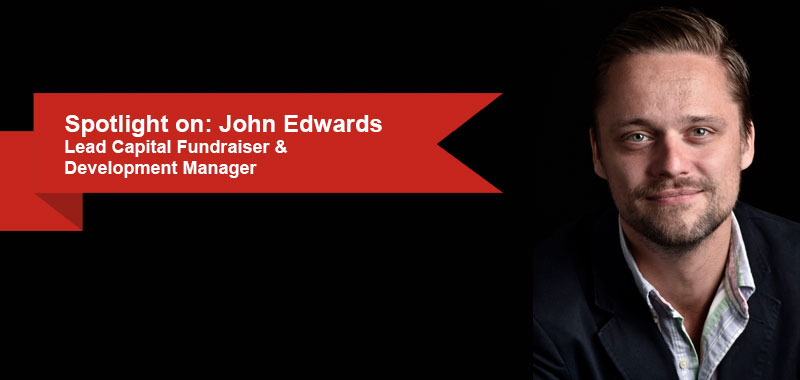 Introducing John: fundraiser, Development Manager and cricket fan.
How long have you worked at the Coliseum?
I've been here for six years.
What is your favourite production that you've seen at the Coliseum?
The Father was one of the best pieces of theatre I've seen in my life. It was poignant and innovative with an amazing abstract set and a wonderful performance from Kenneth Alan Taylor.
One that really surprised me was Jumpers For Goalposts. I found it funny, moving and it was nice to see Chris [Lawson] putting a fresh voice into the theatre.  
What is your favourite aspect of working at the Coliseum?
I've been a professional fundraiser for over ten years and, whilst a lot of the skills are transferrable with business development roles in the private sector, I really do believe in giving something back professionally and I feel that the Coliseum offers Oldham a fantastic community asset – not just what goes on the stage, but everything we do with underprivileged young people, older people and all the different communities of Oldham. Working closely with the Learning and Engagement Department is a real privilege for me.    
What are you currently working on?
We're doing a major project in partnership with The University of Manchester, continuing our work with Asian elders – exploring what 'home' means to them through a number of creative practises, but mainly exploring it through their physical and emotional relationship with textiles.
All of our sponsors and partners have continued to support the theatre this year and I'm also writing a lot of bids to Trusts and Foundations to complete new work with the Learning and Engagement department and continue our work with young people.
What are you currently looking forward to?
Even though it's summer I'm really looking forward getting pantomime going again. I absolutely love panto, I love bringing my kids and I really enjoy delivering the sponsors' VIP evenings and giving their staff and their children a really great evening.
This year we've got a record number of pantomime sponsors and it makes me really happy to host them, they're all lovely. They get to meet the cast and the kids are so excited, everybody's having a brilliant time and it's Christmas!  
Can you tell us an interesting fact about yourself?
I'm a life-long cricket fan. When England won on Sunday it was a huge moment for me – I don't think I've been that nervous or overjoyed since the birth of my children.  
---
Customer Experience Volunteers: Join us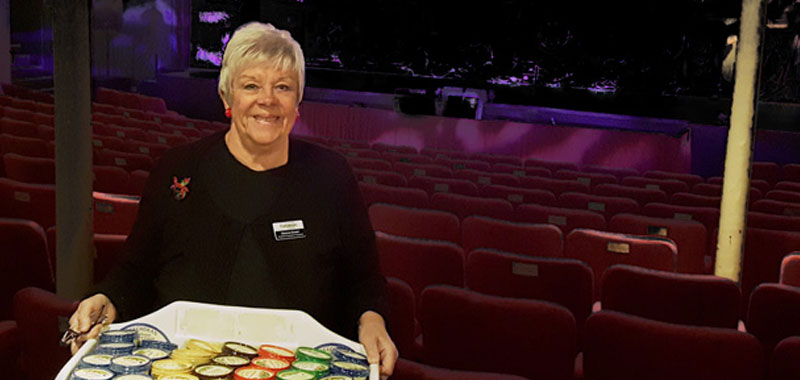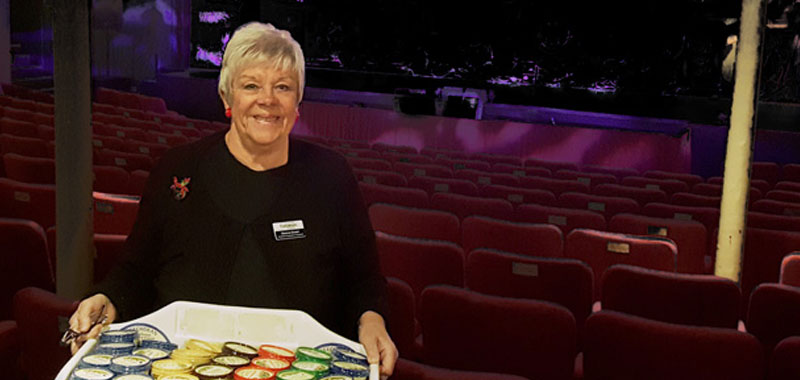 We're always on the lookout for friendly and reliable people to join our team of Customer Experience Volunteers, who help to look after our audiences from greeting them in the foyer, to selling programmes and ice creams, taking them to their seats and much more.
Customer Experience Volunteers must be 18+ and able to commit to a minimum of three months volunteering with us. No experience is needed as full training is provided.
Click here to learn more about becoming an Oldham Coliseum Theatre Customer Experience Volunteer or contact Heather Shaw, House Manager,  by phone on 0161 785 7021 or email heathershaw@coliseum.org.uk.
---
Oldham Coliseum Theatre gratefully acknowledges funding from:

Oldham Coliseum Theatre is a Registered Charity, No: 508829.
Oldham Coliseum Theatre Ltd Reg No: 1415547