January 2020 newsletter
This month we're getting ready to start rehearsals for our first Coliseum production of 2020, Four Minutes Twelve Seconds. We're also taking a look further forwards at some of the great productions, events and activities for all ages coming up this Spring.
Read all about it – plus even more updates on what's going on behind the scenes at the theatre – below.
---
On next: Trojan Horse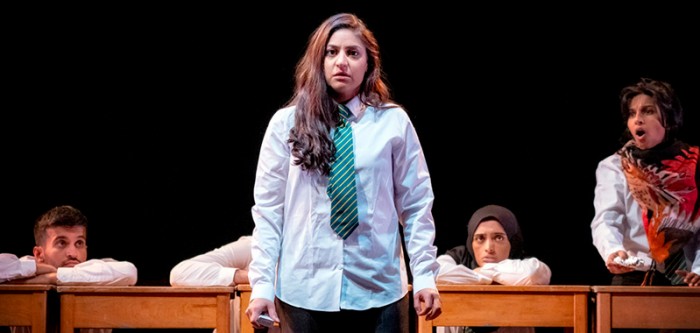 Coming to the Coliseum on Thursday 6 & Friday 7 February, Trojan Horse is the multi-award winning verbatim play about a local story that became a media storm.
In 2014 the Trojan Horse enquiry accused 'hardline' Muslim teachers and governors of plotting extremism in Birmingham schools. It became a national scandal and, despite the original Trojan Horse letter being dismissed as fake, by the time the summer came around students had to push their way past journalists to get into school to take their GCSEs.
Adapted from over 200 hours of interviews with teachers, students, parents and governors Trojan Horse aims to show what really happened, with a focus on the local Muslim community who were left 'broken' and 'demonised'.
Writers Helen Monks and Matt Woodhead commented: "The impact of the Trojan Horse inquiry is being felt more now than ever. The government began their investigation into Trojan Horse years ago. Since then the teachers and communities involved have been branded 'radical', 'extremist' and 'jihadi'. Why have we waited four years to hear their side of the story?"
LUNG are a national touring theatre company dedicated to developing innovative work that broadens horizons and investigates modern Britain. Working with specific communities across the UK to use their own words to tell their stories, LUNG produce new verbatim theatre with communities, by communities and for communities. Their previous productions include The 56, Chilcot and E15.
Trojan Horse was originally developed with Leeds Playhouse in 2018. It comes to Oldham as part of a national tour on Thursday 6 & Friday 7 February 2020. Click here to learn more and book tickets.
---
Coming soon: Four Minutes Twelve Seconds

Next week we start rehearsals for our first production of 2020, modern thriller Four Minutes Twelve Seconds.
Nothing dies online, except reputation.
Seventeen-year-old Jack has a bright future ahead of him; he's smart, outgoing and well on his way to leaving Oldham to study law at university. His parents have devoted their lives to giving him every opportunity they never had, but when an intimate video of Jack appears on the internet they are forced to doubt their son, his friends and ultimately themselves.
This modern thriller is an intense exploration of morality and the real-world implications of our digital lives and the Coliseum's production is the first professional production of Four Minutes Twelve Seconds outside of London.
Our cast features: Jo Mousley as Jack's mother Di; Lee Toomes as his father David;  Alyce Liburd as his (ex) girlfriend Cara and Noah Olaoye as his best friend Nick.
Jo Mousley was last seen at the Coliseum in our hit 2018 production of Relatively Speaking and our Manchester Theatre Award winning 2017 production of The Father. Her other recent credits include: Hello and Goodbye at York Theatre Royal and Be My Baby, Hamlet, A Christmas Carol, Europe and Road at Leeds Playhouse.
Lee Toomes completed a national tour playing Brian in The Full Monty earlier this year. His other credits include Beryl at West Yorkshire Playhouse and New Year New Work at Hull Truck Theatre.
Alyce Liburd's notable credits include: the 2019 programme at the award-winning pop-up Shakespeare's Rose Theatre in York, Out of Joint's national tour of Rita, Sue and Bob Too and Red Ladder's The Parting Glass.
Noah Olaoye is a current student at ALRA North, due to graduate in July 2020. His professional experience to date includes the workshop of Hope Mill Theatre's The Exonerated.
One character you may have noticed missing from this cast list is Jack himself, and that is because we as an audience never meet him. Instead we're forced to rely on his family and friends' versions of events as we, as well as his parents, attempt to decipher the villains from the victims.
Four Minutes Twelve Seconds made its world premiere at Hampstead Theatre, London in 2014. It earned writer James Fritz the Critics Circle Most Promising Playwright Award, was nominated for an Olivier Award and was runner up for Soho Theatre's Verity Bargate Playwriting Award the previous year. 
James Fritz is a multi-award winning writer from South London whose plays for stage and radio also include: Parliament Square (Royal Exchange Theatre, Manchester and Bush Theatre, London, 2017) and Ross & Rachel (Edinburgh Festival Fringe, 2015; 59E59 Theaters, New York).
Four Minutes Twelve Seconds runs from Friday 21 February – Saturday 7 March 2020. Click here to learn more and book tickets.
---
See it again: Approaching Empty online stream

Ishy Din's Approaching Empty came to the Coliseum as part of a national tour last April. This February, on the anniversary of its world premiere, you can watch the celebrated play again, online for one night only.
Forget friendship, this is business.
In a scruffy minicab office, Mansha decides it's time to create his own destiny and offers to buy the business from his lifelong friend Raf.  As the realities of the state of the company slowly unravel, these two best friends must confront the difficulties of going into business with those closest to them.
Set in the North of England in the aftermath of Margaret Thatcher's death, Approaching Empty is the compelling drama by taxi-driver-turned-playwright Ishy Din that lays bare the everyday struggles of a post-industrial generation of British men.
"Engaging" 
★★★★ – The Stage
Ishy Din's writing career started here in Oldham in 2007. His first short theatre script £1.50 to Pay came second in the British Asian writing competition BANG held by Oldham Coliseum Theatre, Tamasha Theatre and BBC Writers Room in 2007. His first full length play Snookered – a comedy set in a Middlesbrough pool hall – premiered at University Campus Oldham as part of the Coliseum's Out and About Season in 2012, winning the Manchester Theatre Award for Best New Play, before opening at London's Bush Theatre to further critical acclaim.
Approaching Empty – the web stream runs on Thursday 6 February at 8pm. Sign up for free online here  (duration 1 hour 40 minutes. Age guidance 14+. Contains strong language).
---
Thank you to everyone that donated to the Coliseum Christmas Collection

Over the Christmas and New Year period the Coliseum's loyal audiences generously donated £3,500 as part of our annual Christmas fundraising campaign.
Money raised will go toward continuing to deliver world-class theatre here in the heart of Oldham on our Main Stage and in our Studio. It will also help us to continue to work with some of the country's most disadvantaged young people though our Teaching Theatre training scheme, which helps young people return to education and find employment by providing training in real-world skills via theatre craft.
This wonderful support was raised through bucket collections during the run of pantomime and via postal donations. We'd like to say a huge thank you to everyone who donated. As a charity the Coliseum relies on the support of our audiences, sponsors and funders. Your kind donations help us to continue to offer the very best in theatre and training right here in Oldham.
---
Build your own Season Ticket

With our flexible Season Ticket your love of theatre is rewarded with big savings. You have complete control over which shows you see and when.
How does the offer work?
It's simple, the more you book the more you save
Book two shows – save 5%
Book three shows – save 10%
Book four shows – save 15%
Book five shows – save 20%
Book six shows – save 25%
The shows available in the Spring-Summer 2020 Season Ticket are: The Jungle Book, The Glee Club,  Friendsical, Jeeves and Wooster in Perfect Nonsense, Shandyland and Cooking With Elvis.
There are no set shows that you have to see with a Season Ticket deal, giving you complete control over what you see and what you don't.
Because our Season Ticket is a flexible offer you can also include shows from our current Autumn-Winter Season: Trojan Horse, Four Minutes Twelve Seconds and Absurd Person Singular.
Trojan Horse (6-7 February) looks at the true story of a community torn apart by racial divisions following accusations of 'hardline' Muslim teachers and governors plotting extremism in Birmingham schools.
Four Minutes Twelve Seconds (21 February–7 March) is a topical drama that looks at how we see ourselves and others and highlights the dangers of modern technology.
Absurd Person Singular (10-14 March) is Alan Ayckbourn's much-loved classic set over three successive Christmas parties.
The Jungle Book (3-19 April) is a modern musical reworking of Rudyard Kipling's famous children's story.
The Glee Club (12-16 May) is a raucous comedy about a group of miners preparing for the local gala.
Friendsical (18-20 May) is a musical parody inspired by the gang in Friends.
Jeeves and Wooster in Perfect Nonsense (26 & 27 May) is a joyous re-imagining of the classic PG Wodehouse characters.
Shandyland (9-20 June) is a story of life, love, death and drink at the heart of a small, northern, family-run pub.
Cooking With Elvis (11-26 September) is a provocative dark comedy about disability, sex, food and the King.
Season Ticket holders can also save 10% on tickets for award-winning pop-up theatre Roundabout, which comes to Oldham town centre from 27 June – 18 July in co-production with the Coliseum.
Roundabout features three world premiere plays: Hungry by Chris Bush, Black Love by Chinonyerem Odimba and family show Really Big and Really Loud by 2019 Bruntwood Award winner Phoebe Éclair-Powell performed in rep, directed by Paines Plough Joint Artistic Director Katie Posner, plus a new 'trailblazer' 30-minute short play, The Inconvenience Store by Charlotte Keatley. It will also host a programme of visiting companies, comedy, music and local community events. Full listings will be announced in due course.
As always, Season Ticket holders can take advantage of free parking on Bradshaw Street for evening performances and, if booking four or more shows, the option to spread the cost by Direct Debit.
To book your Season Ticket click here to book online or call our Box Office on 0161 624 2829
---
Get involved: Full Circle

Full Circle is a friendly and welcoming group for anyone aged over 50 who's interested in trying new things and meeting new people. The group meets on a fortnightly basis for talks and activities relating to theatre, the arts and the local area. Each session starts with a talk, followed by a workshop, ranging from dance sessions to play reading and craft sessions.
Previous speakers at Full Circle include: playwright and Coronation Street writer Ian Kershaw; Karen Schofield from Read Easy Oldham, former House Manager David Rustidge and cast members from Coliseum productions, whilst workshops and activities have featured fight direction with Kaitlin Howard, one of only three female Equity Registered Fight Directors in the UK; Zumba with Catherine Tonge; playwriting with Ian Townsend and arts and crafts with Nerissa Cargill Thompson.   
Sessions run from 10:30am – 2:15pm on alternate Tuesdays (next session Tuesday 28 January). Full Circle is £5 and includes a brew.
For more information about getting involved in any of our groups, contact Carly or Ben on LED@Coliseum.org.uk or call 0161 785 7008
---
Family fun coming to the Coliseum

We've a host of family fun this spring sure to delight both the young and the young at heart.
From Friday 3 – Sunday 9 April we present the first Coliseum-made family show outside of the festive season for almost 20 years. The Jungle Book is a modern musical reworking of Rudyard Kipling's famous story, packed with memorable characters, original songs and brilliant storytelling and featuring a cast of multi-talented actor-musicians. With help from his animal friends Mowgli the man cub learns the law of the jungle and saves everyone from Shere Khan the tiger. Click here to learn more and book tickets.
Alongside The Jungle Book our Learning and Engagement Department are running family friendly workshops on Monday 6 & Friday 17 April, inviting families to make their own animal masks and bring their favourite jungle characters to life through immersive drama activities. Click here to learn more and book your place.
On Saturday 21 March Immersion Theatre present a witty retelling of Rapunzel complete with a laugh-out-loud script, a host of catchy songs and heaps of audience interaction. With an exciting array of magical characters including a wickedly boo-able witch, a clumsy prince and a feisty princess with the longest hair you're ever likely to come across, this is one hair-raising adventure you won't want to miss. Click here to learn more and book tickets.
Zog roars into Oldham from Friday 27 – Sunday 29 March. Large and size and keen in nature Zog is eager to win a golden star at Madam Dragon's school, where dragons learn all the things that dragons need to know. Luckily Princess Pearl is here to help him get ready for his biggest challenge yet. Julia Donaldson and Axel Scheffler's much-loved story is brought to life in a magical production featuring a sumptuous musical score played by live musicians. Click here to learn more and book tickets.
Click here to see all forthcoming family events at the Coliseum.
---
Our Coliseum

Our Coliseum is a new membership scheme with exclusive offers and discounts.
For just £30 per year Our Coliseum members receive:
£10 off your first booking
10% off at our bars and kiosk
2for1tickets for the opening night of all Coliseum productions
Exclusive offers in a monthly newsletter
Invites to our exclusive Season Launch events with the opportunity for priority booking on the night
An annual car park pass for evenings at Bradshaw Street Carpark
To sign up for Our Coliseum phone our Box Office on 0161 624 2829.
---
Cast announced for The Last Quiz Night on Earth

The Coliseum and live@thelibrary present The Last Quiz Night on Earth from Manchester's Box of Tricks Theatre at The Bank Top Tavern this March.
The Last Quiz Night on Earth is an immersive new play combined with a pub quiz, with pie and peas included in the ticket price.
An asteroid is heading toward the earth, what would you do? Head to your local for a pub quiz of course! Landlady Kathy invites audiences to the last quiz night on earth with quizmaster Rav. He's the host with the most, but with time ticking some unanticipated guests turn up out of the blue. Expect the unexpected to the bitter end and plenty of drama as the show gets quizzical.
Shaban Dar plays pre-apocalyptic Quizmaster Rav. Shaban is a familiar face in theatre with credits including I Believe in Unicorns (Theatre Alibi), Peggin Out (Unheard Theatre) and Brink (Royal Exchange Theatre Manchester).
Unexpected guests Fran and Bobby played by Amy Drake and Chris Jack bring plenty of drama to the piece when they arrive at the quiz with some unresolved business.
 Amy Drake was last seen at the Coliseum in 53Two and MAP Productions' Tinned Up in September 2019. Her other credits include A Christmas Carol (Theatr Clwyd) and My Mother Said I Never Should (Theatre by the Lake, Keswick).
Chris Jack's credits include Beryl (Octagon Theatre Bolton), Noughts and Crosses (Pilot Theatre,  Derby Theatre and Belgrade Theatre Coventry) and Brighton Rock (York Theatre Royal and Pilot Theatre).
Pub Landlady Kathy will be played by Meriel Scholfield. Meriel trained at RADA and  is a regular on TV with appearances in all the major soaps including Coronation Street, fans may recognise her from numerous appearances on the famous cobbles, she has also appeared in Last Tango in Halifax and Holby City.
Box of Tricks is an award-winning new writing theatre company based in Manchester. Over the last 13 years, they have championed the next generation of playwrights and toured new plays to audiences far and wide.
The Last Quiz Night on Earth runs on Monday 16 & Tuesday 17 March at The Bank Top Tavern on Oldham's King Street (postcode OL8 1ES). Click here to learn more and book tickets.
---
Jigsaw Homes residents beat the post-Christmas blues

Earlier this month a group of over 100 residents from social housing provider Jigsaw Homes joined us to meet the cast of Jack and the Beanstalk before watching one of the early January performances which are perfect for beating the post-Christmas blues.
As well as the excitement of meeting the pantomime's stars, residents enjoyed a special VIP pre-show event with a sumptuous Asian buffet supplied by the mysterious 'Samosa Lady'.
Jigsaw Homes is the Coliseum's major partner. The theatre works closely with Jigsaw to provide a comprehensive range of opportunities to experience and get involved in high quality theatre and arts, learn new skills and meet new people. Working together we have helped over 100 young people return to work or education, created a theatre company for people with additional needs and reached hundreds of school children using theatre as a propeller for learning.
---
Cast announced for The Glee Club

This May Out of Joint, Cast in Doncaster and Kiln Theatre bring their production of The Glee Club to the Coliseum.
Described as Brassed Off meets The Full Monty, The Glee Club follows five hard working, hard drinking miners and a church organist who are preparing for the local gala. It's the summer of 1962 and Britain and music are about to change. So too are the lives of these six men.
The cast of this raucous comedy features Coronation Street and Emmerdale star Bill Ward as Bant, Joshua Hayes as Walt Hemmings, Robert Jackson as Scobie, Linford Johnson as Colin Shuttleworth, Kai Owen as Jack Horsfall and Eamonn Riley as Phil Newsome.
Bill Ward's stage career includes Everybody's Talking About Jamie, Viva Forever, Million Dollar Quartet and Spamalot in The West End. His television roles include Charlie Stubbs in Coronation Street and James Barton in Emmerdale.
Joshua Hayes' credits include Breakneck Bronco at Soho Theatre and A Wondrous Place for Sheffield Theatres, Royal Exchange Theatre Manchester and Northern Spirit.
Robert Jackson's credits include She Ventures and He Wins for The Young Vic and Kiss Me Kate for The Watermill Theatre.
Linford Johnson's credits include The Lion The Witch and The Wardrobe for  Bridge Theatre and Much Ado About Nothing for Northern Broadsides
Kai Owen appeared in BBC's Doctor Who spin-off Torchwood and the UK tour of The Full Monty.
Eamonn Riley's most recent credits include Martha, Josie and The Chinese Elvis for Stephen Joseph Theatre, Scarborough and Our Town for Royal Exchange Theatre, Manchester.
The Glee Club comes to the Coliseum from Tuesday 12 – Saturday 16 May. Click here to learn more and book tickets. 
---
Race For Life in Oldham

Cancer Research UK's Race For Life returns to Alexandra Park this June and organisers are inviting all people from across Oldham to take part.
The much-loved event is no longer restricted to female participants and this January everyone who signs up for Race For Life will receive a special 30% discount on the entry fee by using the code RFLJAN30 online at raceforlife.org.
Katie Mathers, Cancer Research UK's Event Manager for Oldham said:  "Although 'Race' features in the name, our events are not competitive. Instead, 'the Race for Life' is about our doctors, nurses and scientists working as hard and fast as possible to help more people survive.
"This year our events are open to everyone and we're sending a heart-felt message to anybody who's thought about signing up in the past but for one reason or another hasn't got round to it. Our events are fun, colourful, emotional and uplifting. Participants take part at their own pace – taking as much time as they like to complete the course. For some people, the Race for Life is literally a walk in the park.  For others, it's a jog or a run.
"The Race for Life is a powerful, inspirational movement which unites participants in Oldham with people across the North West and the whole of the UK. It's a perfect example of everyday people doing an extraordinary thing – uniting in a common cause to beat cancer. People get together and remember loved ones lost or celebrate the lives of those who have survived.  At the same time, they are helping to make a difference to people with the disease, right now."
Oldham's Race For Life 2020 events take place at Alexandra Park on Sunday 21 June and are open to people of all ages and abilities. 
Cancer Research UK receives no Government funding for its ground breaking research. Their Race For Life events, in partnership with Tesco, are a series of 5k, 10k, Pretty Muddy and Pretty Muddy Kids events which raise millions of pounds every year by funding research to help beat 200 types of cancer.
If you would like to learn more about Race For Life, Cancer Research UK or to sign up for an event visit raceforlife.org.
---
Customer Experience Volunteers: Join us

We're always on the lookout for friendly and reliable people to join our team of Customer Experience Volunteers, who help to look after our audiences from greeting them in the foyer, to selling programmes and ice creams, taking them to their seats and much more.
Customer Experience Volunteers must be 18+ and able to commit to a minimum of three months volunteering with us. No experience is needed as full training is provided.
Click here to learn more about becoming an Oldham Coliseum Theatre Customer Experience Volunteer or contact Kyle Wilcock on 0161 785 7021 or email kylewilcock@coliseum.org.uk.
---
Oldham Coliseum Theatre gratefully acknowledges funding from:

Oldham Coliseum Theatre is a Registered Charity, No: 508829.
Oldham Coliseum Theatre Ltd Reg No: 1415547