January 2019 Newsletter
This month we open our first production of the year, A Different Way Home starring Coliseum legend Kenneth Alan Taylor. We're also starting rehearsals for Martin McDonagh's black comedy A Skull in Connemara and our Associate Company Rogue Bones launched a new writing night with a twist in our Studio, Write Here, Write Now.
Read all about it – plus even more updates on what's going on behind the scenes here at the Coliseum – below.
---
A Different Way Home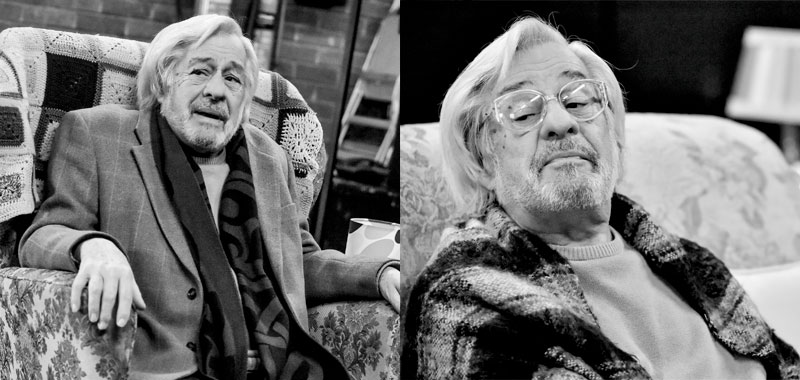 Next week we open our first production of 2019, our first re-staging of A Different Way Home since its smash-hit world premiere here almost exactly 21 years ago.
Set in 1998 in a sitting room of an ordinary house in Oldham, we meet Leslie who has recently lost his mother. Leslie has lived with his mother all of his life, and with a real Northern warmth and humour he tells us the tale of her death, unwittingly revealing his bitterness toward his sister, Maureen. When we meet Maureen herself we learn an entirely different version of events.
A Different Way Home stars Coliseum legend Kenneth Alan Taylor as both Leslie and Maureen and we're thrilled to have prolific TV director Noreen Kershaw in the director's chair. Kenneth has performed in over 320 productions here at the Coliseum since he first came to Oldham in 1959. His last performance on our stage, as André in 2017's North West premiere of The Father, won the Manchester Theatre Award for Best Actor in a Leading Role. Kenneth describes his portrayal of Maureen as a perfectly normal Northern woman, based on real women that he has met in Oldham over his many years here. Noreen Kershaw most recently directed BBC's Our Girl in the Malaysian Jungle, Pitching In for BBC Wales in Anglesey and BBC's Moving On in Liverpool. She won a BAFTA for her work on Coronation Street and a string of awards for Broken starring Sean Bean.
Writer Jimmie Chinn grew up in Middleton, just a few miles from Oldham, and developed a relationship with the Coliseum from a young age. A Different Way Home was first presented as a one-act radio play focussing on Leslie and starring Bernard Cribbins on BBC Radio 4. It was adapted for television and presented Granada TV in 1994 starring Roy Barraclough, but it was at the Coliseum that then Artistic Director, Kenneth Alan Taylor, asked Jimmie to extend the play  and the character of Maureen was first brought to life, with Barraclough playing the roles of both Leslie and Maureen. The full length play of A Different Way Home made its world premiere at the Coliseum on 30 January 1998.
Our new production of A Different Way Home opens on Thursday 31 January, running until Saturday 9 February. Click here to learn more and book tickets.
A Different Way Home is the first show of our Spring-Summer 2019 Season Ticket. This season, we have two Season Ticket offers to choose from: book four shows for as little as £55 or book six shows from as little as £90. Book by Saturday 9 February for a Six Show Season Ticket or to include A Different Way Home in a Four Show Season Ticket. Click here to learn more about the Coliseum's Spring-Summer 2019 Season Ticket and the shows included in the offers.    
---
Coming up next: A Skull in Connemara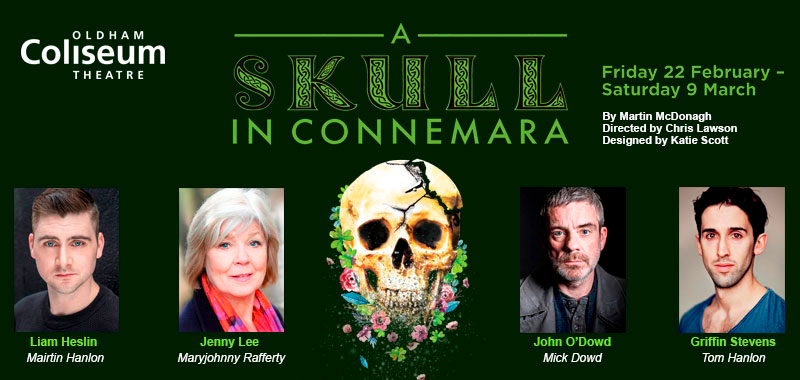 We're starting rehearsals on Monday for A Skull in Connemara, an ingenious black comedy from BAFTA and Academy Award winning writer Martin McDonagh.
In a rural town on the west coast of Ireland we while away an evening with Mick Dowd, a man with the unfortunate occupation of exhuming bodies from the graveyard to make space for new residents. There's a mystery surrounding Mick, and through the course of the play we unravel the rumours to hopefully find the truth of the situation.
Martin McDonagh is often compared to Quentin Tarantino for his subversive style. He is best known for feature films In Bruges, Seven Psychopaths and Three Billboards Outside Ebbing, Missouri – which walked away with three BAFTAs and two Golden Globe Awards. A Skull in Connemara is the second of his Leenane Trilogy of plays, following on from The Beauty Queen of Leenane, which had a hit run here in 2009 with London Classic Theatre.
A Skull in Connemara is directed by our Acting Artistic Director Chris Lawson – whose previous productions here in Oldham include 2018's A Taste of Honey and The Kitchen Sink, 2017's Up 'N' Under and Hard Times and 2016's Jumpers For Goalposts. Our cast features Olivier Award nominee Jenny Lee as Maryjohnny, John O'Dowd – who was last at the Coliseum in autumn 2017 with English Touring Theatre's fantastic production of The Weir – as Mick, Griffin Stephens – who performed in HOME, Manchester's productions of Inkheart and Romeo and Juliet – as Tom, and Liam Heslin – who was last in Manchester for the immersive production On Corporation Street – as Mairtin.
A Skull in Connemara runs from Friday 22 February – Saturday 9 March. Click here to learn more and book tickets.
---
Write Here, Write Now

Last night in the Studio we hosted a new writing night with a difference, as ten writers presented short pieces which they had only eight days to write.
Earlier this month, Associate Company Rogue Bones invited writers to take up a challenge. They presented them with a provocation to write a response to in a short space of time: how do you make a dark story feel uplifting? In the afternoon five actors came in to rehearse the short plays, ready to perform script-in-hand that evening in the Studio. 
The ten brave wordsmiths that took part in Write Here, Write Now were:
Dermot Daly with Skirting the Issue
Sorcha McCaffrey with Toothpaste/Mayonnaise
Amie George with Deal Breaker
Emma Geraghty with I, said the Sparrow
Becx Harrison with A Little Ray of Hope
Zoe Iqbal with Two Birds
Lucy Jackson with Human Resources
Rachel McMurray with Fireworks
Rose Sergent with The Waiting Room
Jamie Walsh with Throwback
Armed with post-it notes and party blowers a full Studio audience responded to how each piece made them feel, unaware that the provocation the writer's had responded to was how to make them feel uplifted.
Amie George, Co-Artistic Director of Rogue Bones said: "We hope we created an exciting and friendly space for writers to flex their creative muscles – sort of like a 'writer's gym', but with more biscuits and hilarity than you'd find in a regular gym. Ideally this will be the first of many Write Here, Write Now events. We'd like to invite a lot more writers to take part, setting them and the audience a new challenge each time, with the hope that we'll all learn something about what makes good theatre and have a proper laugh along the way".
For updates on future Write Here, Write Now events keep an eye on our website and follow us on Social Media via Facebook, Twitter and Instagram.
---
Coliseum Recommends: Wise Children at HOME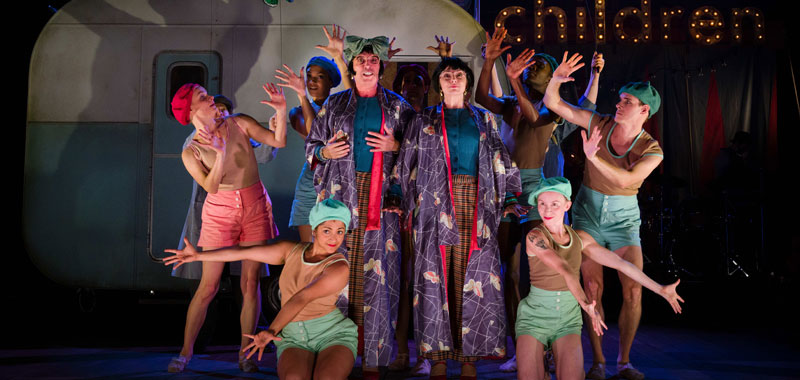 From Tuesday 26 February, Old Vic and Wise Children present Angela Carter's big, bawdy tangle of theatrical joy and heartbreak, Wise Children at HOME, Manchester.
With show girls and Shakespeare, sex and scandal, music and mistaken identity – and butterflies by the thousands – Wise Children is a celebration of show business, family, forgiveness and hope.
In Brixton, twin chorus girls born and bred south of the river, Nora and Dora Chance, are celebrating their 70th birthday. Over the river in Chelsea, their father and greatest actor of his generation turns 100 on the same day. As does his twin brother. If, in fact, he's still alive. And if, in truth, he is their real father after all.
Wise Children runs from Tuesday 26 February – Saturday 2 March at HOME, Manchester. Click here to learn more and book tickets.
---
Richard J Fletcher gets set to play the Dame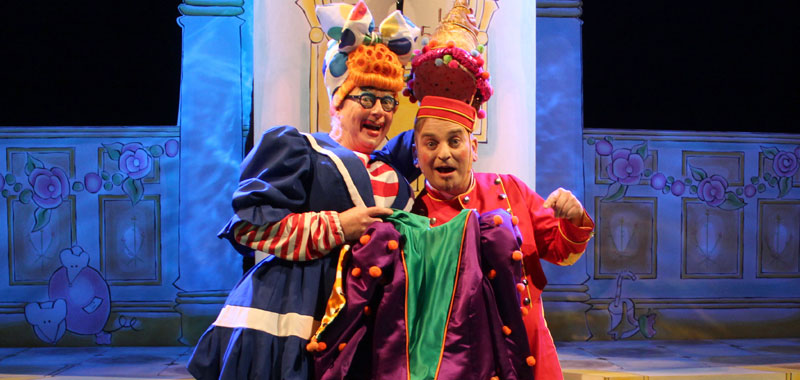 Our 2019 pantomime, Jack and the Beanstalk, will see Richard J Fletcher step into the extravagant wardrobe of the Dame as Fine Time Fontayne passes the baton to his long-time co-star.
Fine Time and Richard both joined the Coliseum pantomime family in 2008 for that year's production of Aladdin, with Fine Time playing Widow Twankey and Richard playing Wishee Washee. Returning each year in their respective roles as the Pantomime Dame and the Pantomime Comic, who is often the son of the Dame, they are beloved by Oldhamers of all ages and have become as much as part of the festive season as turkey sandwiches on Boxing Day.
Fine Time said: "I decided last year that Cinderella would be my last Christmas as Dame, but to be able to hand over to someone that I admire and trust is making it easier for me to hang up my padding – top and bottom. I know that I'm leaving the Coliseum in very safe hands. With a long tradition dating back to Kenneth Alan Taylor and subsequent Dames no one has ever dropped the ball and I think that Richard – being a former member of Manchester City's Youth Squad – will kick the ball even higher. It's like my son has become the daughter I never had."
Richard J Fletcher is praised year on year for his boundless energy and skilful enticement of audience participation, both on and off stage. At a Cinderella cast visit to Dr Kershaw's Hospice in nearby Royton he had patients and staff in fits of laughter as they shouted out his catchphrase. In Cinderella, Richard played a multi-dimensional Buttons, with a heart-rendering ballad performance of Emeli Sande's Clown as well as the usual jokes, slapstick and heel-clicking jumps.
Richard commented: "Being an Oldhamer, the Coliseum panto was a big part of my childhood, I couldn't imagine spending Christmas anywhere else. It's an honour to be asked to play the Dame – it's as if Buttons is graduating! It's a big role to fill but I've got a good few months to practise walking in heels and dancing in dresses and I'm excited to see everyone again this year."
Fine Time decided to hang up his wigs and dresses following the last performance of Cinderella, having missed only one production in over ten years due to a broken ankle. He is also the co-writer of Oldham's annual festive spectacular and has written over 20 pantomimes at the Coliseum and in various theatres across the country. With his wealth of knowledge and experience in the festive theatrical institution he will continue his role as pantomime co-writer, working on the script for Jack and the Beanstalk with Director of the pantomime and Acting Artistic Director of the Coliseum, Chris Lawson.
Chris became Acting Artistic Director of the Coliseum in December 2018. Whilst the Coliseum's production of Cinderella played to packed out audiences in Oldham, he successfully directed his first pantomime over in Doncaster, Robin Hood and the Babes in the Wood at Cast.
Jack and the Beanstalk opens on Saturday 16 November 2019, running through to Saturday 11 January 2020. Tickets are on sale now – click here to learn more and book tickets.
---
Coming up in the Studio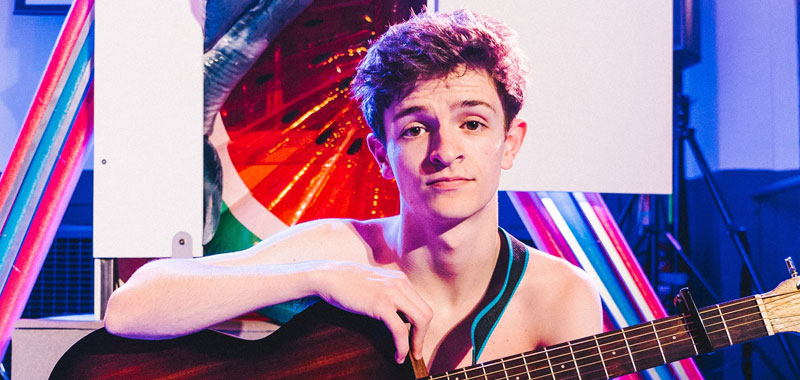 Our 2019 Studio programme kicks off next month with a mixture of comedy and drama telling stories of and for all generations.
On Saturday 23 February Off The Middle Productions present In Other Words, which tells the love story of Arthur and Jane. They call it 'the incident' now, what happened when they first met. He always said it was part of his romantic plan, but they both know that's rubbish. Following on from the Coliseum's Manchester Theatre Award winning 2017 production of The Father,  In Other Words revisits the vital topic of dementia, using the music of Frank Sinatra to explore the effects of Alzheimer's and the transformative power of music in our lives. Click here to learn more and book tickets.
On Friday 1 and Saturday 2 March Drip is a one-man musical comedy by award-winning duo Tom Wells (writer of our popular productions of The Kitchen Sink (2018) and Jumpers For Goalposts (2017)) and Matthew Robins. Liam is 15 and he's just signed up for the Bev Road Baths' first ever synchronised swimming team to help out his best mate Caz. The problem is, Liam can't swim. Click here to learn more and book tickets.
On Wednesday 6 and Thursday 7 March Hiding Place Theatre present coming-of-age story, Bottleneck. Liverpool, 1989. Greg is 14 – he hates school and girls are weird. But Liverpool FC are everything. His story is a journey of friendship, adventure, mischief and tragedy growing up on 'The Boot' in Liverpool. Click here to learn more and book tickets.
---
Dementia Friendly Coffee Mornings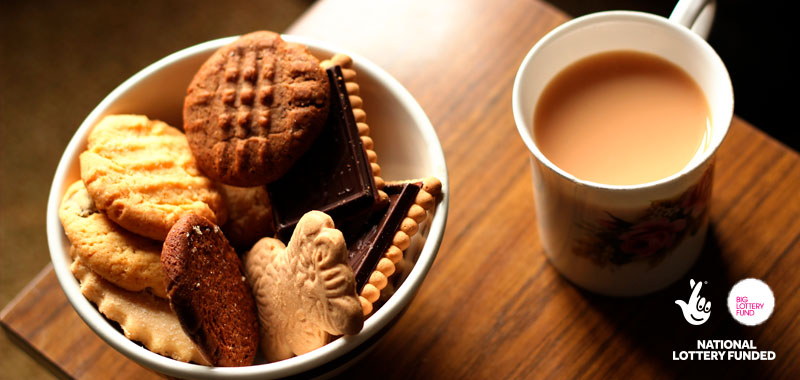 We're relaunching our Dementia Friendly Coffee Mornings this Spring, including a variety of creative activities as well as a nice brew.
Supported by the Big Lottery Fund our Dementia Friendly Coffee Mornings will explore a range of themes through a variety of theatre making practises including storytelling and puppetry, and the opportunity to learn more about how the Coliseum puts on a show with backstage tours and talks from our professional teams.
Dementia Friendly Coffee Mornings will run from 11am – 12noon on Tuesdays: 2 April, 16 April, 7 May, 21 May, 4 June and 18 June. For more information or to book your place please contact boxoffice@coliseum.org.uk or phone 0161 624 2829.
---
Coming up: One Night Events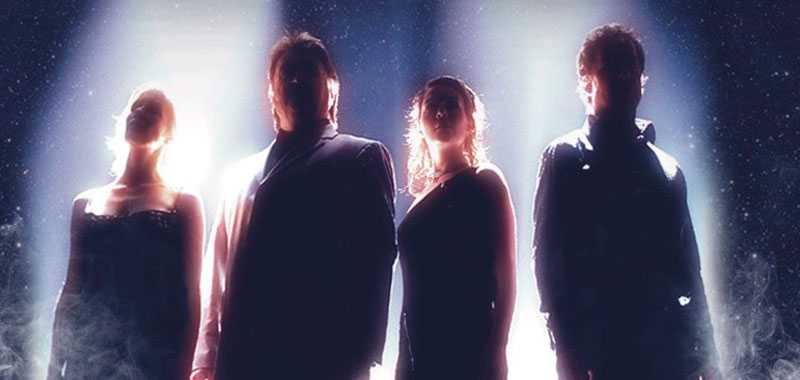 Alongside great programmes of theatre in our Main Theatre and Studio, we're welcoming a host of fantastic special one night events in January and February.
Peter Wakefield and his talented friends return to the Coliseum stage for a musical celebration to raise funds for Dr Kershaw's Hospice's 30th anniversary campaign on Saturday 26 January. Alongside celebrating their anniversary, in 2019 the hospice will be embarking on an exciting building project to provide a new 12 bed clinical wing. Amongst Peter's Friends, this year the line-up will also include special guests Kershaw's Crooners – the hospice's own choir made up of volunteers, supporters and staff at Dr Kershaw's. Click here to learn more and book tickets.
On Wednesday 13 February we have not one but two fantastic sing-a-long showings of the smash hit musical film, The Greatest Showman. Cheer on Hugh Jackman, lust after Zach Efron and hiss Rebecca Ferguson (…or maybe not) as you experience The Greatest Showman in the greatest way possible – with lyrics on the screen so you can join in as loud and proud as you want. Sing-a-long-a The Greatest Showman has been incredibly popular since it went on sale late last year, but there are still tickets available for the 2.30pm showing. Fancy dress is highly recommended. Click here to learn more and book tickets.
On Friday 15 February comedian Justin Moorhouse pops by with his new show, Northern Joker. These days Justin's not certain about anything apart from his uncertainty – Brexit looms, it appears the Cold War is being rebooted and that's before we begin to worry about what's happening in America…..closer to home he's starting to feel redundant as a parent. Join him as he looks hilariously at his life; and how everything is changing and yet somehow is still the same. Click here to learn more and book tickets.
The following evening former principle performers from Les Misérables present the best of Broadway and the West End in Beyond the Barricade. The UK's longest running musical theatre concert tour features David Fawcett (Valjean) Andy Reiss (Enjolras & Resident Director for the National Tour of Les Misérables) Katie Leeming (Eponine) and Poppy Tierney (Cosette), together with a live band who capture the feel of the original orchestrations of the chosen musicals. This is a must-see for any musicals fan – especially fans of Les Mis. Click here to learn more and book tickets.
---
Coliseum recommends: The Rise and Fall of Little Voice at Albert Halls, Bolton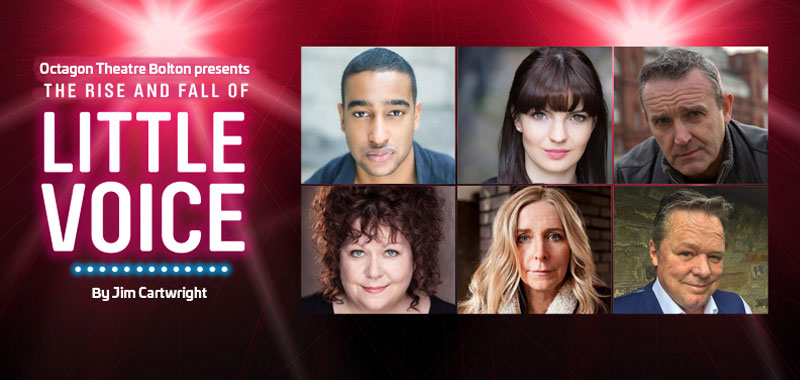 Over in Bolton, Jim Cartwright's award-winning tragic comedy returns after the critical acclaim and sell out success of the Octagon's 2012 production, this time performed at the Albert Halls as the Octagon's town centre building undergoes a major redevelopment.
In fear that her mother might blow a fuse, Little Voice escapes in her attic room through her father's old vinyl collection – she loves the great divas: Bassey, Garland, Piaf, Springfield, Holliday. When the records stop playing the music miraculously continues, as Little Voice produces stunning impersonations of all of her favourite stars.
Cartwright's timeless comedy about finding your voice in a noisy world was made into an award-winning film starring Jane Horrocks and Michael Caine – now the play in its original form is performed live on stage and returns to its roots in Bolton.
With electrifying live music and powerful drama this funny, sad and heart-warming story is brought to life by a talented cast of stage and screen actors including: Akshay Gulati, Katie Elin-Salt, Mark Moraghan, Sue Vincent, Sally George and Ted Robbins.
The Rise and Fall of Little Voice runs from Thursday 24 January – Saturday 2 February at the Albert Halls, Bolton. Click here to learn more and book tickets.
---
Learning and Engagement: The Exam Play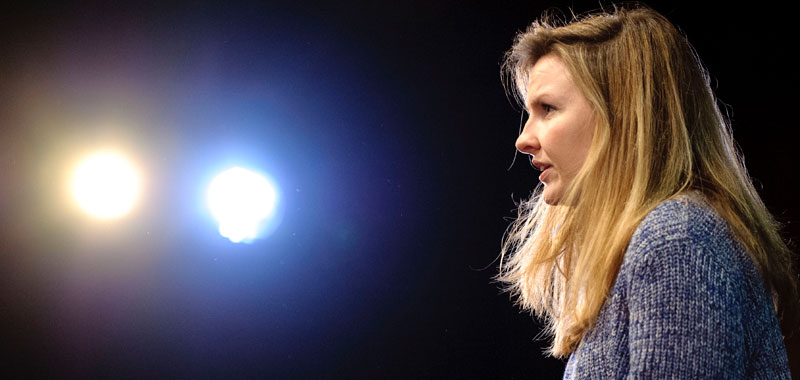 This year our Learning and Engagement team are reviving the hugely popular The Exam Play workshop package, which provides a unique opportunity for GCSE students to develop a deeper understanding of Shakespeare's language with two professional actors and an experienced theatre practitioner.
Shakespeare's plays were written for performance; his language has a unique rhythm but there are many ways it can be read. With The Exam Play two actors perform extracts from either Romeo and Juliet or Macbeth and work with students to unpick their performances, find the meanings behind the language and gain an extra perspective into how the language can be interpreted in performance. Working with a theatre practitioner, students can then explore the themes and imagery of the chosen play at a practical level in a bespoke text-based drama workshop.
Ideal for students studying English Literature or Drama Studies at GCSE level, the performance and workshop take place over the duration of a morning and can be booked together or individually.
If you'd like to learn more about The Exam Play contact Learning and Engagement Officer, Ben Cain, on 0161 785 7006 or email bencain@coliseum.org.uk
---
Spotlight on: Amie George, Rogue Bones Theatre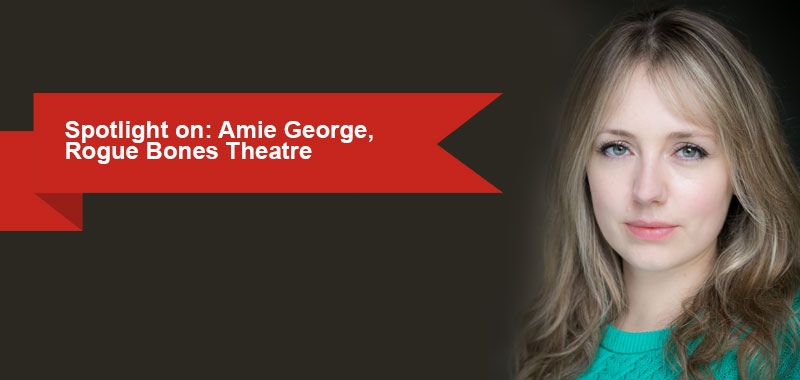 Introducing Amie, playwright, facilitator and Co-Artistic Director of Rogue Bones Theatre Company, one of the Coliseum's Associate Companies
How long have you worked at the Coliseum?
After taking part in last years' Studio Takeover season my company, Rogue Bones, was made an Associate Company in Autumn 2018.
What is your favourite production that you've seen at the Coliseum?
The Kitchen Sink by Tom Wells – so funny!
What is your favourite aspect of working at the Coliseum?
It's such a friendly building! It really is, I'm not just saying that. Everyone is so welcoming and helpful.
What are you currently working on?
I'm just starting to write the next Rogue Bones show (watch this space!), and we just held our first new writing night in the Studio, Write Here, Write Now.
What are you currently looking forward to?
Teaching more of the Coliseum's Scribbles writing group. I've developed a real love for teaching writing from doing this and I can't wait to do more.
Can you tell us an interesting fact about yourself?
Apparently (this hasn't been independently verified, it's just according to my Gran), I'm a descent of David Lloyd George, who was Prime Minister during WW1.
---
Customer Experience Volunteers: Join us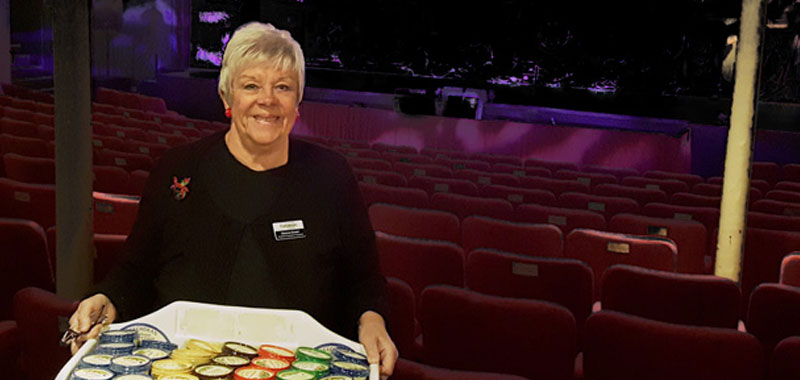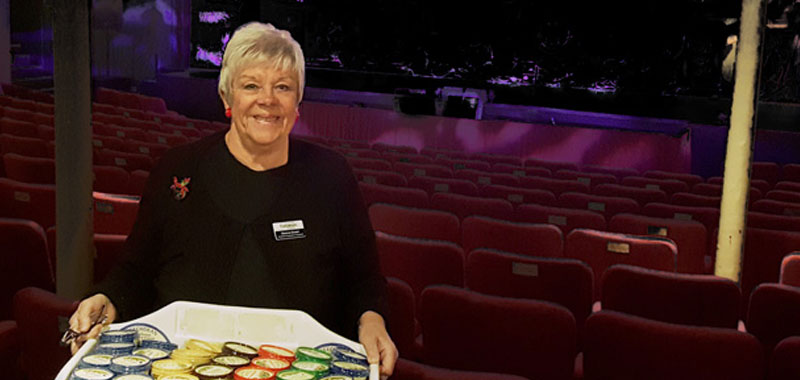 We're always on the lookout for friendly and reliable people to join our team of Customer Experience Volunteers, who help to look after our audiences from greeting them in the foyer, to selling programmes and ice creams, taking them to their seats and much more.
Customer Experience Volunteers must be 18+ and able to commit to a minimum of three months volunteering with us. No experience is needed as full training is provided.
Click here to learn more about becoming an Oldham Coliseum Theatre Customer Experience Volunteer or contact Heather Shaw, House Manager,  by phone on 0161 785 7021 or email heathershaw@coliseum.org.uk.
---
Oldham Coliseum Theatre gratefully acknowledges funding from:

Oldham Coliseum Theatre is a Registered Charity, No: 508829.
Oldham Coliseum Theatre Ltd Reg No: 1415547