January 2018 Newsletter
This month we started rehearsals for our first production of 2018, Tom Wells' The Kitchen Sink, launched our Studio Season for Spring-Summer 2018, and started new terms in our regular workshops with Teaching Theatre Pathways and Full Circle.
Read all about it – plus even more updates on what's going on behind the scenes here at the Coliseum – below.
See you in the stalls,
Kevin Shaw
Chief Executive & Artistic Director.
---
Coming up next: The Kitchen Sink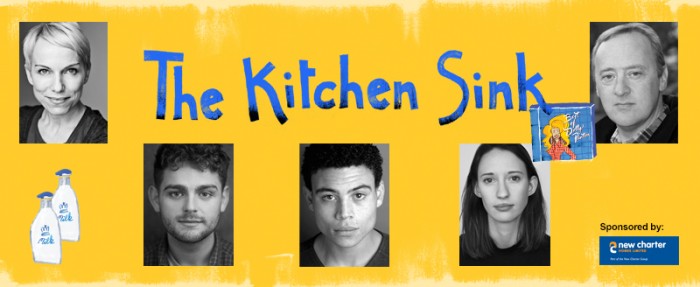 This week we started rehearsals for our first production of 2018, modern family story The Kitchen Sink.
The Kitchen Sink follows one family in Withernsea, East Yorkshire, over the course of a year. Mum, Kath, has her hands full. She's working two jobs and experimenting in the kitchen, and her family's aspirations aren't going to plan. Her husband, Martin, is a milkman whose career is going down the drain, son, Billy, doesn't think his painting is good enough for art school and daughter, Sophie, has shattered her dreams of becoming a Ju Jitsu teacher by punching her Sensei in the face. The pressure is on and something's got to give, but will it be Kath's last nerve, or the kitchen sink?
We've got a great cast of Northern talent for this show, the majority of whom started their training right here in Oldham as former members of Oldham Theatre Workshop, which is celebrating its 50th anniversary this year.
The Coliseum's own Gracie Fields, Sue Devaney (Our Gracie, 2016; Dinnerladies; Casualty) plays Kath. Raised in Rochdale, Sue joined Oldham Theatre Workshop when she was 14 years old and landed her first professional job working with Thora Hird in In Loving Memory in 1983.
Kath's children, martial arts lover Sophie and Dolly Parton obsessed Billy are played by more recent OTW  alumni: Rochdale's Emily Stott (Inside Pussy Riot, Les Enfants Terribles) and Royton's Sam Glen (Gary Barlow's Let it Shine). They're joined on stage by William Travis (Hard Times, 2017; This Is England) playing their dad, Martin, and David Judge (Fatherland; Scuttlers, Royal Exchange Theatre; Hollyoaks) as Sophie's love interest, Pete.
The Kitchen Sink was first produced in 2011, written by one of Britain's most exciting young playwrights, Tom Wells. An irresistibly funny and touching play, it earned him multiple awards and nominations for Most Promising Playwright. Our production comes from the same team as 2016's production of Tom Wells' Jumpers For Goalposts: Director Chris Lawson and Designer Anna Reid.
The Kitchen Sink runs from Friday 9 – Saturday 24 February. Click here to learn more and book tickets.
---
The nominations are in: Manchester Theatre Awards

The Coliseum's productions have been nominated for a string of accolades at this year's Manchester Theatre Awards.

Best Production
Our June-July 2017 production of The Father starred Kenneth Alan Taylor as Andre, an 80 year old man living with dementia. Written by Florian Zeller and translated into English by Christopher Hampton, The Father takes the audience on a journey through Andre's perspective.

"The Father deserves to be seen for both the quality of Zeller's writing and also to see the vintage Alan Taylor at his very best"
– The Reviews Hub

Actress in a Leading Role
Karen Henthorn as Daisy Crompton in Spring and Port Wine

Actor in a Leading Role
Kenneth Alan Taylor as Andre in The Father
Cliff Burnett as Mr Gradgrind Hard Times

Actress in a Supporting Role
Kerry Peers as Anne in The Father

Actor in a Supporting Role
Tom Michael Blyth as Stephen Blackpool in Hard Times

Best Ensemble
Oh What A Lovely War

Target Live Award for Best Visiting Production
English Touring Theatre's The Weir, which came to the Coliseum in October 2017

Actress in a Visiting Production
Natalie Radmall-Quirke in English Touring Theatre's The Weir

Actor in a Visiting Production
Sean Murray in English Touring Theatre's The Weir

Youth Panel Award
'Tis Written in the Stars by Oldham Theatre Workshop, which was performed at the Coliseum in July 2017
We'd also like to offer our utmost congratulations to Working Progress Theatre Company's Gypsy Queen, which was supported by Coliseum and performed in our Studio Theatre in April 2017. Gypsy Queen has been nominated for Best Fringe Production and Best New Play.
See the full list of nominations on the Manchester Theatre Awards website here.
The winners will be announced at a ceremony at The Lowry on Friday 9 March, hosted by comedian Justin Moorhouse. Wish us luck!
---
Special one-night events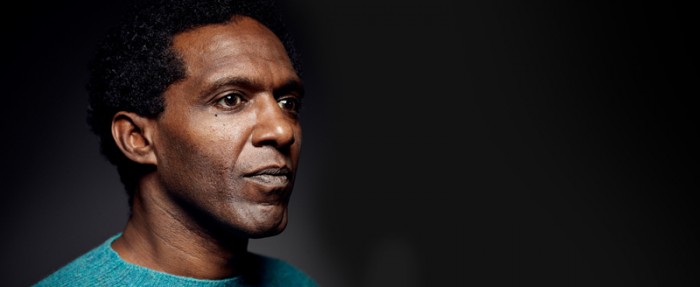 We're welcoming four fantastic one night events including spoken word, music and cabaret towards the end of January and the beginning of February.
On Thursday 25 January celebrated performance poet Lemn Sissay comes to Oldham with Something Dark. Something Dark tells the story of Lemn's upbringing in children's homes and foster care in Lancashire, and the search for his family and true identity. Something Dark has been performed throughout the world to critical acclaim and was adapted by BBC Radio 3. Learn more and book tickets.
On Friday 26 January the Coliseum hosts The Greatest Hits of Motown. This stunning show combines first class music with slick choreography and an amazing band. You'll be Dancing on the Ceiling All Night Long. Learn more and book tickets.
Manchester's much-loved queer performance night Mother's Ruin comes to Oldham on Saturday 27 January. Bearded glamour-puss Timberlina hosts an evening of outrageous hilarity with a sensational line-up featuring Cheddar Gorgeous, Jonathan Mayor, Debs Gatenby, Fat Roland, Diva Hollywood, Daniel Sarsfield, House of Decay and The Sunday Boys. Learn more and book tickets.
On Saturday 3 February the Coliseum welcomes a tribute to Buddy Holly in Buddy Holly: A Legend Reborn. Relive the rockin' fifties music scene with hits such as Peggy Sue, Oh Boy, Heartbeat, It Doesn't Matter Anymore, Words of Love, It's So Easy, Rave On and many more. This all new production celebrates an artist who shot straight into the limelight as soon as That'll Be The Day hit the radio. Though his career was short, this one-man powerhouse gave the world a stack of hits that will never be forgotten. Learn more and book tickets.
---
Studio Season now on sale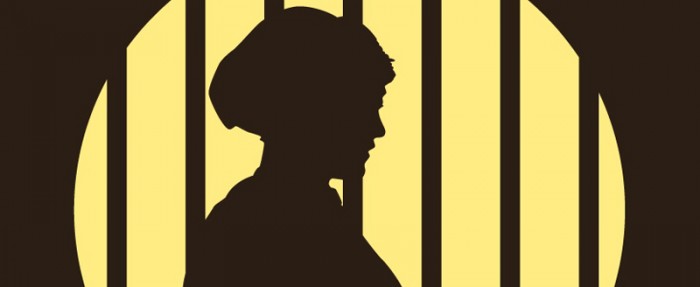 The Coliseum's Studio programme runs alongside our Main Auditorium programme with a mix of new writing, visiting companies, rehearsed readings, bespoke and in-house productions, and this year includes Cultivate – a week jam-packed with workshops and opportunities.
The Studio season opens on Saturday 10 February with Finding Alice from Manchester ADP. Written by Emma Hinds, Finding Alice is set in a Belgian prison in 1918, where German officer, Himmel is interrogating prisoners in a desperate attempt to find the spy, Alice Dubios. Finding Alice runs on Saturday 10 and Thursday 15 February. Learn more and book tickets.
On Thursday 15 and Saturday 17 March Theatre Collective present The Wasp by Morgan Lloyd Malcolm, an electrifying new thriller that asks how far beyond the playground we carry our childhood experiences. Heather and Carla haven't seen each other since school. Over tea, Heather presents Carla with a bag of cash and a proposition… Learn more and book tickets.
Local writer Tom Keogh comes to the Coliseum Studio with Thorn on Thursday 22 March, following its award-winning run at the Manchester Fringe. Thorn portrays how young Mancunian Stephen Patrick Morrisy wrestles with the problems of his own self-acceptance and social pressures supported by his love of David Bowie and Glam Rock.  Learn more and book tickets.
Click here to see all of the forthcoming shows in the Coliseum Studio
New for 2018, the Coliseum Studio will host Cultivate, a week of workshops, opportunities and industry insight running from Monday 25 – Saturday 30 June. This jam-packed week features insight into open auditions, producing, directing, crowdfunding, starting a production company, theatre facilitation, voice and the actor, musical theatre, playwriting, blogging and content, and includes a rehearsed reading from the Coliseum's playwriting group, Scribbles, plus guest artists, with more to be announced.
---
Learning and Engagement: Teaching Theatre Pathways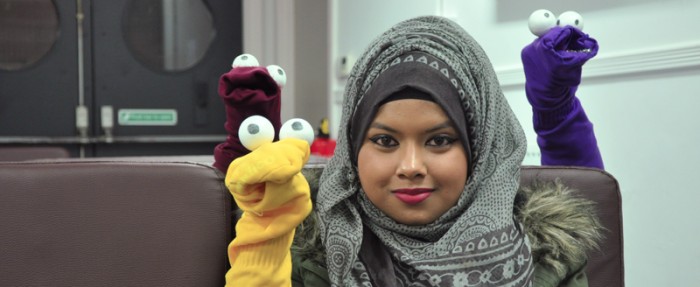 Teaching Theatre Pathways is a free scheme aimed at young people aged 17-24, who are not in education or employment. The group works together to learn new skills and build on their experience alongside the team of professionals at the Coliseum.
Teaching Theatre Pathways runs over three terms, giving participants the opportunity to learn about theatre processes and develop their skills. During the first term, they explore the different roles in theatre; with talks and practical workshops from Wardrobe, Learning and Engagement, Stage Management, Customer Services and more. During the second term, participants independently create a portfolio specialising in one area of theatre production. They receive a professional mentor from the department they've chosen to focus on and have regular opportunities to observe and engage with the development process for our shows on the Main Stage. The third term allows the group to put their skills into practice, working alongside Work Experience Week participants and TheatreLAB to create a show of their own on our Main Stage.
 "It's a particularly unique course, you had to put in the effort but the results have been amazing."
"I never thought I would be designing lights and sound for theatre shows, let alone for one I helped create.  I can't wait to learn more and start developing my skills."
"I can use these skills in work or at uni."
For more information on Teaching Theatre Pathways contact Ben Hallworth, Learning and Engagement Officer: Young People, on 0161 785 7000 or email benhallworth@coliseum.org.uk.
---
Get involved: Full Circle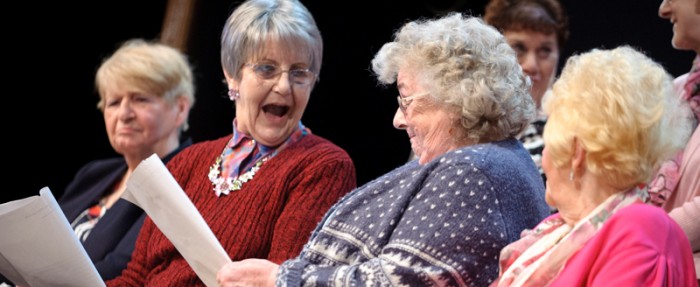 Full Circle is a friendly and welcoming group for anyone over 50 who is interested in trying new things and meeting new people. The group meet on a fortnightly basis during term time for talks and activities relating to theatre, the arts and the local area.
Each Full Circle day includes two talks and one workshop and every term includes a range of activities from dance to writing to play reading, craft and more. It costs just £5 for the day – and the price includes a brew!
During the upcoming term, Full Circle will be hearing from Simon Naylor from 53Two – Manchester's latest independent theatre venue. Our casts from The Kitchen Sink and Whisky Galore will be joining the group to talk about the upcoming productions and answer any questions. Action Together Oldham will be talking to the group about the brilliant work they do with the community. Caitlin Gleeson, Workshop Facilitator will be leading an introductory workshop to Immersive Theatre… and so much more!
To request more information or the Spring 2018 programme of events, please contact Rose Sergent, Admin Officer – 0161 624 1731/ rosesergent@coliseum.org.uk.  
---
Spotlight on: Gary Littlewood, Transition Programme Coordinator

How long have you worked at the Coliseum?
I joined the Coliseum at the end of October last year.
What has been your favourite production since working at the Coliseum?
The only production I've seen since joining has been Dick Whittington – so it has to be that one!  But I did get to see Oh What a Lovely War and Up 'N' Under before I started.  One of the things I really like about the Coliseum is being so close to the stage at the front of the stalls and that feeling of the production being just for you.
What is your favourite aspect of working at the Coliseum?
I've never worked in theatre before, so I'm fascinated with the whole thing – and I'm still a bit star struck!  But seeing what goes in behind the scenes is very interesting, I'm amazed at what the Production team can do.
What are you currently working on?
My job title is Transition Programme Coordinator and I'm dedicated to working on the move from the current site in Fairbottom Street to the new building on Union Street. This involves planning and coordinating all aspects of the move.  Although the move is two years away, we need to plan very carefully to make sure it goes smoothly. 
What are you currently looking forward to?
We've booked a bit of winter sun so I'm looking forward to a break in Fuerteventura in March.  But I'm also looking forward to the next production The Kitchen Sink because I'll get to see how that works from a standing start. 
Can you tell us an interesting fact about yourself?
I got married in Las Vegas at the Little White Chapel, and in some aspects it made Blackpool look sophisticated. It was a bit of a surreal experience, being offered Elvis as a best man for example.  Although my wife, Diane, took a dress with her, once we'd confirmed the wedding we had to hire a suit for me.  It would have been very easy to get married as Colonel Saunders or a Rhinestone Cowboy, but trying to hire a suit that would sensible on British wedding photos was a bit of a challenge.  I think it was the third dress hire shop that had something we could use!
---
Customer Experience Volunteers
We're always on the lookout for friendly and reliable people to join our team of Customer Experience Volunteers, who help to look after our audiences from greeting them in the foyer, to selling programmes and ice creams, taking them to their seats and much more.
Customer Experience Volunteers must be 18+ and able to commit to a minimum of three months volunteering with us. No experience is needed as full training is provided.
Click here to learn more about becoming an Oldham Coliseum Theatre Customer Experience Volunteer or contact Heather Shaw, House Manager,  by phone on 0161 785 7021 or email heathershaw@coliseum.org.uk
---
Oldham Coliseum Theatre gratefully acknowledges funding from:
Oldham Coliseum Theatre is a Registered Charity, No: 508829.
Oldham Coliseum Theatre Ltd Reg No: 1415547