Jack and Hazy find their perfect lunch in Oldham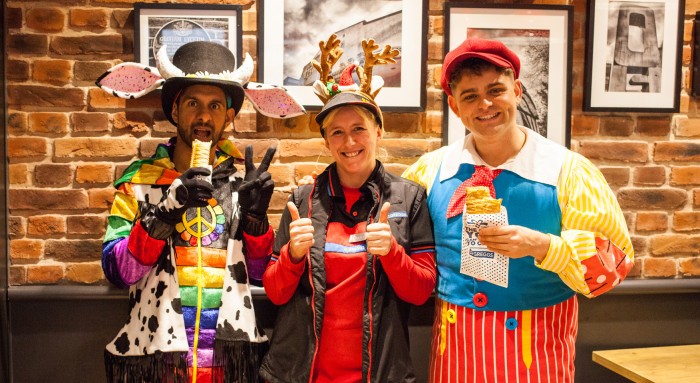 Stars of Oldham Coliseum Theatre's Jack and the Beanstalk pantomime: Hazy the Hippy Cow (Mitesh Soni) and Jack Trott (Sam Glen) headed out into Oldham Town centre in search of their perfect meal between performances.
Hazy the Hippy Cow is a vegan who refuses to be milked for moral reasons. He found his perfect meal at Oldham's Greggs in Spindles Town Square Shopping Centre, where staff treated him to one of their famous Vegan Sausage Rolls, whilst Jack tried out the Greggs Festive Bake.
Actors Sam Glen and Mitesh Soni are now part way through Oldham Coliseum Theatre's eight-week run of Jack and the Beanstalk, performing two shows per day, six days a week. They were thrilled to visit Oldham's Greggs and find a photograph of the theatre in the seating area whilst enjoying their meals.
Oldham Coliseum Theatre's nationally renowned pantomime has been putting the extra sparkle into the festive season for generations; with all the ingredients for fantastic family fun: hit songs, silliness, a sprinkling of fairy dust and a generous helping of It's Behind You! With a fairy, a GIANT and a hippy cow,  Jack and the Beanstalk is the perfect Christmas treat for kids and not-so-grown-up grown-ups.
Jack and the Beanstalk runs at Oldham Coliseum Theatre from Saturday 16 November 2019 – Saturday 11 January 2020. Click here to learn more and book tickets.