In conversation with Visitors writer Barney Norris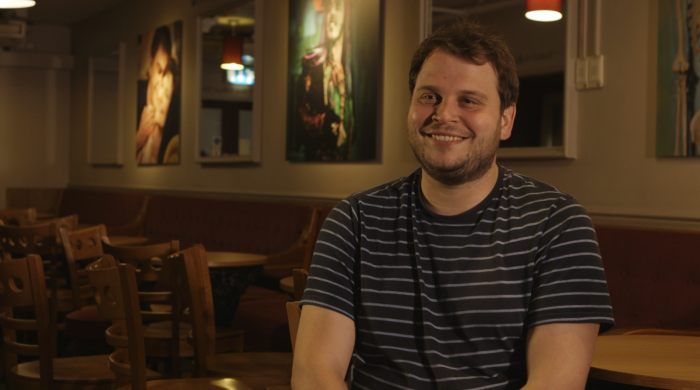 Earlier this week Barney Norris, writer of Visitors, came to Oldham for the first day of rehearsals at the Coliseum.
Visitors premiered in 2014 at the Arcola Theatre in London, winning the Critics Circle Award for Most Promising Playwright and the Off West End Theatre Award for Best New Play. We sat down with Barney to talk about Visitors, playwriting and the Coliseum's forthcoming production.
You came up from London for the first day of rehearsals, what most excites you about the Coliseum's production?
I suppose there are two things, the first is location really. This is the Main Stage Northern premiere of this play. It's barely been seen north of Oxford and so I never got to share this story with half the country, and I think is a national story, I don't think it's a regional story. It's about families and facing up to the end of things and the way people tell terrible jokes with their parents. So that feels hugely exciting because it's opening up a new audience, hopefully – unless they hate it – for a story which for some reason really landed with people. People really cared about this group of characters.
The other thing to say is that this is the first professional revival of the show since it was originally made by my company Up in Arms. We made it in 2014 and toured it for a little over a year around the South and that tour closed in the February of 2015; and so four years on the opportunity to see it again and hear it again is amazing: to see it with a bit more distance. I was once the bloke who wrote that play but I'm now a lot older than that and some of it is quite good and I think "gosh this is really great, I'm pleased that exists, that's lovely".
The sad thing is that the two people the play is really based on, which are my paternal grandparents, have both passed away since the show closed the first time around and so the play now means something really different. It's not about some people who are alive and you can go and visit them in Northamptonshire, it's about some people who used to be alive and used to be visit-able in Northamptonshire, and that's a totally different tense in which to look at this culture that I'm documenting here.  
How was it listening to our cast read the script this morning?
The first thing to say is it was very exciting because it's a very well cast production. It seems very well balanced as a quartet, I think they're going to be great and I think Chris [Lawson, director] has got that really right with those four actors, which is always a treat. And as I say, there are pieces of the play where I think "I can see what you've done there and how you've made it work" and there are a couple of bits in it which seem kind of amazing to me and I think "oh I wonder how I wrote that, because I couldn't write that, that's really good". The opening of the show is kind of hypnotic, and I don't know who wrote that. I know it was a guy with my name and a lot of the same limbs as me, but I don't know how that happened and I feel quite proud of the work and quite excited to share it with people.
What inspired you to write Visitors? You mentioned that the play is based on your grandparents…
There was certainly a lot of their world that fed into the show and listening to it this morning there were so many associative memories: that's a little in joke about that thing, and I remember the time she said that. I actually wrote very little of the play, it's just stuff my grandparents said, and so they are quite important; but in a big-picture way I think what I was trying to do was write about the way that life disappears and youth disappears and being alive is a weird sensation of things getting away from you without you ever quite doing the thing you mean to do because you're too busy having a biscuit. That's a universal experience that you and I have every day, we go "oh my God how is it 3pm already?" – that's the play. I think I just felt that dementia was a particularly powerful way of expressing that. A way of kind of burnishing up a universal experience into something we can talk about and look at in detail.
How long did it take you to write the play?
Hahaha! It took me a million years to write the play because I started in 2008. I'd written a short play called At First Sight, which was the first piece of theatre writing I had ever produced. And before it was produced I showed it to two people: my director Alice Hamilton, who was the person that eventually directed the play and directed the first production of Visitors and most of my work, and I also showed it to a friend of mine who was doing work experience at the Royal Court Theatre, and he gave it to their literary department and they invited me on a course. I started writing Visitors there in 2008 as an exercise on their writing course.
At that stage I was 21 years old and I was writing my second ever bit of writing – I'd done some little things for the youth theatre but, you know, they weren't very good. When you're writing your second ever thing you're not very good and it's going to take you a little time to build the voice that you need to tell a story. I wrote a play in 2008 that in a way was very like this and some wonderful generous actors came together and gave it a private reading for me to hear, but it didn't have the poise that a play needs to matter to people. It took me another eight years of slogging away and rewriting the thing and sending it everywhere, workshopping it in different places, before finally I got the money together myself to put it on. I worked in a pub and saved the money to do the show and I met actors who were right of the part and so on to do the show. So it was ages, it was my entire youth, which then ended with the production of this play.  
What can the Coliseum's audiences expect from Visitors?
Gosh. I hope that audiences at the Coliseum can expect to be moved, I hope they laugh, it would be quite good if they cry! But when we were touring the show in its first production what we always said was that the measure of success was if an audience came out thinking "I must call my mum" and that was what success looked like for us with this show. If we, by sharing the closeness I felt with my family, could make people pick up the phone, could make people reconnect with their own relatives. That for us was what the social action of the play would be. And so really I hope it's a chance for people to spend a couple of hours in their head with their own family, and their parents and grandparents and relatives.
If you could go back in time to before you started writing the play, or maybe whilst you were writing it, is there anything you would tell yourself or do differently?
If I'm honest, if I could go back in time I would just try and recover what it felt like to write this play. The reception to this play was really weird. I was not meant to be a professional playwright really, in that every new writing theatre in the UK and every theatre in London turned this down and I toured two shows and that hadn't got me anywhere and I was self-funding. I was 27 and I had the very clear thought that if this doesn't really work it might be time to do something else, because you get one life and fringe theatre is horribly exhausting. I really had a thought it might be time to say I lived my dream, I was very proud to get to do that with my youth and now I'm going to get on with something and have a pension. And then we opened the show I remember Alice and I saying "I don't think anyone can hate this. I think this is a good solid three-star piece of work and no one's going to say this is crap, so we're not going to go bankrupt". Then the next morning all these responses to the show started happening and it was so overwhelming. I wish I was still as innocent as to just be thinking "maybe I'll stop after this, and if no one absolutely murders it that's all right", you know?
Once you're in to professional writing it's a different game. Never again is one play 100% of your career. Never again is quitting an option because it's too late because you've gone and got a mortgage or whatever. It's all changed and you're playing a cannier game with the industry, the press, the actors you want to write for etc. This is just my grandparents and it was going to be the last thing I was going to do and then I was probably going to wrap up; and then it wasn't that and I think that was kind of magic in a way – although at the time sleeping on floors and working nights to save the money to do the show didn't feel very magical – but that's what magic is sometimes isn't it. The squalor.
Do you have any advice for aspiring playwrights?
I like D H Lawrence's line, I'm slightly paraphrasing, but: "Bite down and don't let the bastards shake you off until the money starts coming like blood". That's D H Lawrence's line about how to become a writer. Which I think is great and a slightly argumentative vision of what a writer is but also just, yeah – don't let them get you down.
The Coliseum's production of Visitors runs from Thursday 18 April – Saturday 4 May. Click here to learn more and book tickets.