In conversation with Robin Herford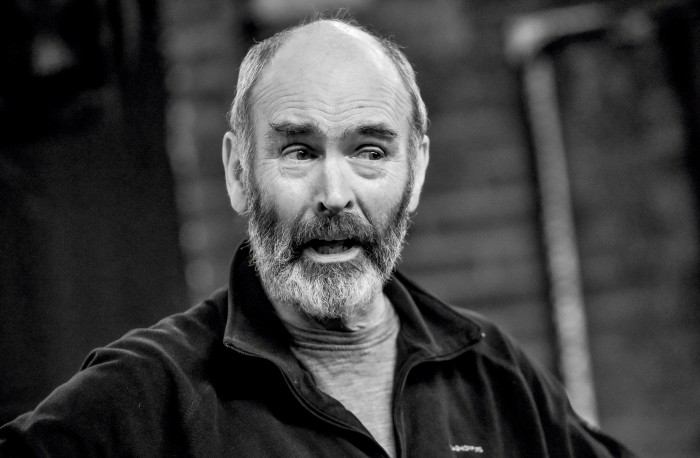 Robin Herford is a world renowned director best known for the phenomenally successful The Woman In Black, which he commissioned whilst he was Artistic Director of the Stephen Joseph Theatre in Scarborough in the late 1980s, and has now been running in the West End for 30 years. Here at the Coliseum we're extraordinarily lucky to have had him direct several plays in Oldham; most recently Relatively Speaking, Gaslight and Boeing Boeing.
Originally an actor, Robin joined the Stephen Joseph company in 1976 and has appeared in the original production of more of Alan Ayckbourn's plays than any other actor. For the Coliseum's production of Visitors he's stepping on to the Coliseum stage as an actor for the first time to play Arthur.
—
Robin Herford on acting, directing and his history with the Coliseum
"In this business no matter what you're doing its always lovely to be asked, so when Chris [Lawson, Coliseum Acting Artistic Director] asked me if I'd like to play Arthur in Visitors I was really flattered. I thought the play was fantastic so it was a no brainer really.
The lovely people who work on casting at the Coliseum have always asked when I was going to be an actor in one of the productions but the logistics of your diary as a director make it quite difficult to do acting work because you get booked ahead of time for a block; that often means that there isn't a space to fit in a rehearsal time and a run of a play. I've directed a show at the Coliseum almost every year since 2002 which has just been wonderful. You sort of fall into a pattern and so people tend to think of you as a director, and I have to say my career has gone very much that way. In this case I was available; I directed two shows back to back in January and February and then came straight here.
Before rehearsals started I was in London putting a new cast into the West End production of The Woman in Black and I knew that the writer Barney Norris lived in London, so we met up for a pint before the opening show of the new cast of The Woman in Black and we had a lovely time. Immediately we got on really well. When I was working at the Stephen Joseph Theatre in Scarborough we did a lot of new work so I've always had enormous respect and admiration for writers because I think they do an amazing job and I just love getting in their head. If I'm directing a show or if I'm going to be in a new show its lovely to talk to the playwright so you can ask them "why did you write this line?" As I director that's what I used to call my stupid question session, I would say "look this may seem crazy but why is he calling her Betty when her name is Beryl" and they'd say "Oh that's a misprint" or "well you see, the reason for that is…." It's one of my mantles: there is no such thing as a stupid question or any time too late in the process to ask it – that applies to actors, directors, stage managers, anyone – because plays are a mystery, you have to ask. I remember when I was at school and we were doing King Lear first year A Level and I thought "who's fighting who at the end?" but I thought I can't ask that question because I'll appear so stupid, so I didn't. As I got older I realised it is quite a tricky question, but I never dared to ask it, so I try and put that right."
Robin describes his history with the Coliseum:
"When I first came to the Coliseum it was right out of the blue. I had a phone call from my agent saying they'd just had an enquiry from a theatre for me to direct Home by David Storey and I said: "Say yes! Where is it and who's asking?' – in that order. It's a play I've always loved and to be offered a beautiful play right out of the blue was fantastic. It was Kevin Shaw from Oldham who had asked and that was the start of one of the happiest theatrical associations I've had in my life with any theatre. From then on just about every year he asked me to do a show; and they'd be wonderful shows. We did the first regional production of Proof, which Gwyneth Paltrow had done at the Donmar Warehouse, and we were the first theatre do it after her.
I find Oldham audiences incredibly warm and supportive. For Oldham audiences their theatre is so important to them and so we've got to bust a gut every time to make sure we give them the very best possible show, I just love it. It's like a hug that you get from everyone at the Coliseum which I just think is amazing."
On his return to acting:
"I was trying to work it out and the last rehearsal room I was in that wasn't mine as a director was Alan Ayckbourn's and it was a play called Tons of Money which he then went on to do at The National and he was trying it out in Scarborough first. That was 1985 so just the other day really, 33 years ago. Occasionally I've gone on in productions of my own that I've directed when someone falls ill or something like that, and I've had to go on at very short notice, but that's different, this is the full experience.
I'd forgotten how hard acting was and it's quite a complex play because it's quite poetic and poignant and funny and sad and oblique. There's been quite a lot of discussion which has been great; everyone feels free to have a voice in the rehearsal room. It's been fascinating getting back into acting but to a large extent it just means that my respect for actors goes up and up. They're the most important people in the theatre because they're the people you pay to see. As a director I always feel that: How can I help them to be their best? – that's really what it's about. The whole theatre is there to support the actors because they're the people who when the whistle blows go over the top, you know, and it takes quite a lot of courage as I'm discovering.
It's quite an emotional part and I've now lived for 70 years so I have more life experience than I had when I was last acting which means I have that much more to draw on. That is quite painful but it's also quite fruitful. I lost my wife two or three years ago and this play is really about is a man who is facing the possibility, with his wife in the first stages of dementia, that they may not be together for much longer, and the anticipation of that loss is something which he doesn't want to contemplate so he holds it at arm's length as much as he can, but in another way he's forced to come to terms with it. I find I have things I can draw on then. Actors are all magpies. We use our own experience to try and find the truth of what we're trying to express.
It's always a joke amongst actors that when you have a Q&A with the audience quite often someone will ask how you learn your lines and people say: "well that's just part of the job" but actually as you get older it gets so much harder. You think, oh it's like riding a bicycle, you never forget how to ride a bicycle – well actually it's not a bit like riding a bicycle, it's like trying to climb up a very steep wall foothold by handhold and slipping back and having to start again and climbing back up. "Why won't that phrase go in? and why aren't I seeing the connection between that speech and that speech?" So approaching a new text for the first time since 1985 is quite a challenge for me and one I have taken on.  I relish it."