Hobson's Choice
With the long sun-soaked Easter weekend behind us we're right back into the thick of it at the Coliseum with the first week of the run of Hobson's Choice which is in full swing until Saturday 10 May.  The production about the eponymous interminable boot maker's rivalry with his daughters and the lowly apprentice is a superb cure for that back to reality feeling after a long Bank Holiday weekend. The play has been so popular among audiences in repertory theatres it has spawned various different revivals over the past 100 years, ever since Harold Brighouse first sat down to write what would become his most famous play.
This particular production comes from the team at the Coliseum in conjunction with The Octagon theatre, Bolton and the New Vic, Newcastle-under-Lyme. Recent reviews have referred to the story as, 'the perfect amalgamation of Cinderella and King Lear'. While the central character of Maggie Hobson may be too down-to-earth to believe in Cinderella-like fairy godmothers she does indeed find a prince charming and in the process sets in motion a battle of wills with her own father. The comedy of the show is a fantastic example of classic northern wit and humour and has kept audiences laughing for the best part of a century. The ensuing hilarity is just as pertinent today as when it was written.
This production has been carefully honed by director David Thacker who has assembled a large and talented cast. No fewer than 12 actors bring the show to life. They include faces you may recognise from previous productions at the Coliseum including, Susan Twist and Ian Blower from Brassed Off and Joanna Higson from David Copperfield.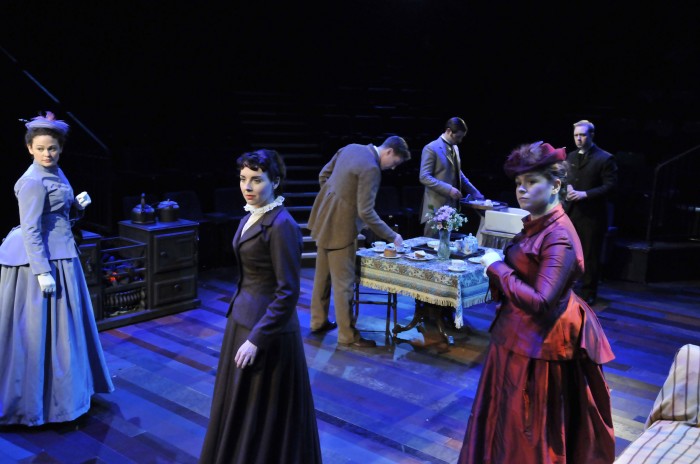 Whilst Salfordian wit and family-based circumstance provide the laughs, the tightly crafted script also breaches the contentious nineteenth century issue of women's rights and women exercising authority over men. It is somewhat fitting then that the tale is set in Salford, birthplace of Sylvia Pankhurst. The play is certainly a classic and this production is an early example of girl power as Henry Hobson suddenly finds the shoe on the other foot.